The last game Darrelle Revis played with the New York Jets ended in pain, as a serious knee injury suffered in Miami cost him most of the 2012 season. Revis' first game with the Tampa Bay Buccaneers – coincidentally played on the Jets' home turf – begin in triumph. Simply being back on the field for the opening snap of 2013 was a significant victory for Revis, who labored through a grueling rehab program to keep his career on track.
Revis wouldn't miss a game in 2013 after coming to Tampa in an offseason trade, and in fact he participated in a 17th contest: the 2014 Pro Bowl.  That quick return to a level of play that had earned him recognition as the best cornerback in the NFL has earned Revis the "2013 Comeback Player of the Year" award from Sporting News.
Revis' Pro Bowl selection in 2013 was the fifth of his career, rekindling a streak that had only been interrupted by his 2012 injury.  He is also a three-time Associated Press first-team All-Pro selection and was the AFC Defensive Player of the Year in 2009. In the 2012 NFL Top 100 – a list of the 100 best players in the league as determined by player voting compiled by NFL Network – Revis ranked fifth, highest among all defensive players. His nickname, "Revis Island" is a nod to his phenomenal coverage skills, which have often led his coaches to put him in matchup coverage with the opposition's best receiver.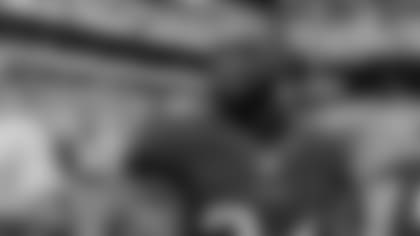 CB Darrelle Revis returned from his knee injury to start the 2013 opener, and every game that followed
The Buccaneers gave up a 2013 first-round draft pick and a 2014 conditional pick (which proved to be a third-rounder) in order to pry Revis from the Jets, then signed the perennial Pro Bowler to a new six-year contract. While Revis' methodical recovery process prompted the team to keep him out of all four preseason games this past summer, he was on the field as predicted to start the regular season. As he continued to gain strength in his surgically repaired knee during the season, he was gradually given more and more man-to-man coverage responsibilities.
By season's end, Revis had played in 16 games with 16 starts and compiled 47 tackles, three tackles for loss, one sack, two interceptions, 10 passes defensed, two forced fumbles and a fumble recovery.  By at least one independent metric, he was the most effective cornerback in the NFL in 2013.  There is, of course, reason to believe that Revis will be even better in 2014, another year removed from his injury.  Regardless, he was good enough in 2013 to rate as the best comeback story in the league according to Sporting News.