Being on a professional football team is a conundrum of sorts. The same guys you go to battle with day in and day out, well, you're also in competition with them. This is especially apparent in training camp, when a roster of 91 men will eventually be cut down to just 53 by the start of the regular season. Still, friendships and bonds flourish, as is the case with rookie cornerbacks Carlton Davis III and M.J. Stewart.
Both play cornerback. Both were selected in the second round of the 2018 NFL draft. Both share a room at the team hotel during training camp. It's a good thing the two get along, because they're pretty much stuck with one another. But neither seems to mind, as they've developed what seems to be a strong bond during these first few months together. They had plenty of great things to say about one another, too. The supportive nature of their growing friendship was clear when they spoke about one another during camp.
"It's been great having M.J. around," Davis said of his roommate. "Just having somebody to lean on and go through the hard times with you. You can really just sit back and discuss things as you go through the same things. It's kind of like having a friend when you need it. It's been great having him around. He's a great guy and he's a great guy to lean on and talk to if you have any problems."
It's a unique situation that the two share so much in common right off the bat. You can think back to the likes of offensive linemen Ali Marpet and Donovan Smith for a little bit of comparison. Both Smith and Marpet were drafted by the Bucs in 2015 and if you look at them now, they have an extremely close friendship. Apply that back to Stewart and Davis and because they play the exact same position, they really are going through the exact same things at the exact same time. It's provided them a unique advantage in that they can play off of each other and elevate one another in the process.
"He's a great corner," Stewart in turn said of Davis. "He's a great press corner but a great off corner. He's just a true friend. A great player. Even when I come to practice, I'm hype – he's hype with me. I can feed off his energy, he can feed off my energy and we both end up playing well."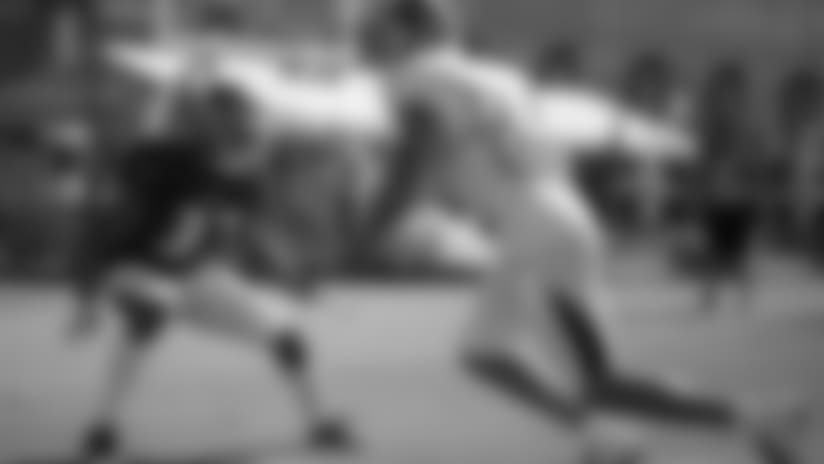 These two are saved a little bit of competition in that they are different kinds of corners. Davis' strength is his length and he will undoubtedly be asked to go up against the big-bodied receivers the Bucs will be forced to deal with as members of the NFC South. Stewart, on the other hand, is a little more versatile. We've seen him through camp playing both outside and inside at nickel and not afraid of playing the vets tough.
"He can pressure, he can play off, he can play nickel, he can play corner, he might even play safety," Davis said of Stewart. "He's an all-around kind of guy and I have a lot of respect for him."
"Both of those guys are competing hard and they're both not afraid to be physical," Head Coach Dirk Koetter said about the pair. "Sometimes - especially corners - they might be a little bit timid, but both of these guys are playing really physical. They're fighting at the line of scrimmage, so they're giving our guys just fits getting off the line of scrimmage, with possible exception of a couple of our top receivers."
With cornerback Brent Grimes held out of practice and cornerback Vernon Hargreaves rotating in and out of the slot, both rookie corners have had their share of reps with the first team – meaning they're going up against the likes of Mike Evans, DeSean Jackson, Adam Humphries and Chris Godwin at wide receiver.
"It's been really helpful for us, to move up to the first group and go against those guys," Davis said. "It's been a great experience for us. We love the experience and we love to compete."
And it certainly doesn't hurt that the two get to do it together.