STORY HIGHLIGHTS
For a second year in a row, Falcons QB Matt Ryan has excelled under difficult circumstances, including injuries to the O-Line
Atlanta's defense has had difficulty putting pressure on the quarterback in 2014
Devin Hester remains a dangerous weapon in the return game, as he showed the last time the Bucs and Falcons met

On Sunday, the 1-7 Tampa Bay Buccaneers take on the 2-6 Atlanta Falcons at Raymond James Stadium in Tampa. It will be the 43nd meeting between the two teams in the regular season, and the winner will pull out of a tie and take a one-game lead in that all-time series (more on the Bucs-Falcons head-to-head history here). The Buccaneers are hoping to avenge a lopsided Week Three loss in Atlanta and get the second half of the season started in the right way.
To get their first intra-divisional win of 2014, the Buccaneers will need to keep QB Matt Ryan from coaxing big plays out of the dangerous trio of WR Julio Jones, RB Antone Smith and WR/KR Devin Hester, while also taking advantage of a beleaguered Falcons defense. Here's a closer look at the challenges the Buccaneers will face when the Falcons visit Raymond James Stadium on Sunday.
HEAD COACH: When Mike Smith arrived in Atlanta in 2008 after five seasons as the defensive coordinator in Jacksonville, the Falcons had gone four decades without once posting a winning record in consecutive seasons. Since Smith's hiring as the head coach, the Falcons have been one of the NFL's most consistently successful teams, posting a winning record in his first five seasons before last year's fall to 4-12.
The Falcons have also taken home two division titles under Smith's direction, made the playoffs in four of six seasons and advanced to the NFC Championship Game in 2012. The Falcons narrowly missed out on their second Super Bowl trip in that 2012 campaign, falling to the San Francisco 49ers in a game that wasn't decided until the final seconds. Smith, who has twice been voted as the NFL's Coach of the Year by his peers through The Sporting News, is credited with a keen eye for personnel and for establishing a very even keel at the Falcons' headquarters. Overall, the Falcons are 62-42 in the regular season under Smith, and he reached 50 wins in just 71 games, the third fastest an NFL head coach has done that since the 1970 AFL-NFL merger.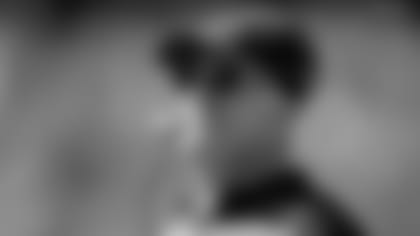 Though Atlanta has struggled the last two seasons, Mike Smith still has an overall regular-season coaching record of 62-42
The Falcons' struggles in 2013 – a season in which they expected to be strong Super Bowl contenders – was largely blamed on a rash of injuries, and for good reason. However, a second straight down year, with a current five-game losing streak and a repeat of last year's defensive troubles, have led to speculation about Smith's future with the team, despite his still very strong overall record. During the Falcons' just-completed bye week, Smith said he was not letting such outside talk have any effect on his approach to coaching the team. "No, none whatsoever," he said. "We're going to do what we've done for the last six-plus years and prepare each and every week like we know how to do it. And I'm going to continue to do that until [Owner] Mr. [Arthur] Blank tells me otherwise. I haven't done a good enough job, plain and simple. Because ultimately, it's my responsibility. So I haven't done the job that I need to do. I've let down the players, the coaches, and the fans thus far. But I think what we plan on doing, we plan on getting hot and making a really good second half of this season."
OFFENSE: With Julio Jones healthy and a new-look offensive line to start the season, the Falcons came out red-hot on offense, particularly when Matt Ryan was throwing the ball. Jones has remained healthy but the offensive line has been decimated by injuries, slowing Atlanta's attack down somewhat, though it still ranks eighth in yards and 14th in points per game through the first half of the campaign. As was the case last year, the offense is heavily weighted toward the pass, ranking seventh in that category but 25th in rushing.
As was the case in 2013, Ryan has had a typically strong season under difficult circumstances. He has been sacked 17 times and pressured quite a bit more than that, but he still has completed 64.9% of his passes , thrown 15 touchdowns against eight picks and is on pace for a 4,600-yard season. He has really spread the ball around this season, with nine different Falcons catching at least 10 passes already. Julio Jones remains his top target, but with just one reception of longer than 30 yards for the dynamic fourth-year receiver, the two are looking for more big-play hookups. Jones has a career average of 15.3 yards per catch but that is down to 13.8 in 2014. Meanwhile, long-time Falcon standout Roddy White is on pace for 66 catches and 838 yards, which would be his lowest season totals since 2006.
There are two home-run options in Ryan's arsenal, though neither one has gone deep in recent weeks. The first is running back Antone Smith, who has five touchdowns this year (two rushing, three receiving) and amazingly all of them came on plays of at least 38 yards. Wide receiver Devin Hester, who was brought in primarily to add life to the return game but has found a role on offense as well, is averaging 14.6 yards per catch and has scored in three different ways. However, Hester has just 10 catches for 67 yards in the Falcons last four games and hasn't scored since Week Four, while Smith has 14 total yards and no scores in the last two contests.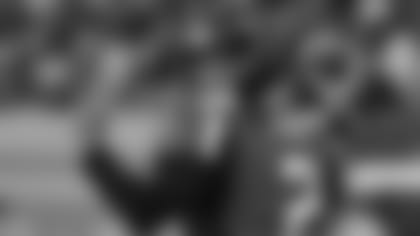 Though his banged-up O-Line has at times had trouble protecting him, QB Matt Ryan is still on pace for 4,600 yards and 30 touchdowns
The Falcons looked to improve Ryan's protection in 2014 after he absorbed a career-high 44 sacks in 2013, investing the sixth-overall pick in the draft on Texas A&M tackle Jake Matthews. Matthews was initially slotted in at right tackle opposite Sam Baker, but when Baker suffered a season-ending injury in the preseason, the talented rookie took over on the blind side. The Falcons also signed former Kansas City Chief Jon Asamoah, and Asamoah has at least been able to play every game so far, which counts as a major victory on Atlanta's hard-luck offensive line. Joining Baker on I.R. since the start of the season have been former starters C Joe Hawley and T Lamar Holmes. Peter Konz and Justin Blalock have also missed time due to injury, Matthews has played through leg ailments that have reportedly made him less effective and versatile reserve Mike Johnson has been out since the preseason. As a result, the Falcons' oft-shuffled line has been the league's fourth-worst in terms of run blocking according to Pro Football Focus.
Still, Atlanta has managed to average 4.3 yards per carry when it's kept the ball on the ground, though a lot of that is due to Smith's 7.4-yard average on 19 totes. Steven Jackson, the 240-pound 11th-year back, remains the workhorse, and he's still a threat to use his size and strength to bust through tackles, but he is averaging just 3.6 yards per carry. The Falcons do have significant depth in the backfield, with Jacquizz Rodgers and Devonta Freeman taking about three or four carries a game and Hester always a danger to pull an end-around. Atlanta's offense has turned the ball over 14 times, which is about league average, and has done quite well in the red zone. The Falcons have scored touchdowns on 76.5% of their trips inside the 20, the third-best mark in the league.
DEFENSE: The Falcons' defense felt as if it was on the verge of putting together something special after the team's Thursday night win over the Buccaneers in Week Three, but since then the bottom has fallen out for that group. Atlanta has given up 421.8 yards and 29.8 points per game since then while losing five straight. In the process, the Falcons have dipped to last in the league's defensive rankings, based on yards, and 28th in the points allowed rankings.
Lack of a pass rush continues to be one of the main problems for the Falcons. They rank 31st in sacks per pass play on defense and have secured a total of just seven QB takedowns, including five by the defensive line. Reserve Jonathan Massaquoi, who has played just 44.5% of Atlanta's defensive snaps, leads the team with two sacks, and Pro Football Focus grades the Falcons' pass rush as third-worst in the league this year. Atlanta brought in free agents Tyson Jackson and Paul Soliai to bolster the middle of their defensive front, which had been particularly vulnerable to the run in 2013, but Atlanta is still allowing 128.0 rushing yards per game in 2014, eighth-worst in the NFL.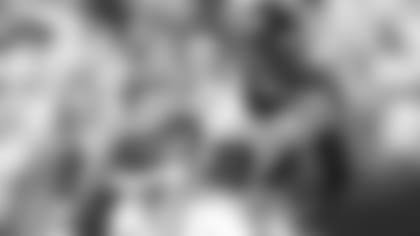 DE Jonathan Massaquoi has played less than 50% of Atlanta's defensive snaps this year but leads the team with 2.0 sacks
The Falcons post a defensive depth chart under new coordinator Mike Nolan that lists four down linemen, two linebackers and five defensive backs. They have sub packages on the field about two-thirds of the time and show a wide variety of coverage looks and blitzes. The linebacker who stays on the field the most is 2013 undrafted free agent Paul Worrilow, the Falcons latest tackling machine. Worrilow leads the Falcons with 78 tackles – tied for fourth-most in the NFL – and the next closest player (LB Joplo Bartu) has 47.
Statistically, the Falcons have actually fared worse against the pass, ranking last in the league with 280.8 yards allowed per outing. Still, there is clearly some young talent in that secondary, beginning with high 2013 draft picks Robert Alford and Desmond Trufant, starting cornerbacks now and probably for a long time in Atlanta. Trufant came on very strong at the end of last season and was quietly one of the best rookie defenders in the NFL. This year, Alford has made more of the big plays, accounting for three of the Falcons' five interceptions and also leading the team with 10 passes defensed. Second-year safety Kemal Ishmael had a pick six against the Bucs in Week Three but has fared better in run support than pass coverage for much of the season.
Atlanta's defense has shared some of the same woes that troubled the Bucs' defense for a good portion of the season, most notably difficulty getting off the field on third down. Atlanta ranks 28th in the league in third-down defense, allowing a conversion rate of 47.8%. The Falcons have recovered eight of their opponents' 11 fumbles, which has helped them remain near the middle of the pack in takeaways, and they've scored 41 points off turnovers to rank 15th in the league. That particular talent has been a calling card for Mike Smith's Falcons; since 2010, Atlanta is third in the NFL with a total of 419 points off takeaways.
SPECIAL TEAMS: The Falcons have a reliable pair of kickers in punter Matt Bosher and placekicker Matt Bryant, the former Buccaneer, and of course advantageous indoor conditions in which to kick for half of the schedule. Since the Bucs last played the Falcons, Bosher has dropped from sixth to 25 in the NFL in gross punting average, but that's a bit misleading as Atlanta still ranks 13th in net punting average. It helps that opponents are averaging just 7.5 yards per punt return, and longtime NFL special teams standout Eric Weems is the team leader with five kick coverage stops.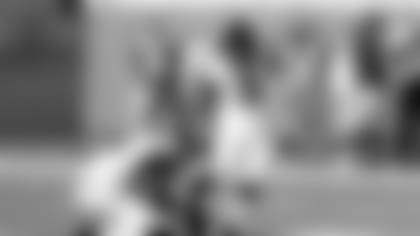 Atlanta's kicking game is handled well by P Matt Bosher (5) and K Matt Bryant (3), the latter of whom has made four field goals from beyond 51 yards this year
Since joining the Falcons in 2009, Bryant has ranked seventh in the NFL in field goal percentage, making 87.6% of his tries over that span. The fact that Atlanta ranks 23rd in field goal percentage in 2014 is also misleading, more a matter of small sample size. Bryant has only attempted 10 field goals this year, making eight of them, with his two misses coming from 57 and 59 yards. Bryant has also made four field between 51-54 yards.
Hester has shown some of the ability that made him the game's most dangerous return man for years under Lovie Smith in Chicago. Hester returned a punt 62 yards for a touchdown against Tampa Bay in Week Three and is averaging 12.6 yards per runback. He's also handling the kickoff returns, though with a long of 36 he is averaging just 22.8 yards per try on that task. Hester's touchdown against Tampa Bay gave him the NFL record for most career return touchdowns, so he obviously remains a threat the Bucs must consider this Sunday.