STORY HIGHLIGHTS
The Browns have called the third-highest percentage of run plays of any team in the NFL this year
S Tashaun Gipson has been the NFL's top interceptor over the past two seasons
Opponents rarely get a chance to return kickoffs against Billy Cundiff and the Browns

On Sunday, the 1-6 Tampa Bay Buccaneers take on the 4-3 Cleveland Browns at FirstEnergy Stadium in Cleveland, Ohio.  It will be the ninth meeting between the two teams, with the Buccaneers riding a three-game winning streak in the series (more on the Bucs-Browns series history here). Cleveland has won three of its last four games while the Buccaneers are looking to stop a three-game losing streak.
To start a winning streak, the Buccaneers will need to get their running game going against a Cleveland defense that has been much stronger against the aerial attack, and they'll have to force QB Brian Hoyer into more mistakes than he has made so far. Here's a closer look at the challenges the Buccaneers will face on Sunday when they take on the Browns in Cleveland.
HEAD COACH: Mike Pettine took over as the Browns' head coach on January 23 after Rob Chudzinski lasted just one season at the team's helm. Pettine was hired by new General Manager Ray Farmer, who replaced Michael Lombardi and immediately put his stamp on the team. Pettine's first team has already matched the win total the Browns managed under Chudzinski in 2013.
Pettine's immediate stop before Cleveland was in Buffalo, where he spent one year as the Bills' defensive coordinator and helped that team rise from 22nd in the defensive rankings in 2012 to 10th in 2013. His defense in Buffalo was particularly strong against the pass and finished the year with 23 interceptions, second-highest total in the league. Pettine had first risen to the coordinator level with the Jets in 2009, and over the next four years combined his defense led the league in several categories, including opposing quarterback rating, completion percentage and passing yards per game.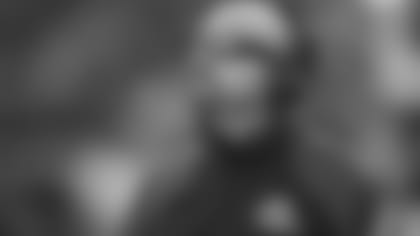 Head Coach Mike Pettine, in his first year at the Browns' helm, has impressed his players with his confidence during tough situations
The son of a famous long-time high school coach in Pennsylvania, Pettine followed in his father's footsteps, first as an assistant at his alma mater under Mike Pettine, Sr., and later as the head coach at two other Pennsylvania high schools. His break in the NFL came with the Baltimore Ravens in 2002, and he gradually worked his way up from a coaching and video assistant to outside linebackers coach from 2005-08.
Pettine has drawn strong reviews early in his Cleveland tenure for the manner in which he has shown strength and leadership under difficult circumstances, from the media circus that followed Johnny Manziel to town to the suspension of star receiver Josh Gordon. Browns players say that Pettine exudes confidence on the sideline, which spills over to the players. That confidence has also been on display several times this season when Pettine has chosen to go for a short fourth down rather than kick a field goal.
OFFENSE: The Browns are committed to running the ball on offense, and that commitment has led to a balanced attack that has avoided turnovers and used the play-action to get big plays in the passing attack. Offensive Coordinator Kyle Shanahan has called a run on 49.0% of the Browns' plays so far this year, the third-highest percentage in the league after Houston (50.9%) and Dallas (49.5%). There are two major differences between the Browns and those two Texas teams, however. First, while the Cowboys and Texans feature the top two rushers in the league (DeMarco Murray and Arian Foster, respectively), the Browns are relying on a three-man committee of Ben Tate, Isaiah Crowell and Terrance West, the latter two of whom are rookies. The Browns are the only team in the league with three different players who have surpassed 200 rushing yards. Second, Dallas is averaging 4.9 yards per carry and Houston 4.4 while the Browns are 24th in the league in that category at 3.8. That latter number speaks to how determined Cleveland is to run the ball.
The Browns certainly have a strong line behind which to run, although Pro Bowl center Alex Mack has been lost to a season-ending injury. The line is still anchored by left tackle Joe Thomas, who has been to seven Pro Bowls and has played in every single one of Cleveland's offensive snaps since he arrived in 2007. Next to him is another successful draft pick, left guard Joel Bitonio, a second-round pick who has played extremely well and has not been credited with a sack allowed yet this season. The new starting center is Nick McDonald, who started the season on the reserve/non-football-injury list but has recently returned to give the Browns what they needed in Mack's absence. Of the three backs running behind this line, it's former Texan Ben Tate who has the most carries and yards (84-305), but the undrafted Crowell leads the team with a  4.9-yard average and four touchdowns. The quarterback, Brian Hoyer, does not run; he has -2 yards on nine carries this season (certainly including some kneel-downs) and has all of 34 yards in his career, nine since 2010.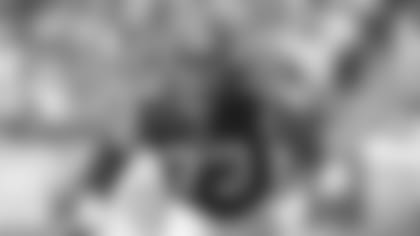 T Joe Thomas has played in seven Pro Bowls and never missed an offensive snap since arriving in Cleveland in 2007
Hoyer has done well with his arm, however, since holding off Manziel to claim the starting job. He first had to return from an ACL injury that cost him most of the 2013 season after he won the only three games he started in his first year with the Browns. He has done that to start all seven games so far and compile a 91.0 passer rating, largely on the strength of good numbers in interception percentage and yards per attempt. Hoyer has thrown only eight touchdowns but he's been picked off just twice, and that strong front line has allowed him to take just 10 sacks, or fewer than two per game. Hoyer completed 19 of 28 passes for 275 yards, one TD and no picks in last week's victory over winless Oakland, but his two games before that were not his strongest. In a win over Pittsburgh and a loss at Jacksonville, he combined to complete 24 of 58 passes  (41.4%) for 432 yards, one touchdown and one interception.
Without Gordon, it seemed likely that Hoyer would lean on tight end Jordan Cameron, a 2013 breakout star who caught 80 passes from a variety of QBs and made it to the Pro Bowl. However, Cameron has only 13 catches so far this season as Hoyer has more frequently gone to the wideout trio of Andrew Hawkins, Miles Austin and Taylor Gabriel. The Browns made an aggressive move to pry Hawkins away from the nearby Cincinnati Bengals, signing him as a restricted free agent in March and getting him when the Bengals chose not to match despite a 51-catch season in 2012. As expected with Gordon out, the small (5-7, 180) but quick Hawkins has emerged as the team's leading receiver, with a 36-470-1 line that represents about five catches and 70 yards a game. Veteran Miles Austin was a late addition in response to Gordon's absence, while Gabriel is an undrafted rookie from Abilene Christian, another undersized guy who has impressed with a 19.8-yard per-catch average on 16 grabs.
DEFENSE: Cleveland's defense under coordinator Jim O'Neil has definitely exemplified the "bend but don't break" philosophy. The Browns rank 29th in yards allowed per game but 13th in points allowed per game; only Arizona (24th and fifth) has a bigger positive difference between those two rankings. The statistics suggest two ways the Browns have been able to do this: Strong red zone defense and a good turnover ratio.
In fact, Cleveland's defense has allowed touchdowns on just 50% of its opponents' red zone incursions  (12 of 24), which is tied for the fourth-best mark in the league. Meanwhile, the team as a whole is ranked fifth in the league with a +6 turnover ratio, which is a function less of their 11 takeaways – which is almost exactly league average – but their low total of five giveaways.
Leading the takeaway charge is safety Tashaun Gipson, who has risen dramatically from undrafted status in 2012 to one of the league's best interceptors. Gipson, who took over as the starting free safety last year, leads the NFL with five interceptions in 2014; he had five last year as well, so his total of 10 since the start of 2013 is also a league-best. He's paired at the back of the Browns' secondary with a heavy hitter in Donte Whitner, who came over from San Francisco as a free agent and is second on the team with 50 stops. The Browns' secondary is also strong on the corners, with 2013 Pro Bowler Joe Haden manning the left side and producing 72 passes defensed since 2010, second-best in the NFL in that span. The Browns spent another first round pick on a cornerback this year in Justin Gilbert, but it's the 5-9 Buster Skrine – who Bucs WR Mike Evans appreciatively referred to as 'feisty' – starting opposite Haden and picking off two passes while leading the team with seven passes defensed.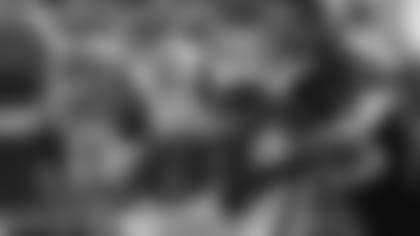 Since the 2013 season began, nobody has picked off more passes in the NFL than Tashaun Gipson and his 10
The Browns play a 3-4 base defense, so it's largely up to pass-rushing linebackers like Paul Kruger, Karlos Dansby, Jabaal Sheard and Barkevious Mingo to get to the quarterback. The Browns rank just 19th in sacks per pass play on defense this year, but that figure got better when Kruger sacked Oakland's Derek Carr three times last Sunday. He leads the team with five and the former Arizona Cardinal Dansby is next with three. Dansby has been filling up the stat line, recording 56 tackles, one interception and two passes defensed to go with those three sacks.
The Browns get most of their tackles from the back eight, as well, with Dansby and Whitner followed on their defensive chart by Haden, Gipson, reserve LB Chris Kirksey, Skrine, Sheard, Gilbert, Kruger, Mingo, and LB Craig Robertson. The interior linemen in the 3-4 defense, as is common are big space-eaters like the 6-3, 335-pound Phil Taylor. However, the Browns have had to work through some injuries at this position, with Taylor, Billy Winn and Ahtyba Rubin all missing time in recent weeks. All three are on Cleveland's injury report again this week, although both Winn and Rubin practiced fully on Thursday (Taylor has not practiced this week and has missed the last three games).
Cleveland's defense has done a good job on third down, ranking 12th in the league with an opponent success rate of 39.4%. However, the Browns are dead last in the NFL in yards allowed on first down, at 6.40. That's almost certainly a matter of a porous run defense that ranks 30th in the NFL and is allowing 4.8 yards per carry.
SPECIAL TEAMS: Cleveland has not been able to help its offense much with its kick-and-return game. The returns have been lacking, in particular, with the Browns ranking last in punt return average and 28th in kickoff return average. Second-year CB Jordan Poyer did a good job on limited opportunities as a punt returner in 2013 after coming over from the Philadelphia Eagles, but this year he's getting just 4.0 yards per return and the Browns have also given some looks to WR Travis Benjamin. Benjamin and WR Marlon Moore have five kickoff returns each but neither has broken one longer than 32 yards.
Spencer Lanning bounced around a bit before getting a shot with Cleveland last year and he has been just about league average as a punter in 2014, with a gross of 45.4 and a net of 39.3, with five touchbacks not helping his cause. The kicking job belongs to the relatively reliable Billy Cundiff, who has made 12 of 14 this year and has just one miss from inside 50 yards. Cundiff does not have great success from long range during his 12-year career, making just eight of 29 tries from 50 and beyond.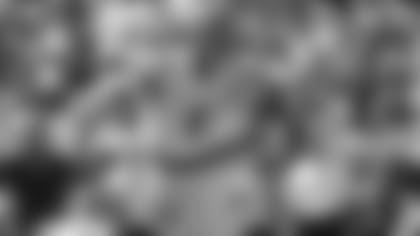 K Billy Cundiff has made 12 of his 14 field goal tries this year and has been nearly automatic in producing touchbacks on kickoffs
That's not to say Cundiff is lacking leg strength. In fact, he handles the kickoffs for the Browns and that might be their best area on special teams. He's booted every single one of his 36 kickoffs into the end zone, resulting in 26 touchbacks and a league-leading opponent average drive start of the 18.3-yard line.
Cleveland's cover teams have been fairly good, as well. Opponents are picking up just 7.2 yards per punt return (ninth in the NFL) and 18.9 per kickoff return (second).  The Browns' ace cover man is defensive back Johnson Bademosi, who has 37 kick-coverage stops since entering the NFL in 2012, the third-highest total in the league behind such noted special-teamers as Arizona's Justin Bethel and New England's Matthew Slater.