STORY HIGHLIGHTS
The Buccaneers lead their all-time series with Cincinnati, 7-3, and have won the last six, dating back to 1995
Tampa Bay's 35-0 win in Cincy in 1998 was the first road shutout in team history and it nearly put the Bucs in the playoffs
Two key fourth-quarter interceptions helped Tampa Bay prevail in the most recent meeting

For the second time this year, the Tampa Bay Buccaneers have a chance to go somewhere they've never gone before.
It's Lucky Number Seven the Buccaneers are chasing, and they nearly got it in October when the Minnesota Vikings came to visit. During its nearly four decades of existence, Tampa Bay's NFL franchise has forged six-game winning streaks against four different teams: Chicago, Atlanta, Minnesota and Cincinnati. In the case of those last two opponents, those were active six-game winning streaks coming into the 2014. Unfortunately, the Minnesota six-pack was drained by a last-second field goal and an overtime fumble-return TD by the Vikings. No more streak.
However, the Bucs' run against the Bengals, which dates back to 1995 and has been going on so long that it has involved Warren Sapp and Gerald McCoy, is still very much alive. For at least five more days, that is. This streak is so long that Derrick Brooks played in the first game but not the sixth and Ronde Barber played in the sixth game but not the first. If the Bucs can sustain it beyond Sunday, they will have their first seven-game winning streak against any opponent in franchise history.
Overall, the Bucs are 7-3 against the Bengals, and that .700 winning percentage ties their mark against Buffalo (also 7-3) as their best against any other team. The overall point totals in those games are quite close, however – the Bucs have a 200-182 edge – and that has a lot to do with some balancing blowouts along the way. Each team owns a shutout in the series and the Bucs have two 35-point games to balance a 56-point effort by the Bengals along the way. However, three of the last four games have been decided by three points or less, and one went into overtime.
First, we rewind to the Buccaneers' inaugural season of 1976, where they spent a year in the AFC and all the teams in that conference lined up to take turns punching the sickly new kid on the playground. Cincy was sixth in line and they welcomed the Bucs to Riverfront Stadium only to send them home with an unforgiving 21-0 blanking in which they essentially just ran the ball all day.
The two teams didn't meet again until 1980, which gave Tampa Bay time to turn into a playoff contender and even the tide a little bit. Actually, that season was the only one in a four-year stretch (1979-82) in which the Bucs did not make it into the dance, but the Bengals were down that year, too, and the Bucs managed to knot the series with a 17-12 win at Riverfront on opening day. Jimmie Giles caught both of Doug Williams' touchdown passes and the Buccaneers' defense throttled the Bengals completely, allowing just 128 net yards. The 16 net passing yards Tampa Bay allowed to soon-to-become-a-Buccaneer Jack Thompson and the Bengals remains a franchise single-game record for the Buccaneers to this day.
Meetings between the two teams remained infrequent over the next decade-and-half, with only one game in Tampa in 1983 and one in Cincinnati in 1989 during that span. The Bengals won them both, just squeaking by in the first one with a 23-17 decision and then pummeling the Bucs in the second one, 56-23. In the 1983 game, Thompson was now the Buccaneers' quarterback, and he got a lot more than 16 yards. In fact, he threw 40 times and completed 30 of them for 316 yards – 10 of them for 126 yards to running back James Wilder – but he was also picked off three times by his former compatriots. The 1989 game, on other hand, was a tour de force for Mr. Boomer Esiason, who threw five touchdown passes and was not intercepted. With backup QB Erik Wilhelm also tossing a sixth scoring pass, the Bengals amazingly had three different players who caught a pair of TDs: Tim McGee, Rodney Holman and Eddie Brown. Future Buccaneer Head Coach Sam Wyche was at the helm of that blowout.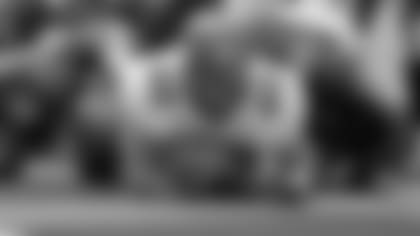 Three Mike Alstott touchdowns helped the Buccaneers finish off their first-ever road shutout at Cincinnati in 1998
Those 56 points would have to provide tiger sustenance for more than two decades, because Cincinnati hasn't beaten the Buccaneers since that afternoon. The next time the two squads met, Wyche was the head coach in Tampa Bay, though this would prove to be the last of his four seasons at One Buccaneer Place. That would be 1995, of course, and Cincinnati came to Tampa during a four-game winning streak for Tampa Bay that led to Wyche's infamous "Five-Dash-Two" press conference. It was a wild game that even included a sudden thunderstorm in the fourth quarter that interfered with the scoring. With the Bucs trailing, 16-13, Michael Husted lined up to try a 45-yard field goal but the ball hit an upright that had just been blown crooked by the storm. An interception by John Lynch and a fumble recovery by Charles Dimry gave Husted two more chances, however, and he made them both, including a 53-yard game winner with 30 seconds to play.
Three years later, the Bucs went back to Cincinnati, where they had lost by 33 points on their previous visit. They turned it around completely on this occasion, completely dominating a Bengals team that would finish 3-13. In fact, it was the Bucs' 35-0 rout that concluded that tough campaign. It also proved to be the last game the 1998 Buccaneers would play, though that wasn't a certainty until a few hours later, while the team was still flying back to Tampa. Mike Alstott scored three touchdowns, the Bucs' offensive line opened up holes for 223 rushing yards and Tampa Bay's defense recorded its first shutout in 13 years and its first ever in a road game. Tampa Bay came into the game at 7-8 but its own win coupled with a few other favorable results meant its playoff hopes were still alive when the contest ended. The Buccaneers needed one more outcome to go their way – a win by San Diego in Arizona – and they were able to get reports of that game while flying home. The Chargers kicked a late field goal to force overtime but the Cardinals then scored on the first possession of sudden death to eliminate the Buccaneers.
Tampa Bay started to make the Cincinnati trip a habit after that, going back in 2001 and 2002. Both were wins, though the first one required overtime. This one came just six days after an emotionally-draining Monday Night Football win in St. Louis in Week 11, and indeed the Bucs came out a little slow. After the Bengals scored first on a field goal, the Buccaneers somehow countered with an 18-play, 11-minute drive that somehow produced no points. However, the visitors got the ball right back on a blocked punt by Ronde Barber, as tight end Todd Yoder was able to scoop it up and take it 11 yards for a touchdown. The Bucs eventually took a 10-point lead into the fourth quarter but Jon Kitna tied the game with eight seconds left on a six-yard TD pass to RB Corey Dillon. The Bucs got the ball first in overtime but ended up in no-man's land at the Bengals' 35. Rather than try a 53-yard field goal, the Bucs punted and it worked in their favor when S John Lynch was able to force a Dillon fumble inside the five-yard line and Martin Gramatica won it with a 21-yard field goal.
The Bucs didn't have nearly as much trouble with the Bengals when they went back to Cincy the next year, but then that 2002 team didn't have trouble with too many teams on their way to the Super Bowl title. This was a classic '02 game, with that legendary defense leading the way, allowing just 168 yards and no points to the Akili Smith-led Bengals attack. Cincinnati did score first, on a 51-yard pick-six by LB Brian Simmons off QB Brad Johnson. However, Johnson responded with long TD passes to TE Rickey Dudley and WR Keenan McCardell and then LB Shelton Quarles matched Simmons with his own 25-yard INT touchdown return. All of that took place in the second quarter, and the Bucs put away the 35-7 victory after halftime with an Alstott touchdown run and another touchdown pass by Johnson.
That was the first year of the new scheduling format, with rotating divisional matchups, so the Buccaneers would get the Bengals at home again in 2006 and on the road in 2010. Both were Tampa Bay wins; neither came easy. In 2006, the Bucs stumbled out to an 0-4 start but then got their first victory at the expense of the Bengals, who were a promising 3-1 at the time. Coming off their lone loss, in which they gave up 38 points to the New England Patriots, the Bengals pitched a first-half shutout at Raymond James Stadium and had a 7-0 halftime lead on a T.J. Houshmandzadeh touchdown catch. Bruce Gradkowski tied the game after the intermission with a short touchdown pass to TE Alex Smith, but the Bengals got one field goal each in the third and fourth quarters to take a 13-7 lead into the game's final minutes. The Bucs' last-chance drive got some help on a roughing-the-passer call against Justin Smith, but it still was in danger of fading out near the goal line. When Michael Pittman was stopped at the three-yard line with 43 seconds to play, the Bucs had to go for it on fourth down. A pass to Michael Clayton was initially ruled incomplete, but a replay review showed that Clayton had crossed the goal line with possession of the ball. The review took two long and nervous minutes before coming back in the Bucs' favor…and even then it wasn't over. Houshmandzadeh caught 17 and 19-yard passes to set up a 62-yard field goal try, but Shayne Graham's kick came up short.
Finally, the most recent meeting between the two teams, in Cincy four years ago, turned on fourth-quarter interceptions by Aqib Talib and Sabby Piscitelli. Talib's pick at midfield led to a 20-yard touchdown pass from Josh Freeman to Mike Williams to tie the game at 21 apiece with 1:21 left in regulation. The Bengals got to midfield on the ensuing drive but Piscitelli snared a deep pass intended for Chad Ochocinco and returned it to Cincinnati's 34. There were only 14 seconds left, but one great catch Micheal Spurlock (also upheld by a review) set up Connor Barth's 31-yard game-winner in a 24-21 final.
Bucs-Bengals Game-by-Game Record:
Overall Season Series: Bucs lead, 7-3
Bucs' Home Record: 2-1
Bucs' Road Record: 5-2
Current Streak: Win 6 (1995-2010)
Buccaneers' Longest Winning Streak: 6 (1995-2010)
Bengals' Longest Winning Streak: 2 (1983-89)
Regular Season Point Total: Buccaneers 210, Bengals 182
Most Points in a Game, Buccaneers: Buccaneers 35-0 (1998) and Buccaneers 35-7 (2002)
Most Points in a Game, Bengals: Bengals 56-23 (1989)
Most Points, both teams: 91, Bengals 56-23 (1989)
Fewest Points in a Game, Buccaneers: Bengals 21-0 (1976)
Fewest Points in a Game, Bengals: Buccaneers 35-0 (1998)
Fewest Points in a Game, both teams: 21, Bengals 21-0 (1976)