It started as a promise from the Buccaneers' General Manager to his kids.
"Last year, we always talked about having a pool party after a win," Jason Licht said. "I told the kids, 'Hey, if we win… I live close to the stadium now, I'll come home, we'll play in the back yard and we'll have a pool party. And that never happened. Our two wins were both on the road. So we talked about it over the summer. I was like, 'Yeah, we're still going to do it. We're going to win a lot more games this year. We're going to be really good so we're going to have a lot of pool parties.'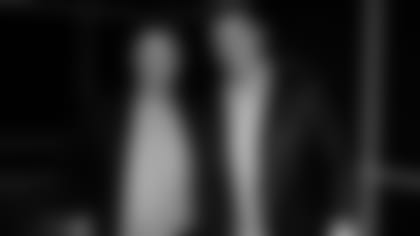 "So the first week we lose, didn't go the way we wanted so when we're headed to New Orleans, before I'm headed to work and before we left I told the kids, 'Listen, we are going to win this week and when we do I'm going to come home and we're going to have that pool party.' My oldest, Charlie, said, 'But it's going to be late.' I said, 'I won't even take my suit off. I'll come home and I'll just jump in in my suit.' So they held me up to it, they held me accountable to it. When I got home I did it so it just kind of took off from that."
Week after week, Licht has made good on his promise to his three kids. Following each Bucs victory, he has jumped, suit and all, into his pool with his kids.
"You've gotta keep doing it," Licht said. "They kept saying, 'We've got to do it, we've got to keep the tradition.' When we win, I come home and I jump in the suit."
Licht routinely posts pictures or videos "Sieging the Pool" after a win with his kids. For the rest of the season, the Buccaneers are inviting fans to siege a pool of their own. Take a picture or video jumping in a pool after a win and post it on Facebook, Twitter or Instagram at #SiegeThePool. A select group of posts could be featured on Buccaneers.com.