STORY HIGHLIGHTS
RB Charles Sims will have a chance to make his regular-season NFL debut after being activated Saturday
WR Marcus Thigpen is likely to return kicks for the Buccaneers after his promotion from the practice squad
The Bucs released KR Trindon Holliday and will carry only 52 players into Sunday

The Tampa Bay Buccaneers had three open spots on their 53-man roster when Saturday began but they'll be near full strength upon arrival in Cleveland.
The Buccaneers added three players to the active roster Saturday, all of whom were already on hand. As expected, rookie running back Charles Sims was activated from the injured reserve/designated for return list. In addition, wide receiver Marcus Thigpen and defensive tackle Matthew Masifilo were promoted from the practice squad. Thigpen is expected to handle the team's kick return duties in place of Trindon Holliday, who was waived/injured.
Sims was the Buccaneers' third-round pick in May's draft, and he was expected to have a significant role in the team's offense, particularly after performing well in training camp. However, he suffered an ankle injury on the practice field in late August and was subsequently placed on injured reserve. The Buccaneers used their only "designated for return" option on Sims, believing he could return from corrective surgery in time to make an impact in the second half of the season.
The 5-9, 200-pound Thigpen is certainly an experienced return man. He handled almost all of the Miami Dolphins' punt and kickoff returns over the last two seasons, averaging 9.7 yards per runback on punts and 24.9 yards on kickoffs and scoring once in each capacity. The Dolphins signed Thigpen after he spent three years in the Canadian Football League, and he was a big hit in 2012, averaging 12.2 yards per punt return and 27.4 per kickoff return.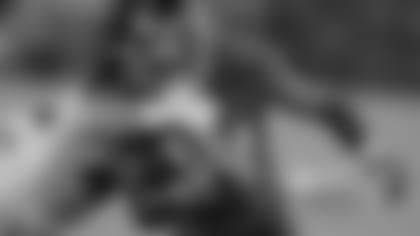 Rookie RB Charles Sims has been on the injured reserve list for eight weeks but he carried the team's one "designated for return" tab
Masifilo (6-3, 280) has been with the Buccaneers since midway through his 2012 rookie season, when the team signed him off San Francisco's practice squad. He spent most of the 2013 season and the first half of 2014 on Tampa Bay's practice squad.
The Bucs' series of moves on Saturday left the team with a total of 52 active players. They will only need to declare six players inactive on Sunday in order to get down to the game-day limit of 46.