STORY HIGHLIGHTS
RB Charles Sims signed his first NFL contract just a few hours after fellow 2014 draftee Mike Evans got his deal done
Like Evans, Sims could carve out a significant role in the Bucs' offense as a rookie
The Bucs now need only to sign TE Austin Seferian-Jenkins to have the entire roster under contract

The last chance for NFL coaches, players and staffers to take vacations is rapidly approaching, and apparently Tampa Bay Buccaneer officials don't want to have any loose ends when they leave town.
On Thursday, just after the team left the practice field for the last time this offseason, the Buccaneers announced the signing of rookie running back Charles Sims to a four-year contract.  Just before that final mini-camp practice, rookie wide receiver Mike Evans had inked his own deal.
Second-round tight end Austin Seferian-Jenkins is the only remaining unsigned player on the roster; he too could sign soon, although the only real deadline is July 25, when the Buccaneers open training camp.  Drafted players may practice with their team during the offseason program without a deal in place but they cannot report to training camp until they have signed.
As with Evans, the Buccaneers were eager to have Sims in camp on time, as there is a strong chance he'll be featured significantly in the running back rotation.  Doug Martin is entrenched as the starter and is sure to see the heaviest workload but Sims has much to contribute as a bigger back between the tackles and as an excellent pass-catcher out of the backfield.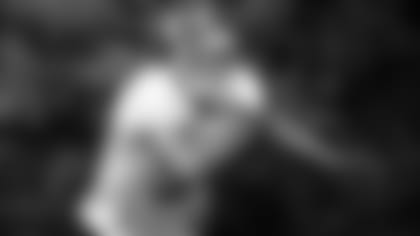 RB Charles Sims adds size to the Bucs' backfield and is an excellent pass-catcher
Over four seasons at West Virginia and the University of Houston, Sims caught 203 passes for 2,108 yards (10.4 avg.) and 11 touchdowns.  He also ran 384 times for 2,370 yards and another 29 scores.  Last fall, in his one season in the Mountaineers' offense, Sims ran for 1,095 yards, averaged 5.3 yards per tote, caught 45 passes and was named the Big 12 Newcomer of the Year.