STORY HIGHLIGHTS
DE Jacquies Smith has more sacks over the last four weeks than all but three NFL players
WRs Mike Evans and Vincent Jackson could be the first 1,000-yard teammates in Buccaneer history
Rookie K Patrick Murray has been one of the NFL's best long-range weapons this year

The Tampa Bay Buccaneers lost to the Detroit Lions, 34-17, Sunday at Ford Field in Detroit, falling to 2-11 on the season. Here are some of the more notable statistics and milestones from Sunday's game:
DE Jacquies Smith, a Week Two waiver claim by the Buccaneers who had never played in an NFL regular-season game before arriving in Tampa, had two of the team's four sacks in Detroit on Sunday. That pushed his season total to 6.0 sacks on the season, including five in the Bucs' last four games. Smith ranks second on the team in that category to DT Gerald McCoy, who stands at 8.5 sacks and is trying to become the first Buccaneer to hit double digits since Simeon Rice had 14.0 sacks in 2005. While McCoy remains on pace to hit that mark, Smith would have to keep his recent hot streak alive and get at least one more two-sack game. If both players found a way to 10 or more sacks, it would mark the first time since the 2000 season that a pair of Buc teammates had done that. DT Warren Sapp set a Buccaneer single season record with 16.5 sacks during that campaign, while DE Marcus Jones added 13. Even if Smith got two more sacks over the last three games, that would still give the Bucs their best pair of sack artists in a while. The last time a Buccaneer team had two players get to 8.0 sacks or better was in 2004, when Rice had 12.0 and Greg Spires pitched in with 8.0.
Smith has actually been among the NFL's best sack artists over the last month. His 5.0 sacks from Weeks 11-14 rank fourth in the league and put him on a very star-studded list in that time period. Here are the top five NFL sack producers over the last four weeks:
- As mentioned above, Jacquies Smith had never played in a regular-season game before he made his Buccaneer debut in Week Two of this season. With 6.0 sacks this year, he already has one of the highest single-season totals ever for a Buccaneer pass-rusher who previously had none on his NFL resume. Here are the top eight (there's a tie for fifth):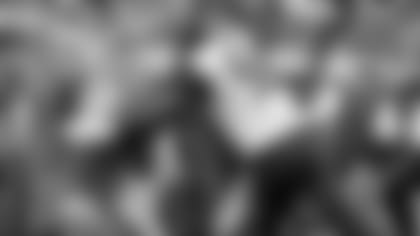 DE Jacquies Smith has already produced one of the best sack seasons ever for the Buccaneers by an undrafted player
There is at least one difference between Smith and the rest of the players on that list: Smith is the only who did not enter the NFL as a draft choice. Dotson, Clayborn, Adams and Dewayne White were all Buccaneer draftees, and in fact Clayborn and Adams were first-round picks. Of those four, all but White had the season in question during their rookie campaigns. Styles G. White, Stalls and Haye were all players drafted by other teams. In fact, Smith is having one of the best sack seasons ever for a Buccaneer who entered the league as an undrafted free agent. Here are the top four:
- One of the most memorable and successful position switches in franchise history belongs to Shelton Quarles, who is now the Buccaneers' director of football operations. Quarles started at strongside linebacker for Tampa Bay from 1999-2001, but after the arrival of new Head Coach Jon Gruden in 2002 he was installed as the new starting
middle
linebacker. Quarles played the position so well that he ended up in the Pro Bowl that season, just a week after the Buccaneers won Super Bowl XXXVII. Quarles also once played all three of the linebacker positions in the Buccaneers' 4-3 scheme
in the same game.
However, not even he ever pulled off what Danny Lansanah did on Sunday in Detroit. Lansanah, who earlier this season made his first NFL start at the age of 29, opened the game against the Lions at middle linebacker in the absence of an injured Mason Foster. Lansanah moved over from the weak side, where he had been filling in for an injured Lavonte David. Prior to his two games at that spot, Lansanah had opened the previous seven games at strongside linebacker, a job he took from the since-departed Jonathan Casillas fairly early in the season. As a result of Sunday's move, Lansanah became the first player in team history to start at all three of those spots in the same campaign. (The Buccaneers ran a 3-4 scheme from 1977-90, so this note covers the 1976 season and 1991 to the current year.) Of course, for much of that time, there was no real opportunity for a Buccaneer defender to pull off that feat, since Derrick Brooks started every single game at weakside linebacker for the team from 1996-2008. (Brooks also started 13 of 16 games as a rookie in 2005.)
Rookie WR Mike Evans scored both of the Bucs' touchdowns in Sunday's loss to the Lions, catching a five-yard pass just before halftime and then adding a 26-yarder early in the fourth quarter. That marked the third time this season that Evans has caught two touchdown passes in the same game, and no Buccaneer had ever done that before in a single campaign. Evans has eight touchdown catches in his last six games, and that's something no Buccaneer had ever done before, either. The previous record was seven by tight end Jimmie Giles in 1985. Giles actually recorded those seven TD catches in a three-game span but had no other scores in the three games before or the three after. So, technically, Giles had four different six-game stretches with seven touchdown catches. No matter which one you choose, however, Evans' six-game haul now trumps it.
Adding in his two TD grabs from earlier in the year, the star rookie wideout has 10 on the season, which is already tied for the second-highest single-season total in franchise annals. With three games to go, Evans needs just one TD catch to tie the record and two to beat it. Here are the top 10 receiving-TD seasons in Buc history (well, 12 actually because, again, ties):
Passing Williams on that list would also put Evans closer to the top rookies since the 1970 AFL-NFL merger in terms of touchdown catches. Williams owns the third-highest total while Evans is already tied with three others for fourth on the list. As mentioned, two scoring grabs would be enough to vault Evans over his Buccaneer predecessor, but three would allow him to catch the #2 spot on the list.
NFL Most Receiving TDs, Single Season (since 1970)
While Evans was scoring the TDs, WR Vincent Jackson was busy taking care of most of the yards between the 20s. Jackson caught 10 passes for 159 yards in the game, marking his 12th 100-yard outing in the regular season as a Buccaneer. He has passed Keyshawn Johnson in that category closing in on the top spots on the list.
- Jackson was a force throughout the game, putting up 81 yards in the first half and another 78 in the second half. Jackson's first-half mark was the most by any Buccaneer before halftime this season (Jackson had 82 in the first half at St. Louis last Dec. 22). By putting up another 78 in the second half, however, Jackson accomplished something much more rare in Buccaneer annals. In fact, that marked just the third time in team history that a Tampa Bay receiver has had at least 75 yards
in each half
of the same game. Jackson owns two of those three instances, and all have occurred since 2008. Here's the list, in order of most total yards:
- Those 10 catches matched a career high for Jackson, marking the fourth time he had hit that mark and the first since last year against Atlanta on Nov. 17. His 159 receiving yards are a season high and the most he has tallied since that same Atlanta game. Those yards also allowed him to move up to seventh on the Bucs' all-time receiving-yardage chart, as seen below. Jackson has recorded 77.1 yards per game in his 45 outings as a Buccaneers, which is the most in team history…unless you remove the minimum-game qualifier. If all players are considered, then Jackson actually cedes the top spot, if barely, to his new teammate. Mike Evans has 77.9 yards per outing in his 12 games so far.
Most Career Receiving Yards, Buccaneer History
- Jackson's 10 catches in Detroit moved him past Evans into the team lead in that category in 2014, with 60 to the rookie's 57. Evans held on to the receiving yardage mark over Jackson, however, 935-861. With Jackson's surge, both players are now on pace to surpass 1,000 yards this season; Evans projects to 1,151 yards while Jackson projects to 1,060. (We used the total
team
games to calculate pace, not games played by each receiver; Evans missed one game due to injury.) If both players can keep up that pace and hit quadruple-digits, they'll pull off something no other pair of Buc teammates has ever done. Tampa Bay has come very, very close to having two 1,000-yard receivers in the same season before, but never quite gotten there. Most recently, Jackson nearly pulled it off with the help of Mike Williams in 2012. Jackson got to 1,384 yards but Williams topped out at 996. Also, Bruce Hill (1,040) and Mark Carrier (970) nearly made it together in 1988.
Tampa Bay's first points on Sunday came courtesy of a 54-yard field goal by Patrick Murray. The rookie kicker is now five of six on field goal tries of 50 or more yards this season. Murray is one of six kickers in the NFL – and the only rookie – to have tried at least seven field goals from 50 and beyond this year, and he and Dallas' Dan Bailey are the only two to try that many and miss only once. Here are those seven kickers and how they've done from long range this season:
Murray needs just one more 50 -yard field goal to go through the uprights this season in order to tie the Bucs' single-season record in that category. He's already matched the second-best total, and the only player in team history with more career field goals of 54 or more yards than Murray's three is Connor Barth, with four.
Most 50 -Yard Field Goals, Buccaneers, Single Season