STORY HIGHLIGHTS
The Bucs elected to keep 10 offensive linemen, though most of the depth is at the interior spots
The running back corps is still deep and talented, but not as overloaded as it originally appeared
DE Scott Solomon's pass-rushing work in camp and the preseason earned him a spot

When the dust had settled on Saturday, the Tampa Bay Buccaneers had a 53-man roster for the 2014 season that nobody could have seen coming eight months ago.
The Buccaneers made their eight "final" cuts on Saturday, including the at least mildly surprising releases of safety Major Wright and running back Jeff Demps. The resulting roster includes 24 players who have joined the team since Head Coach Lovie Smith and General Manager Jason Licht took over in January, some as recently as the past few weeks. That total doesn't even include such players as Patrick Omameh, Danny Lansanah and Scott Solomon, all of whom came to Tampa last season but have yet to see any meaningful action as Buccaneers.
Tampa Bay has a new starting quarterback, an 80%-reconstructed offensive line, two new starters on the defensive line (and a third in a different position) and a refashioned (and tall!) core of receiving targets. And while it's quite possible that there are still some tweaks to come to the 53-man roster in the next few days, there is already something different to highlight about nearly every position on the depth chart.
Here is a position-by-position look at what the Bucs' roster looks like after Saturday's final cuts (position totals in parentheses):
This is probably the least surprising position on the depth chart after cuts, at least since the team brought in Josh McCown as the new starter in March. McCown and Mike Glennon, the 2013 third-round pick who opened 13 games as a rookie, give the Buccaneers two viable starters and plenty of reasons to feel confident heading into the 2014 season.
As Smith suggested would be the case earlier in the spring, the Buccaneers chose to keep only two passers on the active roster. That's a common practice in the NFL since the "inactive third QB" option on game day was removed in 2011. Clubs that carry only two passers on the active roster usually keep a third on the practice squad, and that will be even easier to do with the new rule that allows for two practice-squad spots to go to players with up to two years of accrued free agency credit. In fact, that makes Mike Kafka, cut by the Bucs on Saturday, eligible for that exact role.
Where once it looked like the Buccaneers would have more depth at this position than they would be able to carry, they end up heading into the regular season with a relatively light backfield. That's because that "5" is misleading; the team had to keep injured rookie Charles Sims on the active roster long enough to be eligible to put him on injured reserve without passing him through waivers. The Bucs are likely to give Sims their one "designated for return" I.R. spot, which would make him eligible to come back to the active roster at about midseason.
As such, it's really a four-man crew, including the lone fullback, Jorvorskie Lane. Doug Martin remains the lead back and he has his two running mates from last year, Bobby Rainey and Mike James. James hasn't played the last two weeks of the preseason, however, due to a shoulder ailment. While the Bucs still have plenty of running back talent, it's not quite the logjam it once appeared to be, and Martin is likely to get a heavy load, at least early in the season.
The Bucs' six receivers to start the season are Vincent Jackson, Mike Evans, Chris Owusu, Louis Murphy, Robert Herron and Russell Shepard. Saturday's cut of undrafted rookie Solomon Patton might have been a mild shock, but in a way this isn't a particularly surprising result.
Immediately after the draft, when the Buccaneers took Evans with the seventh overall pick and Herron in the sixth round, one could have easily predicted a top five of those two plus veterans Jackson, Murphy and Owusu. Since, we've had reason to take interest in the likes of Patton, Tommy Streeter and Eric Page. Instead, the receiving corps shook out about the way it looked in May, and even the inclusion of Shepard can't be considered a major upset since he was on the roster throughout the 2013 campaign.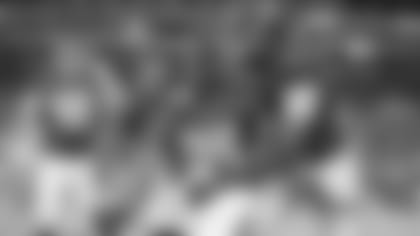 WR Russell Shepard (89) and DE Steven Means (96), both second-year players, worked hard to secure spots on the 53-man roster
Indeed, Shepard quietly did what he does best – excelled on special teams, including one brilliant play on Thursday night against Washington – and proved to valuable to overlook in the end. Given the makeup of the current six-man crew, it would appear that the rookie Herron has the lead in the battle for the slot-receiver job, given his small size, speed and quickness, but Murphy and Owusu could figure into that equation as well.
This one might have gone down to the wire for the third spot if not for Tuesday's trade of Tim Wright (plus a draft pick) to the Patriots for guard Logan Mankins. The team seemed certain to keep free agency acquisition (and current starter) Brandon Myers and promising second-round pick Austin Seferian-Jenkins. After that, it looked like a battle between Wright, an adept pass-catcher, and Luke Stocker, a bigger, more rugged blocker. After the trade, Stocker merely had to beat out undrafted rookie Cameron Brate, a Harvard product.
Brate wasn't cut until Saturday and could be a prime candidate for the Bucs' practice squad, assuming he clears waivers and chooses to return.
The surprise here is in the sheer number of players retained. The Bucs kept 10 offensive linemen for now, when nine would have been more typical and even eight wouldn't have been shocking, given the inexperience across the board among the reserves. Only seven offensive linemen will be active on game day, which means nearly half of the team's inactives will be from the O-Line if the roster remains constructed as it currently is.
This group contains two players who weren't even Buccaneers nine days ago. In addition to the Mankins trade, the Buccaneers also dealt safety Kelcie McCray to the Kansas City Chiefs on August 21 to get versatile interior lineman Rishaw Johnson. Both Mankins and Johnson were kept, along with March free agency pickup Oniel Cousins. Cousins started all four preseason games at left guard but will presumably cede that spot to Mankins.
The rest of the O-Line depth is comprised of rookies, and it's no surprise that fifth-rounders Kadeem Edwards and Kevin Pamphile made the cut. Perhaps the most unexpected name on the entire 53-man roster is that of Josh Allen, an undrafted rookie out of Louisiana-Monroe who has flown completely under the radar during camp and the preseason. The 6-3, 315-pound Allen has good size and versatility, as he played both guard and center while starting for four seasons at ULM. With Allen, Edwards, Cousin and Johnson, the Bucs seem to have quite a bit of interior-line depth, while Pamphile is the only remaining reserve who is listed as a tackle.
The Buccaneers also kept a lot of depth on the D-Line, but that is far less of a surprise. Lovie Smith wants as many edge rushers as he can get, and he kept four reserves who can do just that in William Gholston, Da'Quan Bowers, Steven Means and Scott Solomon. Gholston and Bowers made the team despite missing a good portion of the preseason (and some of training camp) with injuries; clearly, the team saw enough promise in those two before they were sidelined.
Solomon is the best story here, a little-known late-season acquisition in 2013 who has shown a lot of promise as a situational rusher. He had two sacks during the preseason and has consistently shown a very quick burst off the line. It may take special teams contributions for him or Means to get a helmet on game days, however, as Smith has said he will be keeping seven defensive linemen active. One is likely to be Akeem Spence, the one true defensive tackle reserve that was retained, while the inside-outside versatility of Bowers and Gholston would seem to make them next in line, if they're healthy.
This is about as light at linebacker as you'll see a 4-3 team go, with only Dane Fletcher and Danny Lansanah backing up the starting trio. That would seem to make recently-cut players such as Nate Askew and Ka'Lial Glaud possible practice-squad candidates, unless the Bucs have their eye on other players on the waiver wire.
It's no surprise to see Fletcher on the team, of course, as he was a coveted target of the Buccaneers in free agency in March. Fletcher is a demon on special teams, which showed up during the preseason, and he has some versatility to back up several of the three spots. Lansanah is the feel-good story on the roster, football's version of the minor-league lifer in Major League Baseball. Last year, at the age of 28, Lansanah played in a regular-season NFL game for the first time since he was a 23-year-old rookie with Green Bay in 2008.
Lansanah got into five games with the Packers in '08 but ended up on Miami's practice squad in 2009 and then the short-lived UFL from 2010-12. The Jets gave him a shot last year and he ended up on their practice squad, from which he was plucked by the Bucs in December. Lansanah is quick and active, can play both outside 'backer spots and is certain to contribute in the kicking game.
The Bucs' decisions at cornerback would seem to indicate that Mike Jenkins and Rashaan Melvin will be returning to the field soon after missing weeks with their respective leg injuries. A half-dozen cornerbacks is a pretty typical number, and the Bucs have them spread out on their depth chart, two-deep at three different spots. The team lists "nickel back" as a separate position, and it kept two players there, with Leonard Johnson backed up by Quinton Pointer. Pointer, who was picked up in May after the St. Louis Rams let him go, is another one of the more surprising names on the 53-man roster, but the Bucs sifted through a lot of candidates before giving the spot to the third-year player.
Jenkins is expected to return to practice on Monday after missing the entire preseason, and Smith is clearly excited to have him back in the mix. Originally, it appeared as if Jenkins and second-year man Johnthan Banks would be battling for the starting right corner job, but one has to assume that Banks will enter the season in that position given how much more preparation time has received. Still, Jenkins may very well be able to re-open that competition. Alterraun Verner is set as the starting left cornerback, with Johnson playing the nickel.
Melvin is the wild card. Since the Bucs signed him as an undrafted free agent out of Northern Illinois in 2013, he has looked good virtually every time he's been on the field. The problem is, a string of injuries have kept him on the sideline too often. Still, he made the cut, and the Bucs clearly like his 6-2 size and his raw skills.
A couple weeks ago, it was hard to see how the Bucs were going to sort through all their safety depth. They had four reserves behind Dashon Goldson and Mark Barron who had alternately drawn praise, and it seemed possible that the team would keep at least five safeties.
Then McCray was traded to the Chiefs and both Major Wright and Bradley McDougald incurred minor injuries that kept them out of the last two preseason games. The Bucs ended up using cornerbacks Anthony Gaitor and Marc Anthony to play safety for big portions of the Bills and Redskins games.
Now they're down to a pretty standard number of four safeties, with McDougald and Keith Tandy backing up Barron and Goldson. McDougald is another player who joined the team during the season last fall under different management but has impressed the current staff. The Bucs snatched McDougald off Kansas City's practice squad early last November and he ended up seeing action in three games on special teams. He was a two-way player at Kansas, playing both receiver and defensive back, but he's clearly proved to have NFL-level talent on the defensive side of the ball.
The surprise in this group came on Friday, when the team parted ways with kicker Connor Barth, who had excelled for the Buccaneers from 2009-12. Barth missed the 2013 season due to an Achilles tendon injury but was healthy and seeking to reclaim his job this summer. Instead, the kicking duties will fall to first-year player Patrick Murray, who has yet to play in an NFL regular-season game. Of course, most of the veteran kickers in the league were at one point in Murray's exact position, so this could be the start of a long professional career for the former standout at Fordham.
The Bucs will also have a new long-snapper, which has been apparent since the team did not re-sign incumbent Andrew Economos, who had held down the job since 2007. Veteran Jeremy Cain, who played with Lovie Smith in Chicago, might have seemed like the obvious choice early in the offseason, but first-year man Andrew DePaola showed superior cover skills after the snap and was able to unseat the veteran.
Michael Koenen will go into this fourth season as the Bucs' punter after a very strong 2014 preseason. It remains to be seen whether Koenen will continue as the team's kickoff specialist or that job will also fall to Murray, who has shown a strong leg in that capacity.
The Buccaneers didn't keep any players who appear to be on the roster specifically to return kicks, and the waivers of Patton and Demps throws a little uncertainty into that area. RB Bobby Rainey returned punts during the preseason and could be the first one to get a look at that job. The kickoff return job could fall to Rainey, RB Mike James, wide receiver Chris Owusu or some as-yet-undetermined candidate.