STORY HIGHLIGHTS
Which players have most defined the storyline in each of the Buccaneers' 38 previous seasons?
James Wilder was an easy selection for 1984, as was Warren Sapp for 1999
Quarterbacks are, unsurprisingly, very well represented on this list

In 1984, James Wilder ran the ball 407 times for 1,544 yards and 13 touchdowns and also caught 85 passes for the Tampa Bay Buccaneers. That's 492 touches; no other player on Tampa Bay's offense had more than 76. If you were attempting to tell the story of the 1984 Buccaneers, you couldn't do it without mentioning James Wilder's name. Wilder was the most obvious player about which you could say that in 1984, and that made him the Buccaneers' Defining Player that season. In a similar way, the absolute dominance of Warren Sapp in 1999, not to mention the swagger he brought to the rapidly-rising Buccaneers, made him the Defining Player of that squad. Doug Martin's incredible rookie output in 2012, and the way it tended to coincide with the best moments for a middling team, gives him the mantle that season.
What if we wanted to know the Defining Player for all 38 Buccaneer teams so far?  Actually, forget that "what if;" we do want to know. Or at least, I do. I'm here to make my picks for each season in franchise history so far, plus a couple predictions for 2014. I don't expect you to agree with every choice, and in truth there were a handful of seasons where no single candidate was head and shoulders above the rest. Disagree? That's what the comments are for below.
That said, for the majority of the past 38 seasons I was able to identify one man as clearly the most Defining Player, in my opinion. I had some ground rules, one of which is that we would consider players only, not coaches or administrators. Without this rule, coaches in particular would be heavily considered in a good number of seasons, including 1984, 1987, 1992, 1995, 1996, 2008, 2011 and 2013. You'll recognize most of those as either the first or last year of a charismatic leader's tenure.
Also, I am not trying to name the MVP of each campaign, though there will obviously be some overlap. You'll notice quarterbacks heavily involved, though probably not nearly as much as if this exercise were duplicated for some other NFL franchises, like San Francisco, Indianapolis or New England. Most importantly, the Defining Player is, in a handful of cases, going to be one who didn't necessarily have a great year. You'll see what I mean.
It's an admittedly nebulous concept, but I'll go back to the top to put it into the simplest terms: If you had to tell the story of this season, which player is most indispensable to that story, good or bad?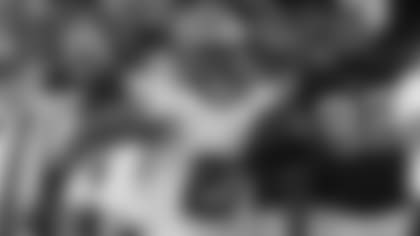 RB Doug Martin created the prevailing storyline in 2012 with his incredible rookie campaign
We'll take it in chronological order, beginning in 1976. Don't worry, there will be more variety as we move along.
1976: DE Lee Roy Selmon. It complicates matters that Selmon missed six games due to injury. However, he was immediately the face of the franchise, which at the time was dead last in offense, second-to-last in defense, had a rotating mess at quarterback and had a scoring leader of a wide receiver with six touchdowns. Selmon by default.
1977: Selmon. No default here. Healthy for the whole year, he was immediately dominant, racking up 13 sacks in 14 games as the Bucs' defensive ranking improved rapidly while the offense remained dormant.
1978: Selmon. Another huge season for Selmon as he was rapidly building his Hall of Fame resume. The Bucs' defense continued to gain quiet respectability with him at the front, racking up 11 sacks.
1979: RB Ricky Bell. This could go to Bell, Selmon or QB Doug Williams, but this was the peak season for one of the team's early emotional touchstones. While Williams was rightfully lauded for his game-management skills, his numbers were underwhelming, while Bell was a consistent offensive force in the regular season and then a monster in the team's first playoff win.  The Bucs ran for 152.3 yards per game in '79, their best ever, and didn't nail down a playoff spot until the final week of the regular season.  Ask me again tomorrow, however, and I might change my answer to Selmon.  After all, he was the NFL Defensive Player of the Year.
1980: Williams. Selmon was as good as ever but the Bucs' defense had a downturn and Williams was a rock for a struggling team, throwing for 3,396 yards and 20 touchdowns and also running 58 times for 370 more yards and four more scores.
1981: S Cedric Brown. Williams would have been a fine choice here, too, but the Bucs' defense was nearly back to its previous level (fourth in the NFL in points allowed) and the underappreciated Brown was the focal point this time, with nine interceptions.
1982: Williams. Williams, Selmon and RB James Wilder all made big plays down the stretch of a strange, strike-interrupted nine-game season. It's a toss-up, but Williams was in the midst of defining himself as an indispensable player for the team, as was proven in the years to come when a contract dispute and his departure led to several years of painful decisions.
1983: Selmon. After three seasons under double-digits, Selmon rebounded to 11.0 sacks in '83 and helped the defense remain respectable while the offense collapsed with no direction.
1984: RB James Wilder. See the intro. Probably the single most obvious decision on this entire list.
1985: Wilder. His 1985 season was almost as good as his '84 breakout (1,300 rushing yards, 10 touchdowns, 53 catches) and there wasn't much else to like about this '85 team, even with Steve Young desperately trying to scramble something up on offense.
1986: QB Steve Young. Young split starts with veteran Steve DeBerg in both of his two seasons with the Buccaneers, but in '86 he opened all but two of the games as the Buccaneers made an effort to find out what they had in the former USFL star. They eventually chose to give up and spend their number-one overall pick on Vinny Testaverde the next year, with Young going on to a Hall of Fame career in San Francisco.
1987: Replacement Players. You might say Vinny Testaverde, that first-overall pick, but he got only two starts and they were late in the season when all playoff hope was extinguished…and the Bucs lost all four of those starts. Little went right for the Buccaneers in 1987, who were undergoing massive change under new Head Coach Ray Perkins and with a huge influx of players from that year's draft. There wasn't much of a chance for Perkins to pull it all together because the season was interrupted by a strike after two games in and eventually resumed, for three games, with replacement players. They won't show up in any highlight film, but the replacement players were at the heart of the story of this season for the Buccaneers.
1988: QB Vinny Testaverde. For better or worse. The Bucs rolled with Testaverde, with DeBerg gone and only the ancient Joe Ferguson as his backup, and he most definitely defined the season by throwing an incredible 35 interceptions against just 13 touchdowns.
1989: WR Mark Carrier. Testaverde showed improvement (20 TDs, 22 INTs), enough to keep up hope that he was the long-term solution at quarterback, but a good portion of that was due to the incredible emergence of Carrier. In his third year, Carrier caught 86 passes for 1,422 yards and nine touchdowns, producing more than double the rushing/receiving yards of any other player on the team. His yardage total remains a single-season record for the Bucs and he was the team's lone Pro Bowler that season.
1990: QB Vinny Testaverde. This was the first of two seasons that Testaverde and Chris Chandler, who cost the team a 1992 first-round pick, would rotate in the starting lineup and clash in the locker room. That Testaverde-Chandler dynamic was the defining trait of this six-win team.
1991: LB Broderick Thomas. The Testaverde-Chandler story went on, but was nothing new. Meanwhile, former first-round pick Thomas followed up a 7.5-sack season in '90 with 11 more here and emerged as a possible defensive star for a team starved for one. Thomas felt snubbed when he didn't make the Pro Bowl, but in fact that would be the peak of his career and he would play only two more years for the Buccaneers.
1992: QB Vinny Testaverde. The last chance to establish himself as a franchise quarterback for the Bucs, with a new head coach in town. Testaverde was magnificent under Sam Wyche for the first two games of that season, both lopsided victories, but that promise slowly faded away as the team lost 11 of the next 14 and, with new free agency coming in '93, the quarterback and the team decided to go in different directions.
1993: LB Hardy Nickerson. Speaking of that new type of free agency, it would allow the Bucs to land Pittsburgh middle linebacker Hardy Nickerson, who immediately became the heart and soul of the defense, and the team as a whole. He made the Pro Bowl that year and was the first block in building what would become a second era of defensive dominance for the Bucs.
1994: RB Errict Rhett. Even with Nickerson, the Bucs weren't particularly good on defense in '94. They figured out over the last six weeks or so that they could run the ball, and that's when rookie back Errict Rhett went ballistic. The Bucs won four of their last five games and Rhett had 707 yards and five touchdowns in the last six. The Bucs strong finish, led by Rhett, was enough to give Wyche one more year under new team ownership in 1995.
1995: QB Trent Dilfer. After getting a few brief cameos in his rookie season, 1994 first-rounder Trent Dilfer was handed the reins to start his second season, and Wyche needed him to be good right away in order to save his job. Unfortunately, Dilfer and an unexciting supporting cast (other than Rhett, who was pretty good once again and could have gotten this title) couldn't mount any kind of passing attack (four touchdown passes in 16 starts) and the Bucs would make a change at the top.
1996: LB Hardy Nickerson. Late in Tony Dungy's first season at the helm, as the Bucs were stringing together some promising wins after an 0-5 start, the trio of Derrick Brooks, Warren Sapp and John Lynch famously gathered in a San Diego hotel room and vowed to turn the franchise around. They did, but in 1996 they were still finding their way and it was the Pro Bowler Nickerson who was the mentor for what rapidly became a great defense.
1997: DT Warren Sapp. There were lots of potential choices here, and even Dilfer is on the list as he was much more of a positive force in this breakout season (not to mention a Pro Bowl selection). Brooks and Lynch were among the team's eight Pro Bowlers, as was the emergent Thunder & Lightning duo of Mike Alstott and Warrick Dunn. But it was Sapp who set the tone in a season-opening win against the San Francisco 49ers (and especially against Steve Young and Jerry Rice) and became the outspoken voice of the team.
1998: FB Mike Alstott and RB Warrick Dunn. Okay, I hedged on this one, but at least I didn't make a habit of it. Considering the differences in the NFL game between 1978 and 1998, this was probably the most impressive rushing season in franchise history, and you just can't separate the contributions of Alstott and Dunn. Plus, they were both just so much fun to watch, which helped during a season that took a surprising downturn.
1999: Sapp. Sure, it could have been Sapp in 1998, too. He had "only" seven sacks that season, but it wasn't like he was any less of a focal point. He was undoubtedly the Defining Player in '99, however, not to mention the NFL Defensive Player of the Year. The Bucs emerged as the swaggering defensive counterpart to the St. Louis Rams' high-flying offense, and the battle between the two went right down to the final minutes of the NFC Championship Game.
2000: Sapp. More of the same for Sapp, though you could make an argument that the defining player was QB Shaun King. The Bucs gave him the starting job after his surprising star turn at the end of his '99 rookie season, but he couldn't get the team any farther than a Wild Card loss despite a still-incredible defense.
2001: CB Ronde Barber. By this point, the Bucs' defense was a well-established juggernaut with Brooks, Sapp and Lynch at the core. What would eventually take it over the top was the fact that stars had emerged (or arrived via free agency) at other spots, such as Barber at cornerback and Simeon Rice at defensive end. Barber was already a star by this point, but this 10-interception season was so incredible that he stole the Defining spotlight away from the Big Three. It wouldn't be the last time.
2002: LB Derrick Brooks. One of the greatest single-season defensive performances in NFL history led the Buccaneers to their first Super Bowl championship.  Brooks, who had been every bit as important to the defense as Sapp for years – but obviously less flamboyant and less of a focal point for the defense – made himself the key player for the team. He scored touchdowns in bunches – including the one that clinched the Super Bowl win – and won NFC Defensive Player of the Year honors. That team had many stories, but Brooks was the one that most defined the march to the Super Bowl.
2003: QB Brad Johnson. The Bucs' title defense didn't go as planned, thanks to some key injuries and narrow early-season losses. More on more responsibility was heaped on Johnson's shoulders as the team could find no running game and the defense – while still strong – wasn't as good at keeping points off the board as they were the year before. Johnson was impressive in these difficult circumstances, throwing for 3,811 yards and 26 touchdowns and completing 62.1% of his passes. He also threw 21 picks, and watching Johnson trying to save the team by dropping back on 60% of the Bucs' snaps was the unfortunate story of that campaign.
2004: WR Michael Clayton. This season was really defined by an ill-fated free agency splurge that was intended to boost the Super Bowl core to one more title but backfired miserably. With Joey Galloway suffering injuries and Tim Brown showing his age, the Bucs had a big void at receiver, not to mention a rotating QB situation. Into this stepped Clayton, the team's first-round pick, who sparked what would prove to be unfulfilled expectations by catching 80 passes for 1,193 yards and seven touchdowns. Clayton nearly beats out QB Brian Griese, who got the majority of the starts and became a fan focal point because his sometimes excellent performances (97.5 passer rating) were balanced by a string of pick-sixes and negative plays.
2005: RB Cadillac Williams. Caddy burst onto the scene even more explosively than Clayton, putting up an NFL-record 434 rushing yards in his first three games in the league. While he, too, would end up with a less-than-fulfilling Buccaneer career, he was the force that drove the Buccaneers to a somewhat-surprising division title in '05. He narrowly beats out Barber and Brooks, both of whom were All-Pros in 2005 for a defense that sneaked up to reclaim the #1 spot in the league.
2006: QB Bruce Gradkowski. Like 2003, this was another sudden downturn after a promising campaign. The biggest problem was at quarterback, where Chris Simms started the season after finishing strong in 2005. Simms suffered a spleen injury early and made only three starts, and with Griese gone and only journeyman Tim Rattay filling out the depth chart, the Buccaneers elected to go with Gradkowski, a supremely inexperienced sixth-round draft pick. Gradkowski produced some impressive moments but mostly played like one would expect from an untested rookie, and his getting 11 of the 16 starts defined the season.
2007: RB Earnest Graham. The Bucs made a habit during the middle part of this decade of slumping when they were thought to be strong and succeeding when the expectations were low. The 2007 team had one major advantage in that it had imported QB Jeff Garcia, who played reasonably well when he was healthy. It also ran into serious injury problems in the backfield that, when coupled with Garcia's occasional missed time, could have sunk the season. Instead, Graham, a career special-teamer and jack-of-all-trades, stepped up after injuries to Williams and Michael Pittman and kept the season afloat. His 898 yards and 10 touchdowns on 202 carries propelled the Bucs to a Wild Card berth.
2008: Barber. Statistically, the best thing the Bucs had going for them in 2008 was a strong pass defense (fourth in the NFL) and the ageless Barber was its best player. He picked off four passes, scored yet another touchdown and broke up 12. The Bucs' defense famously collapsed down the stretch in Monte Kiffin's swan song, leading to four straight losses and a missed playoff opportunity, but Barber didn't collapse with it. That's why he would go on for four more years with the team while Kiffin, Brooks, Kevin Carter, Cato June, Jovan Haye and Phillip Buchanon would all be gone by the next season.
2009: Josh Freeman. You could go with Aqib Talib, since the Bucs' pass defense was again the best thing it had going in 2009, and Talib led the way with five picks, but this season was about the beginning of another search for a franchise quarterback. In fact, the team lost its first seven games before giving Freeman his first start, then immediately upset the Packers. There would be only two more wins the rest of the way, but that second half of the season was clearly about the beginning of a new era under center.
2010: Freeman. And at this point that era looked very promising. Freeman threw 25 touchdown passes against just six interceptions and you'd be hard-pressed to find anyone who, at that time, wasn't excited about his future and thought there was anything more important going on with the roster.
2011: Freeman. The Bucs went 10-6 under Freeman's direction during that 2010 season and came into 2011 with a lot of confidence. They won four of their first six games, as well. The story of that season would become an ever-worsening losing streak, as the Bucs finished with 10 straight losses, many of them lopsided. Head Coach Raheem Morris lost his job. No one laid all of that at Freeman's feet, but he was just as much the team's Defining Player with his 17-TD, 24-INT effort as he had been with the 25-6 ratio the year before.
2012: RB Doug Martin. The Bucs had a new Head Coach in Greg Schiano, and a new running back that Schiano and his staff favored over LeGarrette Blount. They were proved right, as Martin had one of the most incredible rookie seasons ever by an NFL running back, producing 1,926 combined rushing and receiving yards and scoring 12 times. The Bucs' defense actually struggled a little bit, and Freeman followed up a hot midseason run with some troubles down the stretch, but Martin had emerged as a Pro Bowler and it was his performance that everyone remembers most from the 2012 campaign.
2013: Freeman. Freeman played only three games last fall but was still the player that defined the season. His 2012 efforts – thought to be somewhere between the 2010 and 2011 versions – left some uncertainty as to how his future in Tampa would go when he became a free agent in 2013. Some thought he could earn a lucrative long-term deal with another season like 2010. Instead, he fell hard at the season's beginning, completing just 45.7% of his passes in three starts, with a passer rating of 59.3 in three losses. That prompted the move that defined the season, as rookie Mike Glennon was given the reins for the rest of the schedule. Again, Glennon had some very impressive moments but the Bucs were still relying on an untested rookie who was trying to find his way with a banged-up supporting cast around him. Meanwhile, the rumors and events that preceded Freeman's eventual midseason release were part of a string of bad publicity that made the 2013 season particularly grim.
As the previous entry shows, the storyline that eventually defines a season can be difficult to predict ahead of time, and thus the Defining Player is a tough call. I have three predictions, ranked from what I think is most to least likely:
1. Gerald McCoy. If not for all the negatives of last season, McCoy probably would have been the Defining Player of 2013. After a Pro Bowl breakout in 2012, he emerged as perhaps the league's best defensive tackle, and he also happens to be endlessly charismatic. He's now seriously drawing comparisons – in terms of how important he will be to the offense – to Sapp. If the season goes well and the defense is a greater force than the offense (a strong possibility), McCoy's story will define the season.
2. Josh McCown. The Bucs brought in McCown and anointed him as the starting quarterback after his incredibly productive relief stint in Chicago last year. If McCown can fully complete the transition from a former journeyman to a top-notch starter at the age of 35 and the Bucs' offense propels them to the playoffs, he will be the season's Defining Player.
3. Lavonte David. He'll have to beat out McCoy first, but it's possible.  Despite a Pro Bowl snub last year, David has become a favorite of football analysts everywhere, some of whom believe he's an NFL Defensive Player of the Year candidate.  If he does that while leading the Bucs back to their former heights on defense, we'll give him the Defining Player mantle.