STORY HIGHLIGHTS
Bucs Cornerbacks Coach Gill Byrd knows his pupils have to be good tacklers in order for the Bucs to field a tough defense
Byrd sees a lot of upside in Tampa Bay's secondary and is excited to be working with CBs Darrelle Revis and Johnthan Banks
Revis and Banks have the talent to excel in Lovie Smith's defense

There are finesse offenses and smash-mouth offenses and ball-control offenses in the NFL, but most defenseswould be pleased to fall under the same description: tough.
Every NFL coach wants one, but what really constitutes a "tough" defense in the NFL?  Is it hard-hitting safeties who meet running backs in the gap?  Is it Dick Butkus-like linebackers with huge neck pads and gnarled fingers?  Is it space-eaters taking on double-teams at the line so the edge rushers can find a crease to the quarterback?
Those things can help, of course, but according to Gill Byrd, if you want to measure just how tough a defense is, look to the islands.
"To me, you're only as tough of a defense as your corners will tackle," said Byrd, who is taking over the Tampa Bay Buccaneers' cornerbacks under new Head Coach Lovie Smith.  "If you have corners that will tackle, you're a tough defense.  That started under Coach [Tony] Dungy here.  When your secondary tackles, you're a tough defense."
The defense imported by Dungy in 1996 – and which Smith helped develop for the next five years as the Bucs' linebackers coach – did indeed ask its cornerbacks to be physical and secure tacklers.  And it found the players to fit that system with the likes of Ronde Barber, Brian Kelly and others.  Smith is back to install a descendant of that scheme, which came to be known as the "Tampa Two," and while it has necessarily evolved to keep up in the ever-adjusting NFL it still requires corners who can seal the edge when necessary with a one-on-one tackle.
What the Buccaneers are seeking to develop, says Byrd, are "tough, disciplined, hard-nosed, fundamentally sound football players," and that's especially important with his group.  Byrd has had only a little time to view game tape of his charges – in particular, returning starters Darrelle Revis and Johnthan Banks – but he expects them to fit the mold as long as they dedicate themselves to the principles of the Bucs' defense.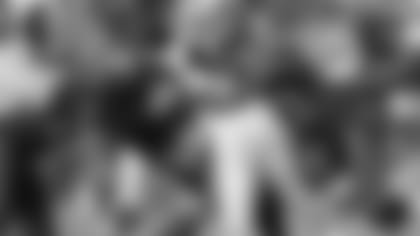 Strong tackling by CBs Darrelle Revis (24) and Johnthan Banks (27) will help the Bucs' defense excel in 2014
"There's a lot of upside potential [in the Bucs' secondary]," said Byrd.  "The guys have to learn how to play Tampa Bay football the way Coach Smith wants Tampa Bay football played.  The guys will learn that.  It's up to us as assistant coaches to carry that message down to the players, and we'll get that done.
"I think that will happen.  Across the board, that is a message that will be given to all the players – this is who we are and this is what we do.  But the most important thing is to buy into it and understand there is a certain way we're going to practice and a certain way we're going to prepare which will get us to accomplish our ultimate goal of being that aggressive, tough, fast, disciplined football team."
Shortly after Smith took the Buccaneers' job in early January, there was chatter that Revis, with his elite man-to-man cover skills, wouldn't be a good fit for the incoming defense.  That thought was fairly easily dismissed by noting that blanket coverage was only the start of Revis' talents and that Cover Two zones were only a part of Smith's scheme.  Byrd certainly has no worries that his star pupil will thrive under the new staff.
"He's definitely a special player," said Byrd.  "He possesses some great skills and he's a guy that I'm looking forward to working with.  The defense we run is known as 'Tampa Two,' but we do run multiple [schemes] and the players have to have multiple skills to function in our defense.  And Darrelle Revis has those skills to get things done."
That includes tackling, a rather underrated part of Revis' game.  According to Pro Football Focus, Revis was the seventh-best run-stopper among all cornerbacks who played at least 75% of their team's snaps, and he grades out as the ninth-best corner overall in run defense.  That work, coupled with his unquestioned coverage ability, made Revis the top-rated corner in the league by PFF.
Banks is the lesser-known commodity, having played just one season in the NFL after the Buccaneers nabbed him in the second round last April.  Banks had a promising rookie season, but he'll definitely have to prove his worth as a tackler if he wants to take his game to the next level in Smith's defense.  Helping Banks do that is one of the more stimulating aspects of Byrd's new position.
"Johnthan's young but he has a lot of potential," said the coach.  "I just want to be the potter to mold the clay that he is.  Because he is young, and he doesn't know…and I'm excited about that prospect.
"I'm anxious to work with all the guys.  Every guy that's coming back has a special quality or he wouldn't be at this level.  Every guy has something he needs to work on.  Every guy has something is an asset to the game. So I'm looking forward to working with all the guys, because they're different personalities, different body shapes, different strengths, different weaknesses, and to have us all mesh together into one solid unit."