STORY HIGHLIGHTS
Both QBs are in play for the second half of the season as the Bucs look for the best option to win each week
CB Johnthan Banks had his best game of the year Sunday and is on the rise
RB Bobby Rainey has earned playing time in a deep backfield that's getting deeper

Lovie Smith met with the press on Monday afternoon, less than 24 hours after the Tampa Bay Buccaneers dropped a 22-17 decision to the Browns in Cleveland. In the interim, Smith had an opportunity to review the tape from that game and gain a more detailed understanding of what unfolded on Sunday afternoon.
So, upon further review, here are a few things Lovie Smith and the rest of us learned from – and/or what new questions were raised by – the Buccaneers' eighth game of the year.
1. The Buccaneers' starting quarterback decision continues to be an evolving situation.
Smith was asked in a variety of ways about the state of Tampa Bay's quarterback depth chart, and he thus said quite a bit on the topic. Of course, as it was Monday, Smith in some ways said very little on the topic, by design.
Still, there were some illuminating points. The most emphatic answer the head coach gave was to the question as to whether or not he still had confidence in Mike Glennon's ability to be a winner in the NFL. The question came on the heels of a game in which Glennon threw for 260 yards and two touchdowns but also struggled with his accuracy more than usual.
"Yes I do," said Smith to the question of his confidence in Glennon. "Mike didn't play well yesterday. He has played well during this stretch of starts that he's had. You have to look at the body of work. It's always about now. Yesterday, didn't get off to a great start, but that hasn't been the case. Mike has made all of the throws, made great decisions. So yes, I still have confidence in him. Again, we just didn't play well yesterday."
Glennon has started five games since opening-day starter Josh McCown suffered a thumb injury in Atlanta in Week Three. He led the team to its first win in Pittsburgh in Week Four and has had a pair of 300-yard games plus a total of nine touchdowns in those five starts. For the majority of that playing time, he has exhibited impressive poise and he seems to be forming a nice bond with rookie WR Mike Evans. Smith labeled Glennon the Buccaneers' "quarterback of the future" in the spring and the second-year player has certainly had some encouraging moments.
That said, it's worth remembering that McCown initially lost his job due to injury, and Smith is high on the veteran's abilities, as well. And, of course, the Buccaneers are 1-7 and looking for any kind of spark. That doesn't mean Smith will be making a change in Week Nine, but it does mean that neither player has the job definitively locked up for the entire second half.
"It's always week-to-week with what we do," said Smith. "We look at who we think gives us the best opportunity to win this week, last week. Mike would be the first guy to tell you he's played a lot better than he played last week. Josh is healthy and ready to go right now. That's the strength of the quarterback position that we talked about. Right now, we'll see who's available – we have a couple of days and we'll kind of go from there.
"It's just a feel at the end on who we think gives us the best chance. I know that's coach talk, but that's what it always comes down to – who we think gives us the best chance based on who we're playing, what type of game, what type of game plan we think we're going with. That's something we're just not talking about the quarterback position – we're talking about all positions."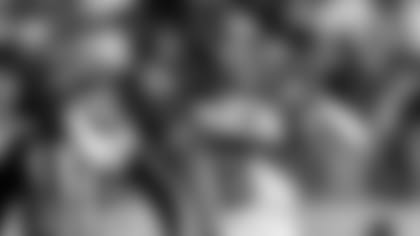 QB Mike Glennon has produced two 300-yard games and nine touchdowns in his five starts
Smith said that he did, in fact, give some thought to changing quarterbacks during the Cleveland game, though he ultimately stuck with Glennon, who rebounded from a pair of interceptions to throw two go-ahead touchdown passes to Evans.
"Whenever any position is struggling during the course of the game, you look at is there a better option at the time," said Smith. "I thought Mike would be able to come out of it."
2. There was one very bright spot for a beleaguered Buccaneers secondary.
Tampa Bay ranks 31st in the league in passing defense and last week traded its starting strong safety, Mark Barron, to the St. Louis Rams. The team has dealt with some significant injuries in the secondary along the way and occasionally has had to rely on untested players who have only been on the roster for a short time.
Things may be looking up. Cleveland's Bobby Hoyer threw for exactly 300 yards on Sunday, but the Bucs' defensive backfield did break up five passes and secure two interceptions. It wasn't a perfect performance – and a trio of long third-down conversions was probably the toughest part – but there were some positive signs.
One of them was the play of second-year CB Johnthan Banks, who has missed time due to injury this season but who was one of the best defenders on the field Sunday. He secured his second interception of the season and made several strong plays on third down, which is exactly what the Bucs need.
"Johnthan Banks really played well – his best game he's had," said Smith. "[He] graded out as high as anybody on our team."
Banks nearly had another interception a week earlier, and had he been able to secure that diving pick on the last drive in regulation, the Buccaneers would have held on for a win against Minnesota. Smith was impressed with how well Banks bounced back from that disappointing moment.
"Says a lot about him," said the coach. "We all know what happened last week and he took it. He didn't make any excuses – he just went back to work on the football field. He could not have played any better yesterday. It's not only the interception – which was a great play – but I think there was about three third-down plays he made by himself. He tackled well. Just good overall play by him, which we needed to see that from him."
3. Bobby Rainey's performance puts the running back position in a good spot heading into the season's second half.
It's been a tough season for third-year running back Doug Martin, thanks largely to a pair of leg injuries that have forced him to miss three games. That and the Bucs' overall struggles in some of the games in which he has played have kept him from getting into any kind of rhythm in the backfield.
That said, Smith is eager to have Martin back in the mix, perhaps as soon as this Sunday. The same can be said for rookie running back Charles Sims, who was activated from injured reserve on Saturday but then made a game-day inactive on Sunday. Given how well Rainey played on Sunday – and in his other two starts in Martin's absence – that could be a pretty deep and formidable backfield. The only blemish on Rainey's record was a trio of early-season fumbles, but that hasn't been an issue of late.
"Looking back at the fumbles…can't do that," said Smith. "But it seems like he's taken care of that. Bobby has put together at least two very good games where he's been the featured back. We have confidence in him. We have confidence in Doug too. You can't have too many good running backs. We can't wait to get Doug back, [and get] Charles back into the mix, but Bobby will be a part of that – I can say that."