STORY HIGHLIGHTS
The Bucs' tendency to start slow on game day has the coaching staff examining everything, beginning with the coin flip
Tampa Bay's pass-rush hasn't been as effective as expected and that's one of the main points of emphasis moving forward
Head Coach Lovie Smith still believes the Buccaneers will put a much better product on the field in two weeks

Lovie Smith met with the press on Monday afternoon, less than 24 hours after the Tampa Bay Buccaneers absorbed a disappointing 48-17 defeat at the hands of the Baltimore Ravens. In the interim, Smith had an opportunity to review the tape from that game and gain a more detailed understanding of what unfolded on Sunday afternoon.
So, upon further review, here are a few things Lovie Smith and the rest of us learned from – and/or what new questions were raised by – the Buccaneers' sixth game of the year.
1. The Bucs must find a solution to their tendency to start games slowly.
So far this season, the Buccaneers have been outscored 123-27 in the first halves of their six games, and outscored their opponents 93-81 in the second half and overtime. Even in Sunday's lopsided loss they outscored the Ravens after the intermission, 17-10, though obviously the game situation had a lot to do with Baltimore's approach.
In Tampa Bay's lone victory so far, the Bucs forced a fumble on the third play from scrimmage and scored 10 points on their first two drives. That happened in Pittsburgh, and that fast start allowed them to weather a run by the Steelers and pull out the victory in the end. In New Orleans, they stormed back from a 13-0 deficit to take a 31-20 lead but might have had the game out of reach if not for that rough start.
Through six games, the Buccaneers have played 366 minutes and 29 seconds of football, including the 6:29 in overtime in New Orleans. Those games have been tied for 77:11 of those minutes, but otherwise the Buccaneers have enjoyed a lead for just 61:56 while trailing for 227:22. The constant need to come back, and occasionally from double-digit deficits, is clearly impacting the play-calling. It is certainly one of the reasons that the team hasn't established a consistent rushing attack despite seeming to have all the elements in place to do so. Additionally, it has put the quarterbacks in the face of an aggressive pass-rush too often and made it hard to get to some areas of the short passing game in the playbook.
"When you get behind and start three-step dropping, you need to push the ball down the field a little bit more," said Smith. "When they score right away and then we turn the ball over right away, and you're getting in the hole 21-0 or 28-0 right away, the short game and things like that, you get out of your game plan a little bit based on that. But that's one of the ways, of course, you can help the quarterback is to get rid of the ball a little bit quicker. Didn't work that way yesterday."
So what can be done? Well, the simplest answer is "play better." Still, Smith and his staff will be examining the issue from every angle during the extra hours of the bye week, trying to determine reasons for the slow starts, at which point they can work on solutions. Some of it could even be strategic. For example, Smith prefers to defer after winning the game-opening coin toss (which the Bucs have done four out of six times), with the idea that putting the defense on the field helps control the crowd noise. That is, on the road, the home crowd will be quieter to start the game to allow the offense to work, and at home the Buccaneer crowd can immediately get loud. It worked in Pittsburgh when the defense got a quick turnover that led to a quick lead.
Smith did not go so far as to say he was changing his approach on that matter. But the fact that he brought it up, unprompted, would seem to indicate that he and his staff are at least studying the issue.
"[The slow starts are] another area that we need to look to do something differently," he said. "I've deferred quite a bit to put our defense out there, and especially at home. That's kind of the game plan we like. Again, everything we've done so far, we're looking to possibly change things. But as far as starting the game out, you practice the situations and try to prepare the team as best you can. We try to have them fresh and ready to go. The excitement, of course, of playing at home will normally give you something also.
"And then, it's just like everything else. Whether it's the start of the game or during the game or at the end, you have to just make some plays and have some type of success right away. And some of the plays that have really hurt us have been some basic plays. They broke a long run to really get momentum going, and of course, our plan is to – if we get the ball – to score a touchdown right away and then try to get a takeaway. But when an opponent does that, it's just kind of tough duty. Again, we realize the problem as far as starting fast."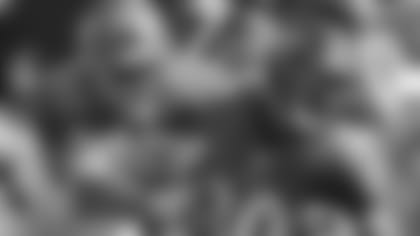 DT Gerald McCoy has been a disruptive force in 2014, as usual, but the Bucs' pass rush has been less effective than expected
2. The lack of a pass rush was one of the biggest issues on Sunday.
During the first half of the Bucs' win at Pittsburgh, Tampa Bay's defense produced five sacks, all of them by defensive linemen. Starting right end Michael Johnson had two and Pro Bowl defensive tackle Gerald McCoy had one.
Since then, the Buccaneers have gone 10 straight quarters without a sack. That may have been a bit misleading the previous weekend in New Orleans, as the Bucs did harass Drew Brees to some degree, directly leading to several interceptions. Against Baltimore, however, there was virtually no pressure on Joe Flacco, who contentedly stood in the pocket and delivered five touchdown passes in the game's first 17 minutes. The Buccaneers did not officially log a single hit on Flacco, after averaging about four QB hits per game during the first five games of the season.
Even that latter total is not going to excite Smith and his staff much. Flacco's second, third and fourth touchdown passes all came on plays of either third-and-eight or third-and-nine, and those are the situations in which the front four has to make a difference.
"We've been in some favorable passing situations, on third-and-long, and we just haven't been able to convert," said Smith. "It's an area that we need to improve."
McCoy, who is still playing his way through a fractured hand, made an impact in New Orleans without officially getting a sack. He has two QB takedowns so far despite missing about a third of the season, and for the most part has been as disruptive as ever. Last week, McCoy said that it was important for he and his fellow linemen to "rush as a unit," to be on the same page each play so that pressure from one angle can run a quarterback into a sack from another rusher. Adding to that point, the rest of the line has to take advantage if McCoy is absorbing multiple blockers.
"We have to get a better pass rush," said Smith. "Gerald McCoy is playing hard. He has to defend against a couple of people most of the time. We need to get into more passing situations also. Sometimes you see a pass this many times, but it's off of a play-action or something like that. We need to get into more of those traditional passing situations and try to free him up a little bit. But not just him – there are four guys. And I've talked about our four-man front and what we have to do. We need to get more from them – it's as simple as that. You can't double-team everyone."
3. Smith is hoping Buc fans stick it out through their understandable frustration.
The Buccaneers though they would be playoff contenders in 2014, and they haven't given up on that idea despite their 1-5 hole. Whether or not fans want to share in that belief, Smith hopes they give his team a chance to show that Sunday's game is not an indication of the way the rest of the season is going to unfold.
"First off, I'm disappointed too," said Smith. "That's what I would say to [the fans]. We're disappointed right now also, but just let it all play out. And, yeah I've said that before, but the game isn't over yet and that would be my statement. Give us time, we'll continue to get guys back and there's a lot of football left to go. If we were 6-0 right now, would you start buying your Super Bowl tickets?"
When asked if he knew what the tenor of local sports radio was on Monday, Smith said he didn't need to tune in to know what was being said, and that he understood the sense of disappointment. In the days leading up to the Baltimore game, Smith said that his team would put a better product on the Raymond James Stadium field than it had in the first two weeks of the season. Obviously, that didn't happen, but Smith isn't backing down from his belief that it will, and soon.
"I know what's out there and we're all disappointed right now, but I'm going to keep going, I'm going to finish," he said. "We're all disappointed right now, but that will change.
"What I'm concentrating on is improving our Tampa Bay Buccaneers football team. We're concentrating on the one we have right now and that's a full time job and we're going to do that. Next game we're going to do it again, we're going to go back out to Raymond James Stadium in a couple of weeks against the Minnesota Vikings and I'm saying again we're working to put a better product on the football field. Eventually that will come true."
Smith touched on several other topics during his Monday press conference. The remainder of the transcript is below.
Opening statement:
"Not much has changed since yesterday. Of course, it wasn't a whole lot of fun. I thought we would play a lot better than we played yesterday, kind of simple as that. Didn't start fast and we didn't finish strong either. Reasons why, of course, we have a few weeks to figure that out. We have options. When you play the way we played the first six games, you do – as I said yesterday – you have to look at changing things. And it's not like we're going to get another team or change our coaching staff, anything like that. We just have to all do a better job. We're going to kind of start with that. Injury-wise yesterday, didn't have a whole lot of injuries from the game."
On his comment after Sunday's game that the team did not have talent in some areas:
"We had some [pre-existing] injuries yesterday. Yes, we had a few guys out."
On if he could expound on the comment and if it was made in the heat of the moment:
"No, it's not heat of the moment. I'll just say [it]: our cornerback didn't play yesterday, and we were finally getting our MIKE linebacker back yesterday. But I'm not going to – we had somebody on the football field that was representing the Tampa Bay Buccaneers, so that had very little to do with it. Who we have out there, the way we prepared them isn't good enough."
On if he thinks the cornerbacks are doing a good job of jamming their receivers at the line of scrimmage:
"That's a part of it – I wish it was just that simple. It's hard jamming them sometimes. We haven't been pleased with how we've played man coverage – just not two. Just our overall play at the cornerback position hasn't been good enough like others."
On if picking up on play-action plays is attributed more to film study or execution:
"That's a pretty broad term, 'Play-action.' Do we need to do a better job with some of the play-action passes? Yes. Some of the drop-back passes? Yes. To the part of film study: yes it is. But it's more than that. It's kind of reacting and reading your keys and playing at the time and making plays once you do get into position. We've been in position sometimes and just haven't made plays also. A lot goes into that."
On what the plan was to stop Baltimore's defensive ends and if he was surprised at how well they played:
"We've played good defensive ends before in the past. We knew that we had two good defensive ends that we were playing. Defensive end, linebackers, guys that rush on the outside coming in. But their guys played really well against us. We had played pretty good ball at the tackle positions also. But, yeah, there's a plan if you can't – you have to add more people to get them help, whether it's chip help, help from the running back, keeping a tight end in. We tried a lot of different combinations of things. Sometimes you can't get help and you just have to block them also. But Mike [Glennon] was under a lot of pressure yesterday – more than normal. We haven't had to deal with that type of pressure before. We've played it better."
On offensive coordinator Jeff Tedford's status and if he could return this season:
"We talked about and I told you the plan with Jeff – we're moving on like he won't be with us anymore and that will be the case. Our offensive team has done [well]. The offensive production wasn't good yesterday, but before that, in the previous two games, it's been pretty good. We're looking at all areas, but that probably won't be one of them."
On how much he relies on his past experiences to know he's on the right track:
"I think experience teaches you a lot and for us, I've been in this situation before, a few different times and I just believe in what we're going to do. When you do start off, there's a reason why there is something new starting off with that and you do have to crawl before you walk. We didn't want to do it as much and part of the master plan wasn't for us to be in this situation right now, but that's normally what you do when you start something new. It's not ready right away, you have to build that foundation and that's what we're doing right now. Keep in mind also if we had started off 5-1 or 6-0 right now, there's still a lot of football left to go. We haven't taken this team through this second quarter and on, we have a lot to go and we are – and I said last week that we are a better football team. That game did not say that, but we're doing some good things, some better things behind the scenes and then hopefully we'll put it together and we'll eventually see that for one of the games."
On if there are similarities between this season and his first season as a head coach with Chicago:
"As I said before, a lot of it and to name off which [similarities] – we started off 0-6 here [in 1996], I pull from some things there. After we had went to the Super Bowl in St. Louis, we started off 0-5, 0-9 if we're counting the preseason games. You draw on all of those experiences, but what you come to and what I came to then is you stay the course on what you believe. What we're doing has a proven success rate – we're going to do it better and eventually there will be a good product that we're going to put on the football field."
On linebacker Lavonte David's comments that the team didn't play with enough fire and how much he attributes that to leadership:
"I wouldn't say lack thereof [leadership] and as far as the fire – those are opinions you get sometimes from one person and when a person says that, he's maybe drawing on his personal – you can't really get a sense. I've seen the most fired up football team around before the game that didn't play well and I've seen teams that we're more subdued before, that have really played well, you really can't get that. Lavonte David has pretty much played the same way [all season]. I know what he brings to the table always and we need more doing that, but the best form of leadership is better play on the football field and for everyone leading that way. We need to get more of that and I'm talking about good solid play."
On quarterback Mike Glennon's performance:
"He did some good things. Mike will tell you that he would like to – we didn't start exactly the way we would have like. That turnover early on hurt us, but Mike came back and did some good things, he was under a lot of pressure. We saw some things that we really liked and I've said that every game that Mike has played. Again, just stay with us and after it's all said done who knows, maybe Baltimore is a great football team right now also and we played them at wrong time too – that happens from week-to-week in the NFL. Some teams you just don't think are going to play a certain way, they play a little bit better, so maybe that was the case also. Let's not put everything based on this game. I know what happened in the Atlanta game, but there are a couple of other games in between there where we played some pretty good ball too. Hold on."
On if Glennon showed mental toughness:
"No, because he's the same guy. Mike on the sideline it was about the next series every time. 'Hey Mike, we have to have one here alright, this is one of those kind of games where we need points.' It was the same demeanor, 'I can't wait to get back on the football field to help my team score some points.' I saw that early from him and I've seen the same thing."
On if the team is preparing to make a trade to turn the season around:
"It would be hard for me to respond to – are you asking me if we're going to trade someone right now? You can probably see why I can't even talk on something like that, but what I'm concentrating on is improving our Tampa Bay Buccaneers football team. We're concentrating on the one we have right now and that's a full time job and we're going to do that. Next game we're going to do it again, we're going to back out to Raymond James Stadium in a couple of weeks against the Minnesota Vikings and I'm saying again we're working to put a better product on the football field. Eventually that will come true."
On if it's a good time for the bye week:
"Good time for the bye week. I don't know if there's ever a bad time for the bye week. You have a chance to get a few more guys healed up, for us we have a few injuries from young players and it's a chance for us to go back to some more training camp practices and tighten up on some of the things that we've seen our football team continue to do. I just know – I don't know how it is every year, but for us it's a great time right now. Also for us, the way we played yesterday, it's good to hurt for two weeks also, when you have that driving your preparation and your practice and all of that."