STORY HIGHLIGHTS
Mike Glennon is expected to start again Sunday but Lovie Smith doesn't need to make a long-term decision at QB yet
The Buccaneers ran the gamut of penalties in New Orleans and that issue will be front and center this week
Smith thinks the Bucs are on the upswing and will be a better team for the home fans in October

Lovie Smith met with the press on Monday afternoon, less than 24 hours after the Tampa Bay Buccaneers and New Orleans Saints finished up an overtime thriller that ended in disappointing fashion for the visiting team. In the interim, Smith had an opportunity to review the tape from that game and gain a more detailed understanding of what unfolded during those four hours in the Superdome.
So, upon further review, here are a few things Lovie Smith and the rest of us learned from – and/or what new questions were raised by – the Buccaneers' fifth game of the year.
1. Mike Glennon is doing a lot of things right…and will likely get a chance to continue that on Sunday against the Baltimore Ravens.
Mike Glennon has made two starts since opening-day starter Josh McCown injured his thumb in Atlanta, and just as he did in his rookie season Glennon has impressed with his poise under difficult circumstances. In this case, the difficulties have largely been the product of playing two road games against strong teams in particularly hostile environments.
Glennon completed 21 of 42 passes for 302 yards, two touchdowns and one interception in Pittsburgh in Week Four, rallying the Bucs to a last-second 27-24 victory. He had similar numbers, if not the same outcome, on Sunday in New Orleans, hitting on 19 of 32 throws for 249 yards, two scores and one pick. Both of his interceptions have been on very deep passes down the sideline, one of which came when intended receiver Mike Evans pulled up with a groin injury mid-route. Those interceptions are still important, but they don't necessarily represent poor decision-making; indeed, Glennon has looked very much in control during his two starts.
It looks he'll get a third start.
"This is what I'll say about Mike: Mike has played two great games and odds are Mike will start for us this week," said Smith. "Again, he's had two opportunities to play and he's played well."
The elephant in the room, of course, is what happens when McCown's thumb is fully healthy. Smith has heard the question several times over the last few weeks and will likely hear it several more times again until the answer is clear. Here's the thing, though: He doesn't need to answer it now. It's clear that he'd prefer to direct his attention to more pressing issues after his defense surrendered 511 yards in New Orleans and the team as a whole relinquished an 11-point fourth-quarter lead (the offense and special teams played a part in that as well).
"I don't know why we need to go there right now," said Smith of the long-term QB decision. "I love that I can talk about Mike the rest of the time. I've been excited about everything he has done, but we go from day-to-day. Right now we need to get our football team better. The quarterback position isn't really one that I'm concerned about though."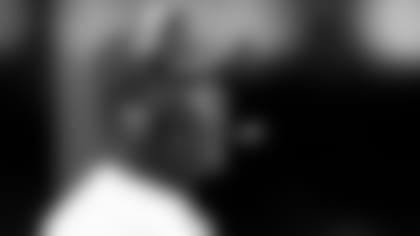 Head Coach Lovie Smith will be looking for ways this week to correct his team's recent issue with excessive penalties
2. The Bucs have to stop hurting themselves with penalties.
Any time a game goes to overtime, it's easy for each team to point to a thing or two that could have swung the outcome in their favor before the need for an extra quarter. For the Buccaneers, some of the more prominent ones revolve around penalties, and maybe none was more damaging than the illegal-use-of-hands flag thrown at Johnthan Banks in overtime. Banks got the penalty for contact near the line of scrimmage on the left side of the offensive formation; meanwhile, Drew Brees was throwing an incompletion out to the right side on third-and-10. It seems highly likely that the Saints would have punted on fourth-and-10 from their own 41 without that flag; instead, they continued the drive all the way to the Bucs' end zone and Glennon never got his hands on the ball in overtime.
The Bucs were left wondering how they had lost a game in which they intercepted Brees three times, scored on defense and rattled off 24 straight points in the second and third quarters to take a double-digit lead.
"We did some good things," said Smith. "I've talked to our team about turnover ratio forever and you normally win. I think we were plus-two and we lost, but then you look a little bit deeper – third downs, go back to some of those penalties on third downs, in critical situations where we were getting off the football field. You still have to win that turnover situation along with some other smart play, which we didn't always make."
The Buccaneers drew 15 penalties in all, for 113 yards. When you have that many flags thrown at you, generally you run the gamut from procedural calls to personal fouls to things outside of game play like excessive celebration. Louis Murphy even drew a 15-yard flag for "inappropriate language." The Bucs had a couple procedural penalties early that erased big plays on offense and kept Glennon's group from finding a groove. The post-touchdown calls came in the third quarter, but the real killers were the common (and not always avoidable) offensive and defensive holding infractions. Whether or not you want to argue the validity of any particular call, a team that draws 15 flags has to look at itself for the solution.
"Yes, I was surprised [and] disappointed in some of those," said Smith. "The celebrations, we can take care of that. I'm not going to kick them out of the family for celebrating though. We'll tell them not to do it next time they score, and I think I can handle that part. Some of the penalties were…they happened, it happens, and some of the others though are things that we can't do."
Smith's teams are not known for having persistent penalty problems, and the Bucs had just seven infractions called on them through the first two games. In the last three, however, they've drawn 11, nine and 15 and are now the fifth-most penalized team in the NFL. If you think that's going to be a point of emphasis for Smith in practice this week, that makes two of us.
3. Smith thinks his team's arrow is pointing up.
The Bucs will have to defy the odds to go from 1-4 to the playoffs, but it is true that they are still just two games out of first in the division, and they get one more crack at each of their NFC South foes. The outlook would have been nicer with a second straight road win on Saturday, but if you're looking for signs of encouragement, the team has been vastly more competitive the last two weeks after bottoming out in Atlanta.
With several key players soon to return from injury and the offense showing signs of life, Smith thinks the team is going to start seeing better results for its hard work.
"As a football team we're getting better, if that makes sense," he said. "It seems like each week we go out we're putting out a better product on the football field. We're disappointed we [lost] an 11-point lead, but you have to be a pretty good team to get an 11-point lead on the road like that, which we are. We will tighten up these things that I've talked about, to a man, and eventually we'll start winning football games consistently. One good thing about three of our losses is that we get an opportunity to play them again and hopefully we'll play better next time."
If the Bucs are going to salvage their playoff hopes, they have a good opportunity through the rest of October, with two home games sandwiched around a bye week. Smith is looking forward to giving the crowd at Raymond James Stadium a better look at what his team is going to be than they displayed in Weeks One and Two.
"We're excited," he said. "We had a tough three-game road stretch there. Excited about coming home, playing in front of our home fans too. For our fans, we'll have a better football team on the field this week when we come back home."
Opening statement:
"Any time you lose, you're pretty disappointed, which we are. We had opportunities throughout the game. We dug ourselves into a hole and dug ourselves out of it. We felt pretty good about how we matched up against them and to be able to lose it at the end – some of the things that we're doing though have to be corrected, a lot of things, but penalties just something that hasn't been a big part of who we are, but it has become a trend and we need to stop it. I think we had 10 in the second half and were critical penalties that kept drives going for them and stopped drives for us. These are some things that we have to clean up. I'm talking about some of the negative things though, but Injury-wise, we had a couple of bumps and bruises, nothing major and we should get players back hopefully this week."
On what needs to be fixed on the defensive side of the ball:
"Well I'm disappointed with what's going on with it. We have some players out, we missed some of those guys, but we had an 11-point lead and we lose it, on the road, at home, it didn't really matter. You have an 11-point lead in the fourth quarter and you lose it, it's not a good thing period and I think to a man we all realize that and we'll keep working to get it corrected."
On how he would grade the team's performance defending plays in the backfield against New Orleans:
"Yeah, they had some toss plays, they had some screen plays. Most of those you look at, we didn't tackle well. We had guys there for the most part right up until the last drive. [We] had opportunities to make tackles. That's what I was as disappointed as anything in. We had too many missed tackles. Some of the basic fundamentals that happened – whether it's a screen, going lateral, straight up the field – it's all the same thing. Eventually, an offensive player is going to meet a defensive guy and you've got to make a play on it."
On if it is normal for a team to show inconsistencies in some areas through five games:
"I think when you're 1-4, yes. It is. That's normally what happens. But again, looking at the big picture: we had an 11-point lead. So we're doing something. You're bringing up all of the negative – and I am too, believe me, I'm beating them up on that. Glass being half-full, we did a lot of good things there also. Some things that we feel like are correctable [and] we can take care of. I feel like we are putting a better product on the field each week.
On the positive takeaways from Sunday's loss at New Orleans:
"We had an 11-point lead in the fourth quarter against a good opponent. Starting off with that. Everybody contributed to that. How about Patrick Murray? Wanted to see our field goal kicker. Does he have a leg? How far can he kick it? He's been pretty good. Special teams have been OK. Would like to get a little bit more from our return game. Offensive side of the football, how about Vincent Jackson? 'A' grade by Vincent. We haven't had a lot of 'A' performances, but Vincent Jackson did everything you would want a captain, a top-money player, to do play after play. How about Louis Murphy too? Two games in a row. That's stepping up big answering the bell. You guys, of course, have asked a lot about Mike Glennon's play. We'd like to get a little bit better production from our running game. And on the defensive side of the football, we scored again. Danny Lansanah. I mean, how many linebackers in the league have scored two touchdowns? Three takeaways. So there's a few things."
On why the running game has not been successful so far:
"Not able to run the football."
On why the team has been getting careless penalties:
"1-4 team. Normally, things like that, put you in that 1-4 category. These are things that I'd say we can correct. But they're happening right now. That shouldn't be so hard to get on the line and get lined up. [We've] not had some of the communication problems we've had, but again, we're not there yet. We're a – I'm not going to say a young program – we're a program that hasn't figured all those things out. But eventually we will."
On how wide receiver Robert Herron has progressed through the season and if they will rely on him to step in for injured wide receiver Mike Evans:
"Well we for sure will have to depend on him with, as you mentioned, some of the issues at the wide receiver position. It's always good to get your first touchdown. And for him, the week before, he wasn't active. So to get out and to be able to contribute like that is big. He'll tell you that he had an opportunity to make another play, and next time he'll do that. But again, it's a process. He has good juice, good speed, quickness and should be a weapon. We're excited about trying to find ways to get him the ball more too."
On if he had seen a replay of New Orleans wide receiver Marques Colston's fourth quarter dropped pass that was not reviewed to determine if it was a fumble:
"A few times, yes."
On if he thought Colston fumbled the ball on that play:
"You know, I eventually get around to sending in complaints from the game. Normally, you get a 'yes, you're right' or a 'no.' That's kind of low on my list of things. I've seen that play. I think it was a fumble, like I thought it when I saw it then. But you know, each game, I disagree with some of the things. No, not some; quite a few of the calls that can go either way. And that was one of them that could've gone either way."