STORY HIGHLIGHTS
Anthony Collins, Doug Martin and Alterraun Verner are all doubtful for Sunday's game but the Bucs will evaluate them again on Sunday
Rookie RB Charles Sims could help Bobby Rainey make up for the potential absence of Doug Martin
FB Jorvorskie Lane and DE Da'Quan Bowers are back from suspensions and are available Sunday if the Bucs choose to use them

Head Coach Lovie Smith will hold on to hope until Sunday that three of his key starters will be able to suit up against the Atlanta Falcons, but the Tampa Bay Buccaneers' Friday injury report indicates that it will be a long shot.
Left tackle Anthony Collins, running back Doug Martin and cornerback Alterraun Verner were all listed as "doubtful" heading into the weekend. As the designations are defined on an official NFL injury report, doubtful indicates a 25% chance that the player will be able to play. In practice, it is quite uncommon for a player to go from doubtful on Friday to the lineup on Sunday. That said, if there was no chance that Collins, Martin or Verner could play, they would already be labeled as "out."
"This entire week they haven't been able to practice, but at the same time, they have gotten better each day and these are players that have all played and we'll let [the decision] go right up until the game time to see," said Smith. "We'll maybe take them out before the game to see exactly where they are. We have some doubtful guys, some of them are very doubtful, but not out."
Collins and Martin already missed last week's game in Cleveland with their foot and ankle injuries, respectively. While those are core players the Bucs very much want in the lineup, they were pleased with what they got from Oniel Cousins at left tackle and Bobby Rainey at running back against the Browns. Now they may be looking for somebody to step up at cornerback if Verner is sidelined by his hamstring strain.
The Bucs' other starter, Johnthan Banks, is coming off his best game of the season and is playing with confidence, but the Falcons have a deep group of pass-catchers that includes Julio Jones, Roddy White and Harry Douglas. Even if Banks continues his hot streak, the Bucs will need others to step up to avoid getting burned by Verner's absence. When Banks missed the game against Baltimore in Week Five, the team's reserve cornerbacks struggled at times. Smith hopes those players take advantage of another potential opportunity.
"At every position, there's an ideal world you would like to live in and very seldom do you get a chance to do that," said Smith. "For us, it's next guy up – opportunity for the next guy and sometimes you get your opportunity and [it doesn't] come around again. But sometimes you get another chance and if we have to go that direction for a guy like Brandon Dixon or Crezdon Butler – guys that have done a few good things along the line – then eventually they'll have to show us exactly what they are and who they are. What better chance, if it comes down to that and Verner can't go?"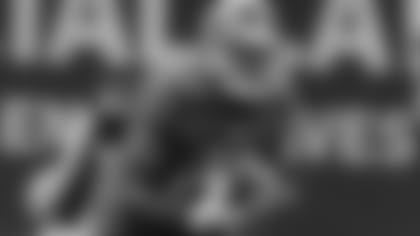 CB Alterraun Verner could be sidelined Sunday as the Bucs try to contain Julio Jones, Roddy White and Harry Douglas
Meanwhile, if Martin is out again Sunday, the team has full confidence in Rainey and will likely have another backfield asset in rookie running back Charles Sims. Sims missed the first half of the season due to a practice-field ankle injury that required surgery. The Buccaneers put him on injured reserve but gave him their one "designated for return" tag on the season, believing he could help in the season's second half. Sims was actually activated a week ago but he was kept inactive for the game in Cleveland. Now it seems likely he'll get his first opportunity to play on Sunday.
"Even though he's a rookie, I think he's handled the situation about as well as you could ask," said Smith. "I'm talking about when he was out with the injury of trying to get back as soon as he could physically; mentally, just staying in the game, watching video. You can improve so much on the sideline doing that. I've been excited about him since we drafted him. He hasn't done anything to prove otherwise. If we have him up this week, I'll be pretty excited to see exactly what he can do. Eventually, he's going to help us win a lot of games."
The rushing attack also welcomes back starting fullback Jorvorskie Lane, who spent two weeks on the commissioner's suspension list, along with defensive end Da'Quan Bowers. Lane and Bowers returned to practice this week and are available if Smith chooses to keep them among the 46 active players on game day. Smith doesn't believe the short time away from the team was enough to get them out of 'football shape.'
"It's not like through the week we're running marathons each day in practice or anything," he said. "Kind of look at their weight a little bit, how they came in. Both of them came in pretty good shape, made it through practice in pretty good shape. Sometimes a couple weeks [in] midseason – almost midseason – helps the body a little bit. We think both of them will be available for us if we decide to put them up this week."