STORY HIGHLIGHTS
CB Alterraun Verner is hoping to make his Bucs debut on Saturday in Buffalo, but the regular season remains the more important goal
Verner, who tweaked a hamstring early in training camp, took part in full-team drills on Tuesday, a significant step forward
The Bucs intend to increase Verner's reps throughout the week, if all goes well

The Tampa Bay Buccaneers would like to see cornerback Alterraun Verner on the field Saturday when they take on the Miami Dolphins in their third preseason game. They would really like to see Verner in action on September 7, when they open the regular season against the Carolina Panthers.
That latter goal is the more important one for the Buccaneers, obviously. Still, they would feel quite a bit better about Verner's readiness for the first game that counts if he could show them something this weekend. As such, the team is taking a controlled but hopeful approach to getting their number-one left cornerback ready for Saturday.
Verner, a key free agent acquisition in March and a 2013 Pro Bowler with the Tennessee Titans, has been mostly sidelined since tweaking a hamstring on the third day of training camp. Last week, he returned to action in a limited capacity, taking part in individual-position drills but not in the type of full-team work that offers more opportunities for accidental collisions. The Bucs had no plans to suit him up for last Saturday's game against Miami, but they wanted to see how his leg would respond. Since there were no setbacks, it was time to take another step forward this week.
As Head Coach Lovie Smith points out fairly frequently, hamstring injuries are tricky. The bearer of one often feels fine while walking around or even jogging in a straight line, but can't tell quite what is going to happen when he starts running hard or making cuts. Come back too soon and you risk setting yourself back to square one.
"It's definitely progressing," said Verner on Tuesday, before he went out for his most involved practice in weeks. "It's one of those things that's kind of hard to tell. I'm just walking around and stuff. But full-go and having to make quick reactions and stuff like that, that's something I can't tell you until I'm actually at practice."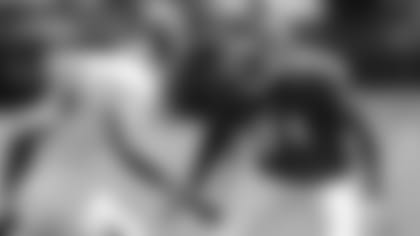 CB Alterraun Verner is hoping to increase his reps throughout the week of practice in order to make his Bucs debut Saturday in Buffalo
The good news is that Verner made it through every step of Tuesday's practice with no apparent issues. He took part in all sorts of drills this time – even and especially the full-team work – though the team still made sure to moderate his work.
"[Hehad] no issues," said Smith. "But again, we're just giving him a couple of reps each period. This is his first work, so it's [like] his first preseason game. I know I talked about how soon the season is coming up on us, but we have to be careful with that hamstring, which we'll do."
Since Tuesday's first test went fine, the Bucs will likely choose to increase Verner's work by some degree on Wednesday. As long as he continues to handle each progression without difficulty, he'll stay on track to get his regular-season tune-up in Buffalo on Saturday. That's not a certainty yet, but Verner and the team are hopeful.
"I feel fine," he said. "We're just going to see as we increase my reps during practice and see how I respond. I wouldn't say I'm one hundred percent though. We've got to do what's best and see how I feel. If I do play, I can't tell you how long. I'm going to play as long as they need me to play. I look forward to getting out there. Hopefully everything holds up so I can play."
The Buccaneers didn't need to see as much from Verner in training camp as they did from some of the cornerback candidates who are less established. As long as he is ready to go, which appears likely, Verner will undoubtedly be starting on the left side. Still, it's in every player's best interest to get as much on-field preparation as is possible, so Verner obviously hasn't had the ideal month of August. He's done what he can, however, to be as ready as possible.
"[I'm] really just watching film and talking with the coaches and things like that," he said. "Because the only people that are really good at what we're doing is the coaches because they're part of this system, they've been in this system. So that's why I watch a lot of Bears film just to see how teams are tackling and things like that. So it's mostly just film work and mental reps."
Assuming things continue to go well, Verner will finally suit up for some very useful physical reps this weekend.