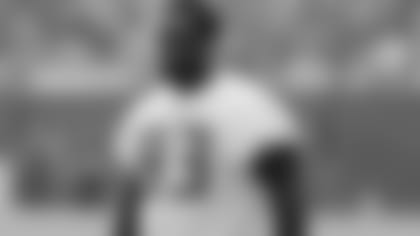 ](http://www.buccaneers.com/news/index.html)
Last week, the Buccaneers' wrapped up their mandatory mini-camp and officially ended their offseason program. Players will report back to One Buccaneer Place in Tampa on August 1st for training camp.
After the Bucs' final mini-camp practice, defensive tackle Gerald McCoy, who has taken on a vigorous strength and conditioning program since the end of the 2014 season, said that he will be focusing mostly on the mental aspect of the game during his "time off."
"Just my overall knowledge of the game, man, just knowing that's coming at me," McCoy said when asked what he'd like to improve on before returning to team facilities. "I've grown every year, but this year I have to take it to a different level. I've been meeting with Coach Cullen about different coverages - why we do this, why we do that, who's behind me. (I've been) talking to the linebackers, 'Why are you here?' Or, 'When this happens, what are you doing?' That way, if you know what everybody's doing, you could play a lot faster because you know, 'Alright, now I can take a risk because I know this guy's going to have my back on this particular play.'"
In addition to mastering his own team's scheme, McCoy will dig a little deeper into his upcoming opponents, especially those within the division, he said.
"If you know you're facing Drew Brees, if you know you're facing Matt Ryan or Cam Newton, you know what they're capable of, what they can and can't do, what they like to do, their tendencies, the snap count," McCoy added. "(There are) different things I've noticed with before they snap the ball, whether it's run or pass, that type of thing. Really, for me, it's going to be the mental part of the game."
After spending a year playing in Lovie Smith's system, McCoy should be able to share that wisdom with the Bucs' younger players come time for training camp.
"The younger guys, they can just get on board and we know how to lead them now. Last year we didn't know how to lead them because we were learning ourselves. I think, in that aspect, we've grown."
The best photos of defensive tackle Gerald McCoy.