NEXT HOME GAME BUCCANEERS VS. SAINTS Sunday, November 17 | KICKOFF: 1:00 PM
7:30 AM: Lazydays RV Lot Open (LEARN MORE)
9:30 PM: Parking Lots Open
10:30 PM: Suite & Clubs Open
11:30 PM: All Gates Open
GAMEDAY PARKING:
Need parking last minute? Don't have cash? You can purchase a parking pass on your phone and pay via credit card by clicking here. The parking pass can be scanned right from your phone!
NOTABLE POLICIES:
(1) All tailgating in stadium/club-controlled parking lots should cease at kick-off, except for stadium/club sponsored tailgate activities.
(2) Lanes of travel must remain clear for emergency response and pedestrian movement and cannot be used for tailgating activities.
BUCCANEERS MOMENTS:
Download the Buccaneers Official Mobile App to purchase a variety of opportunities from running the flags on field during pregame to autographed items and in-game seat upgrades.
MEMBER ALERTS:
Text SPM to 58124 to sign up to receive alerts on your mobile phone. Message and data rates may apply. You can also text FAQ to 58124 on gamedays for customer service.
DIGITAL TICKETS:
Don't forget to add your digital tickets and parking to your phone before arriving to the stadium. Click here to download or transfer mobile tickets and parking. Note: View your secure digital ticket in advance to expedite entry. Screenshots will NOT work to enter the stadium.
NATIONAL ANTHEM: U.S. Army Quartet
COLOR GUARD: SOCOM Joint Services
UNIFORM: Color Rush jersey, red pants, red socks
HONORARY GUESTS OF THE GAME: General Clarke, Commander, SOCOM
HONORARY FLAG RUNNERS: Airmen from the 927th
GAME THEME: Salute to Service
HALFTIME ENTERTAINMENT: Enlistment Ceremony, CENTCOM Commander, General McKenzie
BUCS BEACH ACTIVITIES (SOUTH PLAZA): Join the pre-game party featuring contests and giveaways from Buccaneers Partners and Sponsors, such as:
BUD LIGHT: Grab your friends and head towards the giant Bud Light bottle within Bucs Beach. Once there, you will be able enjoy $3 Bud Light Bucs Cans while you sit at the double decker bar, play games, or lounge in the sand! Be sure to stop by before entering the stadium to celebrate game day with your krewe! 
Coca-Cola: Fans are encouraged to stop by the Coca-Cola display at Bucs Beach before the game for free samples and fun activities like Coca-Cola Kicking Challenge and boomerang photos! Upload your photos on social media using #shareacokebucs to participate in the Coca-Cola fan mosaic. Stop by the main concourse near section 136 to see your photo!
DUNKIN DONUTS: Visit the Dunkin' Donuts tent for free samples of MUNCHKINS®, iced coffee and sweet tea! Keep an eye out for Cuppy the Dunkin' mascot for your chance to win prizes!
GEICO: Be on the lookout for the GEICO Gecko at Bucs Beach this weekend; and don't forget to stop by the GEICO tent for a chance to win $100 AMEX or VISA gift card!
FLORIDA CANCER SPECIALISTS: It's a hot one out there. Make sure you protect yourself from the sun by grabbing complementary sunscreen at the Florida Cancer Specialists tent.
FRONTIER COMMUNICATIONS: Check out the Frontier Communications display at Bucs Beach and inside the Raymond James Stadium West Club. Spin the wheel for a chance to take home great Bucs and Frontier co-branded items!
FORD: Ford will be showcasing their latest vehicles at Gates A and B and at Bucs Beach. Sign up for the Ford Bucs Krewe and you'll be entered to win exclusive weekly giveaways all season long including tickets, autographed merchandise, and more.
HYUNDAI: Hyundai will be in Bucs Beach showcasing their latest vehicles, offering cool photo opportunities, handing out Bucs swag, and signing you up for your chance to win a new Hyundai vehicle. Be sure to stop by! 
LAZYDAYS RV: Visit the Lazydays RV display at Bucs Beach to view one of their ultimate tailgating machines and a chance to win prizes. Lazydays RV will also be hosting RV tailgating family fun games and prizes in the Lazydays RV Tailgating Lot located in Publix Lot 14! 
Mercedes-Benz: Your Suncoast Mercedes-Benz dealers will be outside of the East Club entrance this week to showcase their newest vehicles, provide giveaways, offer exclusive photo opportunities, and register you for a chance to win a trip to the BIG GAME in Miami this February! To enter the contest now, visit www.enterpromo.com/benz
PDQ: Raise the Flags. Dip the Tenders. PDQ is now the Official Chicken Tender of the Tampa Bay Buccaneers. Be sure to stop by the PDQ stands near sections 102 and 127 in the stadium to get your fresh Chicken Tenders!
PUBLIX: Stop by the Publix tents at Bucs Beach for a chance to participate in this week's Publix Pigskin Payout competition (during the 2nd Quarter of the game); and while you're there try your hand at other fun games for your chance to win cool prizes! Also, make sure you choose Publix all season long for your tailgating needs and you could be the next Tailgater of the Game. Publix will be roaming the parking lots before kickoff looking for you!
SAINT LEO UNIVERSITY Check out the Saint Leo University tent for fun games and giveaways such as Koozies, cups and sunglasses! Take your photo wearing Bucs gear and share on social media!
TAMPA BAY TIMES: Enter to win breakfast and a meet & greet with a Tampa Bay Buccaneers player at AdventHealth Training Center. There will be 50 lucky winners. To find out more information on how to enter, visit the Tampa Bay Times tent at Bucs Beach!
TRADEWINDS ISLAND RESORTS: Stop by the Tradewinds booth across from Bucs Beach for a chance to win a 4-night stay at the Tradewinds, including a $500 Resort Credit! Fans can also text 50585 or visit WWW.BGCONTEST.COM/BEACH to enter.
Local Chef Showcase
Each home game, top Tampa Bay restaurants chefs will provide their vision and exceptional recipes executed by Legends Hospitality at Raymond James Stadium locations. Whether you're on the East or West side of the stadium, you will be able to enjoy some of the top restaurant-style dishes from Tampa Bay. Each featured chef will be in attendance the day of their showcase to tell their culinary story and what it means to partner with the Tampa Bay Buccaneers and the community.
Locations: Taste of Tampa on the 100 Level or Grille 76 on the Club Level.
Upcoming Schedule:
Sept 22 : Cena's Michael Buttacavolli
Nov 10: Datz
Nov 17: TBD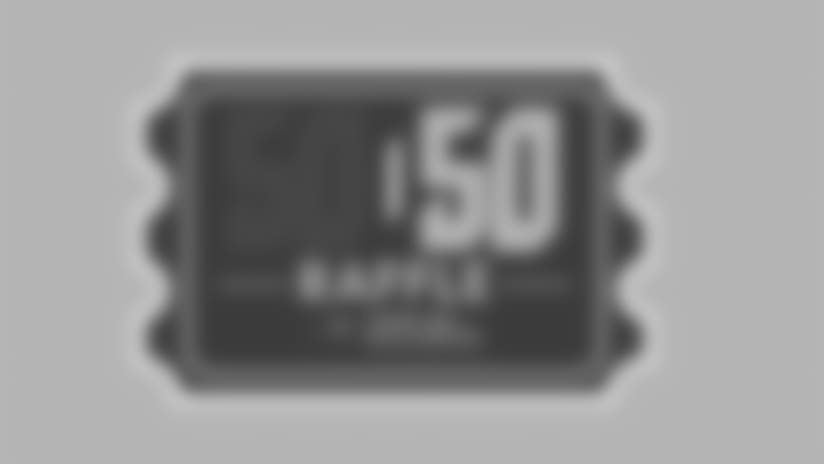 Tampa Bay Buccaneers Foundation 50/50 Raffle
At every home game, Tampa Bay Buccaneers Foundation conducts a 50/50 Raffle to raise funds to impact children in Tampa Bay through programming that improves physical and emotional health. Fifty-percent of net proceeds from the raffle ticket sales go to one lucky fan and the remainder will support the work of the Tampa Bay Buccaneers Foundation.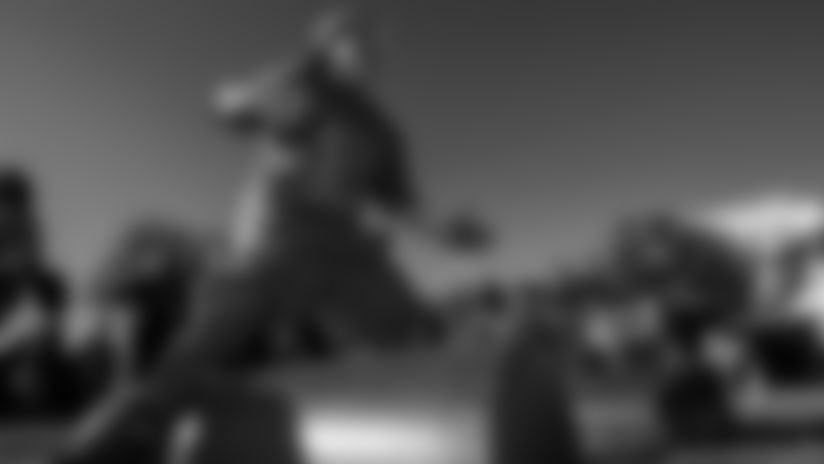 Jr. Bucs Experience
The Jr. Bucs Experience is open to all children and families attending a Buccaneers game. The kids-only zone will include inflatable football activities, interactive PLAY 60 football clinics, as well as visits from Captain Fear and the Tampa Bay Buccaneers Cheerleaders for children to enjoy free of charge.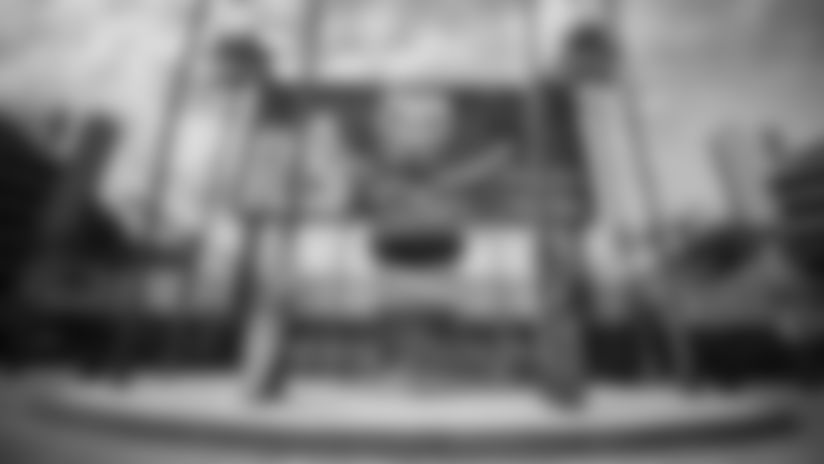 Bucs Beach
Bucs Beach is a must-visit, high energy destination featuring palm trees, sand and entertainment for Bucs fans of all ages. Pick up a signature drink from one of our tiki huts, kickback in a hammock under the palm trees and enjoy a rotation of live performances before kickoff.
Bucs Beach also features plenty for kids to do including an inflatable obstacle course, quarterback football throwing challenge, interactive drills and visits from Captain Fear.
Located in the South Plaza of Raymond James Stadium, Bucs Beach will be open 3.5 hours before kick-off and close at the start of first quarter.
Raymond James Stadium Map