STORY HIGHLIGHTS
The NFC South is loaded with big and fast receivers, making taller cornerbacks a coveted asset
Second-year CB Johnthan Banks is a good fit in Lovie Smith's defense and could be a key player in 2014
The Bucs' overall CB situation still needs to be sorted out, but there is plenty of talent on hand

This offseason, the NFC South saw the departures of mighty-mite receivers Steve Smith and Lance Moore. Some might say those were two welcome departures, given how productive those two have been for the Carolina Panthers and New Orleans Saints, respectively. Smith, in particular, ranks as one of the most dangerous "small" receivers in the NFL over the past decade-plus.
The Saints, having also said goodbye to pass-catching back Darren Sproles, wasted no time in adding a new shifty speedster to their offense, drafting Oregon State's Brandin Cooks – a 5-10, 189-pound blur – in the first round earlier this month. For the most part, however, the Tampa Bay Buccaneers' division has decided to go big.
That's actually most evident in Tampa, where the first two rounds of the draft brought a pair of 6-5 pass-catchers in wide receiver Mike Evans and tight end Austin Seferian-Jenkins. Those two teamed with the 6-5 Vincent Jackson already have something of a group nickname: "The Dunkaneers." They will, hopefully, help the Buccaneers' 32nd-ranked passing attack rebound in, well, a big way in 2014.
After taking Cooks with their first pick in the draft, the Saints followed up by grabbing 6-3, 215-pound pound cornerback Stanley Jean-Baptiste out of Nebraska. That pick came after the Bucs nabbed Evans and Seferian-Jenkins, and it would be easy to conclude that New Orleans coveted size in the secondary to defend the Dunkaneers for the next five or six years. The truth is, however, that every team covets big cornerbacks who can run, because there are big receivers all over the NFL. If Jean-Baptiste proves to be as good as he is big, he'll help the Saints not only against Tampa Bay but their other two division opponents as well.
That's an issue that should concern every team in the division, actually, the Buccaneers included.
"We're not the only wide receiving group in the division that's gotten taller; there are others that have done the same thing," said Buccaneers Head Coach Lovie Smith. "We're going to need a couple of six feet corners now."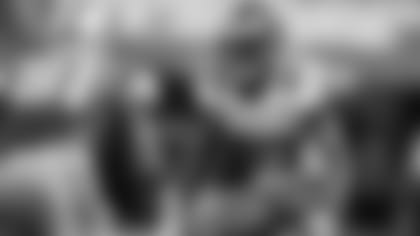 Second-year CB Johnthan Banks already has NFL experience covering such big receivers as Detroit's Calvin Johnson
Carolina's receiving corps was understandably an area of great concern this offseason when Brandon LaFell and Ted Ginn joined Smith in the exodus of pass-catchers. One can argue whether Cam Newton's stable of targets got better or worse, but it's undeniable that it got bigger. First-round pick Kelvin Benjamin out of Florida State stands 6-5 and weighs about 240 pounds – Mike Evans-sized, in other words. The veterans the Panthers brought in aren't that big, but they're not of Steve Smith stature either – Jerricho Cotchery is 6-1 and 200 pounds and Jason Avant is 6-0, 210. Plus, the Panthers' offense still features 6-5, 250-pound tight end Greg Olsen, who caught 73 passes last year.
Atlanta already had the 6-3, 220-pound Julio Jones running opposite the 6-0, 212-pound Roddy White. Those two might not be Vincent Jackson clones, but they're big and fast and a chore for 5-9 cornerbacks. New Orleans' attack still features the 6-4, 225-pound Marques Colston and the 6-2, 215-pound Robert Meachem, and Jimmy Graham may technically be a receiver or a tight end but he's definitely 6-7 and 260 pounds.
Quality cornerbacks who top six feet are obviously an asset of great value in this NFC South forest of redwoods, but they're not particularly easy to come by. The Buccaneers added two strong veteran corners in free agency in Alterraun Verner and Mike Jenkins, but both are the more typical corner size, standing 5-10. However, the Bucs do have a 6-2 cornerback on the roster, courtesy of last year's draft, and that size has Smith excited about Johnthan Banks' prospects in his defense.
"Banks is a great fit for our scheme," said Smith after a recent OTA practice at One Buccaneer Place. "I was talking with Johnthan a little bit today. "I like what he did last year as a young player playing. Coachable guy, who has talent – I'm excited about coaching him."
Six feet tall or not, Verner will be holding down the critical left cornerback spot; he was a first-day free agency target for the Buccaneers after they released Darrelle Revis in order to redistribute his $16 million salary. Verner is coming off a Pro Bowl campaign in Tennessee and is considered the perfect fit for a Cover Two defense. It's also quite likely that Banks and Jenkins will combine to fill the right corner and nickel back jobs. But the cornerback spot often runs six deep on the 53-man roster, and behind those top three it's not clear how the position will shake out.
There actually is a decent amount of experience in that group. Leonard Johnson has played extensively in the Bucs' defense the past two years, with 14 starts and four interceptions, and is running at nickel back during offseason practices. D.J. Moore, signed in February, played four seasons under Smith in Chicago and had 10 interceptions. Danny Gorrer has been around the NFL for four years, including two in Tampa, and has good speed. In the end, however, that coveted size could help a couple inexperienced players signed as undrafted free agents last spring stick with the team. The 6-2, 193-pound Rashaan Melvin was having a very strong training camp last year before injuries wiped out his season. The 5-11, 190-pound Deveron Carr was a priority signing for the Buccaneers after last year's draft and he eventually saw action in nine games last year.
"I see good competition [at cornerback]," said Smith. "Alterraun Verner will be one of our guys of course, we didn't bring him here to sit on the bench. There's good competition…I would say there are six cornerbacks that I like on our football team right now and it will be interesting to see how they grow. We have guys like Rashaan Melvin, Deveron Carr, guys with size and speed that we see daily improvement from. Again I just can't wait to keep going through the process to get to the preseason games to see exactly how they'll be."
Size alone won't win any of the Bucs' 10 cornerbacks a spot on the regular-season roster. It's a nice asset to have in the secondary, however, especially in the NFC South, so it's encouraging that there are some bigger cornerbacks vying for playing time in Tampa this summer.