Originally slated to pick ninth in the opening round of this year's NFL Draft, the Tampa Bay Buccaneers eventually traded back two spots before taking Florida cornerback Vernon Hargreaves III at #11. Even with that small step back (which netted the Bucs a fourth-round pick), the Buccaneers selected a cornerback earlier than they ever had before over four decades of drafting.
On the next evening, the Buccaneers traded up 15 spots, moving from the third round into the second to take Florida State kicker Roberto Aguayo at #59 overall (using that aforementioned fourth-round pick to do so). That also marked the earliest pick ever used on a placekicker in franchise history.
Prior to this year's efforts, Aqib Talib and Martin Gramatica held the distinctions, respectively, as the highest-drafted corner and kicker in Buccaneer annals. Talib has had a successful NFL career, even winning a Super Bowl ring last year in Denver, though off-the-field issues led to his departure from Tampa after five seasons. Gramatica is the Buccaneers' all-time leading scorer, and he too sports a championship ring.
The Buccaneers decision to jump on two positions earlier than ever before in this year's draft got us to thinking about which players hold that distinction at every spot on the team's all-time depth chart. We also wondered how many of those top picks proved to be the best player the franchise has ever drafted at their respective positions.
Below is a chart showing each starting position, plus punter and kicker. By each position is the player(s) who holds the distinction as the earliest ever drafted by the Buccaneers. Next to that is the most accomplished player at that position who was drafted by the Buccaneers, considering only what they did in Tampa. Discussion will follow.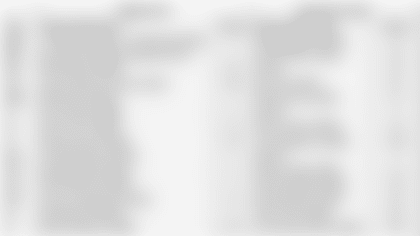 First, note that we refer to that second column of names as the best picks "to date." Hargreaves has a tall mountain to climb if he wants to build a career superior to that of Ronde Barber, but some of the other positions have more attainable top spots. In fact, the current trio of Jameis Winston, Mike Evans and Austin Seferian-Jenkins could definitely challenge Doug Williams, Mark Carrier and Ron Hall if they fully unlock their apparent potential.
Also keep in mind that the names in the second column are the best players in franchise history at those positions who the Buccaneers drafted. Ring of Honor member Jimmie Giles, for instance, ranks as the Bucs' most accomplished tight end so far, but he was acquired in a trade.
It's no secret that the first college draft pick in franchise history remains perhaps the best selection the team has ever made. Lee Roy Selmon was the first Buccaneer inducted into the Pro Football Hall of Fame and the Bucs have never come close to replicating that kind of draft success at the defensive end position.
Gerald McCoy at #3 overall in 2010 has proved to be a wildly successful pick, one of the best first-round decisions the Bucs have ever made. Already a four-time Pro Bowler, he's annually one of the league's best at the defensive tackle position. McCoy just happens to have another Hall of Famer at his position in Warren Sapp, the 12th pick in 1995. If McCoy continues to build on his excellent career, perhaps they could share those second-column honors in the future.
The largest discrepancy at any position between the earliest pick in team history and the spot where the most successful player was drafted is actually at punter. Monte Robbins came off the board in the fourth round, at #107, in 1988 but he never made it in the NFL. Tommy Barnhardt, pick #223 in 1986, did have a 15-year NFL career, with three of those seasons in Tampa, but this is a bit of a cheat. Barnhardt didn't initially stick with the Bucs or in the league in 1986, resurfacing in Chicago the next year and not making it back to Tampa Bay until 1996. Had he been a hit right off the bat, the Bucs surely wouldn't have drafted Robbins two years later.
Otherwise, the biggest jump between the two columns is at safety, where Mark Barron got earliest-drafted honors four years ago at #7. Barron only lasted two-and-a-half seasons in Tampa before being traded, though a move to linebacker with the Rams has turned his career in a promising new direction. He would have had to put together a fantastic career in Tampa, however, to catch John Lynch, picked at #82 in 1993. Lynch was a Hall of Fame finalist in last year's voting.
The Bucs' earliest-drafted player is also clearly its best player so far at three positions: defensive end, fullback and offensive tackle. Selmon, as mentioned, owns that first distinction, while the other two are fellow Ring of Honor members Mike Alstott and Paul Gruber. That's now the goal – albeit a lofty one – of new Buccaneers Vernon Hargreaves III and Roberto Aguayo.