STORY HIGHLIGHTS
The Bucs' injury report is only three players long, though LB Lavonte David (hamstring) is a new addition
Tampa Bay's defense will be paying a lot of attention to RB Matt Forte, who does it all in Chicago's attack
WR Mike Evans enjoyed the feeling of being "in the zone" on Sunday in Washington

The third day of the week started off as it often has this season, with a couple of roster moves involving the practice squad.
Actually, it was a relatively quiet week in that regard in that only one of the 10 spots on the practice squad was switched out. Punter Jacob Schum, who had just returned to the team last week, was released while defensive end George Uko came back. Uko previously spent two weeks on the same unit before being released on November 5. The former USC standout originally entered the NFL as an undrafted free agent witht eh New Orleans Saints this past May.
Uko rejoined the team in time to practice on Wednesday, and he took the field with nearly a full roster. All of the 63 players on the active roster and the practice squad were able to practice in some fashion to start the week, though three starters were limited due to injuries. Those three are linebacker Lavonte David (hamstring), running back Doug Martin (ankle) and cornerback Alterraun Verner (hamstring).
Martin has missed the last three games and Verner the last two, so limited participation represents a step in the right direction for both. David is a new addition to the list and has yet to miss a game in his three-year career, but it's likely that the team is just being cautious with their All-Pro defender. Head Coach Lovie Smith described the injury as "a little sore hamstring."
It goes without saying that the Buccaneers would be significantly worse off without David in the lineup on Sunday in Chicago. He's coming off a 12-tackle effort in D.C. that has basically become a standard for him. David has at least a dozen tackles in six of the last seven games and is tied for the league lead in that category through 11 weeks. Since the player he is tied with, Carolina linebacker Luke Kuechly, will be enjoying a bye this weekend with the rest of his team, it's a safe bet that David will own the top spot by himself after the Chicago game.
The Buccaneers hope that a number of his tackles involved running back Matt Forte, and that they aren't too far downfield. David and his fellow defenders know what an all-around threat Forte can be.
"He can do it all, man," said the Buccaneer linebacker. "He can do it all. He leads the team in catches and rushing yards. That's very rare. He's a great back with speed, hard to bring down and he's going to be a challenge for us as a defense. [He has] great hands, he's always reliable. When the quarterback needs to check down, he's always in the right spot. They try to get the ball to him a lot on the screen passes and stuff like that. So when you have a weapon like that, you've got to try to get him the ball as much as you can."
Forte was on the Bears' first injury report of the week, which was quite a bit longer than what the Bucs put out, and it included nine players who did not practice at all. Now, Forte and two of the others were out for a reason that was "Not Injury Related" – LB Lance Briggs, RB Matt Forte and DT Jeremiah Ratliff – which in most cases means they were simply being given some extra rest. Perhaps the most notable news from the Bears report is that the starting wide receiver tandem of Alshon Jeffery (hamstring) and Brandon Marshall (ankle) were held out on Wednesday. Marshall has been a regular on the Bears' injury report but has battled through an assortment of ailments to start every game; Jeffery is making his first appearance on the list since Week Three.
Speaking of big, fast and prolific wide receivers, one of the 60 unlimited participants in Wednesday's practice at One Buccaneer Place was rookie wide receiver Mike Evans, the reigning NFC Offensive Player of the Week. Evans learned of his first NFL award on Wednesday morning and described how he felt during his rather rare performance against Washington.
"I'm grateful for the award and I'm happy that my performance helped the team get a win," he said. "Most receivers, I'm sure they feel [in the zone] when they have a game like that. It feels like a basketball player: when they get hot, they can't miss. So it kind of felt something like that."
Roster moves, injury reports, running back challenges, Player of the Week awards…there was plenty to talk about at Buc headquarters on Wednesday, and we've barely scratched the surface. Below, you can find more thoughts from Tampa Bay coaches and players on a variety of topics.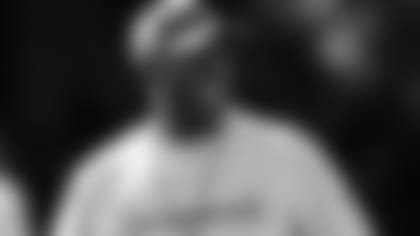 Lovie Smith enjoyed having his entire team on the practice field Wednesday as the Bucs began preparing for the Chicago Bears
Opening statement:
"Three guys: Doug Martin; Alterraun Verner; and Lavonte [David] has a little sore hamstring. Three guys were limited. Besides that, everybody else is kind of good to go. So we pretty much had our entire group out there practicing. This time of year, that's a pretty good thing. Good practice. Amazing what a win will do for you – little bit more energy. But that seemed like the Pittsburgh game really to us, kind of what we do this week. Big game ahead of us. Another great opportunity to get an NFC win on the road."
On quarterback Josh McCown saying the theme for this game will not be Lovie's return to Chicago, but that the team has a chance to start a winning streak:
"I think we've been around each other long enough for you to know that that's definitely the case. I've been a lot of places – different places. I got paid by four schools in one calendar year, so I have a lot of former places I've been to. And it's always fun playing people that you know, but no more than that. I'm sure Josh, Major Wright, Isaiah Frey, all the guys will say the same thing. We're trying to get a win against an opponent on the other side."
On if the relationships he has with former colleagues in Chicago gives more meaning to this game:
"I have relationships each Sunday with someone. This past week, I knew about three of those guys personally. Week before that, it was kind of the same thing. Again, I have friends everywhere. Definitely have some friends there. But again, it's about a football game and us trying to get a win."
On what his relationship was like with Chicago quarterback Jay Cutler:
"Had a great relationship with most of my players, I would like to think. Jay, of course, was a part of it. Jay helped us win a lot of football games. I was there when we brought him in. Again, relationship with Jay is just like hopefully it was with all the guys I had a chance to coach there."
On some possible reasons why the defense has struggled statistically:
"I think early on we just said, 'It takes a while to get the system in. Let's all get on the same page on how we're going to do things, how we're going to play defense.' If you just kind of add up how we've played since the bye week, there's marked improvement in every area, of course, leading right up until this last game. It takes a while. Simple as that. There are some things that we do; everybody assumes we just play one defense, Cover-Two, every time, and Cover-Two: no big deal. There's a little bit more to it than that and again, how we do things. It took a little longer than of course you wanted – and we're not there yet. We have a long ways to go, but I see progress being made each week."
On if he has shown the team film this week of Chicago defensive players creating takeaways:
"Yeah, I showed takeaways last week is what I did, from different people. This week, we'll kind of concentrate more – since we had some – on our takeaways a little bit. Again, we look at the league throughout and what's good that's happening that kind of relates to what we're doing each week. That's a base part of what we do."
On if defensive end Jacquies Smith has been a catalyst coming off the left edge:
"Those Smiths have a way of doing it, don't they? Yes. Just very pleased with what the guy's done. Jacquies has come in – doesn't say an awful lot. Has excellent speed for a guy rushing off of the edge, good bend, plays hard, has gotten the part down about taking the ball away. Just like everything the guy's done. Has earned more and more playing time each week, I might add too. We kind of go on what we see on video. Starting to notice him quite a bit."
On what he remembers most about his days as head coach in Chicago and if it was soured by how his time there ended:
"No, not at all. My memories of my time in Chicago are all great memories. I have lifetime friends from Chicago that will always be a part of our family. You talk about the opportunity I was given by the McCaskey family. It was all good memories. I don't have many bad memories on any place I've ever been. We spent a lot of time there. Still have homes there. Need to buy one? No, but my wife is from Chicago and there's nothing but fond memories from that time there. It's a part of my past. But a part of my past that I will always cherish."
On if the team loses to Chicago, would he view that as a step backwards:
"Didn't cross my mind. That's looking at the glass half-empty for sure. For us, we do want to build on the win that we had and some of the positive things we've been doing. Seen progress quite a few weeks. Just about every week, we've seen some good things we've done. We've done a couple of things we would like to have back that's really cost us. But last week, I thought it was a – play 60 really hit home for us this past week, and yes, we want to build on that offensively, the passing game. But getting our running game going a little bit more. And defensively, we did take the ball away, we were better on third downs. Some of the areas – we scored on defense, so the team goals that we have each week, we were able to do that. But we want to see it two weeks in-a-row."
On if he agrees with running back Bobby Rainey comparing rookie running back Charles Sims to Chicago running back Matt Forte:
"There's similarities, yes, between the two. That's definitely a compliment to Charles because Matt Forte I feel like is a great player – can do it all. All-down running back, good on first and second downs, can block, protections, catch the ball out of the backfield, and can run the passing tree as a wide receiver. Forte, of course, can do that, but Charles Sims, we feel like in time will be able to do most of those things too. Early in the game. For Charles, it's just about – his third NFL game so we're early in the game. There were a couple more flashes we saw this past week from him. This week, hopefully we'll see more."
On if quarterback Josh McCown is playing the way the team expected him to these past two weeks:
"No doubt. You guys had a chance to talk to Josh and you know his glass is overflowing instead of just full every day. Whatever his role, 'What do I need to do to help the team win?' So he's in a different role right now. Really prepared well, like he normally does. It's about what you do in a game. He made all the throws. Have to give the offensive line a lot of credit – he had a lot of pockets to throw the ball. But when you have a game the way Mike Evans had – but the ball was there. Not a whole lot of circus catches Mike had to make in that game. The ball was pretty much on the money every time. And then, when you need to run – just mobility in the pocket of avoiding things. So yes, that's what we envisioned Josh playing football like he did this past Sunday and [we look for] him to continue playing ball like that."
On if the emergence of rookie wide receiver Mike Evans has an effect on the team's ability to run the ball successfully:
"It should. Whenever you have – right now, when you're having the type of year that – and I'm going to say Vincent [Jackson], Mike, Austin [Seferian-Jenkins], what we're getting from the outside, it should. Maybe force teams to not put an extra guy in the box to stop the run, which should open up more lanes for our run. They have to go hand-in-hand. But once we get to a point, that will truly be Buc Ball once we can run the football well with this passing game that we've developed."
On why the team has struggled to run the ball as effectively as they would like:
"It's hard to just kind of answer that with a simple answer. Have to give the defense a lot of credit. To me, when you're running the football well, you either have to have a lot of holes – but then, it's going to come down to the running back a lot of times in one-on-one situations, making someone miss, yards after contact – there's a lot that goes into that. And right now, we haven't been able to do all of that at the same time."
On if the team's struggles with the running game caught him by surprise:
"I can't say it caught me as a surprise. I think you just have to stay with it. You have to keep the commitment to the run and eventually, if you continue to do well – see, for me, when I say we like to run the football, we would, but we would like to move the ball down the field, we would like to score any way. If we got production and threw the ball every snap, I'd be OK with that. So we're just trying to have production on the offensive side in any way."
On the journey that linebacker Danny Lansanah has had to get to this point:
"I think every place and every experience you have makes you a better player – especially in football – and when you have to deal with adversity like Danny. Most of us, we get fired one time or we go through something tough. A couple times, a lot of people quit [and] give up then. But Danny didn't. How many stops [has he had]? Four? Five? He's been told a few times, 'Danny, you're not good enough.' But Danny believed in himself that, 'I am good enough.' And when you have a new staff come in the way we did, we said, 'Hey, everybody is starting from scratch,' and he started making plays. Right now, he has two interceptions for touchdowns and three interceptions overall. Pretty good numbers for a guy that's been rejected quite a few times."
On his predominant recollection of Chicago fans:
"With my glass being half-full, I have a lot of fond memories. We won a lot of games – that's what I remember. The fans there were awesome when we were winning all those games. So that's my recollection. Again, the year I was off, really got to know some of them in a whole different light. So again, my time in Chicago, it's nothing negative about my time there, and that includes fans – I don't have anything but fond memories of my time there. Of course, the fans were a part of that."
On during his year off, did he ever think about any possible regrets he had during his time in Chicago:
"No. I don't have many regrets in my life – just don't live it that way. I feel like everything that's happened to me in my life is what I needed at the time to thrust me further. I'm a strong believer. [I] feel like God is in control of my life and He wanted me to spend a certain amount of time in Tampa, St. Louis – my time was up in Tampa, then I went to St. Louis.; my time was up in St. Louis, I went to Chicago; my time was up in Chicago, I came here. And every decision that happened, every game – anything that doesn't go right, it's, 'Ah, man, we could've done it a little bit better.' But having true regrets, very few of those."
On Chicago linebacker Lance Briggs saying he would "run through a brick wall" for him and what he hopes his players from his days in Chicago took from his coaching:
"Well I think we always go back to relationships that we formed there. Of course, I'd do the same thing for Lance Briggs and any of my guys there. Former player, Hall of Famer Aeneas Williams was here [yesterday] from my time in St. Louis. I cherish the relationships I've been able to develop everywhere I've ever been. And of course in Chicago, there were quite a few of those there."
On if it was hard for him last year during his year off to see the struggles of Chicago and the injuries they suffered:
"Well, you know, it's not like I watched every – I didn't watch every one of [the] Chicago Bears [games] the year I was off. I didn't watch every one of their games, but I knew a little bit about what was going on. Yeah, I was invested in a lot of the players there so it was disappointing when they're struggling some. Major Wright, of course, is here now and we've talked. But that's just a part of it though – you go through struggles. If you look at our football season, we defensively really struggled early on, but you just have to stay the course. If you're doing it right, things will change. Guys like Lance Briggs, they're not going to stay down very long – believe me."
Quarterbacks Coach Marcus Arroyo
On the development of wide receiver Mike Evans:
"I think Mike's coming along. Again, the past couple of weeks has kind of been, the ongoing dialogue I think, taking strides in all levels as far as everything we're asking him to do. You ask all your guys at this level to do a lot of things in comparison to what he did in college, like you said, playing on one side – not that it's any knock on anything, he did great stuff in those systems. He's coming along every week and finding ways, again to put him in position to be successful and I think he's playing with more confidence every game and every rep. You can kind of see that come to light. You asked about the slot and moving him around – just kind of moving him around, I think, makes it hard to deal with. Keeping him in situations where we think we can get a matchup on – for instance last week on a linebacker – then I think that was a good advantage and it worked out well for us. Continuing to find ways to do that with our guys – he was a perfect example last week."
On if quarterback Josh McCown's play at Washington last Sunday was what the team was hoping for when he was signed this offseason:
"Not surprised [to see that]. I think if you look at last year and what he did last year and his body of work, that small body of work he had when he was given a chance, it was pretty impressive – really impressive when you break it down. Again, we've talked about it before, I think he's capable of doing that again – and that game was a great game last week, going to try and find a way to do that again and again. Not turn the ball over, take care of it – and this is all of us, it's whoever is at quarterback, really – take care of the ball, manage situations, manage the ebbs and flows of the game and put us in position to be successful and go out there and play fast and not think. He did a great job, obviously, a really good job of seeing things, we had a good plan, he did a good job with some of the protections – we spent a lot of time on protections, we spent a lot of time getting ourselves protected, that's the key to what we believe in. Protecting the quarterback at this level, I think, is huge and knowing how to pick that up. When I say protection, you're not blocking it, but we try to do as much as we can, scheme-wise to figure out how to get it blocked up. They showed us everything, right out of the gate – from safeties to linebackers, they had every element of pressure, I think they threw the whole bag at us early. Everyone – from O-line to [running] backs, to quarterbacks to wide outs knowing where the ball is going to go – did a really nice job and [we will] continue to work on that. He did a really nice job."
On Evans being covered by a linebacker on his second touchdown reception at Washington:
"I think that's kind of what we were doing with Mike a little bit, and Vince [Vincent Jackson] at other times, and Austin [Seferian-Jenkins] other times, and backs too – you try to find where you think you can find a matchup and it's got to hit at the right time, in the right place because they've got to call the right defense, you've got to hope they do it at the right time and have a plan for it. Just like anything else, just got to be as calculated as you can. We happened to hit it a couple times. We missed another one, had another chance, but that was a good decision and it was a good scheme with that in mind with their coverage and it worked out well – really nice job. I think that's an advantage for us, big time him working on a [linebacker]."
On Evans' growth:
"I think, again, all those steps have been things that you're trying to build in individuals, let alone the unit. From carrying the ball in which arm to finding out the hard way how that works. Obviously, finding more ways to improve your game and elevate in your route tree – without putting too much on any of those guys, because it can be where you want to give it to them all and you've just got to be careful with that I think. I think our coaches and everyone has done a good job with that of watching our guys take steps and he's a good example of taking a step every week."
On the development of running back Charles Sims:
"I think the development with Charles, in the just last couple of weeks was: his first week back see what he's capable of doing, see what exactly we really think he's got and last week, having Doug out again, was another opportunity to get him some more touches and keep him – another example of, like Mike [Evans], a rookie who is in his second game and you're trying to find out exactly what he's got, let alone 'Hey, just get out there and get a feel for the speed and the game and what we're trying to do.' He did a nice job, I think, obviously the rest of the time, we hope that everyone's got an opportunity to make strides and he's another perfect example. The third game is going to be another big stride, so that will be nice. Those guys again, by committee, have done a really nice job and all those guys are capable and we're fortunate to have them."
On running back Doug Martin's availability for Sunday's game at Chicago:
"I think that's probably up to Coach [Lovie Smith], that's Coach's conversation."
On what Martin's role will be when he returns from injury:
"Depending on how he comes back – we obviously love when Doug is in the mix and his touches will be Doug's touches, that's going to be based on how healthy he is. He's going to be in his first week too, it's been a few weeks now, so it's like 'Are you ready to roll, how many touches can you really take?' We'll find out, we've got to wait to see how practice goes. I'm excited to have all those guys, obviously."
On McCown's emotions driving his high level of play at Washington:
"I think that range of emotions is probably par for the course. I've said that before, but when you're that emotionally tied to it, if you don't do the things you expect to do and want to do for the betterness of the group in his regard, it's going to be hard to take if you don't get it done. When you do get it done, it's the other way. You put so much – we've talked about it at length, you put so much into it, to have it come out the way it did last week, you're going to be excited about it. And you need to at this level because it's hard to win. It's hard to play a game where you rate out 130 and that's with two throwaways and a drop. That's a big-time game, you should be excited about it, that's hard to do. It's hard to have that type of game, you've got to be excited about it, as a coach, as a player, anyone involved – in our opinion it's hard to do. Never too high on the high, never too low on the lows, but at the end of the day, you've got to be excited about those opportunities and that result, because it's earned, it's well-deserved and when it's not, it's 'Hey, let's get back up and pick ourselves up.' I think more than anything, it's 'How about the ability for us to go from how we perceived that emotional state to this one, and what kind of body of work did it take in the middle?' That's the thing probably to focus on is 'Wow, what a way to put your body of work to go from here to there and be so upset about something and play this much and then go to that' – that's hard to do too. That psychology of it, in my opinion is a big part of it."
On how much McCown's competitive nature helped him rebound from his performance two weeks ago:
"A lot of it, probably all of it. That competitive nature is what drives him to be able to turn it back from where it was to what it became."
On improving the running game and making it the foundation of the offense:
"We're not going to stop trying to build that foundation, we're going to continue to try and do it. The passes and rushes were pretty balanced in the game, you saw that. They may not be five, eight, 10-yard rushes, but there're some plays in there also that could have been [big plays]. A couple of times where it gets close and we trip over our own guy – it's getting there, it's getting close. All of a sudden if it goes from a 2.0 average to a 4.1 average, then we're all saying 'Ok, there's the efficiency that you need.' A four-yard run on first down and you're going to be effective. There's all those things, you can't stop doing it, we're not going to stop doing it or stop trying to find a way to get the crew in the back there with the crew in the front within the scheme and do things that are going to help evolve our run game because being one-dimensional is not going to be what we're interested in."
On wide receiver Mike Evans development and being able to move him around:
"Andrew Hayes-Stoker is doing a fantastic job with him, he really is, then those guys upstairs coming up with a plan on how they want to get him the ball and Marcus [Arroyo] dialing them up has been the key. Obviously, it's on him to put the time in and you guys know how impressed I've been with how he approaches the job and that he's figuring himself out as a professional and that's a cool thing. I believe that will be what helps him sustain his success."
On playing in Chicago for the first time with Tampa Bay:
"I enjoyed my time there and just the whole organization in general: the McCaskey's to everybody, the equipment guys, the trainers and the guys in the locker room. I really, really appreciate those people. The fans and how much they love their team in that city, it's a cool city and I'm very thankful for my time spent there."
On if this game will mean more to Head Coach Lovie Smith going back Chicago:
"I know the guys there that played for him have so much respect for him and I think he's not going to talk about it. For us really because where we are at, we're 2-8, we need to win a football game and it doesn't matter who we're playing, we want to go and get this game. To acknowledge and to understand – there's something there obviously, but I don't think for him, that's not the pitch to our team – we just have to win a game and where we are as we keep talking about it, 2-8 being two games out with six to play and that's where we are. What matters for us is we get this game and any of the other things is added value. To win the next football game, that's what's important."
On if he wants to continue his play from last week's game for the rest of the season:
"Again, that's how I felt against Atlanta, up until the red zone and that last interception, but I felt that way the whole game, I felt just like I did this past Sunday. I don't know if I felt that way the first few games and yes, that's how I envisioned it and that's how I felt when I was playing last year. I felt calmer and understood. I think Marcus and I are on the same page with the plan and just where he's at as a play-caller and that brought me the peace. I think that's more of what I envisioned and what everybody envisioned."
On what Chicago Head Coach Marc Trestman meant to his career:
"It meant a lot just from the standpoint of having someone on the offensive side of the ball bring his expertise. You get different things in your career through different people and I've had tons of coordinators in my career and some really good ones, but every now and then you click with someone that sees it the way you see it. As a player, the way that they called the game, the way that they see the game and so to speak, it hits your brain the same way. I think that's what allowed me to play the level that I played at for Marc, but more than anything too is just how he cares about the guys in the locker room and that also strikes a huge chord with me because we are people and this is a relationship business and we get caught up sometimes – and we should because it's about winning games – but every day you spend a lot of time with 53 other guys or however many when you start adding equipment managers and so forth and I genuinely believe Marc cares about those people around him and I appreciate that about him."
On the criticisms on Coach Trestman's leadership:
"I don't know because I'm not there every day. Just based off of last year, I think what Marc is is that he's consistent with his message every day with who he wants, with who he wants that team to be. I appreciate that about him because that's so hard to do sometimes, especially if things don't go your way and that I think is – I don't know, not being there, I don't know why people or how people would criticize if you're not in the meeting room. Again, from my time there I respected him, I thought his approach was the right way to do it because it was a consistent message of who he wanted the team to be day-in and day-out and not unlike Lovie and his approach. I really respect both of them."
On how much his emotions from after the loss against Atlanta carried through to the victory against Washington:
"I don't know if it really led to any of that. I think it was that Sunday, after that loss, and it just was what it was. I was just disappointed when it manifested itself that way and then it was just time to move on. I was pleased with how I played for 56 or 57 minutes of that game or whatever and so it was really taking a step back, watching the tape, processing 'What does the tape say?' and I felt really good about that other than just the end. I thought 'Ok, let's go back out there and do it again and eliminate the last mistakes and see if we can stay at that level and if we can have that same kind of peace when you're out there.' That was the key for me, I don't know, the motion didn't lead to any extra fuel."
On his competitive drive:
"I wanted to win because we're 1-8, that's why I wanted to win and that's where my emotion was. I'm tired of losing, I don't want to lose, I want to win and if it's not going the way we wanted it to, but for whatever reason, the way it is this year in the NFC South, we're still in this thing. As long as they paint the field and turn the lights on, I'm going to compete and play. That's the thing for us, it's another opportunity and that's what Washington was. It was an opportunity to go get better and keep improving and I think we're doing that and I think we have to keep doing that while getting wins on the way."
On how he learned to be genuine as a leader:
"I don't know, if I answered the question you have to trust my answer right? Whatever I say is right at this point, it's genuine. I guess I would start by pointing to my faith, then just the way I was raised, it was just the way I was raised and just to enjoy it. Tomorrow is not promised and just getting the most out of every day. Like I said, one of the things that I liked about Marc and Lovie and the guys in this building too, is we put a lot in, the emotion last week, we put a lot into winning games and we want to win games, but also for six months you're in very close quarters with a bunch of men and you get to know people and you spend your life with them a little bit, shared moments and when you go out and you're trying to collectively do something together to accomplish something and you see a guy have success whether it's Mike Glennon or anybody else, I don't know. When you know what they've put into it and they have success, it's hard for me not to get excited for them and you want them to do well. I think that's where it's coming from and because I want our team to do well. I don't know, but you have to trust it."
On what he learned from his teammates in Chicago and who he still keeps in contact with:
"I'm close with a lot of guys and there's a long list of names. I have a lot of respect and love for those guys, those are good guys there and I think I really liked, especially when I first got there in 2011, I liked how that locker room was, [Brian] Urlacher was still there and you could just feel the closeness of that group of guys and it's very rare that you get to be in those kind of locker rooms where you just feel like – and when you have groups that have been together – like to have Lance Briggs and Peanut [Charles] Tillman have been teammates for 10 years plus I think or whatever it is, that's unheard of and it just doesn't happen very much in this league. When you get to get around a locker room like that where you have guys that have been teammates that long and you end up observing or watching their relationship for how much they appreciate each other and their friendship and how it plays itself out on the field, I think that's what I look back on my time there as far as the guys and what I learned the most is how important those relationships are in the locker room and how much watching that defense play when they were playing, just the level they played at. It was cool because I feel like it kind of reflected the kind of respect that they have for each other off the field."
On his relationship with Chicago quarterback Jay Cutler and why didn't he stay to mentor him:
"As a competitor, you want to keep playing. I want to play because the game is fun and it's fun to play, but I understood our situation and the dynamic with where they were as an organization with Jay. From the first day that I got there, it was all about helping Jay play at the best level he could play at and that never changed. Unfortunately he gets hurt and I get to play, but as soon as he got back in it was the same thing. He and I have a great relationship and I'm very grateful to have crossed paths with him."
On what this past year has done to him:
"We don't have enough time. It's been so good for me as a man more than anything because my faith has grown tremendously and just sometimes when you think you have a handle on life and the way things are going, you get put in different situations and you realize you can be stretched and grown further. For me, I think that's what the last 12 months has shown me more than anything and I'm thankful for that."
On running back Charles Sims:
"It's early and I don't think it's fair to pass judgment, although you see glimpses, obviously there's a suddenness and a juice that he brings that I think you would like to see from that position. He caught the ball well, we threw him the ball a couple of times and he caught the ball well, but he's just has to keep learning the whole thing. With young backs, protection is a huge thing, especially if you're going to be a pass-catching back because you have to be in on throwing downs, but you have to be able to handle pressures. All of those things, he has to keep growing in that, but I like Charles' demeanor. He comes to work every day, just the way he approaches rehab and the way he comes to work ready to work and improve. We'll see, it's still early right now, but it's good that he's getting this experience, I'm glad that he got himself in position to come back and be able to get some snaps this year because it will help us."
On if Evans' personality is starting to show more on the field:
"A little bit. I think as his confidence grows and more than anything I think the familiarity with the league – 'Ok, this is where I'm at and these are the guys that I'm playing against.' I think you just get comfortable in your skin and those things start to come out and as long as it doesn't cross any lines or cost any penalties, then whatever he is doing, he needs to keep doing. More than anything you can tell it's evident that Mike's a fierce competitor and the guys that I've been around and we've talked about: Anquan Boldin and his big day and I was there for that and that's one of the biggest similarities between those two guys is there competitiveness, just the hate-to-lose and their fire and that dog inside of them. I like to see that in those guys."
On if this is a game the players feel they have to win for Smith:
"You can say it, but again I don't know. Maybe if we had seven wins and maybe it would be different, but right now we can't afford – we have to win games and that's the urgency that we're playing with because that's been the message that he's sent week-in and week-out. I don't think so, I think there are guys in there that respect Lovie so much that they'll want to win the game for him, but I don't think it's a collective conversation and I know it's not going to be something that he harps on because he knows that we need to win the game. Flat-out, we just need to win the game and I think that's more of our mindset."
On what he remembers about his last game at Soldier Field:
"When we talk about the atmosphere it was like seven degrees and it was brutal. I just remember thinking 'I have to keep my hands warm' and everything else went numb. I ran a touchdown early in the game and got hit and I didn't feel any of it. It was a cool atmosphere- Monday night, Soldier Field, they were honoring Mike Ditka and it was a great atmosphere. I grew up in Texas and to play against the Cowboys and all of those things, it was neat. It was just fun because we were kind of in the same situation we're in November you have to stack up wins and you have to get wins and I believe we were coming off a loss against Minnesota, I think if my memory serves me correctly and for us it was the urgency that we have to win that game. To go and get that done, I was glad to be a part of that."
On how knowing the players on the Bears defense help him for this game:
"I think just personnel-wise, having practice against them, you have a good feel for some of their tendencies and some of their body language and things like that. I think that's maybe the biggest thing and obviously I'll talk to our guys about different guys, but they've got some new faces over there too that I don't know. It will make a difference but a lot times, just in my experience, the games like this where there's familiarity on both sides like that, you talk about it, but as soon as the kickoff everything goes out the window and you're just playing a game. As much as we talk about it right now, I don't know if we'll really think about it come Sunday."
On the importance of this game with head coach Lovie Smith returning to face his former team in Chicago:
"We try to keep that on the back end, but we know what's at stake here. Coach Lovie – most of the coaches coached there for a very long time and it's their first time going back there. People are going to try to make it a big deal, but we've just got to focus on what we've got to focus on and that's playing against the Chicago Bears with those coaches and then our coaches now. So we're just looking at it as another football game."
On what linebacker Danny Lansanah has brought to the team this season and if he appreciates his backstory:
"Yeah, I do. Danny got here in the middle of the season last year and he's grown since then. He's a real quiet guy, still is a quiet guy, but he learned as we go. His hard work is paying off and he got his opportunities and he's taking advantage of them."
On the performance of the defense last week against Washington:
"It was the type of game we want to play every game week in and week out. We had our rush men get to the passer and disrupt the passer and helped the guys on the back end have a very solid day. Those guys did that. And hopefully we have it carry over to this week."
On winning NFC Offensive Player of the Week:
"I'm grateful for the award and I'm happy that my performance helped the team get a win."
On what he will need to do to have a similar performance this week against Chicago:
"Just keep doing what I've been doing. Just going hard in practice, tightening up on my assignments so it can allow me to play fast, and just playing fast."
On what it felt like to have the performance that he did last week against Washington:
"Most receivers, I'm sure they feel [in the zone] when they have a game like that. It feels like a basketball player: when they get hot, they can't miss. So it kind of felt something like that."
On how he rates the progress he has made this season:
"I just know I'm getting better every week. I started slow, wasn't playing as fast as I could, wasn't playing as good as I could. But I made strides and I'm playing better."
On how he thinks defenses will prepare for him going forward the rest of this season:
"The same thing. I don't think [anything] special; no double coverages or things like that. Because teams are aware of the weapons that we have on offense and that will open up for our other receivers. So I don't think [anything] special is going to happen."
On if the feeling in the locker room this week is "let's win one for Lovie" with him returning to face his former team:
"That's my mindset. I want to win no matter what, but I especially want to get this one for Lovie."
On if any former Chicago players that are on the team have given any pointers about Chicago's defense:
"They haven't told us yet, but I know they play a similar defense. So throughout the week, I'm sure they'll give us some help."
On what has changed the most for him that has allowed him to perform better as the season has progressed:
"The feel for the pace of the game. It's slowed down for me a little bit playing more games. The offense as a whole, our continuity has gotten much better and we're better as one now. So that's been helping me a lot."
On how he keeps a balanced mindset coming off his player of the week performance:
"Just do what I did going into the week prior. Just going hard in practice and showing up on Sunday and having fun."
On his relationship with quarterback Josh McCown:
"He was on me from the jump. [He] hit me up after the draft. He came to College Station in the offseason and we got together. He established himself to me as a leader already and we have a great chemistry."