STORY HIGHLIGHTS
DT Gerald McCoy is getting a few extra snaps off early in games to keep him at peak effectiveness throughout
T Anthony Collins was added to the Bucs' injury report on Thursday with an elbow ailment
WR Vincent Jackson discusses the newfound strength of the Lions' secondary

Gerald McCoy says he feels better this December than he has at the comparable point in his four previous seasons. Given that he's sitting at 8.5 sacks with four games to play, that bodes well for his chances of becoming the first Buc in almost a decade to hit double digits in that category. However, this is what McCoy had to say, after a brief pause, about that endeavor on Thursday:
"I just want to beat Detroit."
Well, the good news for Buc fans and stat-heads is that McCoy's fresh legs make it easier for McCoy to chase both of those goals.
Obviously, the Buccaneers' All-Pro defensive tackle didn't feel at his best in 2010 or 2011, his first two seasons, as he hit injured reserve in the 15th week in the former and in the 10th week in the latter. He played a full slate the next two seasons, however, and immediately became one of the league's most dominant defenders. He even had 9.5 sacks last year to just miss out on that classic D-lineman statistical goal, and he finished strong with 3.5 takedowns in the last four weeks.
McCoy is on a tear again as the calendar flips to December, with at least one sack in five of the last six games. He's doing it while playing a smaller percentage of the team's defensive snaps. It may not be a huge difference in overall playing time, but it apparently is a significant one.
"I'm so used to playing most of the snaps, this is new to me, getting a couple snaps off early in the game, getting more than enough snaps off," he said. "But it's been helpful. I feel good. I think I'm able to be at my best at the end of the game when I'm fresh and got a couple plays off early."
The Buccaneers have wanted to have a deep rotation of pass-rushers involved all season, although injuries have sometimes limited that option. Most teams, in fact, make a point of stocking up at the defensive line position because it's a difficult position to play for 60 or 70 snaps in an afternoon. Still, when you have a special player or two in that group, it can sometimes be difficult to justify taking them off the field. Hall of Fame Buccaneers DT Warren Sapp, for instance, generally played all but a handful of his team's snaps when he was healthy and at the top of his game.
So it's a bit of a balancing act, because the Buccaneers are better when McCoy is on the field, but it appears that just a little extra rest is doing everyone good. Tampa Bay has the fifth-highest sack total in the NFL over the last six weeks and McCoy has obviously been the driving force.
"We're trying to develop a rotation system and you don't want to have a big drop off when the next guy comes in," said Defensive Coordinator Leslie Frazier. "We've had to deal with the injury bug at times, but now, I think we're settling in a little bit with a rotation. So we can take some of those snaps off of Gerald so when we do get to the fourth quarter, he's able to play his best football – not just start fast and then we don't really have the same Gerald in the second half of a ballgame. So that's the goal, to make sure he's fresh, especially in third-down situations and for sure in the fourth quarter. But when you don't have the rotation, you get his numbers up too high and then you don't get what you want when the fourth quarter rolls around."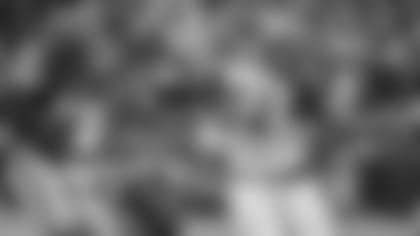 DT Gerald McCoy needs just 1.5 more sacks to hit double digits and he's got the fresh legs to finish the season on a roll
The Buccaneers' defensive tackle rotation is a little thinner right now, with starting nose tackle Clinton McDonald missing last week's game with a hamstring injury and sitting out practice on Wednesday and Thursday of this week. However, defensive ends Da'Quan Bowers and William Gholston helped out last week by playing more snaps inside and spelling starter Akeem Spence.
McDonald was one of five Buccaneers who did not practice on Thursday, including left tackle Anthony Collins, who had not previously been on the injury report. Collins is dealing with an elbow injury. His status on Friday will probably go a long way towards determining if the Bucs will have to go to reserve Oniel Cousins as they did for two games earlier in the year.
"When you miss practice on a Thursday, it's not a good thing, so we'll see," said Head Coach Lovie Smith. "Again, he didn't practice today. Hopefully he can go tomorrow."
The Buccaneers' full Thursday injury report can be found here. Below are quotes from Buccaneer players and coaches on additional topics leading up to Sunday's game in Detroit.
(Opening statement:
"How about the did not practice guys: Clinton McDonald, Brandon Myers, Bobby Rainey again, Austin Seferian-Jenkins – and Anthony Collins has an elbow [injury], he wasn't on the list yesterday. Mason Foster was excused for personal reasons. Besides that everybody – Lavonte David has practiced well this week, Luke Stocker, guys that were on the list last week, so it's good to get them back. Spirited day, good Thursday practice, how can you not have a good practice with weather like this?"
On losing close games and how the team processes those close losses:
"You have to move on. When I say get over it, they're with you. They're scars, they stay with you, but you do have to move on because you have another opponent. You can't let the same team beat you twice by harping on everything that happened – good and bad. Whether it's a win or a loss, you do have to move on, but the things that happened in that game, you do take them with you. Some things – and for us it's been a lot of things – we need to work on, improve, but it is on to the next opponent."
On running back Doug Martin's performance at practice and if he has looked better the last few weeks:
"He's healthy, as much as anything. It's amazing how – especially with skill guys that make their living based on their lower body being ready to go. When Doug Martin's healthy, he's a good football player. Any good player, when he's hurt, just doesn't look as good, but it is good to get him back on the field. From the start of the game he had energy and you have energy as a running back when you feel like you can make all of the cuts and you can be as good of a football player as your talent says you can be. We have seen that in practice and I think he carried on to that last game. For skill guys, you have to like going on turf, too, because most of the time you can make those cuts a lot better than you can on grass. Hopefully it will continue with Doug this week."
On if the team was limiting Martin's carries against Cincinnati due to his injuries:
"No, not that. Doug will probably say, of course, that he can use some more. We didn't limit his carries based on that – just kind of how the game went."
On using a six and seven-man offensive line:
"You're seeing that more and more in the league. A lot of times you can have a successful passing play just kind of based on protection. It was out of necessity a little bit last week, but sometimes when you do that, you like what comes up from it. So I'm not going to say we are not going to use that package anymore. I feel like if we can protect and give our quarterback a chance to throw the ball, I think we can catch it against most people on the other end, so we'll see how that goes."
On players like running back Mike James and wide receiver Russell Shepard earning more looks based upon play:
"We've liked both of those players for a while. There's only so many looks you can get, though. As a receiver, most of the time you're going to see Mike Evans and Vincent Jackson on the field. There's a little bit of time for a third receiver – Louis Murphy – and you throw in the tight ends with that. At the running back position, it's been pretty deep. This past week we had four that we like. When they do get a play here and there, they have to get the most of it and it seems like they've been doing that. And Russell Shepard, throughout, just whatever we ask him to do. Outstanding play, just overall play from him, of course, on the special teams last week."
On second-year defensive end William Gholston:
"Will will tell you he's anxious to get his starting spot back, which you want him to do. He gives us flexibility on first and second downs at the defensive end position, with a bigger guy playing the run, and maybe some of the two tight end sets, he'll get more time then. But I've really liked what he's done inside, third downs, where he's inside rushing, passing situation. Big body. He has a role and of course he gives us some special teams play, too. He's doing a lot of things for us. Love having him on the team."
On whether he has been more involved with game day defensive calls since the bye week:
"Our defensive staff is handling the calls. I haven't made any calls on game day. I stick my head in special teams, offensive room and defensive room, and that's how we've been all year."
Defensive Coordinator Leslie Frazier
(Opening statement:
"Great opportunity for us to go up to Detroit against a really good football team and a good offense. Big challenge for our defense. We had a good day yesterday, get to have another good day today, and go up there and get us a win on the road in a hostile environment. Would be great for our football team."
On the emergence of cornerback Johnthan Banks this season:
"We had some competition at the position and [he] has just persevered and worked to get better. I think we've all seen him get better as the year has gone on. Didn't hang his head because there was competition at his position – just seemed like he worked harder. Because of that hard work, it's paying off. He put himself in good position on Sunday to come up with a big play and he's done that on other occasions as well. So credit to Johnthan for studying, doing the things that you have to do to prepare to put yourself in the right position."
On the success the defense had against Detroit last season:
"It's a different coordinator, a different staff there. The way they're utilizing their guys now, it's a little bit different. Didn't really go back and take a look at any of their 2013 ball games. If they had the same staff, then we'd probably treat it a little bit different."
On if linebacker Danny Lansanah has earned more snaps:
"He is definitely making plays for us and he's done that throughout the season and we've actually had conversations about finding ways to get him on the field a little bit more. Right now, he's primarily in our base package – doesn't get on the field as much when they put three or four wide receivers on the field. His playmaking ability has definitely shown up and we're discussing ways to get him a few more snaps. But, we'd love to have Lavonte [David] back on the field and every snap. But we'll find a spot for him for sure."
On if Lansanah can play middle linebacker:
"He did it some when Mason [Foster] was down. That's challenging when you're playing both the outside linebacker position and moving inside like we had him doing. It's challenging mentally, and from a preparation standpoint, it was really hard for him. But we're tossing some things around, just trying to see what's the best way to utilize his ability to make plays."
On the recent performance of linebacker Orie Lemon:
"We all are pleased with what he's done when you consider the short time he's been with us, all the snaps that he missed early on, and to come in and grasp some of the basic things that we're trying to teach, he's done a really good job of preparing himself. And then when he's had an opportunity, he's made some plays for us. So we're pleased with his progress and we'll just see how he continues to grow. But he's done some good things, some things to grab our attention for sure."
On defensive end William Gholston's role moving forward:
"Well with Jacquies [Smith] doing as well as he has at defensive end, it's hard to take him off the field, but yet, we still want to have a rotation system. So we're rotating William in – he's just not getting as many snaps as he was when he was a starter. But that's in large part due to what Jacquies has done as a starter. And we do rotate him inside and he's helped our inside rush. He's a big guy with long arms, and the way he can push the pocket in third-down situations, that has really helped us. But you can't take away what Jacquies has done. William will get his opportunities and he has to make the most of those opportunities."
On the defense's improvement over recent weeks and the reduction in points allowed:
"Well in our business, that's what it's all about. You can look at all the other stats – yards, third-down, red zone, all those things – but it's all about points. You can keep the points where you set a goal. That gives you a chance to win every Sunday and that's our goal: to keep the points down so we can have a chance to win the football game in the fourth quarter. And that's what this league is all about: points – points allowed, points scored. That's where we've really improved at and we need to continue that. This is a very capable, explosive offense we're playing on Sunday, evidenced by what they did on Thanksgiving Day, and they've got some weapons. It will be a challenge to limit this offense from a points allowed standpoint. It's one we're looking forward to."
On if he sees the players understanding the system better as the season has progressed:
"I do. Obviously it shows up in their play. Having the chance to get the reps that they've gotten over time, you can see the improvement in our run defense, our pass defense. But more than anything, our rush has gotten so much better, which, early on, we were struggling to get pressure on the quarterback with our four-man rush. But Gerald [McCoy] has gotten a lot healthier and his numbers have improved; Michael [Johnson] is getting healthier; and Jacquies [Smith] at the left end has helped us as well. We're getting a push inside, although that we don't have Clinton McDonald right now, Akeem Spence and Da'Quan [Bowers] inside, they've given us a little bit of a push inside. So our rush has kind of helped our secondary and our linebackers. Once again, we're going to need those guys to do a real good job of harassing this quarterback on Sunday."
On if there were any significant changes made by the coaching staff to the defense in recent weeks that has resulted in improved play by the defense:
"Not so much changes, but we sat down as a staff for about 72 hours and just peeled the onion back – went through everything we were doing and just tried to make sure we were all on the same page and how we were teaching things on the field and in the classroom as well, making sure our communication was the same across the board and that we were seeing the same things on tape. It's definitely helped us. But we started from square one as if it were the offseason; just went through A, B, C, D – 'This is what we're trying to accomplish and can we get this done?' It's shown up in some of the things our players are doing. We've got some good coaches, but you always need personnel and we just wanted to make sure we were putting our personnel in the best position to be successful, which is a big part of what a coach's job is, and our players are responding."
On what safety Bradley McDougald showed the coaches that warranted more playing time:
"Well he came up with some big tackles for us in that ball game [against Cincinnati]. That was a good run offense – they were coming off, I think, a game where they rushed for over 160-something yards. So to see him come up and help us in our eight-man front and make some good open field tackles, that was a plus. He was where he needed to be when we were in pass coverage. It didn't seem like the game was too big for him in the role that we had him in on Sunday. He did some things to make you believe that he'll get better with the more snaps that he gets, and we felt that way going into the game and his play kind of solidified that."
On the defense only surrendering 14 points without the team-leader in tackles linebacker Lavonte David:
"We'd like to have Lavonte [back]. He's truly a playmaker in so many ways. Credit to our guys just understanding it's not about one person – it's a team defense. If everybody is on point with their responsibilities, we have a chance to make the plays we need to make when they come up. We'd love to have Lavonte on the field, though, for sure. But good job by our guys."
On how gratifying it is for him to see the backups like cornerback Brandon Dixon making big plays on defense:
"Oh it's very gratifying. I can remember the Baltimore game when we had to put those guys out there and, man, it wasn't pretty as we recall. So they've grown and in turn, we've gotten better. A lot of guys had to play early – we got into our depth early in the season and they were forced to get some snaps that are now paying dividends for us now. So it's very gratifying when you see Brandon go out and make a play like that when you consider where he was say five or six years ago, or Keith [Tandy], or some of the other guys that had to play because of injuries."
On the challenge of defending both Detroit wide receivers Calvin Johnson and Golden Tate:
"Oh it will be a challenge. Golden Tate has really given them quite a bit – I can't recall them having a second receiver having this type of an impact in years past. So to have another guy that you have to contend with really kind of opens up their passing game, and now that they get Reggie Bush back, that will open up some things as well. So it will be a challenge for us for sure and we'll find out exactly where we are and what we need to do to keep improving. But Calvin alone, he's a big challenge. But you add a Golden Tate to their repertoire, it definitely has helped their offense."
On the defense still performing well, even during his off snaps:
"It's great, man. We always say it's the next man up mentality and, us in the d-line room, if we go into a game with seven guys, we say we've got seven starters. There are no backups. Basically that means that if the guys who start the game aren't in, whoever is in, you consider the starter. There shouldn't be a drop off. It's great to see all across the board on defense when a guy goes out, or whoever it is, it's next man up and you can't tell a difference. That's great. It means guys are really buying in and focusing."
On the biggest difference between the Detroit Lions in 2013 and now in 2014:
"I mean, regardless of the scheme – I could get into the scheme, but regardless of the scheme – the players. [Theo Riddick], he's kind of a scatback, can make you miss. He's really coming along. Joique Bell, he can make you miss, you can run you over and then I don't think I really have to talk about Reggie Bush. He's one of the best when he's healthy. Then you've got Megatron [wide receiver Calvin Johnson], then they've added a dynamic receiver in Golden Tate, who can kill you. I think he's leading the league in yards after the catch. If he's not leading, he's up at the top. Very dynamic offense. But it all starts with No. 9 [quarterback Matthew Stafford]. Big arm. I think he set a record for fastest to a certain yard-mark for passing. And one thing that I don't think people pay attention to, he's a great scrambler. He can get out of a lot of stuff and he can extend plays and he's a gunslinger. Kinda puts you in the mind frame of Brett Favre. He'll hold the ball and try to extend plays and he'll try to make that tight throw. When it lands, it's huge, especially when he throws it to 81 [Johnson]. Those guys, man, I mean, just seeing them play last year, we watched some film, they were playing Cincinnati. You think you got him bottled up, he gets out of the pocket, he throws it up, it's three receivers on the guy and he just snatches it out of the air. It's like, c'mon man, this is a video game. We just have to be ready for everything, and they got back on it last week, so I'm sure they will be trying to build off that momentum."
On the importance of continuing to get after the quarterback:
"You've got to, man. A lot of the sacks guys are getting is because they are staying alive. Some guys are winning early in the rush, but a lot of guys are staying alive and rushing as a unit. And because he is a gunslinger, he will try to extend plays, and if you stay alive, you can get after him."
On second-year defensive end William Gholston:
"Will is a physical presence. He's a really big guy who has one of the best long arms I've ever seen when he uses it right. Just a big, physical guy and he's more athletic than people think. A fast guy and he's willing to learn. A lot of guys, it's hard to get them to listen, but he's willing to learn. If you say something to him, he'll hear you out. That's why I believe he will get better and he will be good for a long time, because he is a physical presence and when he puts it all together along with having the willingness to learn – once he really figures it out and starts to put it all together, it could get scary."
On what has caused the change in the defense, keeping teams out of the end zone:
"Attitude. You have to want to keep people out of the end zone. It has to be a mindset of 'We're not going to let them score, even if we're on the goal line.' That's why I was saying, when we played Chicago, that can't happen. We can't let them score; we have to hold them to three. But it's really been an attitude and a mindset of you have to know you are going to win the game. You have to play that way, you have to have a physicality and mindset about you. Doesn't matter how dynamic the offense is, we can't let them in the end zone. I think that attitude has really changed how we've been playing."
On what sparked the change:
"I would have to say the Baltimore game, really. That was just – and it was at home – it was just embarrassing. From that point on, we've kind of changed how we play defense. A big part of it is taking the ball away. We take the ball away and it changes everything of how our defense plays."
On whether he and Detroit defensive tackle Ndamukong Suh are rivals:
"You know, honestly, the reality of things is that there is no rivalry, but we're going to be linked because of the draft. Even in college, we were in the same conference. Both were up for the Lombardi [Award]. Everything. We're going to be linked for years to come. But the reality of that is, if we push each other, it's to be the best that we can be. Every time we meet up at the Pro Bowl, we say to each other, 'We said we were going to take this league over together, let's keep doing it.' That's really all it is. If I do something good, he's like, hey, great job. If he does something good, I'm going to say, hey, great job, keeping doing it. We both respect each other and it's just we're going to be linked because of the draft, but there is no rivalry. There is no, okay, he's doing this, I gotta do this, he's doing that, I gotta do that. We're just both trying to be the best for our teams."
On Detroit leading the league in defending the run:
"We like that challenge. If anything, why not us? We have great backs. We think that we have a good game plan, so we're going to keep our same game plan as far as trying to be balanced – run the ball, pass the ball and take advantage of what they're giving us. We will take our shots and be aggressive, but we don't want to be kind of one-dimensional. Hats off to them for their success so far, but we're going to go in there and try and run the ball as well."
On what it meant to him last season to get a win on the road in Detroit:
"It's a great environment. It's tough up there, their fans are great, they play well at home. So we're excited for the challenge this year as far as going up there and playing a good team that's doing well this year and coming away with a road win. We seem to be doing well on the road this year – a little bit better than at home unfortunately. But it's exciting. Any time you can go up to a hostile environment and beat a good opponent, that's something we'll hang our hat on."
On what has held the team back when finishing games in two-minute situations:
"I think we touched on as far as the penalties. It seems like those rhythms – we started getting a flow going and then you set yourself back with a holding and you go from being at the 15- [or] 20-yard line to being back near the 40, almost out of field goal range. So any time that we can, just eliminate those penalties and just finish drives. I think that the two-minute and the up-tempo is a strength of this team and I hope that we can throw some of that in there the last couple of weeks and show that and let it be a strength for us."
On Detroit's secondary:
"They play smart. Their safeties have great depth, they try to not give up too many big plays. They're sound. There's nothing out there that's flashing against us. If anything, we know that we have to get the ball out. They have some big guys up front and they rush the passer well. So we've definitely got to get open, create separation and protect so we can keep drives alive and not let them get big plays in the rush game."