The Tampa Bay Buccaneers submitted their shortest injury report in weeks on Wednesday, with just six players listed and only two who did not practice at all. Of course, that is a wee bit misleading, as it doesn't include the three prominent Buccaneers who landed on injured reserve earlier in the week. The team would certainly prefer to have All-Pro defensive tackle Gerald McCoy on their injury report, for instance, with at least some chance to play on Sunday against the powerful Green Bay Packers.
In fact, having McCoy in pursuit of potential MVP Aaron Rodgers on Sunday might have evoked memories of the great Warren Sapp-Brett Favre rivalry…and more importantly might have helped slow down a quarterback working on his sixth straight season with a passer rating over 100. As coaches are fond of saying, however, they can only work with the players they have, and from that standpoint Lovie Smith was playing with nearly a full deck to start the Packer week.
Given the loss of McCoy, the most promising development on this week's list is defensive tackle Clinton McDonald's ability to at least practice in a limited fashion on Wednesday. McDonald has missed three games due to a hamstring strain and has essentially not practiced at all during that span. The Bucs could also get back starting middle linebacker Mason Foster, who was limited on Wednesday after missing the last two games with an Achilles tendon strain.
With or without McDonald, the Buccaneers will have to lean a little bit more on Da'Quan Bowers, who is finding a home on the inside after coming into the league as a power-rushing defensive end from Clemson in 2010. Bowers has not developed into a full-time starter during his first four seasons in the league – injuries have played a role in that – but he could use the final month of this season to prove he should be in the Bucs' plans going forward.
"He's making a case to get more playing time and he got more – a couple of weeks ago, he got about 20 plays; last week, I think he got more like 50," said Smith. "He needs to get in better shape, of course, to be able to handle that type of load. I think for just defensive linemen in general, it's always about how many reps – 'I need more reps to show what I can do.' He's getting those. As far as starting lineups, if you make a case that you should be on the field at the start of the game based on your play, then you'll get that opportunity. We've seen things we've liked from him. Just overall play isn't what it needs to be yet.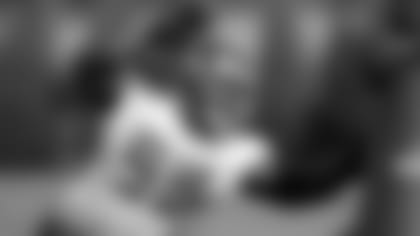 DT Clinton McDonald returned to practice on a limited basis on Wednesday, which offers encouragement that he'll be able to play Sunday after missing three weeks with a hamstring injury
"[He's] very valuable to our roster. When you can line up and play defensive end under tackle and nose guard…the more things you can do. We have quite a few guys on the outside. And then to be able to kind of go where you're team really needs you – of course, we need him inside with Gerald going down, but that's hard to do, to play nose and defensive end. But with his body type, he seems to be working more inside instead of outside. So maybe this is his best spot."
The two Buccaneers who did not practice on Wednesday were safety Major Wright and cornerback Isaiah Frey. Wright hasn't played in the last two games and is currently dealing with an injury to his ribs; in his absence, young safety Bradley McDougald has had a chance to show off his developing skills, most notably with a 15-tackle game in Charlotte. Frey has been sharing nickel-back duties with Leonard Johnson, and while he's not a starter it might still be a bit of an issue for the Bucs if he is unavailable on Sunday. The Bucs currently have just four cornerbacks on the roster, which would leave them awfully thin if anyone else were injured. Frey has time to overcome his ankle injury, however.
"He's getting better but wasn't able to go today," said Smith. "Hopefully tomorrow he'll be able to go. Major Wright is still nursing that rib injury. Everybody else practiced at some point."
The Buccaneers' injury report wasn't the only topic being discussed at One Buccaneer Place on Wednesday. Below is a selection of additional quotes from Buccaneer players and coaches.
Opening statement:
"Injury list: Isaiah Frey's ankle – he's getting better but wasn't able to go today. Hopefully tomorrow he'll be able to go. Major Wright is still nursing that rib injury. Everybody else practiced at some point. You can make a case that the Green Bay Packers are the best team in football right now the way they're playing. I know last week, of course, they lost. But before that, no one would probably argue that fact – or opinion I should say. Aaron Rodgers, great player. [They have] really added a lot with the running game with [Eddie] Lacy playing the way he is right now. Jordy Nelson is a great player. On the other side of the ball, I got a chance to watch Julius Peppers up close and personal – great player; [Clay] Matthews, a lot of stars on their team. Big challenge for us. In a situation like we are, you can't feel a lot better about where we are rising up against a great team like this."
On how you deal with a defensive player like Green Bay linebacker Julius Peppers and how you move him around:
"Matthews is playing a couple of different spots, so you can find Pep on one side most of the time when Matthews is there, but we'll assume both tackles should get a chance to see him play."
On the prospect of tackle Demar Dotson facing Peppers:
"Dot will get a chance to play one of the all-time greats in my mind."
On what separates Green Bay quarterback Aaron Rodgers from other NFL quarterbacks:
"I just think more than anything, you judge a great quarterback on decision-making, mobility in the pocket – did I say decision-making? Make all of the throws, great leader – just overall play at the quarterback position. I think when you say, 'Hey, this is what it looks like,' I think you start with them. And again, I've seen him from the time he first started playing, seen how he's grown, so it will be a great challenge for our group."
On if the success of Green Bay's offense affects his team's offensive strategy:
"Well you have to assume the odds are that you're not going to shut them down always. So it's assumed that they're going to put some points on the board. So on the other side, yes; you need to match those points. Or you can take the approach that when they're out there, they pass the ball an awful lot and they exchange the ball every time, you can take the ball away. That's normally what it's about. When you play a team like that, you need to get your possessions that way. Probably makes more sense to lean towards that way. Times when we have had success, of course – which is very seldom I should say – will be based on takeaways more than anything."
On how big it would be to get the first home win of the season against Green Bay:
"It's huge, of course, against anyone. Believe me, we've been trying awful hard. We've come close quite a few times at home. Once we get it going – instead of talking about getting that first win, we should be talking about, 'Hey, we haven't lost at home.' You have a home field advantage. We're not using that right now, but it would be big for us to get it. We realize we have a couple of more opportunities, but what better week than that?"
On why quarterback Josh McCown is the starting quarterback:
"I think Josh gives us our best opportunity [to win]. That's not necessarily a knock against Mike. We start 11 guys, you can say that about every player that we dress. Quarterback just isn't a position where you're going to play a lot of guys. Kind of simple as that. It's no knock against Mike. This is what we think gives us the best opportunity to play, period."
On if he has seen enough from Glennon when he was starting earlier in the season to make a decision on his future moving forward:
"I think I got a chance to see what Mike is during that time, yes I do."
On the future of Glennon:
"His future right now is he's on our football team. We're not talking on the future right now. The future is about that last press conference after the season. Right now, we're talking – it's just all things are geared towards the present and Green Bay. And right now, we'll have a quarterback starting out there this week that gives us the best opportunity. If you're on our roster right now, we like you being on our roster. I don't know what else I can say besides that."
On if he remembers the old days of Green Bay fans traveling well for games in Tampa Bay:
"Unfortunately yes I do."
On if those games were tough:
"I think you know the answer to that. You remember those days too. There's some teams in the league that travel that way. There's some traditional teams when they go on the road – if you lived in Green Bay this time of year, you would love coming down to Tampa. So we realize that. It's just not Green Bay. Any northern team in December, late December, would love to come down south. So our football team assumes there will be a lot of Packers fans there. We've played our best ball unfortunately when we were on the road a little bit. So whatever happens, we'll be prepared for it."
On how badly he wants to get a home win this season:
"Well we haven't [won at home yet], and we're definitely trying to. Again, where we are right now, we're going to show up, give it our best effort – which we've been doing. Normally, you don't go an entire year without getting a win at home. In the past, we haven't. We have a home game this week, we're going to give it our best."
On if he felt he had an advantage during his time in Chicago with fans that traveled well to away games:
"Yes. There are some older, traditional teams that travel quite a bit with quite a few fans. Then you got to the game though on that field and the field was the same size, the same rules whether you're at home or away. So in the end, it can help an awful lot. We'll have enough fans there this week where we feel comfortable being in our home stadium, I believe that."
On if this season emphasizes his belief that games are decided by the turnover ratio:
"I think as you look at our football season, you can look at that – yes, we've harped and we've talked and preached, but you do have to see it – we had to see it as a football team. Yes, I think you can go back to just about probably most of our games we've lost, a lot of them we were right in there. It does come down to a takeaway here and there, the turnover ratio, all the way up until this last game. That sequence was the difference in the football game. But it's one thing to talk a lot about it – which we've been doing; we have to still put more of an emphasis on it – guys with the ball, it is about ball security. And we definitely – it's vivid to us now for sure."
On why McCown has had some issues with ball security this season:
"Again, I can't tell you why we've had – we preach protecting the ball and securing the ball. It's kind of simple as that. There's no magic potion or anything I don't think. For a quarterback, if there are guys around, you have to have the ball protected. When you get ready to throw the ball, it's not protected then. The rest of the time, you have to feel people around you. So as far as the quarterback position, it is about knowing your surroundings a little bit and knowing when to protect it a little bit more. I'm simplifying it right now. We haven't gotten that accomplished yet. Hopefully we'll see better ball security this weekend."
On how tough the trust factor between Green Bay wide receiver Jordy Nelson and Rodgers is for opposing teams:
"It's tough on all opposing teams. First off, we talked about he's as good of a quarterback as there is. Period. For a long period of time, best quarterback in the league. And I've seen him quite a bit. And then you have a great player in Jordy Nelson. People are recognizing and noticing him now, but just good size, runs great routes, good hands. I know he dropped one [against Buffalo last week]. He's probably still trying to figure out how he dropped one last week. But you just start with two great players and they've been playing together for a while. Great quarterback-receiver combo like that, it is tough. For the other side of the ball though, you know – you don't have to wonder, 'Will Jordy get the ball?' You know you're going to have to make some plays on the ball with it coming to him. So if I'm a DB, I'm thinking, 'Hey, I'm going to some opportunities to make a few plays, maybe get an interception or so, because I know the ball is coming there.'"
On if Nelson is faster than people would think:
"Jordy Nelson, you have this perception on what he should be as a receiver. All I know is he's run by us plenty of times. The guy is quick, runs great routes, one of the best receivers in the game. Period."
On what he has seen from defensive end George Uko:
"He's not just a nose [tackle], an inside guy that can only clog? We think he has some pass-rush abilities. As we're judging our inside guys, especially around the tackle position, can a guy pass rush? If you're big and you're strong, you can kind of plug up and play a shade on first down on the nose. But can you rush the passer? We've seen that [from him]. He has decent hips, good movement for a guy his size. Our practice squad, we bring a lot of young players in and watch them and then just see. First, you have to have the traits we're looking for. He had the traits. Normally, if you keep working hard, you get an opportunity like this. This is what he's earned. Again, we've seen flashes from him."
Quarterbacks Coach Marcus Arroyo
On how quarterback Mike Glennon has grown this season:
"Mike's done a lot of really good things. I think obviously the first year, our transition has been a little bit different. I say that because when Jeff [Tedford] was available and here and running some stuff, some things may have sounded a little bit different than now. It's just kind of one of those situations where he's learned a new offense, he's done a great job, he's prepared himself every week, he's learning kind of a different way, obviously a different style – every guy you teach is a different style – and I think he's come along great. I think Josh [McCown] has been a big attribute in the room, with just the experience of helping him with some veteran notes and things like that: how to study the game, how to go about his work ethic, how to kind of go about some nuances – nothing that he had a true weakness on, just more opportunities to come in and study and get better and grow."
On quarterback Josh McCown's accuracy over the last few games:
"I think the number itself, when you look at just the raw score, it's kind of one of those things that can be – and either way, sometimes it can be drastic in either way [and make you] say 'Wow, that's amazing.' And then maybe it's the other way: 'Wow, that looks really disastrous.' Then you have to go back and look at some other things. When you look at just the raw numbers, hopefully you're calculating in throwaways – I think you have to do that as a quarterback – calculating drops, calculating in different opportunities from there. I'm just giving an example of just how you look at it. We obviously need the percentage to go up. There's nothing to say about that. Absolutely we need to be able to complete at a higher percentage, higher clip. We missed some balls – last week was a perfect example: just missed some balls. We've got to be on the same page on a couple of those as far as route development and being with the guys and I think just having opportunities to get more balls like that. They've got to be in tight situations versus good coverage and they're all very different. You're getting guys playing guys different, so they're different types of balls. You're getting guys playing Mike [Evans] a little bit different than you're getting now than they were then – those balls change. Timing changes, protection changes they type of ball. As you get different rushers, different protections, different launch points – a lot of those things are calculated into that. The reality of it is obviously we need to complete the ball at a higher percentage."
On McCown turning the ball over:
"Not what you want. It's something he did not do last year, at all. It was as good as it gets in the league and a lot of that has to do – there's a lot of them that were in the pocket this year. A lot of them were ball security things and we've tried to clean those up. We've got two weeks left to clean it up. He knows that. It's one of the things that he's just beating himself up over – taking care of the football. He knows that it's just the thing – to be in the league this long, the key to victory, No. 1 is taking care of the football. It's not so much the balls where you're trying to press it and you're trying to put it in that perfect spot and maybe you don't hit it, it's the other ones. It's having the ball low in the back in the pocket and getting it swiped from behind. Those are the things that we've harped on and we've got to get fixed, and he knows that. Those things kill you, they killed us last week. Take away the one touchdown – and that's just one example of a play in a game where you never know. We've had those one plays in every game where if you just had that one back, the score could be different because you're in so many one-score games. That's the unfortunate part and it's got to clean up."
On if he has worked with the way that McCown holds the ball:
"We've talked about that at length since we first got together because it's something that we harp on, we try to get fixed. It's just one of those things – it's hard to break sometimes, especially after 12 years of working in the pocket. It's hard to break the way you carry the ball sometimes. Didn't work it last year, didn't change in 11 years and last year didn't turn it over. Can you overwork it, if you don't work it, does it happen? It's a lot of the unfortunate incidents that happen have just been something where we've got to coach, there's no doubt. I'm not saying you don't coach it – you coach it. I think you can coach turnovers. We've just got to do a better job. I've got to do a better job and I know he wants to do a better job in doing that."
On if McCown's turnovers and accuracy are affected by the team's offensive line play:
"I think that obviously you always want protection, you want opportunity to throw the ball. If a quarterback can complete a throwing motion – and that goes back to a lot of old coaches you heard – if a quarterback can complete a throwing motion you should complete a high percentage of balls. That's a Walsh-ism [from Hall of Fame Coach Bill Walsh] that I've believed in for a long, long time. If you can complete the motion, you should be able to complete 70 percent of your balls. So you can go back and you look at those and there's times where it's not always going to be that way. There's going to be times where you have to be off platform and you're going to have to make some throws and he's done that too. There's been some throws where you're standing there and staring down the barrel and taking them. There's been opportunities where we've missed those too. All those things come into play and we all work together, we're all tied together. It's not for any one or the other or one person's fault. We've all tied together to get things done."
On if he has considered switching McCown's method of holding the ball back to the way he did prior to this season:
"He hasn't changed that much. My point with him being [in the NFL] for 11 years, we haven't been able to truly break it. Some of the things he's doing, he's been a low carriage – some guys are low carriage guys, they carry it low when they get moving. That has gotten a little bit better over the course of just the short time we've had together, but it's something that, when guys take off – he's a guy, he'll move in the pocket a lot. He can move. He's got some foot flexibility, he's got some pocket flexibility and escapability. Sometimes it gets low and it's a dangerous spot. Unfortunately it bit him this year, it didn't bite him last year, [but] it's the same thing. What ties in to that could be all over. The reality of it is it can't happen, it'll bite you. We know that, it can't happen."
On the reasons for running back Doug Martin's lack of productivity in the second half of games:
"I can't pinpoint exactly what they may be. The first half was a good start for us and Doug did a great job. I think the play-calls and stuff like that weren't changed. I think we had some breakdowns in some of the scheme stuff that maybe didn't happen. They make some adjustments sometimes and change the box in the second half – they make adjustments too. But more than anything it's us executing because we don't change the game-plan. Teams aren't really going full sail something different – it's executing in the second half. Again, we put out a first half that we can be happy about with [no] penalties and no turnovers and executing and [being] efficient. Then in the second half we came back and the first play of the second half we get a penalty. It's one of those things that can't happen. We've got to find a way to put together a full game. I think that's us as a staff – find a way for us to put together a full game of that first half and see what happens and let it go from there. It'd be really nice to have that come to fruition here in these last two weeks."
On if having a good running game like the team did at Carolina and should open up the passing game more:
"I think that, at times was definitely the case. I think Vince [Jackson] had a really nice day doing some things. Vince had a big day catching the ball, if that's what you're alluding to, throwing the ball. That rhythm obviously we would like to be tied together a little bit further and being in efficient situations after first down calls and not missing some of the balls we missed or being backed up on the minus-4-yard line for six, seven, eight plays. It's one of those situations where that should play a part and we've got to help it out. We've got to help ourselves."
On if wide receiver Russell Shepard might get the opportunity as the No. 3 receiver with wide receiver Louis Murphy on injured reserve:
"Shep's done a great job when he's stepped in, all the way going back to Pittsburgh. Shep stepping in, Tavarres King, Robert Herron – whoever's got to step in to that third wideout is going to be fine. The tight end situation obviously has been up and down just because of injuries. You get one injured, all of a sudden you get three injured, you lose a fullback, you go to 10 personnel – all of those things have been just a reality of who they've got available. But the third receiver will be ready and between Tarraves, Robert and Russ, they'll do a great job. "
On whether he has studied some of his fumbles to see where the issue is:
"Absolutely. I'm going to exhaust all options. Obviously you have a better chance when you have two hands on the ball versus one. When I look at it – some of the things, like the other day on the screen, at some point you have to separate your hands to throw the ball. Like the one [fumble] the other day in the game, I separated my hands to throw the ball, Doug [Martin] got held up and I was going to dirt it because they read it out. Doug got held up, so now I'm bringing them back together and then they're on you. Sometimes it's just a case of that, of trying to get it and hold it tighter. The thing is, they're going to happen. It's hard. The thing is, more than anything, not having two hands on the ball. Those are the ones you want to avoid. At least with two hands, you give yourself the best shot to hold onto the ball. And then you have to find a way to do it when that's happening. So, yeah, that's the key, that's the focus, and absolutely keep looking at different ways and different things to do to help that not happen."
On his completion percentage over the past few games and what contributes to that:
"Well, I mean, there's obviously things that go into it. I just look at the ones when I feel like you can complete a throw in motion and things are clean, you ought to hit those. That's really the standard that I hold myself to. And there have been a few misses with that situation. And then there's other times when you just have to make a play, too. At any rate, I want to get it up. It's got to be up. We have to do things to make that get better and it's like you said, there's a number of things that can contribute to it, but, for me, the way I look at it is that the ones where things are clean and I'm able to throw it, I have to hit those. Can't miss those at all. That will help out a lot. So that's my focus for me."
On whether he feels good about his completion percentage on those clean throws:
"Yeah, I mean, when I look at it, it's been good. I don't know the percentage of those. Like, I don't break down and go, 'Hey, I was clean here, I was clean here.' I don't really break down those. I just know that this last game was the first time that I felt like I missed more than I should. So I was a little frustrated with that."
On his feelings about the season overall:
"Not good. I mean, I don't know anybody that can really say they feel great about a 2-12 season when you're a part of it. So, I don't feel great about it. That's just – I put a lot, I carry a lot of responsibility for this situation and I think as a competitor you always go, 'What can I do to make it better?' Especially at this position. We obviously went through an unfortunate thing with losing our offensive coordinator, but you want to try to find a way to pull everything out of it and rise above it. So not being able to get that done is hard. It's very frustrating and obviously puts a damper on things when you deal with that daily, when you kind of are settling into this is how this year turned out. I'm disappointed with how this year has gone, no doubt about it."
On whether the team can take more risks this year, without the playoffs in the picture:
"No, not at all. I take it the same way. If we were 12-2 or 2-12, I'm going to play the same way. So all the things that we talked about are things we are going to work to improve on: protecting the football, being smart, all of those things. That's the key. It's obviously a tough challenge. They've played really well this year and we need to continue to do all the things that we've laid out as far as what we talk about week in, week out: being a balanced team, being able to run and throw and put a whole game together. We've come close at times and done some good things, but I don't know if we've done that completely. We've got to do that better. This is another opportunity to get that done. This is a team that, they've played good football, they've got one of the best quarterbacks in the game, they're a very good football team, so it's a great challenge for us to go out there and play a team like this and to go out there and stand toe-to-toe with them and to go win that football game would be huge for us, and be huge momentum for us. We're excited about it. Nothing changes with our approach. We're continuing to approach, every guy in there, the same way, so that's a good thing."
On whether he is a player who takes his job home:
"I try not to. This one, this year, if I'm being honest, this one has been hard. This has been hard for those reasons that I said. You come to a point in your career, especially as an older guy, and you want to be able to pull everything out of it and really carry it and so you feel like you almost have to take it home in order to do so. You have to be fully invested. So, as a husband and a father I try not to do that. I'm in a unique situation, thankfully I guess, given the year, that my kids aren't around, because they are back in Charlotte, but I take five or 10 minutes before I chat with them and talk on the phone with them and kind of calm myself down and make sure my mind is right. My calling to be a husband and a father comes before playing football, and that's hard when you're in this business and you want to do well and it's performance driven and all those things, and then you have to go lead your family and do that well. They don't care what's happening at work. They want to talk through different situations. My daughter is in high school and she wants to talk through different situations and things, so they have to have my best. This team has to have my best, but I won't forsake my family and them getting my best for this. But it's hard. It's hard, because, like I said, I care deeply about this team and I want to see them do well, I want to see us do well. You invest a lot in it. It's hard not to carry it home."
On the large number of Green Bay fans expected at Raymond James Stadium:
"Well, I played in Arizona early in my career and it was the same thing. Especially with a warm-weather city, any time we play anybody from the north, really, it would be about half-and-half, if not tilted the other way. It's understandable. It's a storied franchise, they travel well, it's warm weather, so you just gear up the same way. I think it just adds more juice to the game because you know that, again, the opponent is a good football team, but also they are going to travel well, so how much more fun would it be to win that game when all those people come there? So I think that's the mindset."
On changes he has made in holding the football:
"No, I mean, it's kind of the same spot. You don't want it to get too low. The main thing is keeping two hands on it, but sometimes it goes low because they know where you're holding it and they swipe high, so you take it low. It's just, that's part of it. But as close to the chest as you can get it, I think helps protect it, because it's going to be swiped and pulled at and that's just part of it. That's always my focus, is making sure that the ball stays tight, tight to the chest. But, again, at some point you have to break your hands and throw the ball, and if they're there at that point, that [a fumble] happens. The first one [at Carolina] is understandable, the second one where it was a throw and you get credit for a fumble – I don't know how to change that. I was in mid-throwing, so I don't know. If you guys have advice, tell me, because I don't know. When you throw it and somebody hits you while you're throwing it, there's nothing you can do about it. That's just a bad break and all quarterbacks go through that, so that's just part of it."
On differences between how teams defend against wide receiver Mike Evans now compared to earlier in the season:
"I think teams are a little bit more cautious leaving him one-on-one because of his ability to get behind the defense and make plays downfield. I see them – they're less physical. They know they have to bring their A-game because of what he's done and how physical he is. I think that's the main thing, just people playing off and trying to sit in the spot kind of where he's gone long and he shuts it down and we have some intermediate stuff. So they're kinda trying to play both and take those things away, so that's the main thing, I think, more than anything, that I see that is different from early on with Mike."
On how the team is approaching this game:
"Honestly their situation doesn't really affect us. The way you look at every game you play is that you go out to win the game. It's the NFL, you get paid to compete, you get paid to be a professional and to say that we're going to there and lay down for these guys is not what's going to happen. They know that, we know that, they it's going to be a game and we've obviously been competitive in a lot of games, been very close. I don't think that they expect to come down here and this to be an easy game for them."
On tackle Demar Dotson performed moving to left side on Sunday:
"I think he did good for only having a few days to adjust to it. I know from playing in college and having been played all over the line in college, it's not easy, especially when you've been playing one spot for so long, your body mechanically kind of has muscle memory for how that all goes and so telling your body it has to switch everything, you've got to find out how to be comfortable. If you have multiple weeks to work on it – I think this week he'll be more comfortable as it goes, but it's just going to keep going because you have to flip everything in your head. It's one of those things that most guys, if you're athletic enough and well off enough, you should be able to make the transition pretty quick and I think Dot has that."
On the challenge Green Bay's defensive front presents to the offense:
"They're a lot more athletic than they've been in years past, just kind of the identity of the team is that the offense puts up a bunch of numbers and the defense gets unleashed on you. They put a lot of speed and athleticism out on the field and guys that have been able to make plays all over the field and that's kind of how they want to go about winning football games and if you allow them to do that then they will do that to you. Obviously you want to try and keep the game close, it's going to be more to your advantage then trying to sit in there and try and get into a scoring race with them because you're probably going to lose that one."
Photos from Wednesday's practice at One Buccaneer Place.