Doug Martin has missed five games this season due to injury and rookie Charles Sims didn't play at all during the season's first half due to a preseason mishap with his ankle. Those two are fully healthy heading into Week 13, but now it's the Bucs' third primary tailback, Bobby Rainey, who is dealing with an injury.
Rainey was one of four Buccaneers who didn't practice on Wednesday due to injury as the team began its preparations for the Detroit Lions, but he was the only one of those four who was active for last Sunday's game against Cincinnati. Rainey ran once for 11 yards and caught two passes for 41 yards – including a crucial 29-yard catch-and-run on a screen play in the game's final minutes – against the Bengals but also finished the contest with an ankle injury. Since joining the Bucs as a waiver claim last October, Rainey has not missed a game.
"We held him out of practice today," said Head Coach Lovie Smith of Rainey. "We'll see how it goes the rest of the week."
Rainey also handled punt and kickoff return duties in Sunday's game, but the Bucs are covered on that front after Tuesday's re-signing of rookie WR/KR Solomon Patton. Patton took care of both of those jobs for the first six games of the season before spending the last six weeks on the Arizona Cardinals' practice squad.
As for "returns," the Bucs would be most pleased if All-Pro linebacker Lavonte David made his after missing the last two outings with a hamstring strain. David participated in Wednesday's practice on a limited basis and Smith seemed encouraged by his progress. Tampa Bay's full week-opening injury report can be found here. A collection of additional quotes from Buccaneer players and coaches is below.
(Opening statement:
"Injury list: Clinton McDonald, Brandon Myers, Bobby Rainey, and Austin Seferian-Jenkins all were not able to practice today. They're getting better. Austin Seferian[-Jenkins] is getting better. Bobby Rainey has an ankle injury from the game –Besides that, brought back Solomon Patton. Another receiver, punt returner that can do some different things. Clinton McDonald is getting better – will be good to get him back on the football field. And it's always good to get Lavonte David back out. Got some work done today. Good, spirited practice. We're a 2-10 team."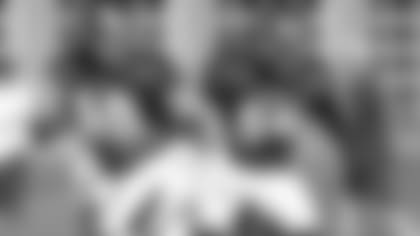 LB Lavonte David (54) practiced in a limited fashion Wednesday after missing the last two games with a hamstring strain
On if he expected more out of quarterback Josh McCown this season:
"I expected more out of our football team this year – Josh and all of us. When you're 2-10, yeah, you expect a lot more out of all of us – Josh included in that. Josh and everyone else, yes. All of us. I'm not going to put it all on Josh. When you put it on Josh, it's on all of us. As a quarterback and him playing, no, it hasn't been good enough. I think that's been documented. But when a quarterback doesn't play well, there's a lot that goes into that: front, protection that he's getting, decision-making. This past game, their quarterback threw three interceptions and [Josh] threw one. Play overall has not been good enough, but I'm going to bring all of us into that again."
On if he brings in referees to his practices as a way to cut down on the number of penalties:
"I don't think that helps much. They call a penalty. They call a flag after the fact. You have to eliminate that before you throw the flag. I don't think that necessarily – we know when we commit a foul, and that's the part that we need to clean up. I'll just say we're working on it, but I don't think that necessarily does it – having college or high school guys coming out to do that."
On why cornerback Crezdon Butler was not at practice today:
"Personal. He had a personal issue that he was taking care of. Should be back out on the practice field tomorrow."
On if running back Doug Martin's first-half performance against Cincinnati was the performance he has expected from him this season:
"As we talked about Josh and the rest of our football team, we expect a lot more from all of us. Doug, of course, is included in that too. [We] like what we saw this past week. Had energy right away, had some good runs. Unfortunately, one of the runs was called back that he'll never get credit for. But yeah, it was more like him. When you fight through injuries, it's tough sometimes for a running back, but we're headed in the right direction. We need to follow, of course, that effort with a better one this week."
On the matchup with Detroit's wide receivers Calvin Johnson and Golden Tate:
"Tough matchup. Golden Tate, Calvin Johnson – it's not football season for me without having to deal with Calvin Johnson. We played him an awful lot. He's as good as there is. Makes some unbelievable plays. It's a big challenge that guys look up to – look forward to, I should say – when you're playing against the best. He's had some nagging injuries – I'm talking about Calvin still. But last week, Thanksgiving, you kind of saw what he is really – why he's the highest-paid receiver in ball or whatever he is. And Golden Tate too. And not just Tate, their entire [offense]: Matthew Stafford, the same crew, two first-round tight ends, a lot of good skill. If Reggie Bush plays this week, that's something else to deal with. But I think our defense is looking forward to playing them. Looking forward to playing on turf. We didn't play as well as we should play last time we went inside of a dome – it's hard to get that Atlanta first game out of my mind; I guess we've played [in a dome] since then. New Orleans, we played a little better. But we are looking forward to going up there this week."
On how cornerback Johnthan Banks' path this offseason with the team's acquisition of cornerback Mike Jenkins helped pave the way to his current success:
"Well I definitely think competition brings out the best. I know that's coach talk, but it does keep you at the top of your game throughout, and knowing that there was competition. We want competition at all positions. I think that can motivate you a little bit, but I think Johnthan Banks was motivated just by being the best player he can be. We've seen a lot of improvement from him. He's had some unfortunate things happen this year, but lately – like the rest of the defense – he's really picked up the pace. Good size. Of course, the DBs, they're looking forward – as we talked about earlier – we'll see exactly how far we've come this week."
On the recent performance of cornerback Brandon Dixon:
"Green player – a potential guy we were talking about earlier. Good size, plays hard. But yes, we've seen marked improvement from him. To get your first [interception] – 20 years from now, 'Hey, Brandon, your first interception, who'd you get it against?' He'll say it was against A.J. Green, and I'm sure he'll be able to – in detail – step-by-step, explain exactly how he did it. Good re-route on him, dropped right back into coverage; but then, it's about finishing the play. Something we haven't been able to do enough is finishing, but he was able to do that. We like the progress he's making."
On how close he has come to being able to identify what he wants on offense:
"I had a vision on what we wanted to be starting off the season. Of course, where we are right now is not what we envisioned. But what we want to be, as much as anything, we want to be a productive offense; finish games; protect the football; if we need to pass to win a football game, we want to be able to do that; we want to be committed to the running attack and be able to do that when we want to. So we want to have balance on the offensive side of the football. We haven't seen that the majority of the time this year – we realize that. Eventually, we'll get [there] and you'll be able to see what we do want to be."
On if he has been surprised at Banks' quickness:
"Most guys with that type of size and length, as you mentioned, aren't the quickest. If you want really quick guys, normally you lose some inches. [You are] going the wrong direction when you do that. But I think he's a perfect combination. You look at the receivers in the league now that you have – look at ours, the ones we're playing this week – seems like each week there's big receivers on the other side, 6-3-plus, and you need a player like Johnthan. Even though you may not be as quick as some of the other guys, there's other things with that length that you talked about. And then, though, being able to finish and intercept the ball. To me, with the defensive back, it's about how many picks do you have and will you tackle? And he'll do all of those things. We can play with a lot of guys just like him."
On what impressed him the most with the team's punt coverage against Cincinnati with a big hit by linebacker Orie Lemon and a punt downed at the one-yard line by wide receiver Russell Shepard:
"There's not a whole lot I can add to what you just said. We haven't had the best of games part of the time this year. But going into last week, they knew the challenge ahead of them. Pacman [Adam Jones], I don't think he had fair caught the ball the entire year. And you knew what he could – he's scored a lot of touchdowns, he's a hard guy once he gets going. So you had to be on top of the game. And guys take that challenge, just like we talked about [with] the defensive backs looking forward to that challenge of playing the best this week. Our punt team looked forward to that and they really did. Those were big plays – we changed field positions with it and again, that's what we envisioned our punt team looking like throughout the year. But it's good to start heading in the right direction now."
On how disappointing it is to see the talented players on the team and have a 2-10 record:
"2-10 is frustrating. I'm not happy with it. Disappointed. All those words you want to describe it, that's what we are. I don't know if we're the '72 Dolphins or anything like that, or the 2000 Buccaneers, but when you are that close so many games, you do have some talent. When you're that close and you don't win, then there's some things we really have to get figured out before we can really become a good football team. It's a fine line, and once you get over that big fence or whatever it is, some good things are going to happen down the line, and that's how I feel. We do have some good players. We plan on showing up there in Detroit this week and being as good of a football team as Jim [Caldwell] thinks we are."
On if he would agree that the players need to hold each other accountable:
"I think you can start the season off and you can say that, from junior high, to high school, to college, to the NFL, yes – hold each other accountable. I think we've done that. Sometimes when it doesn't work out, you can continue to talk about those things and you can get officials out there and you can peer pressure – and it eventually comes down to that: if you know what your responsibility is, you know the rules, there comes a point where you as a man have to get it done. If there's something you don't know, that's one thing, but when you know it and you know what it costs your football team and you continue to do it – we can't win until we get this figured out. Eventually, that will happen. Again, it's taken longer than I thought."
Quarterbacks Coach Marcus Arroyo
On quarterback Josh McCown's decision making:
"I think as we talked about early on, I think when we started going through the process of what is going on with him and it's all of the things, it's decision making, he's trying to press – as we spoke about early on in the season – and maybe trying to do things and doing too much. Ball security is one, the turnovers and fumbles are just ball security. You can't run out of the pocket with one hand on the ball, it's something that we're trying to coach since day one with anybody that holds the ball. So one part obviously is ball security and that's just in the pocket and those are the ones where we've got fumbled or stripped and run from behind, those are the ones I think that just carrying the ball we've made an emphasis on whoever's carrying the ball, that's one of them. The decision making is another part, where to go with the ball and when to go with the ball and when to just eat it and when to know when you need to go for something or when you can just take it. Again, it's a process, it's trying to get solid understanding of when you need to try and make a play versus just live with that play and that's really the nature of the beast."
On if some of the turnovers by McCown are because of the pressure he is facing:
"I'm not going to go out and say that if you all of a sudden flip that over, then now it's because of protection he's throwing interceptions, that's not it at all. Protecting the quarterback has been a mainstay – anyone at this level is trying to protect the quarterback. When there's a clean pocket, it makes for a very big difference as a quarterback. He can complete a throwing motion and all of those things and when it's not, then you have to be able to create it in the pocket and create by moving around or outside and carrying the ball different, your carriage becomes different, your release becomes a little bit different, it has to quicken up and shorten up, you've got to understand time management and where you've moved in coordination with the way the route usually has to be at and where to go with the ball. Obviously we need to get better in all of the phases of turning the ball over and specifically the quarterback is what we've been talking about and we can't do it. Our turnovers are killing us and we know that, that's nothing we don't know. It's the number one key to victory since day one and our standards are not going to change and they won't and that standard will never change. It seems to be consistent."
On why they believed offensive lineman Garrett Gilkey was the best option at the center position last week:
"We believed as a staff and Garrett had been working that position at center as a backup since we've been here and we've had him and going into that game he was the guy to go in and do it. As his first start, maybe not the way he wanted it to go, it's unfortunate that we had some of those things, but I think we can all look back – I think anyone on our roster would look back and at their first start or their first early stages, us coaches included, and say I wish I had something back. I think he understands things can hurt us and I don't think that's anything any younger player is going to do, whether who you picked to play that position is really going to be in-house and who starts. Our decision to go with Garrett was one based on what we have had in camp with him and what he's done."
On running back Doug Martin's performance on Sunday:
"I think he's had a couple of good weeks and he's getting back into it and he looked good in the week and we were going to force him a little bit and feed him and see what could happen and we did. We stayed with it and hit some ones that were nice. He hit some good runs, ran hard and he did a nice job. Other backs are getting picked up from there and did some good things I think, with whatever we asked them to do and we asked them to do protections or screens or all things or running outside and doing that stuff, but Doug specifically did a really nice job and I hope to continue building on that last game. It was nice."
On if Martin is showing signs in practice that he can get back to his rookie-year performance:
"Again, all I have seen of it is on tape when we got here, but there have been some practices in the last couple of weeks and obviously now we have some game footage where that looks like some of the Doug we thought we had and it was nice. It was good to see him run hard and aggressive and making some of those cuts and I think he's felt more confident as the game went on a little bit there. It's always good to see when you can see a guy feel like 'Ok, maybe he's feeling back into form.' It would be nice to keep that going."
On what Cincinnati did defensively to take away the running game:
"They made some adjustments obviously in the box and what they were doing up front and that's what you expect of any team to do is make an adjustment and you try and adjust and then you have to do what it takes to try and win the game. They adjusted to make the box count heavy and then you play outside and then you need to protect and throw the ball and that's just the nature of the beast. You try and find some other nuances that help – obviously we had a very interesting situation with just personnel last week. Getting that designed and getting those adjustments with three tight ends, a fullback and a center all being out, that's new and that's tough. Having the full onslaught of adjustments to go to is really kind of limited and you've got an extra lineman in the game who's playing at a position and you've got a center who's now it's his first start and you've got a running back who we got back and we were ready to down and give some basic core stuff and now you have no tight ends and no fullbacks, you get creative. They did a nice job and at the end of the game, the reality of it is you want to give yourself a chance to win at the end and we're not interested in scores. I understand yards and all of that stuff is real nice, but at the end of the day if you're in position to win the game, that's what you're trying to get done. This is the NFL, there have been seven or eight games that have come down to that situation where you're trying to be in position no matter the score and obviously we would like to rush and throw and do all of those things and have no penalties, but we are in a position to win there at the end and the guys I thought with what we asked them to do, put themselves in that position. Now, we also took ourselves out of position and they know that, we know that, we shot ourselves in the foot. There's no excuse for that by anyone and it starts with us and everybody involved. We've got to put ourselves in that position and finish and that's the bottom line."
On what makes Detroit difficult to run the ball against:
"They're a really good defense, really good front, they don't blitz much because they rely on those front guys to get home. Their defensive tackles are as good as anyone in the league if not the best and the second year defensive end is also another really good player. The front guys play hard and are really good players upfront, fast on turf, hard on turf, it's going to be loud, they're good at home, they've got some confidence after last week, they've got some confidence overall as a team, they've got eight wins I think and it's a good defense, a really good defense. We've got to go up there and execute, you can't put yourself in a bad position against a defense like this, and it's hard to overcome."
On what McCown is doing well:
"I think it's just his leadership as a guy and a player and he's the guy we brought in to get it done. Two games ago he's rating through the window and has a good game and we see some of the things that you asked are those some of the things you wanted to see and those are the things you want to see her can do, but no one is obviously – we can't continue to shoot ourselves and we'll be ready if we need to do anything obviously, but at this point, coach will make the decision on rosters and we'll go from there."
On if the game plan didn't call for a lot of passing:
"I think it's the same thing, it goes back to where you're at in the course of the game and what you do. You feel like you're running the ball well and you're trying to put some ground work in it and I think someone said 'Why don't you run it 30 times a game?' That's not the reason we ran it a bunch, it's the reason we need to continue running it. We need to find a way to commit to something and do we not want to throw it to Mike [Evans]? I think that's absolutely false. If they don't let you throw it to Mike then you have to continue to find ways to get that done. I think we took a couple of shots with him – they're going to play him off coverage, but you just have to be able to put it up there and give them a couple of more extra to work with because he's going to catch it. There were a couple of times where he had a yard on the sideline of difference. Continuing to target those two outside guys is an absolute and that's what we've got to do."
On preventing a 12 men on the field penalty in the future:
"The protocol really with that is the same as it's always been. First of all there's no excuse for having 12 guys by anyone and we're not going to hang it on anybody, if you're going to hang it on anyone then hang it on me, but we're not going to hang or point fingers at anybody who is out there because that's not right. The reality of it is that can't happen on our watch as coaches and it can't happen as far as players seeing substitutes coming in and out, we had that personnel in multiple times in the game, we had it multiple times in the week and nothing happened. You're going 12 games and nothing has happened in 12 games and all of a sudden you get one critical situation and it happens and it shoots you in the foot. It can't happen. All the checks and balances have got to be – coaches, I call the personnel, we get it reiterated, we signal it, they go in, someone comes out, we've got see it and we didn't. There's no excuse for it, it can't happen."
On how the offense prepares for situational football:
"I think it's two part when you talk about miscues and then you're talking about situational. The one part on miscues is discipline and knowing what we're trying to get done and that discipline has got to be something that we're continually harping on because it's got to be self-discipline, it's got to be discipline by us, it's got to be in room, it's got to be knowing what the situation is, we do it every week and then executing that situation based on a couple of different things, number one: you've got to know you're giving the core stuff that they feel confident doing, which is normally anyone's two minute, your core concepts. Then you have to execute it, you can't have things that set you back in that drive, you can't have a drop, you can't have – usually the statistics, the analytics say in two minutes if you look at it – the percentages sometimes in that two minute drive say slow down, there's a big correlation to the first play because of the success rate for it, that's one example. Teaching those guys those things and being locked in and magnifying that focus in those situations comes with having a group that understands it completely 12 weeks in a row, 13 weeks in a row, 14 weeks in a row and understanding now you've had so many opportunities to do it, what are the things that put yourself in position. A couple of times we've done it and it's been put ourselves in position to do it. At times we've had a position to do it and we hurt ourselves, it can't happen. You're there, you're knocking on the door and we've got to finish and the Bucs can't beat the Bucs."
On how he would grade his performance the past few weeks:
"Up-and-down. Some good moments and some not so good moments. Not as consistent as I would like I would say."
On what he has not done well:
"I just look at it [like] if it's not going, the quarterback needs to make it go somehow. Just not finding a better way to score more points consistently. I think that's the key. I think that's what I haven't done well."
On the turnovers committed by the offense:
"Those are obviously factors in it as well. The one in the red zone against Atlanta, really the fumble in Chicago is the one I'm most disappointed at in that game; the other ones, kind of just bad breaks, things that happen – you get hit when you're throwing the ball – those are things that happen. We can't have that. Obviously, things we talk about. More than anything, just not capitalizing and finishing off of our defense's turnovers is what's been frustrating. So those are the things I'm disappointed in."
On why the team has struggled in two-minute situations at the end of games:
"It really is heat of the battle. You look back, there's been situations where we've succeeded, so to speak, and it's been more procedural things that have stopped us. St. Louis, hit the big play down to Mike [Evans] and we're in range and [we had a ten-second runoff due to an injury]. Pittsburgh, we go down and we win the game. Then this weekend, things like that – physically, between Louis [Murphy] and I, we get it done, but a procedural thing stops us. We make that play, but a procedural thing stops us. So yeah, those things are frustrating because it's hard to – in light of the St. Louis game – it's hard to go, 'Hey, let's practice a guy getting injured and that clock process.' It's hard. Will we plan for that? Sure, moving forward. But I don't know if you have enough practice time to go over all the rare scenarios like that. This other one, again, we all just got to be more clued in. We typically don't sub in two-minute, and so it was just one of those things where a sub happened and we all needed to be better tuned in. Like I said Sunday, I'm a part of it. But it's not something – we typically don't do that, so we don't sub in practice, so it's not something that you can necessarily go over or hash through. So those are just – they're bad breaks that we learn from. They're frustrating, but I think in those moments, we've made those plays. And even in Atlanta, we got down there a couple times and put ourselves in position. So I think we've done a pretty good job in the two-minute drill – we've just not finished. And like I said, a couple of those things are procedural things, but physically, we've made the plays that we're supposed to make. Hopefully those other things become less and less and those games end up finishing in our favor."
On if part of the frustration is from making mistakes that the team can control:
"No question, they are [things you can control]. And that's very frustrating because they are – they're variables that you can control. And that's what I mean by that is when you go out and you make the play physically, you do what you're supposed to do, and then another variable that you control takes that away, yeah, that's very frustrating and ultimately costs you games. That's two ball games right there. Right now, it's a different feeling. Still not where we want to be, but we're still very much in the thick of it. So yeah, it's very frustrating."
On what he has done well and what he can build on:
"Just trying to continue to be steady as far as with the guys and what we're trying to get done offensively, and especially as much as we've thrown the ball the previous weeks. I think we've moved the ball well at times and I'm pleased with that. And just for me, some of the goals that I talked about or some of the things that I've talked about coming back was just how I wanted to play as far as where my mindset was, and I'm very pleased with that because I don't feel like I've pressed – I feel like I've played within it. There's been pressure at times and different things like that. Trying to keep your edge about it and continue to look downfield, make the plays, all those things – I think that's the things that I will continue to focus on as we move forward."
On how much the reduction of mistakes comes down to players holding each other accountable:
"That's exactly what it is and we've got to do a better job. We're all sick of it, but to a man, it's got to hurt us enough that we decide not to do it anymore, that we focus and bring ourselves together and say, ' It's not going to be us, it's not going to be who we are,' because, again, it's a variable that you can control. We shouldn't walk away from games with 12 penalties or 11 or whatever it was on offense – that's ridiculous. We can't have that. As coaches and players, everybody, we've got to draw more attention to it. And we have – it's not like it hasn't been. Lovie puts up the penalty tape every week – he's showed us that. He's put emphasis on it over and over again. So it's on us. We've got to do a better job in just our focus and we've got to demand more from ourselves because those things are stopping us and it's a shame because, this past game specifically, because it puts you – you get behind the sticks, especially when you're running the ball the way we ran it in the first half, but you start having penalties and you get behind the sticks and you can't run the ball, it changes what you're doing. So you're absolutely right, it's got to be better and it starts with my part in it and the things that I can do as well I'll be looking at and how we can help the other guys not do that either."
On what can be done as the quarterback to reduce the mistakes and if it is a matter of getting in someone's face or giving inspiring speeches:
"It's all those, and those things happen. These things don't happen and we just pat each other on the back and go, 'Hey, man, it's alright. Next time, don't do that.' There's conversations that are had – trust me – and long conversations and time spent together wanting to pull the best out of each other. I said this about our locker room and I believe that we have good guys. We have guys that want to do the right thing and they're fighting. But at the end of the day, it's not been good enough and it's got to be better. And again, we've got to demand that out of ourselves. So, yes. Do I have conversations with guys? Absolutely. And then with me too. That's the beauty of it. It's peer-to-peer accountability. We all want to see the best come out of each other."
On if the offense has started to establish an identity after struggling to establish one early on:
"That's what the tape says, it's what our season says. We're not there yet. I'd like to say that we are, but if you just look at the tape, we're close – we feel that way. But we've certainly not accomplished that. So we've got to keep chasing that. Given the circumstances and things that we've gone through and trying to put it together the best we can, I'm proud of the effort that the coaches have put in and the guys to try to find that because it's certainly an unfortunate situation. But that being said, we've still got to keep chasing that and finding kind of who we are and finding that balance like you're talking about and like I've talked about before. It's a tough task this week to do that because Detroit's so good defensively. But we've got to be able to – whatever that game demands or ask for, we've got to be able to do that. If it allows us to run the ball, then run it, and if it gets to throwing, then we've got to be able to do that at a high level."
On how critical running the ball is to establishing the offense's identity:
"No question. If you're going to be a running team, you've got to be able to run the ball. I said it the other day, for us, the [number of] throws weren't as much in the first half or whatever it was because we were getting runs. To Marcus [Arroyo]'s credit, you've got to stick with it – you've got to call runs to get them done. And it's hard because it's easy when maybe you've not been as consistent as you'd like, because the first one that gets stuffed, you go, 'Well let's start throwing it.' So you stick with it, and we got something out of that. And again, it goes back to staying on schedule with us with the penalties and those situations where we can't do things that take us away from being able to do that – being able to run the ball. We found ourselves in a game the other day where we could run the ball, where it was going to be an asset to us. Unfortunately, we got it behind the sticks a few times and couldn't do that. And it's converting too, and it's being able to convert in a passing game on third-down and give us more tries, give us more chances. That's got to happen as well. That's on me and the guys outside. So it's a group effort in getting the run game going. It's not just the front five – it's all of us. Because the conversions on third down are huge because those are two more base down attempts that you can get to maybe hand the ball off and get some more rhythm there. So we've got to be better there."
On Detroit's run defense:
"Yeah, no doubt, they're a very good run defense. So we'll have our hands full, but you can't go in going, 'Well, hey, we're just not going to run it.' We'll still have the same number of runs that we always carry and go into the game with the same type of plan and see where that fits in. But again, you find out more as you get into a game and we'll see how that game dictates. But we always feel good about our guys and our ability to try to go out and run it as well."
On if the large contingency of Cincinnati fans cheering on the final drive had anything to do with having 12 men on the field:
"No, it never crossed my mind. Those things, I didn't think about that. So I don't know if it bothered anybody else, any of the other players or the guys getting in and out of the game. But I never thought about that. It was just more about getting guys in and out of the huddle and getting the play called and all that stuff. Again, not to rehash it, but obviously we didn't get it right out in time."
On his number one goal for the rest of the season:
"Finish well. Finish going like this. We've got a tough four games, but man, how good would we feel finishing the year winning these games and playing well and kind of playing the type of football that we've talked about all year. That's my goal. That's my desire and I feel like it is the rest of the locker room as well. Nobody's given up. Everybody's going to come to work and work hard and it reflects our coaches and our leadership and I think, for us, that's where we are as a program is we've gone through, we've taken some lumps and it's been hard, but I think it's made us stronger, and then go out and finish this last quarter well and see what happens and build on that."