STORY HIGHLIGHTS
The Bucs sent S Kelcie McCray to Kansas City in exchange for G Rishaw Johnson, who played in three games with one start in 2013
Johnson adds depth and versatility to an unsettled interior-line situation
Tampa Bay considered McCray a good player but had very good depth at the safety position

On Thursday, the Tampa Bay Buccaneers dealt from a position of depth to add to one of uncertainty, trading safety Kelcie McCray to the Kansas City Chiefs in exchange for guard Rishaw Johnson.
"We said that we would continue to look at players that would help our football team, as much as anything, so we're excited about getting Rishaw Johnson here into the mix," said Head Coach Lovie Smith, who announced the trade after practice on Thursday afternoon.
The move looks like a good one for both players, who land in situations that may give them a greater opportunity to make the regular-season roster. The Buccaneers, for instance, had six safeties who have performed well in training camp and McCray might have found himself in a battle for the final spot with rising young player Bradley McDougald. Johnson, meanwhile, joins a group of guards competing for spots on the most unsettled part of the team's depth chart. Smith said that Johnson has also played center and thus offers the team some flexibility with its interior line depth.
"We'll continue to look for players this time of year – guys that might not have a great chance of making [their] ballclub, and maybe that's the case on their end [of the trade] also," said Smith. "It just seemed like a good fit as much as anything. He's a player that became available and we thought it was a good fit for us.
"Kansas City also got a good football player in Kelcie McCray. We like our safety position. We had a few guys there, so they got a good football player and we feel like we got a good football player also."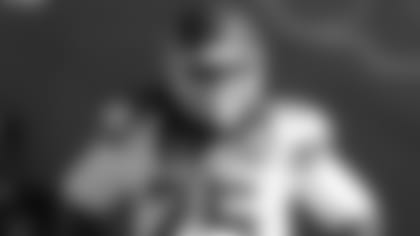 G Rishaw Johnson played for the Chiefs in 2013, appearing in three regular season games and starting one
Though Johnson is just 25 and is now with the third team of his brief NFL career, he does have some regular-season experience to fall back on, which could be an advantage among a group of mostly untested players. He spent most of his 2012 rookie season on Seattle's practice squad after signing with the Seahawks as an undrafted free agent, then was promoted to the active roster for the final four weeks of the regular season plus the playoffs.
Johnson was waived in the final cuts before the start of last season and subsequently signed to Kansas City's practice squad. After just three weeks he was promoted to the active roster, where he remained for the rest of the year. He saw action in three regular-season games, with one NFL start, and also played in the Chief's Wild Card Game against Indianapolis.
"He's just a big athlete, looks pretty good on video," said Smith. "I don't know a lot about him right now but everything has checked out. Again, whenever you get a chance to add a big, young athlete, you have to be pretty excited about that. He has good video. Being on an active roster for a period of time with Seattle and Kansas City, we know those guys and of course he's a good player.
McCray played in 11 games for the Buccaneers last season, signing with Tampa Bay in October after being waived by the Miami Dolphins.