STORY HIGHLIGHTS
Rookie WR Solomon Patton, who opened the season as the Bucs' return man, has been re-signed off Arizona's practice squad
The Bucs waived just-signed TE D.J. Williams to make room for Patton's return
CB C.J. Wilson spent two weeks on the active roster but has now returned to the Bucs' practice squad

Solomon Patton spent six weeks in the desert but now he's back with his original NFL team, the Tampa Bay Buccaneers.
On Tuesday, the Buccaneers re-signed the rookie wide receiver as part of a trio of roster moves. The team created space for Patton's return by waiving tight end D.J. Williams and also brought cornerback C.J. Wilson back to the practice squad.
Patton, an undrafted free agent out of the University of Florida, beat the odds this summer to make the Bucs' 53-man roster and earn the punt and kickoff return jobs to start the season. He played in each of the first six games, averaging 11.2 yards on 10 punt returns and 23.1 yards on 17 kickoff returns. However, coming out of their bye week in late October, the Buccaneers chose to seek a new spark on special teams and brought in former Denver Broncos standout Trindon Holliday, releasing Patton on October 22.
Patton quickly signed on with the Arizona Cardinals' practice squad, where he spent the past six weeks before the Buccaneers looked him up again. Players on NFL practice squads are allowed to sign with other teams as long as their new team is adding them to the active roster. After such a transaction, they must then spend at least three weeks on the new team's active roster.
Holliday lasted just one game with the Buccaneers suffering a hamstring injury that led to his waiver with an injury settlement. The job then went to former Miami Dolphin Marcus Thigpen, who was signed on November 1 but then released on November 25 after several miscues while fielding punts. In the Buccaneers' most recent game, the team used running back Bobby Rainey as its return man; Rainey gained 21 yards on three punt returns and 19 yards on one kickoff return. Presumably, Patton will have an opportunity to win the return job back from Rainey on the practice field leading up to Sunday's Week 14 game in Detroit.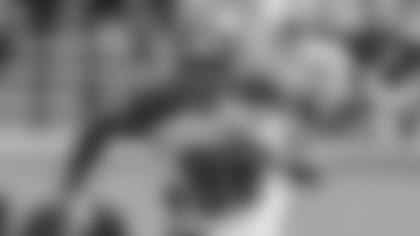 Rookie WR Solomon Patton may get a chance to win back the Bucs' punt and kickoff return jobs after returning from Arizona
Williams was signed just last week as the Bucs looked to patch a suddenly depleted tight end corps. With all three of their usual tight ends hurting – and eventually inactive for Sunday's game against Cincinnati – the Buccaneers promoted rookie TE Cameron Brate from the practice squad and added Williams, who had previously played for Green Bay, New England and Jacksonville. Brate played roughly 40% of the Bucs' offensive snaps against Cincinnati but largely in a fullback role as the Bucs used reserve offensive linemen Oniel Cousins as a tight end on nearly half of their plays. Williams was kept active for the game but did not see any action. His release could be an indication that one or more of the injured tight ends – Brandon Myers (calf), Austin Seferian-Jenkins (back) and Luke Stocker (concussion) – have a good chance to return this Sunday.
Wilson was released from the active roster last Saturday during a round of moves designed to deal with that tight end shortage. He had been promoted to the active roster two weeks earlier while cornerback Alterraun Verner was dealing with a hamstring injury but was inactive for each of the two games for which he was on the 53-man roster. Wilson now returns to the practice squad where he spent 10 of the first 11 weeks of the season.