The Tampa Bay Buccaneers' defense led the NFL in third-down efficiency last year, allowing opponents to convert on just 34.5% of their attempts. Head Coach Dirk Koetter was obviously pleased by that, but for his team's defense to take another step forward, he felt like it needed to perform better on second and third-downs. Specifically, Koetter wanted to see improvement in the Buccaneers' run defense.
"You know, on first and second down, you've got to be able to stop the run," said Koetter during draft weekend, which included the third-down selection of big and physical linebacker Kendell Beckwith. "We got to third down, our defense led the league in third-down defense last year, but it all starts with stopping the run on first and second [down]."
Well, Tampa Bay's defense actually did not live up to its 2016 standards on third downs in Sunday's opener against the Bears, allowing Chicago to convert exactly half of its 14 tries. However, the run defense was outstanding against the dangerous Bears combination of Jordan Howard and Tarik Cohen, which had powered a Bears rushing attack against Atlanta in Week One that resulted in 125 yards and 6.6 yards per carry. In terms of both third-down defense and stopping the run, one game is too small of a sample size to make any season-long predictions, but it was certainly a nice start for the Bucs' defense.
A very nice start. Chicago gained just 20 rushing yards on 16 carries, averaging 1.3 yards per tote. Of the 29 NFL games played so far in 2017 (prior to Monday night's Lions-Giants matchup), that's the lowest ground total any team has allowed. That performance also ranks in the Bucs' own historical top 10 in terms of both yards allowed and yards per carry allowed in regular-season games.
Fewest Rushing Yards Allowed in a Game, Buccaneer History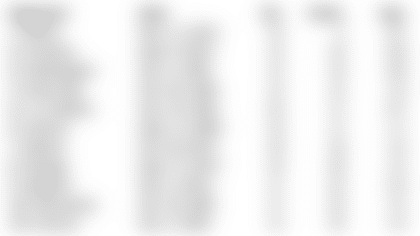 Lowest Rushing Average Allowed in a Game, Buccaneer History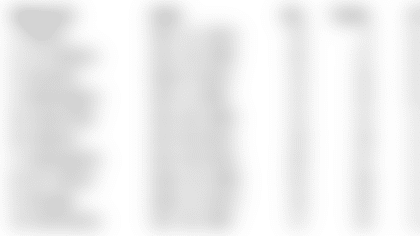 Beckwith, not coincidentally, started Sunday's game in his NFL regular-season debut and helped power that run defense with his rugged tackling. Beckwith opened the game as the strongside linebacker but later moved to middle linebacker after Kwon Alexander suffered a hamstring injury in the first half. That dual role kept Beckwith on the field for 58 of the Buccaneers' 64 defensive snaps; he also played 10 snaps on special teams to see the most playing time of any Tampa Bay defender overall.
Beckwith finished the game with five solo tackles, two tackles for loss and a pass defensed, giving an early indication that he will be a productive addition to the established duo of Alexander and Lavonte David when all three are healthy. None of those three were first-round picks (David was a second-round pick in 2012, Alexander a fourth-round pick in 2015), but all three started their first NFL games and were immediate contributors. Here are the debut stat lines for all three players: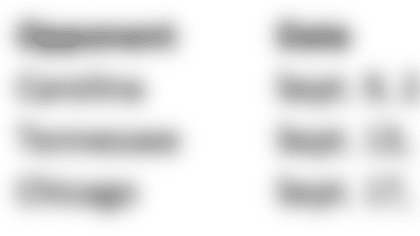 Bears QB Mike Glennon hit wide receiver Deonte Thompson on a 14-yard touchdown pass with less than two minutes left in the game, denying the Buccaneer defense its first shutout since 2010, but the Buccaneers still won by a 22-point margin. That's the biggest blowout for a Tampa Bay team to open its season in exactly 30 years, and the second largest margin of victory in an opener in team annals.
Largest Margin of Victory, Season Opener, Buccaneer History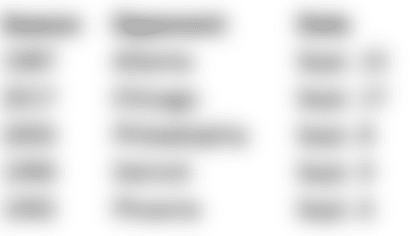 Tampa Bay's defense helped the Bucs' forge a 26-0 first-half lead on Sunday by forcing four turnovers in the first two quarters. That marked the first the Bucs have had four turnovers by halftime since…the last time the Bears were in town on November 13 of last season. That game began a massive turnaround for the Buccaneer defense under first-year coordinator Mike Smith, a turnaround driven by turnovers. Tampa Bay gathered an NFL-high 18 takeaways over the final eight weeks of the 2016 season. That trend has clearly continued into 2017. In fact, since the midpoint of last season, only the Baltimore Ravens – who have 10 takeaways in two games so far this year – have forced more turnovers than the Bucs, and that's in one more game played.
Most Takeaways Since Week Second Half of 2016 Season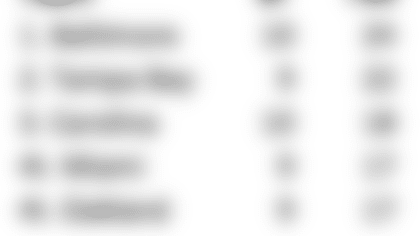 One of the Buccaneers' four turnovers was created when second-year defensive end Noah Spence notched the team's only sack of the afternoon. On that second-quarter play, Spence hit Glennon and forced a fumble that David recovered, leading to a Buccaneer touchdown. In just two seasons and 17 games, Spence has already had four "strip-sacks," combining a sack with a forced fumble.Head Coach Dirk Koetter noted on Monday that some pass-rushers are just narturally good at that play.
"There's a handful of players in the league who are really good at that," said Koetter. "Some guys just have a knack. Every D-line coach I know works on that drill where the quarterback's got his arm cocked about trying to go for the ball, but Noah seems to be good at it."
Only three players in the league have successfully executed more strip-sacks than Spence since the start of the 2016 season. The Buccaneers drafted Spence in the second round in 2016.