The Tampa Bay Buccaneers began the first week of free agency with two rapid-fire additions to their defensive line. Continuing with the trend of rebuilding the depth chart from the front back, the Buccaneers finished the week with two additions to the offensive line.
On Friday, the Bucs landed unrestricted free agent center/guard Evan Dietrich-Smith, a starter for most of the past two seasons in Green Bay. That came just one day after Thursday's signing of unrestricted free agent tackle Anthony Collins, formerly of the Cincinnati Bengals. Those two are expected to start on a front line that no longer includes Davin Joseph or Donald Penn (both released in the past week), though Dietrich-Smith's range of talents gives the Buccaneers some flexibility when putting together their starting five.
"Evan is a tough, physical lineman who gives us added size and versatility at the center and guard positions," said Buccaneers general manager Jason Licht. "He is a very intelligent player with a strong work ethic who is hitting his prime and provides more veteran leadership on our offensive line."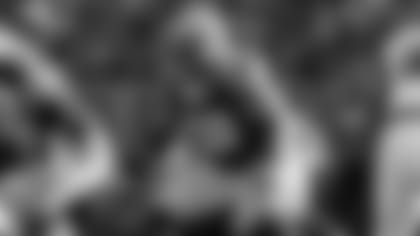 C/G Evan Dietrich Smith started 16 games at center for the Packers in 2013 and has also opened games at both guard spots
The 6-2, 308-pound Dietrich-Smith (6-2, 308) spent most of his first four seasons in the NFL in Green Bay, where he signed as an undrafted free agent out of Idaho State. The only undrafted rookie to make the Packers' roster in 2009, Dietrich-Smith played in 13 games as a rookie, then joined Seattle as a waiver claim at the start of the 2010 season. He spent one month in Seattle and later rejoined the Packers at the end of that campaign. Over the next two seasons, he played in every game for the Packers, making a total of nine starts at three different interior-line positions. Last year, Dietrich-Smith took control of Green Bay's starting job at center and opened all 16 games.
Though he grew up in California, Dietrich-Smith was actually something of a Tampa Bay fan, thanks to some timely exposure to the stars of the last great Buccaneer teams. He recalls seeing the Buccaneers win Super Bowl XXXVII in his home state and he thinks the current administration can bring that championship form back to the franchise.
"I actually rooted for the Buccaneers as a kid after meeting John Lynch at a football camp, and when he and Derrick Brooks, Warren Sapp, Simeon Rice and Mike Alstott and all those guys won the Super Bowl, I was pretty pumped," said Dietrich-Smith. "Hopefully we can do that again. I saw the Buccaneers organization heading in the right direction and when I got to meet the coaching staff I was even more excited.
"I really connected with O-Line coach George Warhop and Offensive Coordinator Jeff Tedford. Then meeting with [Head Coach] Lovie Smith was the clincher. I always heard great things about him from other players around the league and I could sense all those things were true while talking to him. I am really excited to be joining the Buccaneers."
A native of Salinas, California, Dietrich-Smith played all five positions along the offensive line during his four-year tenure at Idaho State and set a school record for the most career starts by an offensive lineman (44).