The Tampa Bay Buccaneers made a change to their 53-man roster on Saturday, one day before they will take on the Cincinnati Bengals at Raymond James Stadium. The Buccaneers promoted rookie center Josh Allen from the practice squad to the active roster and waived second-year cornerback C.J. Wilson.
This is the second roster move that Wilson has been involved in over the last three weeks, and both of them appear to be motivated by the injury report. Like Allen, Wilson was promoted from the practice squad in Week 11 when cornerback Alterraun Verner was expected to miss that week's game at Washington. Now Allen gets the roster spot in Week 13, and it may be due to the illness that kept starting center Evan Dietrich-Smith out of practice all week. Dietrich-Smith was listed as questionable on Friday's injury report.
The Buccaneers generally keep seven offensive linemen active on game day, with the five starters backed up by two players, one that primarily plays tackle and one that covers the three interior-line spots. For most of the season, that has meant Oniel Cousins as the swing tackle and Garrett Gilkey as the inside reserve. If Dietrich-Smith can't play, Gilkey would likely get the start and Allen could be kept active as a second option at center. Of course, if Dietrich-Smith is cleared to play than the Bucs could keep the usual seven linemen active without sacrificing at other positions. Though Wilson was on the 53-man roster for the past two weeks, he was a game-day inactive against both Washington and Chicago.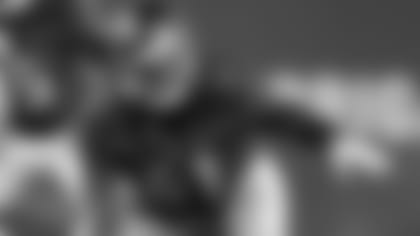 Rookie C Josh Allen went through training camp with the Bucs and has been on the practice squad since Week Four
Allen (6-3, 315) first joined the Bucs as an undrafted free agent out of Louisiana-Monroe in May. He was a four-year starter at ULM, opening games at both center and guard. Allen actually made the Bucs' initial 53-man roster after the final round of roster cuts in September but was then waived when the team claimed Gilkey off waivers from Cleveland. He then returned to the team in Week Four, signing to the practice squad, where he had remained until Saturday's promotion.
Wilson joined the Bucs' practice squad in Week Two after splitting his 2013 rookie season between the practice squad and the active roster in Chicago. The Bears signed Wilson as an undrafted free agent out of North Carolina State in 2013.