This Sunday, Nov. 12, fans will join together in an annual tradition at Raymond James Stadium to honor those who have sacrificed and served our nation: the Buccaneers' Salute to Service Game, presented by USAA. Prior to the team's 1:00 p.m. kickoff versus the New York Jets, Glazer Family Foundation Co-President Darcie Glazer Kassewitz will present Central Florida USO with a $25,000 donation to support its programs and services. Central Florida USO serves as the team's primary charitable conduit to the local military community, working closely with the Buccaneers on a wide variety of military appreciation initiatives.
Since 2013, the Bucs Care Foundation has donated a total of $125,000 to Central Florida USO, one of more than 160 USO centers worldwide that deliver high-quality programs and services to men and women in uniform. The Buccaneers sponsor the Central Florida USO Welcome Center at Tampa International Airport through "Welcome Home" greetings, team merchandise and artwork, and engaging outreach efforts to help provide a home away from home for thousands of military members and their families who travel through the Tampa area. In addition, the Buccaneers collaborate with Central Florida USO on the team's military "Hero of the Game" and "Salute to Service Suite" honorees, Military Appreciation Day at training camp, the General H Norman Schwarzkopf Military Family of the Year Awards, and the distribution of complimentary tickets to Tampa Bay military members and their families.
On Sunday morning, the Buccaneers and Central Florida USO will once again host the Central Florida USO Military Appreciation Tailgate. The free pre-game tailgate experience in Parking Lot 5, between Gates C and D outside Raymond James Stadium, will host more than 500 pre-registered military members and their families as they gear up for kickoff. Note: All pre-registered guests who have received Central Florida USO Tailgate tickets must still present the tailgate ticket as well as their military ID (U.S. Department of Defense Card, U.S. Department of Veterans Affairs Card, or DD-214) to attend.**
SPECIAL HEROES OF THE GAME: AIRMAN FIRST CLASS CHARLIE ZIRPIADES & PETTY OFFICER FIRST CLASS HELEN ZIRPIADES**
Prior to kickoff, the Buccaneers will continue a gameday tradition by honoring the team's military "Hero of the Game." At every Buccaneers home game, a military service member is stationed on the Pirate Ship in Buccaneer Cove to ready the team for kickoff. On Sunday, the Buccaneers will honor two "Heroes of the Game" with the husband and wife duo, Petty Officer First Class Helen ZirpiadesandAirman First Class Charlie Zirpiades. Petty Officer First Class Helen Zirpiades served in the United States Navy during World War II as an Aviation Line Forman supervising the production of SNV and SNJ planes.**
ADDITIONAL SALUTE TO SERVICE ACTIVITIES:
Throughout the day, the Buccaneers will host a variety of military appreciation events, including:
Pre-game Ceremonies, presented by USAA: Player Introductions, Color Guard, National Anthem and Flyover: When the Buccaneers are introduced,Technical Sergeant Mark Butterfield, an Aerospace Repair Craftsman assigned to the 927th Maintenance Squadron at MacDill Air Force Base, will lead them out of the tunnel. Tech Sergeant Butterfield was most recently deployed to Incirlik Air Base, Turkey in support of Operation INHERENT RESOLVE. While deployed he diagnosed and prevented a potentially catastrophic in-flight emergency on board a KC-135 tanker aircraft, enabling aircrews to maintain air superiority, and protect our U.S. and allied forces on the ground… The Buccaneers will be welcomed to the field by a flag team comprised of 50 representatives from USAA…United States Special Operations Command Joint Service Color Guard will present the colors, and thenational anthemwill be performed byThe United States Army Chorus… A pre-game flyover will be carried out byfour F-22 jets from the 525th Fighter Squadron in Anchorage, Alaska. Honorary Guest of the Game (Coin Toss):*Lieutenant General CQ Brown, United States Air Force Deputy Commander, United States Central Command.Lt. Brownwill serve as the Buccaneers' honorary Guest of the Game and will join the Buccaneers team captains at midfield for the coin toss. USAA has supplied a specialMilitary Appreciation Coin* that will be used for the toss. 
Salute to Service Moment, presented by USAA: During a break in play, the public address announcer will ask all military members in attendance to stand and be honored for the game's Salute to Service Moment, presented by USAA, the Official Military Appreciation Sponsor of the Buccaneers. 
Buccaneers Salute to Service Suite, supported by Jabil:  At every Buccaneers home game, the team honors a distinguished group of military members in the Salute to Service Suite, supported by Jabil. Fans are encouraged to join players and coaches during a break in play in the second quarter to thank local servicemen and servicewomen for their sacrifices, as they are recognized aboard the Pirate Ship in Raymond James Stadium. On Sunday, the Buccaneers will recognize this year's General H Norman Schwarzkopf Military Family of the Year Award recipients:
Staff Sergeant Crystal Newman (Army) and family
Sergeant Jonathon Anderson (Marines) and family
Commander Brian Bradford (Navy) and family
Master Sergeant Anthony Seabrooke (Air Force) and family
Petty Officer First Class David Gonzales (Coast Guard) and family
Senior Master Keith Gardner (Air Force Reserve) and family
Community Player Ticket Program: Over 200 military and their families will enjoy the game from exclusive seats at Raymond James Stadium, compliments of Buccaneers players, as part of the player ticket program.
Halftime: During the game's halftime intermission, the Buccaneers will host a Military Enlistment Ceremony for 200 inducteesof all service branches, conducted by Lieutenant General Joseph Osterman. The team will also recognize honorary flag runner Tech Sergeant Butterfield and five airmen from the 927th Maintenance crew from MacDill Air Force Base during halftime.**
Tuesday, November 7: Buccaneers Visit to MacDill Air Force Base**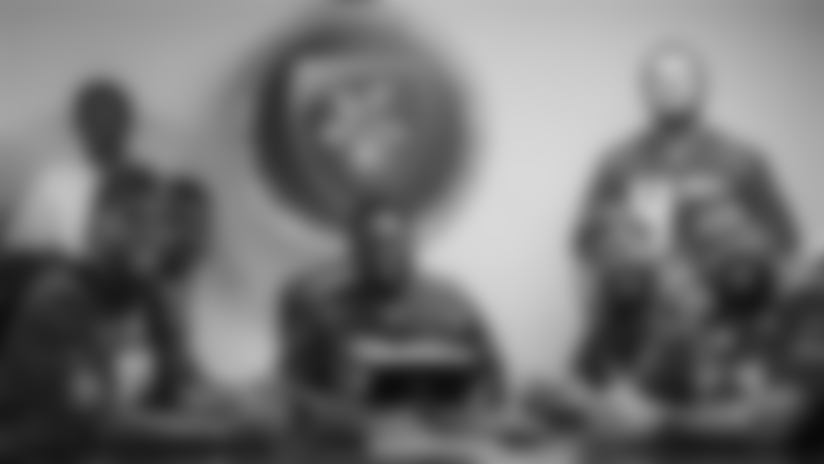 On Tuesday, November 7, to kick off the team's Salute to Service Week, Buccaneers players DeSean Jackson, Salute to Service Award nominee Clinton McDonald, Cameron Brate, Keith Tandy, Ryan Griffin, Evan Smith, Alan Cross, Garrison Sanbornand Patrick Murray, in conjunction with USAA, spent their day off visiting MacDill Air Force Base in Tampa. Players participated in a meet and greet session with military members and their families, took part in a video conference with service members currently stationed overseas, and toured temporary Deployment Cells with military responsible for bringing shelter and support to deployed troops. Along with Buccaneers Cheerleaders, the players also had the chance to try on equipment and gear, test out their night vision capabilities and grow a greater appreciation for the daily life of military who are deployed. To see more from Tuesday's trip to MacDill Air Force Base, visit Buccaneers.com. **
2017 USAA Salute to Service Award Nominee – Clinton McDonald:
**
Buccaneers defensive tackle Clinton McDonaldis once again the team's nominee for the NFL's Salute to Service Award, presented by USAA. With a deep family history of military service, including his grandfather who served in the Korean War; his father, a former Air Force engineer and Vietnam War veteran; his uncle, also a Vietnam veteran; and his brother, currently active duty Air Force, it is no surprise that a passion for supporting military families is at the heart of McDonald's community outreach. **
McDonald, a proud USAA member, was selected as a 2017 NFL spokesperson in the "USAA Member Voices" commercial campaign, as he believes the company shares the same qualities he stands for: loyalty, honor, and respect. Being raised in a military household, the same core principles are instilled in his family. For the past two years, McDonald has served as an honorary guest speaker at the Buccaneers General H Norman Schwarzkopf Military Family of the Year Awards at One Buccaneer Place. The event honors the families of active duty military members from each branch of service and recognizes their integrity, courage, commitment, and service before self. McDonald's outreach has also included participating in events at James A. Haley Veterans' Hospital and visiting troops at MacDill Air Force Base, amongst other outreach efforts.
Finalists for the Salute to Service Award presented by USAA will be announced in January 2018 at the Pro Bowl, and the recipient will be recognized during the week of Super Bowl LII in Minneapolis. USAA, a leading provider of insurance and other services to U.S. military members, veterans and their families, contributed $25,000 in his honor to the official aid societies representing all five military branches.
The Salute to Service Award is part of the NFL and USAA's year-round commitment to recognize and honor the military community. The league's military appreciation efforts culminate in November with NFL Salute to Service games and other special events to celebrate and honor members of the military. For every point scored during the NFL's 32 designated Salute to Service games, the league donates $1,000 to each of its core military non-profit partners – the Pat Tillman Foundation, USO and Wounded Warrior Project®.
USAA is the Official Military Appreciation Sponsor of the NFL.
**As Tampa Bay will do on Sunday, and as organizations will do throughout November, teams will designate one home game to honor the military. NFL Salute to Service games throughout the month will feature:
Players wearing helmet decals honoring military branches including Army, Marines, Navy, Air Force, Coast Guard and National Guard, as well as the NFL Salute to Service ribbon;
Salute to Service ribbon footballs;
Salute to Service Nike, Adidas and Under Armour gloves;
Camouflage goal post wraps and pylons with camouflage ribbon decals;
Wall banners and the words NFL Salute to Service written in the back of the end zone;
Camouflage equipment for players including quarterback towels, captain's patches, camouflage Gatorade towels, New Era caps and knits; and Nike apparel products;
New Era camouflage hats for coaches and sideline personnel;
Camouflage metal lapel pins for coaches and team executives; and
Salute to Service coins for the coin toss. 
Game-worn Salute to Service merchandise and footballs will be auctioned at NFL.com/Auction. Special camouflage merchandise will be available at NFLShop.com and in select stadium retail stores, with 100 percent of the NFL's proceeds donated to the league's military non-profit partners. The NFL does not profit from the sale or auction of Salute to Service merchandise. For more information, visit nfl.com/salute.