On Sunday, when the Tampa Bay Buccaneers host the Denver Broncos, the team will kick off the afternoon with the new "Bucs Squad Experience" outside Raymond James Stadium. In addition, the Buccaneers will continue the tradition of honoring local heroes with the Hero of the Game and the Salute to Service Suite, and during halftime the team will welcome youth football teams to the field to participate in a friendly scrimmage.
BUCS SQUAD EXPERIENCE & BUCS SQUAD TWO-MINUTE DRILL AT RAYMOND JAMES STADIUM
The Tampa Bay Buccaneers Bucs Squad is an exciting new program designed to get the next generation of Bucs fans behind the bench and inside the huddle with their favorite NFL team. By becoming a Bucs Squad member, fans 14-and-under get access to amazing gameday experiences. For more information and to sign up for the Bucs Squad, visit the Bucs Squad Two-Minute Drill locations in sections 112 and 137.
The Bucs Squad Experience,a 21,000-square foot, interactive area, will be open 12:30 – 3:30 p.m. in Lot 6D (Tampa Bay Blvd. between Gates C & D) for all children and families attending the game. The Bucs Squad Experience will include inflatable football activities, interactive PLAY 60 football clinics, as well as visits from Captain Fear (1:30 – 2:30 p.m.) and the Tampa Bay Buccaneers Cheerleaders (2:30 – 3:00 p.m.) for children to enjoy free of charge.
TEAM INTRODUCTIONS: HONORARY FLAG RUNNER WILLS NOON
For team introductions, the Buccaneers will be led out of the tunnel by Wills Noon, a student at Bevis Elementary School, a Buccaneers Academy. Earlier this year, 24 Buccaneers Academies competed in the Buccaneers PLAY 60 Challenge, a health and wellness initiative with the American Heart Association. Students at each school logged their daily exercise for four weeks in January, and the school with the highest average of minutes recorded per student received a physical education makeover. Bevis Elementary School came in first place in this year's challenge, recording 92,605 minutes of physical activity, with an average of 2,778 minutes per student. In total, the 24 Buccaneers Academies combined for more than 6.8 million minutes of physical activity during this year's PLAY 60 Challenge.
Before kickoff, the Buccaneers will continue a tradition with the team's military Hero of the Game. At every Buccaneers home game, a selected military member will be stationed on the Pirate Ship in Buccaneer Cove for the ringing of the ship bell and to ready the team for action. On Sunday, the Buccaneers will honor Army Air Corps Sergeant Cliff Bailey, a veteran of World War II. Sergeant Bailey enlisted in the Army Air Corps in October 1942 and joined the 8th Airdrome Squadron. Following assignments in Oran, North Africa, and Calcutta, India, Sergeant Bailey served as the Crew Chief on a C47 cargo plane that served bases in North China.  During his time in service, he accumulated 300 combat flying hours and was awarded the Distinguished Flying Cross and Air Medal. He currently lives with his wife of 70 years in Dunedin, Florida.
HALFTIME ENTERTAINMENT: YOUTH FOOTBALL SCRIMMAGES
At halftime of Sunday's contest, four local youth football teams will take the field at Raymond James Stadium. In the north end zone, from the Youth Football League (YFL), the Lakewood Ranch Colts will face the East Manatee Bulldogsof the Pop Warner Foundation for Youth Development. In the south end zone, the Lake Brantley Patriots and the Lake Mary Rams from Mid-Florida Pop Warner will face off.
At every Buccaneers home game, the team honors a distinguished group of military members with an exclusive gameday experience in the Salute to Service Suite. During a break in play, fans are encouraged to direct their attention to the pirate ship and join players and coaches in thanking local servicemen and servicewomen for their sacrifices, including: 
From the Air Force, Staff Sergeant James Roy Lawson Jr., and Senior Airman Michael Webber;
From the Army, Chief Warrant Officer 4 Charles Peters;
From the Coast Guard, Commander Scott Phy and Petty Officer First Class Timothy J. Larese;
From the Marines, Sergeant Michael Siringer;
From the Navy, Seaman Apprentice Robert J. Neri and Petty Officer Second Class Phillip A. Thomas
**BUCCANEERS ACADEMY 50/50 RAFFLE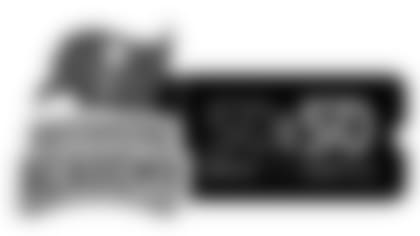 At each Buccaneers home game, fans have the opportunity to participate in the Buccaneers Academy 50/50 Raffle, while supporting a worthwhile cause. Each raffle ticket purchased will go towards a huge cash prize, in which fifty percent of the net proceeds help support the team's 24 Buccaneers Academies around the Tampa Bay area and other Bucs Care Foundation initiatives. The other fifty percent will go to one lucky winner. Tickets are available at kiosks located in section 106, 115, 131, 140 and each club level as well as mobile sellers throughout the stadium. For a complete list of rules and regulations, locate a kiosk or mobile seller on game day. **
BUCCANEERS ACADEMY GAMEDAY FOR KIDS GUESTS
For each Buccaneers home game, the Bucs Care Foundation hosts 100 "Gameday for Kids" from the Buccaneers Academy program to promote academic achievement and positive behavior in children. Selected groups receive game tickets, t-shirts, food vouchers and Buccaneers flags by achieving goals set by their teachers. More than 16,000 youths and community members representing over 100 organizations from Tampa Bay have been rewarded through the annual program. This week's program attendees will representMort Elementary, Lanier Elementary,and Foster Elementary. LEARN MORE: Buccaneers Academy* BUCS FOR A BETTER BAY*
Bucs for a Better Bay is the team's far reaching commitment to making Tampa Bay better today and for generations to come. The team is dedicated to making a difference in the Tampa Bay area through programming that will inspire, equip and celebrate the "Champion" in each of us. Tampa Bay Buccaneers players, coaches, cheerleaders, alumni, and staff have an active role in community improvement through a variety of youth health and education initiatives, family outreach, and military support. Innovative partnerships between the Bucs Care Foundation and local nonprofit organizations provide assistance to thousands of Central Florida residents each year. Glazer Family Foundation initiatives including the Glazer Children's Museum and the Glazer Family Foundation Vision Mobile continue to enhance the learning opportunities for Bay Area youths. To learn more, visit www.buccaneers.com/community.