STORY HIGHLIGHTS
The Bucs will receive a 2014 sixth-round pick from the Bills in exchange for WR Mike Williams, a Buffalo native
General Manager Jason Licht says the trade was best for both sides moving forward
Tampa Bay is likely to have new starters at at least 11 depth chart positions this coming season

The Tampa Bay Buccaneers' rapidly-evolving depth chart will have another new starter in 2014. On Friday, the Buccaneers traded wide receiver Mike Williams to the Buffalo Bills in exchange for a sixth-round pick in the 2014 NFL Draft, pending Williams passing a physical.
"We thank Mike for his contributions to the Buccaneers over the last four seasons. At this time we felt this was best for both sides and we wish Mike well going forward," said Buccaneers General Manager Jason Licht.
Williams was a starter for most of his four seasons in Tampa, since being drafted in the fourth round in 2010, though he missed 10 games last fall due to a hamstring injury. In all, he played in 54 games with 52 starts for the Buccaneers, recording 215 catches for 2,947 yards and 25 touchdowns.
The pick acquired from the Bills is the ninth pick in the sixth round, number 185 overall. Adding that selection essentially restores one of the Buccaneers' two vacant rounds, as they had previously traded their own 2014 sixth-round pick to the Chicago Bears last spring to acquire tackle Gabe Carimi. That selection proved to be number 183 overall. Tampa Bay now owns one pick in each round except the fourth, that one going to the New York Jets as part of last year's Darrelle Revis trade.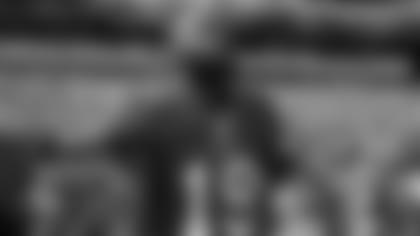 WR Mike Williams started 52 games over four seasons with the Buccaneers, recording 215 catches
Recent sixth-round picks for the Buccaneers include running back Mike James (2013), safety Keith Tandy (2012), linebacker Geno Hayes (2008), linebacker Adam Hayward (2007) and quarterback Bruce Gradkowski (2006). Additional picks in the later rounds also add to a team's flexibility on draft weekend when attempting to make trades.
The Bills assume Williams' contract, a five-year deal that was struck last July and extends through the 2018 season. The landing spot is an interesting one for Williams, who was born and raised in Buffalo and who played his college ball at Syracuse, about 150 miles from his hometown.
Williams started five games for Tampa Bay last season, and the player who stepped in opposite Vincent Jackson after Williams' hamstring injury, Tiquan Underwood, is now with the Carolina Panthers. That makes flanker one of at least 11 spots on the depth chart – based on free agency arrivals and departures – that are expected to have new starters in 2014 under new Head Coach Lovie Smith.