STORY HIGHLIGHTS
Rookie T Matt Patchan came home to chase his NFL dream and he has a very real opportunity on the Bucs' offensive line
The Bucs made a round of roster moves Tuesday, adding depth to the D-Line with ends Ryne Giddins and James Ruffin
LB Danny Lansanah took an unconventional path to the Bucs' current roster but he has had several standout moments in camp

Matt Patchan grew up in Tampa, played his prep ball at Armwood High and, as is inevitable for Bay area residents who spend half of their driving lives on Dale Mabry Highway, passed Raymond James Stadium on countless occasions.  When he did, he dreamed.
"You see RayJay and you're just like, 'That's what I want to do one day, you know?'" said Patchan after a practice at the Tampa Bay Buccaneers' training camp headquarters, just a mile from the stadium.  "That's the dream.  The opportunity arose and I said I'm going to take advantage of my dream.  And here I am, I get to live it out every day."
Patchan is now a rookie offensive tackle for the hometown team, having signed as an undrafted free agent in May.  Since his name wasn't called during the seven rounds of the draft, he could choose his own destination among whichever suitors came calling, and as something of a 'priority' free agent he had multiple opportunities.  His decision wasn't difficult.
The chance for a homecoming probably would have been enough to sway Patchan to pick the Buccaneers, but it also doesn't hurt that the 2014 depth chart offers a very real opportunity despite his undrafted status.  Tampa Bay's offensive line has been completely reworked following a disappointing 2013 campaign, and while the starters on the edge are set in left tackle Anthony Collins and right tackle Demar Dotson, there is still room on the 53-man roster for several reserves.  Kevin Pamphile, a fifth-round draft choice, is listed as the primary backup to Collins while Patchan is the only name on the depth chart following Dotson's.
"I look at it every day like I'm blessed that I get to play with these great teammates and great coaches," said Patchan.  "And I get to really improve my game and hone my skills.  Coach Warhop really gets us a lot better, our O-Line.  He's a great coach and I enjoy getting better.  My attitude is that I'm going to let the chips fall and give it everything I've got."
Because there is a limit to how far the offensive and defensive linemen can take their battles during most practice periods, the most important evaluations are still to come when the preseason games begin.  However, the opposing linemen do get together once every practice for a series of intense one-on-one pass-rushing drills, and those can offer some pretty telling evidence, as well.  Patchan clearly won several of his one-on-one battles on Tuesday evening, at one point even drawing praise from Defensive Line Coach Joe Cullen.
"When Joe Cullen says, 'Good job,' that is a compliment," said Patchan.  "He's a great coach, too.  I look at it like every day I've got to hone my craft.  When I came out here, the first day I wasn't the best.  I wasn't the best.  I'm still not the best, obviously, but I look at it like I'm getting better every day, and that's what I'm trying to do."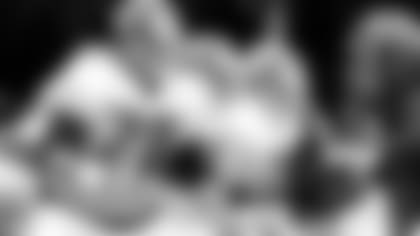 Rookie T Matt Patchan's good work in Tuesday's one-on-one drills even drew praise from a coach on the opposite side of the ball
If Patchan is to make the 53-man roster, he'll almost certainly need to be versatile enough to play at least the two tackle spots, if not a little guard.  He's eager for that challenge, and he has been moving around in recent practices, playing mostly left tackle on Monday and mostly right tackle on Tuesday.  If he can make his dreams come true, he'll be playing this fall in that stadium he drove by so often in his youth.
After a relatively quiet first week of training camp, in terms of roster turnover, the Buccaneers have started to pick up the pace in the last few days.  As is usual for this time of year, the rise in roster moves is largely the product of practice-field injuries.
On Tuesday, the Buccaneers turned over two of their 90 training camp spots, resulting in some added depth for the defensive line.  The team signed defensive ends Ryne Giddins and James Ruffin and waived/injured linebacker Jeremy Grable and safety Mycal Swaim.  Both Grable and Swaim were rookies who had signed with the Buccaneers as undrafted free agents.
Giddins is the second player from the University of South Florida's 2013 squad that the Buccaneers have added this week.  On Monday, former Bulls safety Mark Joyce got the call, a move paired with the release of wide receiver David Gettis.  He is also now the second rookie on the Bucs' current roster who played his prep ball at Armwood High School in nearby Seffner, joining the aforementioned Matt Patchan.
The 6-3, 253-pound Giddins played in 51 games with 23 starts over four-plus seasons at USF, taking a redshirt in 2009 after appearing in three games.  He proved to be an effective pass-rusher, totaling 19.5 sacks in his collegiate career, including at least 3.5 in each of his four full seasons.  Overall, Giddins concluded his Bulls career with 118 tackles, 19.5 sacks, 32 tackles for loss, one interception and four forced fumbles.  He ranks third in career sacks in school history.
Ruffin is actually returning to his original entry point into the NFL.  The Northern Iowa product went undrafted in 2010 but was signed by the Buccaneers as a rookie free agent and went to training camp with the team.  Ruffin was released in the final round of roster cuts that summer and eventually landed on the Cincinnati Bengals' practice squad for the second half of the season.  After the 2010 campaign, the Bengals re-signed him but he was once again waived in the last cuts before the start of the 2011 season.  Ruffin subsequently played in the Arena League for the Spokane Shock.
Ruffin started 46 of a possible 50 games over four seasons at NIU and was a two-time winner of the Missouri Valley Conference's Defensive Player of the Year Award.  Over four seasons he racked up 195 tackles, 25.0 sacks, 43 tackles for loss and five forced fumbles.
Linebacker Danny Lansanah has an interesting back story. To put it in a nutshell, he's closing in on his 29th birthday but he has the profile of a player who just recently entered the league.  When he saw action in one game for the Buccaneers late last fall, it was his first regular-season NFL action since 2008.
Lansanah's career began normally enough, as he was signed by the Green Bay Packers as an undrafted free agent out of the University of Connecticut in 2008.  He  spent the next two years bouncing between the practice squad and active roster in both Green Bay and Miami, which is not an unusual experience for an unheralded player trying to prove himself.
When he wasn't signed by another NFL team in 2010, Lansanah opted for the short-lived United Football League, in which he played for the Hartford Colonials and Las Vegas Locomotives.  The New York Jets gave him another crack at the NFL in 2013 and he ended up briefly making the active roster before going back to the practice squad.  That's where the Bucs found him after they lost Jonathan Casillas to injured reserve in December.  Now he's had a full offseason in Tampa and half of a training camp to show that he's as spry as such other young LB hopefuls as Nate Askew and Damaso Munoz.  Several interceptions on the practice field haven't hurt his cause, but Head Coach Lovie Smith stresses that that backup linebackers have to be useful in the kicking game to have a chance of sticking around.
"He has performed well also," said Smith of Lansanah.  "[He] has intercepted the ball on more than one occasion.  He'll strike you.  A lot of those guys in a backup role right now, linebacker-wise, they have been impressive at it but they need to be core special teams players too.  It's a battle out there when you're a core special teams guy.  So I'm anxious to see what Danny can do.  He has good speed for a linebacker, so he warrants more time."