Like most years, 2014 was full of fantasy football surprises. Some were good, as plenty of sleepers arose from nowhere to guide otherwise mediocre teams to the fantasy playoffs. Some were bad, like a few picks from the chart below showing the average top 10 drafted wide receivers vs. their current position ranking.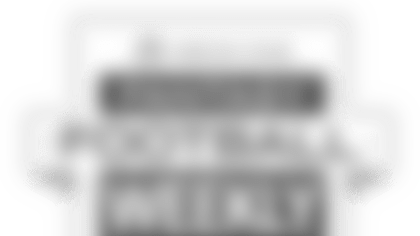 Player
(stats from Weeks 1-12)
Average Fantasy Draft Spot
Ouch. Wish we could have some of those back. Maybe move Emmanuel Sanders (Rank: 4, ADP: 25), Jeremy Maclin (Rank: 5, ADP: 26), Mike Evans (Rank: 9, ADP: 50) and Golden Tate (Rank: 10, ADP: 30) up our charts a little more.
To send out the regular season and welcome in the 2014 fantasy football playoffs, I've invited Buccaneers.com Elder Writer and Editor Scott Smith to join me in a riveting conversation for this Fantasy Corner. Most of it will be about fantasy football, some of it will be about the Buccaneers, probably all of it will at least touch on professional football, and it should be pretty fun.
To kick things off, I'll stick with the opening topic. Scott, what would you say is the biggest positive surprise you've encountered this fantasy season, and what is has been the worst surprise? Scott Smith: Well, thank you for the invite, though I don't think I like the revision you made to my title.
This being fantasy football, where opinions are legion, I'm pretty confident that whatever I claim to be surprises to me, somebody will say they knew it all along. Like DeMarco Murray proving way more valuable than LeSean McCoy, or Justin Forsett being a reliable fantasy starter.
I think the biggest surprise to me – and a pleasant surprise since I have him on two of my teams – has been Emmanuel Sanders. However the process went down that landed him in Denver (one that certainly didn't leave the Chiefs too happy), it was clearly the right choice for the former Antonio Brown sidekick. I think we all thought it was possible that Sanders could get a good percentage of what the departed Eric Decker got in 2013, but Sanders has been better than that. He seems to have poached a portion of Wes Welker's numbers, as well.
Even with Demaryius Thomas leading the pack among all receivers (both in real life and fantasy), there has been enough left over for Sanders to also rank fourth in the NFL in receiving yards. Consider that Thomas has put up an 82-1,192-9 line and Sanders has put up a 76-1,079-7 line. You'd rather have Thomas, of course, but consider that you probably needed a first-round pick to get him, while Sanders was considerably cheaper. Give me Le'Veon Bell and Emmanuel Sanders as my first- and third-round picks over, say, Demaryius Thomas and Zac Stacy in the same spots.
As I said, I'm a double Sanders owner, and I can attest that not only has he been good, but he's been very consistent. I didn't know I was getting a must-start #1 receiver when I drafted him.
My worst surprise of this fantasy year probably came about 30 minutes into the season when I realized that, for the second year in a row, I had severely overvalued RGIII. But that's my own fault and pretty specific. In a more general sense, I guess it has to be LeSean McCoy, though I imagine some Adrian Peterson owners would want to have a word with me. McCoy's resume – his fantastic 2013 season, Chip Kelly's prolific offense, McCoy's enormous role in the offense both on the ground and through the air – made him seem like an unimpeachable choice for one of the top three picks in the draft.
Alright, your turn Andrew, and a different question for you. Can you name a couple not-so-obvious players who could be difference-makers in the upcoming three weeks of fantasy playoffs, given matchups and targets and those kinds of things you're always droning on about in your weekly fantasy column? Andrew Norton: My biggest fantasy surprise is also likely the biggest NFL surprise of the season. How incredible have rookie wide receivers been? I noted it multiple times this preseason that Evans has the potential to be great, but that you need to temper expectations as rookie receivers very rarely post 1,000+ yard seasons. I was wrong, multiplied by about five.
There are five rookies in the top 25 fantasy wide receivers. Mike Evans and Kelvin Benjamin are both on pace for 1,100+ yards, Sammy Watkins is within five yards of 1,000. This isn't mentioning Jordan Matthews, Odell Beckham, Brandin Cooks, John Brown and about five other rookie WRs who have made a fantasy splash this year.
As for a worst surprise, I have to agree with your notes here. McCoy looks to have possibly turned a corner lately, but according to ADP, he was the second player taken in most leagues, behind Adrian Peterson, who is another story entirely.
Now onto your question, I feel that I must first address your "droning" comment. 1) I'll be sure to provide you with a tl;dr at the end of my article from now on since you have trouble sitting through all the analysis. 2) Only one of us has technically penned a novel this year, so maybe don't throw stones inside that glass house of yours.
At QB, 13th-ranked Tony Romo has an unbelievably friendly closing schedule, over the next four weeks he faced the 31st, 29th, 31st and 17th-ranked defenses vs. QBs. He might not exactly be flying under the radar, but Josh McCown is. He is the sixth ranked QB over the last three games; his schedule isn't stellar, but he's been putting up points and his WRs have been great.
RB Latavius Murray had just four carries last week, but did a helluva job with them, going for 112 yards and two touchdowns. He's questionable for Week 13, but with the Raiders having nothing to lose, he could close the year with more touches than McFadden or Jones-Drew.
There are a few sleepers at WR. NE's Brandon LaFell is 73% owned and has 29 catches over the last four weeks. Since Sanchez took over in Philly, Jordan Matthews (66% owned) has been a fantasy monster with 48 points over three weeks. Of very "lightly-used" WRs, Kenny Stills (16.4%) looks good since Cooks will miss the rest of the year, and MIA's Jarvis Landry (18.9%) doesn't look that bad.
This question actually transitions quite nicely into one that I was planning on asking you: There are four fantasy weeks left, you can pick any one QB, one RB and one WR to use for the rest of the season. So which players do you think will be the best at their position in Weeks 13-16?Scott Smith:I guess this is where I overanalyze things and don't just shout "Peyton Manning" before you're done reading the question, thus turning my Jeopardy buzzer off at just the wrong moment. I suppose you could note that Manning plays on the road in two of those three playoff weeks and has to get by three top-10 defenses and another top-10 pass defense.
Maybe I'll do that, but I'm not going to get too technical here; it has to come from a list of these five guys: Manning, Andrew Luck, Aaron Rodgers, Drew Brees and Tom Brady. Luck, whose yardage and TD totals are very close to matching Manning's, gets three dome games and a crack at the porous Dallas secondary in championship week. Rodgers has a better overall cast around him and gets to face Atlanta in the first week of the playoffs and the Bucs in championship week. And he has the advantage of being Aaron Rodgers (by which I mean I believe him to be the MVP). The inconsistency of the Saints and a couple cold-weather games coming up would probably lead me to eliminate Brees, and the problem with Brady is that you never know when Bill Belichick is going to decide to win a game by running 50 times or throwing an endless string of halfback passes or something.
I'm tempted by Luck and you can't go wrong with Manning, but give me Rodgers on a hunch.
I can't think of any reason to stray from the top running back this season, unless it's the not-too-terrible run defenses of the Bears and Eagles he'll see a combined three times. I know people are worried about his workload catching up to him, but I think that would be more likely to happen in the coming years, not over the next month. Murray has cracked 100 yards in all but one game this year, and while the touchdowns haven't been there for a while the Cowboys are very obviously committed to running with their hot hand. No need to reinvent the wheel here; give me Murray.
As for the receiver position, it's an embarrassment of riches. You probably want me to say Mike Evans since he's been just about the most productive receiver in the NFL this month, but Tampa Bay's offense hasn't been consistent enough for me to feel confident putting all of my eggs in that basket. I'm very tempted by Antonio Brown as he is always such a big part of the Steelers' game plan; he's definitely going to get his targets and he's a big-play machine.
Dez Bryant, either Green Bay starter or Sanders would be fine picks. Odell Beckham has been as hot as Evans and I'd take him if you got some sort of style-points multiplier. In the end, though, I'm going to bore you again by going with the obvious choice in Demaryius Thomas. He leads the NFL in targets and that number has actually been on the rise in recent weeks. You worry about Sanders and Julius Thomas poaching his touchdowns, but I think in the end there will be enough to go around.
So there's my team: Aaron Rodgers, DeMarco Murray and Demaryius Thomas. I will then name my team, "Captain Obvious."
Your turn: What draft strategy worked out best for you this year? (For example: Focusing on WRs over RBs; waiting on quarterback; etc.)Andrew Norton:You really can't argue with those picks. Curious though to see that Calvin Johnson and Josh Gordon didn't make your short list, especially considering that they have owned the two previous Decembers. Calvin Johnson had 707 yards (but just one TD) in the last five games of 2012, while Gordon had 658 yards and 4 TDs in Dec. 2013.
My best league this year was built on a strategy that I'm normally hesitant to employ. I'm generally a proponent of picking back-to-back RBs to start the draft, but I when everyone went QB in Round One, I followed suit and got Drew Brees as the fourth QB taken. This allowed me to grab Le'Veon Bell in Round Two and Antonio Brown in Round Three. I was fortunate enough to get Lamar Miller, Andrew Hawkins and Martellus Bennett late to round things out.
I'm trying not to get too nerdy with this answer as to not be ridiculed, but there is one strategy that I love to mess with on paper, but did not use this year. In hindsight, I wish I had tried because it has great potential. That would be loading up on a single bye week. Week Nine jumps out having all the players from Atlanta, Buffalo, Chicago, Detroit, Green Bay and Tennessee at my disposal. Having all players with the same bye would have your team at 100% strength every single week except for one, which isn't a terrible gamble considering you'd be loaded the rest of the year.
Based on ADP, you could potentially have had this lineup in a 10-team league:
QB: Jay Cutler, Round 13, 9th-ranked QB
RB: Matt Forte, Round 1, 2nd-ranked RB
RB: Reggie Bush, Round 4 / Joique Bell, Round 8, 113 pts.=11th-ranked RB
WR: Julio Jones, Round 2, 12th-ranked WR
WR: Jordy Nelson, Round 3, 3rd-ranked WR
TE: Martellus Bennett, Round 13, 6th-ranked TE
FLEX: Golden Tate, Round 9, 10th / Sammy Watkins, Round 10, 21st
It takes a whole lot of luck, and if your draft fails, your season is completely ruined, but dang, I'd have been untouchable with that starting lineup.
Back to you, now. I'm still apparently coming down from all the positive Thanksgiving/holiday vibes, so rather than make you dwell on the negatives (like your wonderful RGIII/Dalton/Cousins QB fiasco in a league this year), I'm going to end this optimistically. So, whether it happened this year or in past seasons, do you have any great fantasy success stories or moments that stand out in your mind?
Does going 13-0 in the regular season and then losing in the first round of the playoffs count? Because that happened. Obviously, that means I was playing in the first weekend of the postseason, instead of being on a bye, which means that 12-team league let eight teams into the playoffs. Which also means I lost to an 8-seed with a sub-.500 record after going undefeated for three months. Fun. That league has since switched to a more sane six-team playoff field, but it's a little late for me now.
Boy, you lob me the ultimate softball question and I somehow manage to mess it up, because that wasn't really a fantasy success story was it? But here's the thing: I think most people have a fairly low tolerance level for other people's fantasy football "awesome win" or "bad beat" story. Sure, I've won a few leagues here and there, though I have failed to win a lot more of them. The stories of that handful of championship seasons, while immortalized forever in a set of scrapbooks on my bookshelf at home (I may need professional help), are not really going to be interesting to anyone else.
So I'll just go with this, very briefly: Going into the 2007 season, I was in an auction league for the first time. I did not win that league and I honestly can't remember 99% of the details of my team or the season. What I do remember is that I waited quietly and then bought Wes Welker for $1 at the very end. That was the year New England traded for Welker, who had mostly been known as a punt returner in Miami. I don't think he was on anybody's fantasy radar, at least in that league, but four months later that $1 had nabbed me 112 catches, 1,175 yards and eight touchdowns.
Alright, Andrew, since this is the space in which you normally dole out weekly advice regarding the fantasy possibilities of the current Bucs matchup, Why don't you take us out by giving us a brief synopsis of what we can expect when the Buccaneers face the Bengals on Sunday at Raymond James Stadium? Andrew Norton:Sure thing.
Though I noted Josh McCown up top as a nice sleeper play the rest of the year, it might be best to wait until Week 14 to unveil him in your lineup. Cincinnati is 7th in points allowed to QBs and has been unpredictable all season long. For instance, Week Eight they allowed four points to Joe Flacco, Week Nine they allowed 16 to Blake Bortles. McCown deserves a place on your bench, but probably not a regular-league starter this week.
According to a nicely laid-out chart from ESPN, the Buccaneers three-headed running back situation nearly perfectly split snaps last week: Martin 35.4%, Rainey 31.6%, Sims 32.9%. Cincy has allowed 12 rushing touchdowns, and one of these three could very well make a trip to the end zone this week. Good luck guessing which one.
This year there is no better fantasy defense against wide receivers than the Bengals, who allow just 15.3 total points per game at the position. Still though, on his incredible streak, Mike Evans is a must play this week. And, as predicted, Vincent Jackson had good numbers last week with the extra attention being put on Evans. I'd call him a solid flex.
The Bucs defense has been very strong against all positions over the last few weeks, especially at QB, making Andy Dalton an iffy start this week. In the last five games, the Bucs have allowed just 12.4 points per game to the position. To put that in perspective, the Seattle Seahawks are allowing 12.5 points per game to QBs this season.
At RB, both Giovani Bernard and Jeremy Hill had 19 touches in the last game. Even if they split time, both RBs are starting caliber fantasy players that could go off any week. It could be feast or famine, but it is worth the gamble. At wide receiver, of course you should roll with A.J. Green who has 30 points over the last two games. Mohamed Sanu has slowed his pace with Green back in the lineup. With the Bucs' recent success against WRs (just 17 total point allowed in the last two weeks), it could be wise to look elsewhere for a Flex starter.