It's the 15th week of the NFL season, and very likely your league is in the semifinals/Conference Championship round. If you've made it as one of these four teams, 1) congratulations, and 2) I think it is fairly safe to say that, by now, you know what you're doing.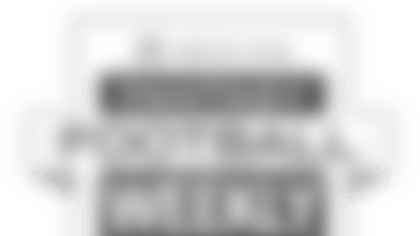 So, instead of the usual must-start list that hasn't varied much this season at all, I'm going to be talking to a different audience today. This one is for the ninth-place finishers. The injury-wrecked, picked-a-bust, drafted-unfortunately-with-one-of-the-top-three-picks teams that were doomed for fantasy failure from the start. You've either tapped out and set up a countdown clock for next August or you're keeping your chin up and fighting for pride on that consolation ladder because you sure as heck aren't going to finish dead last.
Let's have some fun this week. Let's show your league that despite your record, you can still show off your fantasy football prowess and flex your knowledge of NFL sleepers. Let's concoct a team of misfits that have no business being played in 2014's penultimate fantasy matchup, and let's finish among the leaders in Week 15 points while doing it.
To define our guy as a sleeper, we will stay under 30% owned in ESPN fantasy leagues and/or under six grand in those fancy one-week leagues that everyone's talking about. We'll look at quarterback, running back and receiver for this exercise.Quarterback
The name that instantly stands out here would be Johnny Manziel (25.2% owned) in his first career NFL start. The Browns defenders have been quick to mention that his offense has been a terror to defend, but it is hard to be incredibly confident in a rookie making his first start so deep into the season against a team that is fighting a division rival for a playoff spot. Cincinnati is seventh in points allowed to QBs this season, and you know they're more than ready to ruin Manziel's trademark money/air quotes symbol with every sack or turnover.
Even in a full-sleeper experiment, there are a few too many unknowns here for my liking. Fortunately enough for the sake of this article, there are two quarterbacks who we've seen in action before, are facing better matchups, and just so happen to be playing in the same division on the same field and have been mentioned in this Fantasy Corner series before: Josh McCown and Derek Anderson.
Owned in 7.0% and 3.8% of leagues, respectively, both QBs have good sleeper potential this week. The Buccaneers have allowed the 23rd-most points to opposing QBs, while the Panthers have allowed the 24th-most. While it is unlikely that either will go off, the chances of seeing a 225+-yard, 2-TD, 1-INT, 15-point stat line from both of them this week are pretty good.
There are a few other potential candidates, including Kyle Orton facing the Green Bay Packers. The Packers defense looked brilliant last week against Atlanta until they pulled away by a huge margin in the second quarter. From there, the defense softened and Matt Ryan was able to post 31 fantasy points. If this game gets away from Buffalo, Orton could go to the air a lot and his fantasy points could skyrocket because of it. And just because I never thought I'd say this, Washington's RGIII could be a sleeper play here. Owned now in just 10.7% of leagues, he could start against the 21st-ranked Giants because of a Colt McCoy neck injury sustained in practice.
Bottom line: If you're looking for a high-risk, high-reward play, bypass Manziel and look at Kyle Orton. His floor is much lower than the other QBs mentioned, but his ceiling is higher as well. Personally, I'd prefer some consistency from my QB in a risky lineup like this and opt for Josh McCown, who is averaging almost 14 fantasy points per full game played.Running Back
There are far fewer <30% options to choose from at running back, which is the reason for the monetary limit as well, still though, all sleepers mentioned are under 50% owned and 20% started in ESPN leagues.
That being said, I can stay comfortably under my original limits by putting Packers RB James Starks on my short list of sleepers this week. Just as Kyle Orton's fantasy points could benefit from garbage time in this game, so could Starks' if he is brought in to spell Eddie Lacy like he was last week. Last week, with a minor Lacy injury and the game safely put away, Starks came in for 75 yards and a touchdown for 15 total fantasy points. This week, Eddie Lacy is probable to play with a hip injury, but if this game is a runaway, Starks could see even more touches this week than last week.
We have three more potential RB plays falling in the 35-45% owned range: Tampa Bay's Doug Martin, Oakland's Latavius Murray and New York Jets' Chris Johnson.
Martin has breached 10 fantasy points just twice this year and has been splitting carries with two running backs, which limits his fantasy potential. With just five carries for 22 yards last week (albeit against the league's best run defense), it is too hard to predict what Martin and company will be doing in the run game from week to week. Still though, he is one of the top four pure-sleeper options if he does manage to get the ball in his hands.
Latavius Murray came out of nowhere just three weeks ago in the Raiders' first win of the season and is the only running back to score a touchdown against the Kansas City Chiefs this year, a feat that he accomplished twice in that game on just four carries before leaving the field with an injury. This week, he is up against KC again. While the Chiefs have been able to keep RBs out of the end zone, they have still been giving up rushing yards in bunches over the last six weeks, 143 per game. Murray is expected to be Oakland's primary back and while it is more than doubtful for him to find the end zone on every other carry again, he could still see a solid amount of points just from his feature back workload.
The Tennessee Titans defense is just plain bad against the run. Chris Ivory doesn't fall into the set sleeper parameters, but Johnson does. Even if he doesn't see a majority of the carries, he always has the threat of breaking off a big play and could do so this week. The Titans have allowed fewer than 17 RB fantasy points just once in the last six games and the Jets did nothing but run the ball in their last few outings.
Bottom line: I like the high-reward gambles of Starks and Murray in this game.Wide Receiver
This position is a lot more fruitful than the last, with plenty of players under our 30% threshold. The names that instantly stand out on any sleeper list are:
Indianapolis Colts' Donta Moncrief (26.4%)
New York Giants' Rueben Randle (20.5%)
Minnesota Vikings' Charles Johnson (16.6%)
Atlanta Falcons' Harry Douglas (4.1%)
Jacksonville Jaguars' Marqise Lee (2.6%)
Chicago Bears' Marquess Wilson (2.4%)
Cleveland Browns' Taylor Gabriel (1.7%)
Buffalo Bills' Chris Hogan (0.9%)
From that list, I'm choosing three for my ultimate sleeper lineup to fill both WR slots and my FLEX. Moncrief seems an obvious choice to me here. Just two weeks ago, he put up 25 points thanks to two big touchdowns against the Redskins who rank 24th in WR points allowed and are tied for sixth-most in 20+-yard passing plays allowed. This week Moncrief faces the 31st-ranked WR fantasy defense that has allowed the fifth-most 40+-yard passing plays. If there was another week for Moncrief to go off, it would be this one.
My second spot is a bit conditional. Last week Julio Jones posted the 16th-highest single-game receiving yardage total in NFL history. This week, he is a game-time decision against the 21st-ranked Steelers in an essentially must-win home game. If Jones can't suit up, Harry Douglas will get the call and likely the majority of targets, catches and yards like he did spelling Jones last year.
If, however, Julio Jones does play, that greatly lowers the ceiling of Douglas. As much as I love the Bills vs. Packers matchup and the potential for Chris Hogan (three TDs in last five games), I'll roll the dice with Jaguars' Marqise Lee. Over the last three weeks, he 14 receptions for 194 yards and 24 fantasy points. This week against the defense that has allowed the most receiving yards to opposing WRs, I like his chances to be a factor here.
At the end of the day, this is a sleeper lineup, so why not fill my flex with the riskiest play of all based on a gut feeling based on an ungrounded theory. That makes sense. Despite having a place to play Hogan, or rolling with a more experienced Rueben Randle, I'm going to instead opt for Cleveland Browns' rookie WR3 Taylor Gabriel, even though he has Josh Gordon and Andrew Hawkins ahead of him on the depth chart.
In the chart below, we have a sample of replacement quarterbacks on their first week of play. We then list the relatively unknown receiver that thrived in that game, comparing their game stats (catches, yards, TDs, fantasy points) to their previous fantasy points per game before that outing.
This is just a sample, and certainly there are cases where this doesn't play out as nicely, but there is a significantly higher chance for a relatively unknown receiver to come in with a new quarterback and have a big game. The backup quarterback has spent the entire season working with the second team and has built trust, timing and consistency with the lower-on-the-totem-pole receivers. So, is Taylor Gabriel guaranteed to have a huge game? No. But could he turn some heads working with a second-string cornerback making his first start who he has been building a rapport with and practicing alongside all season long? Definitely.