STORY HIGHLIGHTS
Could the return of Mike Glennon be the good-luck charm that gets WR Vincent Jackson's fantasy season going?
RB Doug Martin is back and is the safest play in the Buccaneers' backfield this week
Even if the Bucs' defense regains its form, RB Le'Veon Bell and WR Antonio Brown are still must-starts from the Steeler offense

Whether from a high-scoring Week 3 game against the Carolina Panthers or the Tampa Bay Buccaneers' fantasy deficiencies against the Falcons – or perhaps a little bit of both – fantasy owners have flocked to the waiver wire to snag some Pittsburgh Steelers this week. WR Antonio Brown and RB Le'Veon Bell are starting in 100% of leagues (as they well should be). Ben Roethlisberger's stock increased 3.1% and he is now starting in 21.7% of leagues. K Shaun Suisham was added in 28% of leagues (likely because he is ranked number two at his position). And LeGarrette Blount and the Steelers Defense took big jumps as well.
On the other side of the ball this week, the Buccaneers seem to have left fantasy owners a little cold over the first three weeks. Top scorers Josh McCown and Bobby Rainey saw drops in their ownership. Vincent Jackson and Doug Martin are still owned in all leagues, but started in just 89% and 95%, respectively. The defense, Brandon Myers and Mike Evans also saw their owned percentages go down.
But each week offers the possibility of that breakout game, and with Josh McCown doubtful to play, a new quarterback under center could jump start the team's fantasy engine. While not much has been done to inspire confidence in having a Buccaneer in your lineup, it might be wise not to give up hope just yet as they take on a pretty fantasy-average Pittsburgh Steelers defense.
As stated above, owners are starting to cool off on the Buccaneers, as seen by Vincent Jackson (a Top-15 fantasy receiver three years in a row) being started in less than 90% of leagues. He saw his best fantasy performances last week, despite hauling in just two passes for 15 yards, he did make a trip to the end zone. His five fantasy points per game so far is less than half of what he put up a season ago.
But Jackson is breakout waiting to happen, and maybe the return of Mike Glennon to the lineup will prove to be the good luck charm. The Glennon-Jackson connection worked well for much of last season, as seen in the chart below, which shows the fantasy points that Jackson had per game with Glennon under center, as compared to the other targets to which Glennon distributed the ball.
3.0
Perhaps Glennon and Jackson will rekindle some of that chemistry and Jackson will begin to offer his fantasy owners the return they expected when they used a high pick on him. Given Jackson's history and the chance that Glennon gives him a start, the Buc receiver should remain in your fantasy lineup, even if you throw him in as a WR2 or a FLEX.
Despite the decent tight end numbers you see in the above chart, this is probably a position to skip, just to be safe. Brandon Myers has played well, but with Austin Seferian-Jenkins back in the mix it's hard to say exactly where the passes will go. Give this situation a few weeks to settle out before starting either player, although the returns could eventually be pretty good.
Only one other Buccaneer makes a strong case for being in your fantasy lineup, and that would be RB Doug Martin. Martin was injured in the first game of the season and should be seeing his first extended action this week when he goes out looking for his first fantasy points of the year. As a top pick in the first two rounds of fantasy drafts this year, he is being counted on to put up some big points this week. He'll split time with Rainey, but Martin is most likely the starter and he'll get a chance to prove himself against a defense that may offer some running lanes.
The Steelers defense has gotten progressively better against running backs this season but is still allowing 16.7 points per game to the position. They held a battered Carolina group to just 35 yards, but in previous games have allowed 175 and 152 on the ground along with two scores.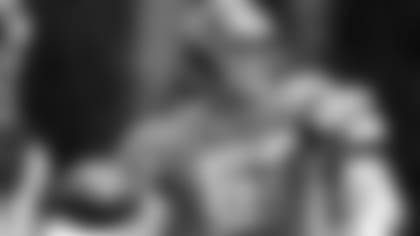 While there wasn't a rush to pick up Mike Glennon on the fantasy waiver wire this week, he could be a better option than many expect in deeper leagues
Now I try to keep this column neutral. It is about fantasy football after all. I don't want to lead anyone astray and tell you that all the Bucs should be on your team and that the defense is going to completely stop all of the Steelers in their tracks. So, hear me out when I bring up Glennon. I am not saying that you need to go up and swipe him off the waiver wire (owned in 0.2% of ESPN leagues), I'm not saying that he should fill your starting lineup, or that he is going to be one of the top performers of the season.
What I am going to tell you is that he should be considered far more than you think if he does, in fact, get the start on Sunday. If you are in a 10-man standard league, then no, he is not the quarterback for you. If you are in a deeper league perhaps with adjusted QB points, or a two-quarterback league, then you should probably take a closer look.
The Pittsburgh Steelers defense allows 15.3 points per game to quarterbacks, not even a quarter of a point above the league average. They are right in the middle of the road, ranking 16th and giving up 223 yards per game with five touchdowns and no interceptions. Their 223 yards per game is the 10th-fewest in the NFL. We already showed you how Glennon looked last year in his road games (pretty great, by the way), so let's take a look at how Glennon performed against such teams last season.
Vs. 2013 Top 10 YPG Defenses
(SEA, NO, BUF, SF, CARx2)
16.2
Six of his 13 games were against teams that ended the year ranked in the Top 10 in fewest passing yards allowed. And Glennon performed pretty well against them when looking at his season average, ultimately resulting in 15.6 fantasy points per game, 0.3 more than what the Steelers have allowed this year. Must-start? No. Worth a second look for 2QB leagues or as a very cheap buy in weekly leagues? Something to think about.
If you go into your fantasy statistics page and click on the All Players option, you have the option of sorting players by FLEX. This will show you all running backs, wide receivers and tight ends in your league. There you will see that the Steelers have two of the top five fantasy non-QBs in the NFL this season. The next highest team would be the Eagles, with two players coming in at seventh and 12th.
WR Antonio Brown and RB Le'Veon Bell both have 48 fantasy points through three games. The Buccaneers defense ranks 13th in fewest points given to running backs, allowing 15 points per game, 1.5 points under the league average. However, this should in no way keep Bell out of your lineup. The Steelers also called heavily on former Buccaneer LeGarrette Blount last weekend, but the majority of his success came in garbage time. While he did put up 118 yards and a score, he had just six points in Weeks 1 and 2 combined. He could steal goal line work, but it is too far from a sure thing to recommend.
The Buccaneers had success against receivers as well until the trip to Atlanta. In Weeks 1 and 2, the Bucs gave up just 17 fantasy points per game to the position. The Week 3 performance plunged the team into last in points allowed. The WR success last week has likely put WR Markus Wheaton on some fantasy radars. He had a notable first week with six receptions for 97 yards, but has dropped in each week sense. Number two receiver Harry Douglas did put up good points against the Bucs last week, making Wheaton a possible, if slightly risky, FLEX play in this game.
Against quarterbacks, the Buccaneers have allowed 16.7 fantasy points per game, with one solid week allowing just nine against St. Louis. However, Ben Roethlisberger has always been a player whose great play on the field doesn't always translate into the fantasy world. He has ended the last three seasons ranked 11th, 11th and 14th, and this year he is averaging 12 fantasy points per game, good for just 21st at his position. The Week 3 game has likely raised his number of starts (21.7% of ESPN leagues), but with the teams proficiency on the ground, and Roethlisberger's history as a moderate-at-best fantasy scorer, he should be considered a risky start in anything other than very deep or 2QB leagues.