STORY HIGHLIGHTS
If Dane Fletcher's first starting opportunity in Tampa does arrive Thursday night, he's relaxed and well-prepared
DT Gerald McCoy could miss the game with a broken hand, which would shift Clinton McDonald to a different role
Bucs coaches want more efficiency out of the passing attack but don't care about total passing yards

Mason Foster did not practice on Tuesday – in the Tampa Bay Buccaneers' onlyfull-speed workout of the week – due to an injured shoulder and thus appears to be a long shot to suit up against the Atlanta Falcons on Thursday night.  If Foster doesn't play, Dane Fletcher will make his first start as a Buccaneer.
Fletcher, who spent his first five seasons with the New England Patriots, signed with the Buccaneers as an unrestricted free agent in March with an eye towards competing with Foster for the starting middle linebacker job.  His time has come, at least for the moment, and it arrives wrapped in a prime-time, nationally-televised package.
Meanwhile, his team is at something of a crossroads.  The season would look a lot better if the Bucs could steal a division road game after starting 0-2 at home, but it won't be easy with a badly banged-up roster and an explosive offense on the other side of the line of scrimmage.
It's an important moment for Fletcher, to be sure, and for the Buccaneers as a whole.  Just don't call it a "moment.  Don't capitalize it or put it in italics.  Fletcher is no rookie and this is not a "welcome-to-the-NFL" type of situation.  There is simply a job to do, and he  knows how to do it.
"You know what, I'm past the whole "moment" thing," said Fletcher, amiably.  "That happened my first year or two in the NFL.  I get in there, and it's time to work.  That's what we practice for, go through training camp for and OTAs.  Shoot, I've gotten plenty of reps throughout the process.  If there's a falloff, that's on me, not the system."
Fletcher has had that "moment," of course.  It's fairly inevitable when you're an undrafted free agent out of Montana State and you are asked to convert from your college position of defensive end to linebacker.  He obviously handled it well, since he made the Patriots' roster as a rookie and established himself as a very good special teams player and an occasional edge-rush weapon very quickly.  He's started games before, as well; six of them, including one last season and then another in the playoffs.  He's tallied four sacks and forced three fumbles and played in some very big games.  The man he may be replacing on Thursday, and possibly for a few more weeks, is not worried.
"Dane's a veteran, he's a proven player in this league," said Foster.  "He had a great camp and he's ready to go.  He's a great linebacker and he's going to step in and make it happen.  I can just be another set of eyes out there for him, watch the game closely and let him know what I'm seeing, be right there in his hip pocket for him for whatever he needs."
Fletcher says the same two things almost every NFL player says in these situations: the "next man up" has to step up, and he prepares for this game the same way he prepares every week.  "It is what it is," he says.
It may be boring, because you hear it hundreds of times a season, but it's also true.  Fletcher adds a little bit more to it, however – a focus on having fun with the opportunity, rather than being weighed down by the expectations it might carry.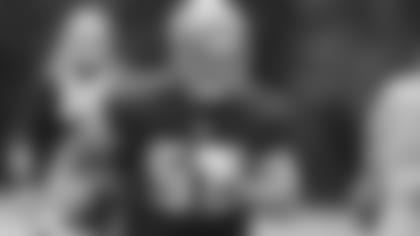 LB Dane Fletcher may be in line for his first start as a Buccaneer on Thursday in Atlanta
"I look at myself as my own player, and I want to do everything I can do to win," he said.  "I just go out there and play and be myself.  I'm not trying to be anybody else and I'm not trying to beat anybody out.  I'm just trying to be me and have fun with it and see what I can give this defense.
"I like to have fun with it.  In every situation, have fun with it.  The more fun you're having on defense [the better], everybody getting to the ball, and treating it as a party."
Foster was one of three Buccaneers who did not practice on Tuesday; he was joined on the sideline by defensive tackle Gerald McCoy and tight end Austin Seferian-Jenkins.  Their game-status designations won't be released until Wednesday, the Bucs' travel day to Atlanta, but all of the players who were held out of practice last Friday were also held out of Sunday's game against the Rams.
Seferian-Jenkins was on that list last Friday, as he has been sidelined since early in the season opener due to an ankle sprain.  The promising rookie did appear to make some noteworthy progress in recent days, however.
"Austin is getting better; the swelling is going down," said Head Coach Lovie Smith. "His recovery is speeding up a little bit quicker than we thought."
McCoy suffered a fracture in his left hand on Sunday and a long-term prognosis has since been difficult to nail down.  McCoy said on Tuesday that he doesn't expect to know until Thursday morning if he's been cleared to play, and that would at least seem to be a positive sign that his injury won't keep him out for an extended period of time.  The cast he was fitted for on Tuesday could help; it's not a club-like full-hand wrap, and McCoy will definitely be wearing it whenever he turns to action, according to Smith.
He won't return, however, as long as his injury essentially turns him into a one-armed player.
"We know that eventually he'll get back out there and he's trying to get out there as soon as he possibly can," said Smith.  "But the Thursday night game is a little challenging.  You can't really rush the passer and can't really play three-technique [defensive tackle] with one arm, so you need to be able to use that. Gerald is a heck of a player, but I might have a chance against him if I made him put his hand behind his back and just played with one hand. So that's pretty hard to do. Eventually, he'll be able to use both and we'll get him out there. And that's not to say he can't do it; it's just a matter of time. Again, he's a quick healer. He was light on his feet out there today."
And, obviously, the Buccaneers have to think about the season as a whole, especially when it comes to one of their most impactful players.
"There's always a risk you can make it worse," said McCoy. "It's just been a couple days.  I don't think it's a secret that it's going to be hard to play with a broken hand after a couple days.  It can always get worse; that's the risk of going out there on Thursday."
As with Foster, the Buccaneers have an experienced veteran ready to step in…or in this case, slide over…at an important position if McCoy can't go on Thursday night.  Like Fletcher, defensive tackle Clinton McDonald was an early target of the Buccaneers in free agency in March, and his pass-rushing ability was one of the reasons.  While McDonald starts at nose tackle when McCoy is healthy, he has been viewed all along as a player who could spell McCoy at the three-technique tackle spot, or even step in and start if the latter is unavailable.
"He can do it all," said McCoy of his fellow DT.  "He's played all the positions before.  He's a seasoned vet and he's put in all the work.  He's good; I've got full confidence in him."
Five other Buccaneers were limited in practice on Tuesday: center Evan Dietrich-Smith (back), defensive ends William Gholston (shoulder) and Michael Johnson (ankle), guard Logan Mankins (knee) and running back Doug Martin (knee).  View the Buccaneers' updated official injury report here.
The Tampa Bay Buccaneers, currently ranked 31st in the NFL in passing offense, certainly want to get more out of their aerial attack.  That does not specifically mean more yards, however.
In Sunday's narrow loss to the St. Louis Rams, the Buccaneers took the opening possession 77 yards for a touchdown.  Quarterback Josh McCown completed all four of his passes for 25 yards, including one that converted a third down in the red zone.  He also dropped back to throw on third-and-goal from the five but eventually ran the ball into the end zone after seeing the Rams drop eight defenders back into the passing lanes.
After the Rams answered with their own touchdown drive, McCown once again led his team down the field into scoring territory, completing his next four passes for a total of 53 yards.  On first-and-goal from the nine, he dropped back to pass again, was flushed out of the pocket to the right and made an ill-advised decision to try to throw back across the field to Vincent Jackson.  The pass was intercepted at the two-yard line by safety Rodney McLeod.
Later in the game, the Buccaneers ran a draw play to Bobby Rainey on third-and-seven from that exact same spot, the nine-yard line. They also ran on third-and-two from the Rams' 16 in the fourth quarter.  Neither play converted the first down and the results were two field goal attempts, one that was blocked.  A possible 14 points turned into three, in a game the team lost by just two.
Obviously, the Buccaneers were not happy with the results of those two plays, nor the game's final outcome.  However, they were not unhappy with the play-calling.  Specifically, they didn't purposely become conservative due to McCown's early-game mistake.  McCown had two unseemly interceptions in the Bucs' first game, too, but Quarterbacks Coach Marcus Arroyo says the team has not lost any of its faith in their starting signal-caller.
"You can't turn the ball over," said Arroyo.  "Whether he's pressing or he starts out on fire and thinks he can complete every pass, again, we just can't have those happen, especially when we get that tight in the red zone and he starts off eight-for-eight and he's rolling and then just that one little snafu. Those few things are the things that'll help, but the success rate and the analytics that we're looking at as far as what we believe at that position, he's doing a lot really good things and we trust that it's only going to get better."
The Bucs want to field a balanced attack, and when they have a running back whose on a roll the way Rainey was on Sunday, they want to make the most of that.  That's why they put more stock in McCown's 16-for-21 passing against the Rams then his 179 total yards.
"We're not interested in the passing yards and the number exactly, that's a nice thing that comes through just in the end result," said Arroyo.  "It's more the success rate, the being efficient on the down-and-distance given. Him and turning the ball over on those instances, I trust Josh, I trust him with the calls, and I trust him with doing things and getting us out. He makes checks in games that only us back here would really know, it's hard to tell from your guys' vantage point because you don't know the packages, but he's done a lot of really good things that are a part of him making decisions and it may not just be when a broken play happens and not making the bad decision. The play calls are what we believe are best for us and they hold no bearing to what he's done at this point."