STORY HIGHLIGHTS
Third-down conversion rates and yardage totals are up around the NFL; does that impact the way we look at the Bucs' struggles?
Mike Alstott, Mike Glennon and Donnie Abraham are among the most impactful rookies in franchise history
Baltimore's offense has been extremely adept at sustaining long drives in 2014

Statistics can help illuminate the game of football…or they can take us down a misleading path. As Tampa Bay Buccaneers Head Coach Lovie Smith said: "I believe in stats, but it's [which] stats."
Smith, for instance, doesn't pay much attention to the NFL's defensive rankings, since they are based on yards, which he considers a meaningless measure. When he shares defensive stats with his team, he focuses on points allowed, takeaways, scoring on defense and red zone proficiency.
Here on Buccaneers.com, we unabashedly love stats, but we also understand the need to wield them wisely. Sometimes, we can get a better feel for why the team is performing as it is by going a little deeper into the numbers. And sometimes we can simply point out something we consider interesting, and hope you will find it interesting as well.
That's our goal with Football Geekery. Each week, we're going to give you a sampling of statistical and or historical analysis, hopefully in a way that is relevant to the Buccaneers' current state of affairs. This week we look back 20 years to see if the Bucs' inflated defensive numbers are more or less troublesome when compared to league-wide averages. We also look at the Buccaneer rookies who have accounted for the greatest percentage of their team's production in certain categories and point out one aspect of the Ravens' offense that should have Tampa Bay's attention. Let's get started.
On Thursday, Buccaneers defensive tackle Gerald McCoy discussed the team's struggles on third down and ways to overcome them. Noting that the team is currently allowing a third-down conversion rate of 48.4%, McCoy suggested that the preferred number, realistically speaking, would be in the mid-30s.
Of course, as was also noted in that story, the entire league is having more trouble stopping offenses on third down this year. The league-wide third-down conversion rate is 42.1%, which would set a new single-season NFL record if maintained. Not surprisingly, the Bucs' current defensive figure in that category would be a new franchise record, of the undesirable kind, if maintained.
That begs the question: How much of the Bucs' third-down problem is the result of their own breakdowns, and how much of it can be pinned on the oft-referenced "changes in the game." A complete and inarguable answer probably isn't possible, but we can get a little closer to it by looking at the Bucs' defensive third-down success through the years relative to the league as a whole.
In fact, while we're at it, let's see how the Bucs' current per-game points and yards allowed totals look relative to full-league totals and compared to previous years. Since NFL third-down numbers are not readily available prior to 1991, will limit our survey to the last 20 years.
-33.9%
Our Thursday contention that a league-wide hike in offensive numbers absolves the Bucs' defense to some degree seems to hold less water upon reviewing these totals. Of course, McCoy and company weren't looking for excuses anyway. Still, given the rise in third-down conversion rates across the league, it's a bit surprising that this year's third-down defense is worse relative to the rest of the league than any of the previous 19.
It's also a bit surprising to see the 2010 team, which won 10 games, come in with the second-worst number on the list.  It is not terribly shocking to note that the Bucs had a positive mark compared to the rest of the league every seasons from 1997-2006, during the franchise's greatest run of defensive success.
This year's group doesn't fare particularly well in the above chart in terms of yards and points allowed either, though the 2011 team takes the bottom spot. The 2002 Super Bowl defense that famously allowed just 12.3 points per game is the leader by far in that category, with a mark 43.2% better than the league as a whole.
Last year's defense allowed a third-down rate (39.2%), yards per game (348.0) and points per game (24.3) that would have made the Bucs defense of the Super Bowl era blush, but it's here where we can best see the aforementioned "changes in the game." Across the board, relative to the league as a whole, that is the most league-average defense the Bucs have fielded in the last 20 years.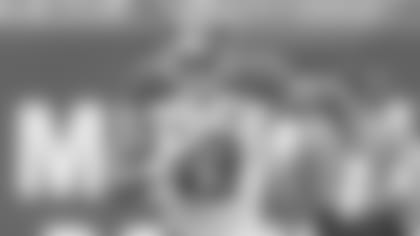 WR Mike Evans is playing a lot more than some of his fellow 2014 first-round draft picks, but he'll need to pick up the pace to challenge Buccaneer rookie records
The Buccaneers' Mike Evans, picked seventh overall, is not one of the 12 players to get the bigger treatment, presumably because he actually was playing regularly before his groin injury in Pittsburgh. Even after missing roughly a game and a half, Evans has played 59.1% of the Bucs' offensive snaps, and he could return to action as soon as this Sunday.
Evans wasn't just playing, however; he was one of the team's most important players. Before he was hurt, Evans was tied for the team lead with 13 receptions through three games, and he had another four catches for 65 yards and a score in Pittsburgh before leaving the game. Clearly, Evans was having an immediate impact on the Bucs' offense, just like Mike Williams did in 2010 and Michael Clayton did in 2004.
Clayton finished his rookie season with 80 catches for 1,193 yards and seven touchdowns, and his reception and yardage totals remain Buccaneer rookie records. If we take Evans' average numbers from the four games he has played in and extrapolate them over 15 games (the maximum he could end up participating in during the regular season), we get 64 catches for 761 yards and a little under four touchdowns. He would have to pick up the pace quite a bit to challenge Clayton's records or Williams' 11 TD catches in 2010.
Furthermore, even if Evans does finish with closer to 1,000 yards than 750, he might not be the team's leader in that category. Veteran Vincent Jackson could post his third straight 1,000-yard campaign. Clayton, in contrast, was the Bucs' leading receiver by a wide margin in 2004. He accounted for 31.6% of the team's receiving yards that season, which is the highest percentage for which any Buccaneer rookie has ever been responsible.
Clayton does not have the Bucs' rookie record for highest percentage of his team's receptions, however. The answer to that trivia question is below. In fact, we've charted the Buccaneer rookies who accounted for the biggest chunk of their teams' stats in nine different categories. Some of them were pretty easy to guess; a few are surprising. Check it out:
29.4%
Glennon started more games during his rookie season than did Josh Freeman, Bruce Gradkowski or Doug Williams, so it makes sense that he'd take those top two categories. And it wasn't particularly close. Despite playing in fewer games than Gradkowski as a rookie, Freeman edges him for second place in yards, 59.2% to 55.5%. Williams is next at 53.%. However, Gradkowski takes the touchdown category at 64.3% to 58.3% for Williams and 55.6% for Freeman.
Martin is another unsurprising entry since he holds the rookie rushing record and was able to play his entire rookie season, unlike Cadillac Williams. It is actually Errict Rhett in 1994 who is next on the list, at 67.9%, with Caddy at 64.5%. Rhett would have ranked higher if the Bucs had chosen to use him sooner that year; he got most of his yards in the final two months of the season.
As mentioned, Clayton gets the receiving yardage mark, edging Lawrence Dawsey (27.7%) in 1990 and Mike Williams (27.0%) in 2010. But it's fullback Mike Alstott who is at the top of the receptions list for his then-rookie-record 65 grabs in 1996. That was 23.7% of the Bucs' receptions total that year, which is just a bit over Clayton's 23.5%.
On the other hand, while Alstott would be the first bet for many in the touchdowns category, he has to share that category with the 1988 version of Lars Tate. Those two barely edged out Williams, 28.6% to 28.2%. Martin and Rhett were also close.
Gramatica and Abraham are easy guesses for points and interceptions (1985's David Greenwood came in close in the latter category). Clayborn taking the sack mark was a surprise, however, and is a partially a function of the 2011 team being so anemic in that category overall. The easy guess there would have been Santana Dotson, who had 10 sacks in 1992, but that was only 27.8% of the team's total, which trailed Clayborn's 32.6%.
It stands to reason that the third-down struggles mentioned above would mean that Tampa Bay's defense has given up a few more long drives than usual. That is, in fact, true. The Buccaneers rank 28th in the league in drives allowed of 10 or more plays, with 13. They have surrendered seven touchdown drives of double-digit plays, the most in the league. Tampa Bay is also tied for 30th in opponent TD drives of 60 or more yards, having given up 12 of them.
That is sure to be an issue of great importance on Sunday, because Baltimore's offense has been one of the best at sustaining drives this year. The Ravens have 12 touchdowns in 2014, and all of them have covered at least 60 yards. All but one of them has covered at least 80 yards, which is rather remarkable.
Given that, it's not surprising that the Ravens have not scored a lot of points off turnovers. In fact, in eight possessions following takeaways they have just one touchdown and 16 total points.
One final related note: Some of the long drives against the Buccaneers this season have been prolonged by a penalty or two, such as the Saints' game-winner in overtime last Sunday.  In fact, of the 26 scoring drives allowed by Tampa Bay so far, eight of them have included at least one offensive penalty. That's tied for the third-highest total of opponent touchdown drives with at least one offensive penalty.