STORY HIGHLIGHTS
Though previous results don't guarantee the Bucs a swift bounce-back from Thursday's loss, they do paint a somewhat encouraging picture
The Bucs finally got some takeaways in Week Three but still lost the points-off-turnovers battle
The Bucs are tied with the Falcons at 21 wins apiece, the deepest into a series they've ever been knotted up

Statistics can help illuminate the game of football…or they can take us down a misleading path. As Tampa Bay Buccaneers Head Coach Lovie Smith said: "I believe in stats, but it's [which] stats."
Smith, for instance, doesn't pay much attention to the NFL's defensive rankings, since they are based on yards, which he considers a meaningless measure. When he shares defensive stats with his team, he focuses on points allowed, takeaways, scoring on defense and red zone proficiency.
Here on Buccaneers.com, we unabashedly love stats, but we also understand the need to wield them wisely. Sometimes, we can get a better feel for why the team is performing as it is by going a little deeper into the numbers. And sometimes we can simply point out something we consider interesting, and hope you will find it interesting as well.
That's our goal with Football Geekery. Each week, we're going to give you a sampling of statistical and or historical analysis, hopefully in a way that is relevant to the Buccaneers' current state of affairs. This week we look for some hope in Bucs history for teams that are trying to rebound from a loss of 30 or more points. We also hit on the importance of takeaways once again, although in a more specific way, and point out an oddity in the team's all-time series with the Atlanta Falcons. Let's get started.
1. Bounce-Back Possibilities
On Friday, Head Coach Lovie Smith repeated his statement from the previous evening that the Buccaneers' 56-14 loss in Atlanta was "embarrassing" for the whole team, and that the Falcons had outplayed their visitors in every phase of the game. Though he reminded his players after the game that it still only counted as one loss, there was no attempt to whitewash the outcome or avoid taking responsibility.
There is also, of course, nothing for the Buccaneers to gain by writing the season off as the result of one disastrous outing, or even assuming the next game will unfold in a similar manner. After a weekend off, the Bucs will begin preparing for a road game in Pittsburgh, and they'll do so with the belief that they can rebound and perform at the level they expected of themselves when the season began just a few weeks ago.
Should the Buccaneers believe they can follow up such a lopsided loss with a much better performance, and a victory? There is some reason for them to do so, and Smith has already pointed out a useful example to his players. In December of 1999, the Buccaneers traveled to Oakland and – even with one of the NFL's best defenses at their disposal – absorbed a shocking 45-0 shutout. The next week, that same Buccaneer team soundly defeated the Green Bay Packers, 29-10, en route to the playoffs and a trip to the NFC Championship Game.
"As I told the football team, one of the best defenses we ever had here in Tampa – to get beat 45-0, and it was 45-0 in the third quarter – but we came back," said Smith. "That game only counted as one defeat, just like the one last night."
That '99 team could easily remember a very similar occurrence almost exactly two years earlier, when a run to the playoffs was interrupted in mid-December by a 31-0 loss to the New York Jets in the Meadowlands. The next week brought a 31-15 win in Chicago and a Wild Card berth.
The Buccaneers have suffered 21 defeats by margins of 30 or more points during their history. It's fair to assume that many of those losses were dealt to teams that didn't have particularly good seasons overall, despite such memorable aberrations as the ones described above. And, indeed, four of those 21 games came during the team's 0-26 franchise-opening streak in 1976-77, and another seven occurred during a four-season stretch from 1983-86 in which the Bucs went 12-52 overall.
As such, it's probably at least lightly encouraging that the Buccaneers have won the next game after one of those defeats on five occasions. In addition, if you add all of the games together, wins and losses, and calculate an average scoring margin it is 7.5 for the opponents. Blowouts aren't usually followed by blowouts, which is not terribly surprising given that so many NFL games are decided by a single score (as were the Bucs' first two games of this season).
Below is a listing of those 21 losses, and then the games that followed. Wins in the follow-up games are marked by asterisks. Since the "Difference" columns are calculated to show the opponents' margin of victory, negative numbers in the last column are indications of Buccaneer wins.
-17
These previous pairs of outcomes don't prove in themselves that the 2014 Buccaneers will definitely rebound from their difficult outing on Thursday night. Nor are they meant to lessen the significance of the loss in Atlanta. The table simply helps to illustrate what Smith has told his team: That game was just a single loss, and it doesn't have to define what comes the rest of the season, or even the next time the Bucs take the field.
In discussing Thursday's game in greater detail on Friday afternoon, Smith noted that his defense finally started taking the ball away in Week Three after creating just one takeaway through the first two games of the season. He couldn't even count it as a silver lining, however, because although the Bucs took it away four times, they also gave it back five times to lose the all-important turnover-ratio battle.
The main issue for the Bucs, however, was not the -1 mark in the turnover battle, as they likely could have overcome that issue alone. The bigger problem was what came of those nine turnovers: Atlanta scored 28 points off their five takeaways while the Buccaneers turned their four into just seven points on LB Danny Lansanah's fourth-quarter pick-six. One on occasion, they didn't even get the ball to their offense after a takeaway, as Mark Barron's first quarter fumble recovery was followed almost immediately by a fumble back to the Falcons on his return.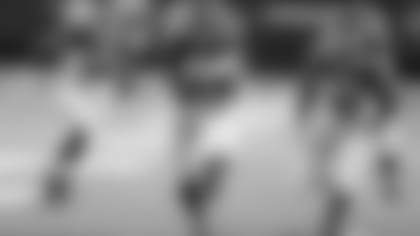 LB Danny Lansanah's pick-six marked the only points Tampa Bay scored as a result of four takeaways Thursday night
Through three games, Tampa Bay has scored 14 points off turnovers – that is, on drives created by takeaways or on scoring returns by the defense – while their opponents have notched 45. While Atlanta's offense appeared capable of putting together scoring drives under any circumstances on Thursday night, that turnover-scoring disparity will usually cost the Buccaneers dearly. It certainly did in their season-opening, 20-14 loss to Carolina.
Over the last five seasons (2010-14), the Buccaneers are 4-23 in games in which they have allowed more points off turnovers than they've scored, regardless of whether or not they came out on top of the turnover ratio battle. As Lovie Smith has said on many occasions, the goal of his defense is not just to create takeaways but turn those into points. Obviously, the Buccaneers' offense has to avoid the flip side of that coin. Turning this number around would be one of the quickest ways for Tampa Bay to turn its whole season around.
With its win on Thursday night, Atlanta tied up the all-time series with Tampa Bay at 21 wins apiece. The Falcons are one of five teams against which the Buccaneers currently have a record of exactly .500 (also Arizona, Baltimore, Miami and Washington), but there have been far more games played in the ATL-TB series than any of those other four.
In fact, this is the deepest into any all-time series with any other franchise – 42 total games – that the Buccaneers have ever found themselves in a tie. Tampa Bay and Atlanta were also previously tied at 19-19 and 20-20.
Before the Falcons won seven of eight from 2008-12, the deepest into a head-to-head series that the Buccaneers had ever forged a tie was at 17-17 with the Detroit Lions, their former NFC Central foe.  Those two teams were equal after their first 34 meetings at the end of the 1994 season.  Detroit then won the next four and the Bucs haven't quite been able to close the gap since.  The Lions hold the series edge, 29-26.