STORY HIGHLIGHTS
WR David Gettis, signed Thursday, was one of six players who participated in mini-camp on tryout contracts
Gettis had a promising rookie season in Carolina in 2010 but has since been set back by injuries
The Buccaneers have two additional open spots on the 90-man roster after adding Gettis

The Tampa Bay Buccaneers have filled one of the open spots on their 90-man training camp roster, and once again it's with a player who participated in last week's mini-camp on a tryout contract.
Like defensive end Ronald Talley, who was signed last Friday, fourth-year wide receiver David Gettis turned his mini-camp audition with the Buccaneers into a training camp invite.  Tampa Bay had released two players on Friday when it signed Talley, creating the opening that Gettis filled with his signing on Monday.  There's actually room for a couple more additions, as two others were waived on Tuesday.
The addition of Gettis gives the Bucs' 13 wideouts heading into camp, which starts on July 25.  Though he's the latest addition to the camp roster (so far), Gettis will have a very real chance to make the roster.  Behind returning starter Vincent Jackson and first-round draft pick Mike Evans – the two presumptive starters – Tampa Bay's receiving corps is largely comprised of intriguing but unproven talent.
Gettis has NFL experience, having toiled for the Carolina Panthers from 2010-12, though much of that time was interrupted by injury.  After a promising rookie season in which he caught 37 passes for 508 yards and three touchdowns, he suffered a torn ACL in training camp the following year and essentially missed the next two seasons.  The Panthers released Gettis at the end of the 2013 preseason and he spent much of the current offseason with the Washington Redskins before being cut in mid-May.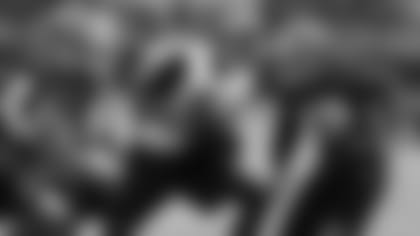 WR David Gettis (6) caught 37 passes for 508 yards and three touchdowns as a rookie in Carolina in 2010
The Buccaneers brought Gettis, Talley and four other tryout players to their offseason-capping mini-camp last week.  That process was part of the ongoing efforts to improve every spot on the roster, from #1 to #90.  Gettis and Talley eventually replaced two players at similar positions, rookie wide receiver Aaron Burks and first-year defensive tackle Everett Dawkins.