STORY HIGHLIGHTS
Head Coach Lovie Smith says there's "a good chance" Mike Glennon will start at quarterback on Sunday in Pittsburgh
With opening-day starter Josh McCown dealing with an injured thumb, the Bucs may turn to Glennon for a second straight year
As a rookie, Glennon threw 19 touchdown passes against just nine interceptions

Last year, it was a coach's decision, this year it's an injured thumb, but the results are the same. Mike Glennon is stepping in as the starting quarterback for a Tampa Bay Buccaneers' team that is trying to right the ship after an 0-3 start.
Actually, Glennon doesn't officially have the job yet, but he was the Buccaneers quarterback who met with the media on Wednesday, and later that same day Head Coach Lovie Smith said there was "a good chance it will be Mike Glennon." Josh McCown – the possessor of that aforementioned injured thumb – did not practice on Wednesday and if that remains true for two more days, as many expect, it will obviously be Glennon under center in Pittsburgh on Sunday.
Beyond the coincidental win-loss records, the two situations are actually quite different for Glennon. There's a new offense to run this time around, a new head coach setting the course and a handful of very intriguing pass-catching weapons who weren't around a year ago. The biggest difference, however, is Glennon himself. He was rightfully lauded last fall for performing admirably well despite little experience and some very difficult circumstances. Still, he was inexperienced and it sometimes showed. Now, he's a much more confident quarterback as he prepares to take the ball once again.
"I think last year this exact time was when they announced me the starter," said Glennon. "I didn't know what to expect then. I know what it's like to play now. I know what it's like to go out there and get hit by those defensive linemen, I know what it's like to throw a touchdown, and everything in between. So [I'm] a lot more confident, a lot more comfortable than I was a year ago today.
"Until you do it, you don't know what it's really like. I know just how to prepare, how to lead, what it's like on game day. There's just a lot of mental things that go into it. Physically, I would imagine I'm a similar player. I'm sure I'm a little more talented now just because I have gone through those situations. But it's more just the mental side of things of how to approach a game week, how to approach game day, how to go out there and execute."
The Buccaneers were very happy with their quarterback situation before McCown hurt his thumb late in the first half last Thursday in Atlanta. They had confidence in McCown, the veteran they signed in free agency to be the starter this year and perhaps next, and they felt like they had their "quarterback of the future" in Glennon. All of that may still come to pass, but the important thing right now is that Glennon's teammates have confidence in him to win the next game.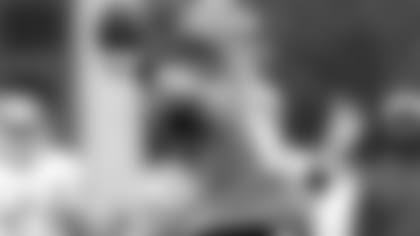 Second-year QB Mike Glennon might be getting the call in Week Four for the second season in a row thanks to Josh McCown's injured thumb
"I think he's a guy that's on the rise," said right tackle Demar Dotson. "I think he was rising last year. We like Mike. He's a good young player that's going to get better with time, and this is an opportunity for him to go out there and prove what he can do."
Quarterbacks Coach Marcus Arroyo wasn't in Tampa when Glennon got the starting job for the first time a year ago, but he's been working with the young passer since the 2014 offseason program began. He says the Buccaneers have "all the confidence in the world moving forward" as they potentially adjust to a new starter. There might be some areas of the playbook with which either Glennon or McCown is more comfortable than the other, but overall there shouldn't be too much of a change to the Bucs' offensive approach.
"Obviously [he's] a little different," said Arroyo. "But Mike does a really good job driving the ball; good, strong arm. [They're] both very cerebral. We'll put the ball in places that they need to go. I think making the right decisions is the most important part no matter who is playing, and I'm confident Mike will do that."
Glennon started the final 13 games for the Buccaneers last year and completed 247 of 416 passes (59.4%) for 2,608 yards, 19 touchdowns and nine interceptions. He threw at least one TD pass in each of his first eight starts, the first rookie in the NFL ever to do that, and he had a passer rating of 119.7 in the month of November. Even though he and the Bucs' offense didn't finish the season as strong in December, Glennon had put quite enough on tape to make the team's new coaching staff very excited about his future. That "future" with a capital F isn't necessarily upon him and the team now, but their chances of turning around the season in the short-term could be if McCown is sidelined for this week or more.
Smith thinks Glennon is ready if needed.
"I've talked about what Josh has brought to the quarterback room and for Mike to see how a veteran does it, this has only helped him and prepared him for this situation right now," said the coach. "He's ready to go, Mike is one of the guys that went into the game without a lot of reps the last time we played and did a decent job. Now having an entire week to get ready if he's a starter, having a full week, he should be even more prepared. The football team feels good about Mike leading."