STORY HIGHLIGHTS
The Bucs picked Texas A&M WR Mike Evans at #7 overall in the 2014 NFL Draft, the highest pick the franchise has ever used at the position
Evans racked up nearly 1,400 yards last season for the Aggies and averaged more than 20 yards per grab
GM Jason Licht and HC Lovie Smith coveted Evans' ability to come down with contested passes

On Thursday night, the Tampa Bay Buccaneers selected wide receiver Mike Evans with the seventh overall pick of the 2014 draft, marking the highest selection the franchise has ever used on that position. The seeds for that bold move were planted last fall, during Lovie Smith's one-year hiatus from the NFL's sidelines.
An avid student of the game – on both the pro and collegiate levels – during his year between head coaching stints in Chicago and Tampa, Smith witnessed two things that would later come to bear on his evaluation of the 2014 draft class. Out of one eye, Smith saw his former Bears team putting up big number in the passing game with a pair of big and speedy receivers, Brandon Marshall and Alshon Jeffery. Out of the other, he saw Evans catching everything in sight for the Texas A&M Aggies.
With 2013 Bears quarterback now in place to start for his Buccaneers team (and reportedly chirping in the coach's ear to draft Evans), Smith put those two observations together and, with General Manager Jason Licht's agreement, came up with the perfect first-round draft scenario. On Thursday, that scenario played out just as the Buccaneers had hoped.
"Mike was a guy that we had targeted the whole time," said Licht, who admitted to feeling some nerves at each of the first six picks before Evans made it through to the seventh spot. "We were receiving phone calls all night, but in our mind we knew that we wanted to take Mike Evans."
The Buccaneers will pair Evans with three-time Pro Bowler Vincent Jackson to give the team two 6-5 pass-catchers who are adept at winning in contested situations. Smith said he always prefers the matchup of big receivers against smaller cornerbacks if given the option.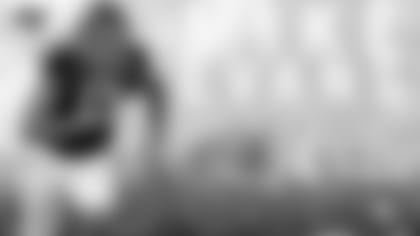 WR Mike Evans was a first-team Associated Press All-America selection in 2013 for the Texas A&M Aggies
"For defenses, it's just tough matchups," he said. "As we talk about big receivers on the offensive side, the whole game is about one-on-one matchups throughout. I like having a 6-5 guy versus a 5-9, 5-10 corner and throwing the ball up. Sometimes you don't have to be that accurate, just get it in the area. Jump ball, see who can play basketball with it. You see that week-in and week-out. For us here in Tampa, we know what one big receiver can do, but how about pairing both of those guys up? We got a lot better today.
"I think if you look at the league last year - and I of course had a lot of time to watch the league last year - I saw what two big receivers can do. It's a tough matchup if you just look at the average height of most cornerbacks in this league. You might have a six-foot [tall] corner, but you normally don't have two big guys that can match up like that."
Evans joins the Buccaneers after two extremely productive seasons at A&M, where he was the favorite target of quarterback Johnny Manziel, the first freshman to win a Heisman Trophy. Evans started all 26 games during that span and caught 151 passes for 2,499 yards and 17 touchdowns, averaging 16.6 yards per grab. Last fall he averaged more than 20 yards a catch while racking up nearly 1,400 yards and a dozen touchdowns. He was a first-team All-America choice by the Associated Press and a finalist for the Biletnikoff Award.
The Buccaneers believe his skills will translate perfectly into Jeff Tedford's offense and allow the rookie to make an immediate impact.
"You look at all the different scenarios, then you look at who you're able to get," said Smith. "This is a player that we wanted. Jeff Tedford, Andrew Hayes-Stoker, our receivers coach, our entire offensive staff, our entire football team, we're excited about this. It couldn't have worked out any better for us."
Evans was the second receiver drafted on Thursday night, following the selection of Clemson's Sammy Watkins by Buffalo at #4. He is the highest-drafted receiver in the Buccaneers' nearly four-decade history; the previous high was Mike Clayton, the 15th overall choice in 2004. This year's group of receiver prospects was considered one of the deepest in years, but the Buccaneers clearly believed that Evans stood out among that group due to his size and his playmaking ability.
"He's a big guy that can run, [is] very tough and has phenomenal hands," said Licht. "Not just good hands – phenomenal ones. He makes big plays in big games. We were really impressed with his ability to drop his weight, get in and out of breaks … his hands continued to be phenomenal but just his passion, his work ethic. He's got fire in his eye and this guy is a very mentally, mentally tough guy."
Barring a trade up of the variety the Bucs pulled off two years ago to nab running back Doug Martin at pick #31, the pick of Evans represented the bulk of the night's work. There are still six rounds of drafting left, however, with the second and third stanzas scheduled for Friday night. The Buccaneers are currently slated to pick 38th and 69th in those two rounds and are likely to get two more players who will make an impact in 2014. They are certain that they already landed one on Thursday night.