The Tampa Bay Buccaneers (2-11) will take on the Carolina Panthers (4-8-1) on Sunday at Bank of America Stadium in Charlotte, North Carolina. Here are several matchups between individual players and/or certain team units that could go a long way towards determining the game's final outcome:
WR Mike Evans vs. WR Kelvin Benjamin
It's Week 15 in the NFL and the end-of-season award talk is in full swing, with Offensive Rookie of the Year being one of the most hotly debated honors. Sunday's game features two of the award's frontrunners lining up at wide receiver on opposite sides. Evans and Benjamin will likely be the primary targets of both their quarterbacks and their opponent's defensive game plans this week. Here is how they stack up through 14 weeks:
WR Vincent Jackson vs. CB Bené Benwikere
We got to see last week just what this Buccaneers passing offense can be with two big, play-making WR threats. With defenses keying in on Mike Evans thanks to his tremendous midseason stretch, Jackson had 10 receptions last week, and his 159 yards was a season-high and his second 100-yard performance in the last three games. Benwikere, a rookie recently promoted to the starting lineup, is back from injury and has 12 tackles over the last two games; he started last week at New Orleans and pulled down his first NFL interception. If Carolina slides additional help toward Evans, look for Jackson to take advantage of his size no matter which one-on-one matchup Carolina throws his way.
QB Josh McCown vs. LB Luke Kuechly
The Panthers' front four has a combined 18 sacks on the season and safety Roman Harper leads the team with three interceptions, but it is the NFL's 2014 tackle-leader Kuechly for whom opposing offenses must heavily game plan. In the first Bucs-Panthers matchup of 2014, Kuechly had nine tackles, a sack and a forced fumble. While McCown has seven touchdowns and 274 passing yards per game since returning in Week 10, he needs to limit his mistakes and eliminate costly turnovers. Knowing exactly where Kuechly is lined up before every snap is a must this week, as he has proven time and time again to be a game-changer.
DT Gerald McCoy vs. QB Derek Anderson
Gerald McCoy remains the team's sack leader with 8.5, just a sack and a half away from becoming the first Buccaneer to post double-digit sacks in a season since Simeon Rice posted 14 in 2005. Facing Carolina's second-string QB for the second time this season, the Buccaneers must put pressure on Anderson to keep him uncomfortable and force mistakes. Anderson completed 70% of his passes and threw for 230 yards with two touchdowns and no interceptions in that first game against the Bucs, with McCoy getting the team's only sack. McCoy has to enforce that pressure up the middle and get help from his edge rushers to put the pressure on the Carolina backup.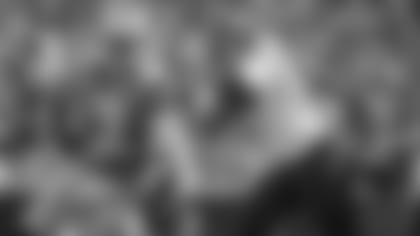 DT Gerald McCoy dropped Panthers QB Derek Anderson once in Week One but will be looking to apply more pressure Sunday in Charlotte
DE Jacquies Smith vs. RT Mike Remmers
Two weeks ago, Remmers made his first career start, replacing injured right tackle Nate Chandler, and he has had success protecting his quarterback against the Vikings and the Saints. This season, the Panthers have allowed 37 sacks and 132 QB pressures, according to Pro Football Focus. In his two games, Remmers is responsible for allowing just a single pressure, with no sacks or QB hits credited to him. This week, he'll contend with the pass rush of Jacquies Smith, who has made a name for himself since receiving significant playing time after the Bucs' bye week. In those seven games, Smith has six sacks and 17 QB hits. After a two-sack game in Detroit last week, if Smith can take down Anderson twice this week, he'll be the first Buccaneer with back-to-back multi-sack games since – you guessed it – Simeon Rice in 2005.
LB Danny Lansanah vs. TE Greg Olsen
This season, Lansanah has lined up at each linebacker position, and this week Bucs' defensive coordinator Leslie Frazier complimented him on having done a terrific job learning and playing at all three spots. He is second on the team with 68 tackles, with 29 of them coming over the last three weeks. No matter where he lines up Sunday, he'll see a lot of Olsen, who leads the Panthers in receptions (71) and yards (850). In Week One, Olsen posted 83 yards and a score against the Bucs defense, which hasn't allowed a 50-yard tight end performance since Week Eight.