On Thursday, October 5, when the Tampa Bay Buccaneers host the New England Patriots for Thursday Night Football, the team will honor late owner Malcolm Glazer at halftime with an induction ceremony into the Buccaneers Ring of Honor. Glazer will officially become the 10th member to be inducted into the Ring of Honor, joining Hall of Fame defensive end Lee Roy Selmon, Head Coach John McKay, Pro Bowl tight end Jimmie Giles, All-Pro tackle Paul Gruber, Hall of Fame defensive tackle Warren Sapp, Hall of Fame linebacker Derrick Brooks, All-Pro fullback Mike Alstott, quarterback Doug Williamsand nine-time Pro Bowler John Lynch.
In May, it was announced that Glazer and former Head Coach Jon Gruden would be inducted this season, with Gruden's honor taking place on December 18 when the Buccaneers host the Atlanta Falcons for Monday Night Football.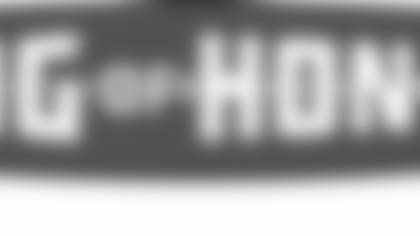 "As we approach the 15th anniversary of our Super Bowl victory, it seemed a fitting time to acknowledge our father and Jon Gruden for the immense impact they had on our fans and the entire Tampa Bay community," said Buccaneers Co-Chairman Ed Glazer. "Our father was passionate about transforming the Buccaneers into a model NFL franchise. His deep commitment to the Tampa Bay area is at the core of our organizational identity to this day."
Glazer, who passed away on May 28, 2014, at the age of 85, purchased the team in 1995 for a then-record $192 million and immediately began one of the most impressive organizational transformations in professional sports. Two years after Glazer's purchase, the Buccaneers broke a 16-year postseason drought in 1997 and would go on to make the playoffs three of the next four seasons.
Determined to turn his team into a Super Bowl champion, Glazer made a bold move that changed the course of the franchise prior to the 2002 season. In a transaction that sent shockwaves throughout the NFL, he hired Jon Gruden away from the Oakland Raiders in exchange for two first-round draft picks, two second-round draft picks and $8 million in cash. Less than 12 months later, in January 2003, he delivered the fans of Tampa Bay their first major professional world championship with a resounding victory over the Raiders in Super Bowl XXXVII. During his tenure as owner and president from 1995-2013, the Buccaneers earned seven playoff berths, played in two NFC Championship Games and won their first Super Bowl.
In addition to turning around the team's on-field fortunes, Glazer left an equally deep and lasting impact as an advocate for the Tampa Bay community. In 1999, he established the Glazer Family Foundation, which has donated millions and reached out to countless thousands in need. He also was a driving force in the negotiations that secured Super Bowls XXXV and XLIII for Tampa. In 2010, Glazer added to his community-driven legacy with the opening of the Glazer Children's Museum in downtown Tampa.
Fans attending the sold-out, nationally-televised game will receive a Buccaneers t-shirt, sponsored by Publix, featuring a custom "MG Ring of Honor" patchon the sleeve.
In addition to the Ring of Honor festivities, the team will continue the tradition of honoring local heroes throughout gameday with the Hero of the Game and the Salute to Service Suite, supported by Jabil, amongst other recognition activities.
BUCS SQUAD EXPERIENCE & BUCS SQUAD TWO-MINUTE DRILL AT RAYMOND JAMES STADIUM
The Tampa Bay Buccaneers Bucs Squad is an exciting program designed to get the next generation of Bucs fans behind the bench and inside the huddle with their favorite NFL team. By becoming a Bucs Squad member, fans 14-and-under gain access to amazing gameday experiences. For more information and to sign up for the Bucs Squad, visit the Bucs Squad Two-Minute Drill from 7:00 p.m. until the end of the game in section 137.The Bucs Squad Experience will be open 5:00 - 8:30 p.m. in Lot 6D (Tampa Bay Blvd. between Gates C & D) for all children and families attending the game. The Bucs Squad Experience will include inflatable football activities, interactive PLAY 60 football clinics, as well as visits from Captain Fear (5:00 - 6:00 p.m.) and the Tampa Bay Buccaneers Cheerleaders (5:30 - 6:15 p.m.) for children to enjoy free of charge.
HONORARY GUESTS OF THE GAME
Following team introductions, current Buccaneers Ring of Honor members, and representatives for those unable to attend, will serve as the team's Honorary Guests of the Game for the coin toss.
Before kickoff, the Buccaneers will continue a tradition with the team's military Hero of the Game. At every Buccaneers home game, a selected military member will be stationed on the Pirate Ship in Buccaneer Cove for the ringing of the ship bell and to ready the team for action. This week, the Buccaneers will honor U.S. Army Private First Class Joseph Corbin. Private First Class Corbin was drafted in 1943 and served under General George S. Patton in the infamous Battle of the Bulge during World War II. Later, he served with the Metropolitan Police Department in Washington, D.C., as the only motorcycle officer ever to escort motorcades for five United States Presidents: Presidents Truman, Eisenhower, Kennedy, Johnson and Nixon. Corbin's amazing life is retold through his autobiography "The Presidents' Escort." For his bravery and commitment to service, Private First Class Corbin was awarded the Victory Medal, American, European-African-Middle Eastern and French Campaign Medals from World War II, Army of Occupation, Army Good Conduct, Combat Infantry Badge, the Purple Heart, and the Marksmanship Medal.
SALUTE TO SERVICE SUITE, SUPPORTED BY JABIL
At every Buccaneers home game, the team honors a distinguished group of military members with an exclusive gameday experience in the Salute to Service Suite, supported by Jabil. During a break in play, fans are encouraged to direct their attention to the pirate ship and join players and coaches in thanking local servicemen and servicewomen for their sacrifices, including:
From the Air Force, Lieutenant Colonel Robert Magee
From the Army, Major Jeffrey Painter
From the Coast Guard, Commander Brian Donahue, Seaman Matthew Helms and
Lieutenant Commander Gregory Knoll
From the Marines, Staff Sergeant Kwame Almanza
From the Navy, Petty Officer First Class Timothy Flowers
**
BUCCANEERS ACADEMY 50/50 RAFFLE
On gameday, fans have the opportunity to participate in theBuccaneers Academy 50/50 Raffle** while supporting a worthwhile cause. Each raffle ticket purchased will go towards a huge cash prize, in which fifty percent of the net proceeds help support the team's 24 Buccaneers Academies around the Tampa Bay area and other Bucs Care Foundation initiatives. The other fifty percent will go to one lucky winner. Tickets are available in-game at kiosks located in section 106, 115, 131, 140 and each club level as well as mobile sellers throughout the stadium and on the Buccaneers app. For a complete list of rules and regulations, locate a kiosk or mobile seller on game day. To learn more, visit www.buccaneers.com/5050.
**COMMUNITY PLAYER TICKET PROGRAM
At every home game, Tampa Bay Buccaneers players host fans from a wide variety of nonprofit organizations from the Tampa Bay area. On Thursday night, the community player ticket program spotlight will feature defensive captainGerald McCoyand his group,Gerald's Little Giants. McCoy has demonstrated a true commitment to making a difference in the lives of children from single-parent families throughout Tampa Bay and hosts an annual youth football camp in support of this cause. This past holiday season, McCoy gathered with his teammates for the annual tradition, "D-Line Delivers Christmas" and for the fourth year in a row surprised families with the "McCoy Family Christmas" event alongside his wife and children.
BUCCANEERS ACADEMY GAMEDAY FOR KIDS GUESTS
The Bucs Care Foundation hosts 100 "Gameday for Kids" from the Buccaneers Academy program to promote academic achievement and positive behavior in children. Selected groups receive game tickets, t-shirts, food vouchers and Buccaneers flags by achieving goals set by their teachers. More than 16,000 youths and community members representing over 100 organizations from Tampa Bay have been rewarded through the annual program. This game's attendees will representEdison Elementary, Lanier Elementary and Winthrop Charter School. BUCS FOR A BETTER BAY*
Bucs for a Better Bay* is the team's far-reaching commitment to making Tampa Bay better today and for generations to come. A key component is the Buccaneers Academy programming, through which the Buccaneers provide resources, enhanced curriculum, and hands-on participation from Buccaneers players and cheerleaders to over 16,000 underserved students and 2,200 teachers at 24 elementary schools the team has adopted throughout Hillsborough County. Each of the schools in the Buccaneers Academy program, most of which are Title I schools, has also received a court-sized shade cover that provides an improved environment for students to safely participate in physical health and wellness activities.
Tampa Bay Buccaneers players, coaches, cheerleaders, alumni, and staff have an active role in community improvement through a variety of youth health and education initiatives, family outreach, and military support. Innovative partnerships between the Bucs Care Foundation and local nonprofit organizations provide assistance to thousands of Central Florida residents each year. Glazer Family Foundation initiatives including the Glazer Family Foundation Vision Mobile and the Glazer Children's Museum continue to enhance learning opportunities for Bay Area youths. To learn more, visit www.buccaneers.com/community.