STORY HIGHLIGHTS
G Carl Nicks, who played in just two games last year, is shooting for a return to practice when training camp begins this summer
New Bucs LB Dane Fletcher is trying to win Tampa Bay's starting middle linebacker job
All 75 players on the roster were on hand for the start of this week's voluntary mini-camp

Carl Nicks will be spending this week getting "mental reps" out on the Tampa Bay Buccaneers' practice field.  He plans to start taking the real thing in late July.
Nicks, who is recovering from a series of foot ailments and several surgeries, was not yet ready to return to action when the Buccaneers opened their first mini-camp under new Head Coach Lovie Smith on Tuesday.  He won't take part in the upcoming OTAs, either, but he expects to meet his target of being ready to practice at the start of training camp.
"I'm optimistic," said Nicks on Tuesday.  "My goal is to be ready for training camp.  If I make it to training camp, I'm good.  Right now, Lovie's taking it easy on me.  I can't complain.  Obviously I'm not ready to practice right now, but I feel comfortable saying I'll be back for training camp.  That's the plan.  Me personally, I think I can."
The Buccaneers' offensive line has been dramatically reworked since the end of the 2013 season, in which Nicks played in only two games, with left tackle Donald Penn and right guard Davin Joseph released and center Jeremy Zuttah traded to the Baltimore Ravens.  Penn and Zuttah were replaced in free agency by Anthony Collins and Evan Dietrich-Smith, respectively, but the Buccaneers' two guard positions remain a collective work in progress.  The Bucs' front would obviously be quite a bit stronger with a healthy Nicks at left guard, where he earn all-pro honors in New Orleans before signing a lucrative deal with the Buccaneers in March of 2012.
Nicks said that he expects to deal with some pain for the remainder of his career, and for that reason there's no guarantee that he'll regain his absolute peak form, which had made him perhaps the best guard in the NFL.  He believes he'll get very close, however, and that would be a boon for the Buccaneers.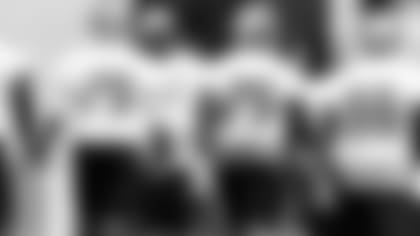 The Buccaneers' reworked offensive line will be stronger if Carl Nicks reclaims the left guard spot
"Lovie told me the other day that my 80% is still pretty good," said Nicks.  "So if I'm not 100%, hopefully I can get to 95 or 99.99.  I'd be happy with that."
Nicks wasn't surprised to see the Bucs' line essentially dismantled and rebuilt during the first three months of the season.  He had come to Tampa with high hopes of creating one of the league's best fronts alongside former Pro Bowlers Penn and Joseph, but now he'll set his sights on the same goal with the likes of Collins, Dietrich-Smith and Demar Dotson.
"I'm not going to lie, they're my buddies," said Nicks of the departed linemen.  "They're good guys off the field and on the field.  But it's a business.  Just like I left New Orleans, they had to go, too.  They leave like that sometimes.  It's nothing new.  It happens to every team.  It's going to happen to teams 10 years from now.
"There's a lot of new guys here and I've got to get to know them.  It's like going to a new team all over again."
Nicks will continue his rehab work throughout the offseason, working to build strength  and increase his flexibility, range of motion and ability to push off his injured foot.  He says he still has the lower-body strength that comes naturally to him but he has to regain his form on moves that require quickness and agility.  And, of course, he'll continue to watch closely as his teammates install coordinator Jeff Tedford's new offense.
"The main goal is the mental reps," said Nicks.  "I know how to play football, I know how to block, I know how to pass-block, I just don't know the plays."
Additional Notes from Mini-Camp, Day One:
Guard Jamon Meredith, one of the few free agents from last year's roster who was re-signed by Smith and new General Manager Jason Licht, could help the Bucs at several different positions.  Mostly considered a tackle when he first signed with Tampa Bay in 2012, Meredith has made 20 starts over the last two years, all of them at either left or right guard.  He may eventually be in the competition to start at right guard as the Bucs look to replace Davin Joseph, but for now he's working primarily at left guard and left tackle.  "Honestly, I just want to get on the field," he said.  "So if it's at tackle I'll love to be on the field at tackle.  If it's at guard, I'll love to be on the field at guard.  I feel like I'm versatile, so I can adjust to whichever one will get me on the field the quickest."
The Buccaneers' roster currently stands at 75 players, and all 75 were on hand for the start of mini-camp, even though it is voluntary.  A handful of players were held out of the action, though they were on the field, like Nicks, getting mental reps.  That group included Nicks, safeties Mark Barron and Dashon Goldson, running backs Mike James and Michael Smith and defensive end Da'Quan Bowers.  Teams are allowed to roster up to 90 players during the offseason, but there is little point in pushing it to the limit now, when the draft and the undrafted-player signing period is just two weeks away.
Lovie Smith has indicated that one responsibility for Senior Defensive Assistant Larry Marmie will be to specifically coach the nickel back position when the team is on the field.  On Tuesday, during individual-position drills, Marmie took Leonard Johnson, D.J. Moore and Deveron Carr away from the rest of the cornerbacks and worked with them on different techniques in a separate area on the field.  This does not necessarily mean that Johnson, Moore and Carr are the leading candidates to be the primary nickel back – Johnthan Banks and Mike Jenkins would seem like the leaders to take the RCB and nickel spots, in some order – but it might indicate that the slot is where they have the best chance to contribute.  Of course, it is only April 22, so the whole group could be shuffled quite a bit in the coming months.
The Buccaneers pursued former Patriots linebacker Dane Fletcher early in free agency because they believed his versatile talents could help the defense in a number of ways.  Fletcher had a number of teams interested in those talents but chose the Buccaneers because he respected Smith's defensive mind and saw a chance to make an impact in Tampa.  "I took the opportunity that fit me the best.  I thought I could really enter this team and enter a role on defense that I could contribute in and help the team out," he said.  "I take pride in every aspect of my game, whether it's pass-dropping, filling in the gaps for runs, every aspect.  I'm trying to be an all-around player."  While Lavonte David is obviously set on the weak side, it's possible that Fletcher, Mason Foster and Jonathan Casillas will be in a tight competition to take the two spots in the middle and on the strong side.  "Right now, it's early and everybody's trying to [compete].  Absolutely, that's what I'm here for.  I'm here to be a Mike [middle] linebacker and that's what I expect out of myself."