STORY HIGHLIGHTS
Who among the Buccaneers' recent round of undrafted free agents is most likely to make the 53-man roster?
Sixth-round pick Robert Herron will compete for the slot-receiver job, but who will be his primary competition?
Is there still veteran help to be had at wide receiver or offensive line in the free agency market?

Each week, Senior Writer/Editor Scott Smith will dip into the inbox to answer questions from  Buccaneer fans.  This week, in the aftermath of the 2014 NFL draft, we address some issues created by the latest influx of players, including the battle for the slot-receiver job, the chances of the undrafted free agents, the remaining needs on the depth chart and more. There's even a hint at the end as to when the Bucs' will open their much-anticipated training camp.
Fans can submit questions for upcoming mailbags via Twitter to @ScottSBucs (#BucsMailbag), through a message on the Buccaneers Official Facebook Page or via email at **tbbsocial@buccaneers.nfl.com*.  The One Buc Mailbag runs every Thursday and is not necessarily meant to reflect the opinions of the team's management or coaching staff.*
For the second week in a row, all of our mailbag questions were generated on Twitter, where the recent feedback has been seriously appreciated.  However, the other two methods listed above for submitting questions are still just as valid, so feel free to contact us via e-mail or Facebook.  This week, we'll start with a question from Bucs fan Brad Middleton that just happens to be right up the author's alley.
You know why I chose your question, Brad?  That happens to be a little game that I play every year with some of my buddies here at One Buccaneer Place.  Now, like me, these are not buddies who happen to sit in coach or scout offices, so this shouldn't be treated as inside information as to which of the undrafted free agents were the highest priorities for the team.  It's just a matter of looking at the player's past and needs on the depth chart and, frankly, making a guess. Two years ago I latched right on to Leonard Johnson, but that was no great logical leap because many were surprised Johnson wasn't selected during the draft, and corner was definitely an area of need with the great Ronde Barber moving to safety.  Last year I liked one of the offensive linemen (I'm having trouble remembering now if it was Brice Schwab or Jason Weaver or Adam Smith) but the early riser was cornerback Rashaan Melvin and the eventual star of the group was receiver-turned-tight end Tim Wright.
The other thing is that we usually play this game before training camp, when we've had at least had a few weeks of OTAs and a mini-camp to offer some evidence.  Brad's asking me to do this one cold, but I'll give it my best shot.  If you want to refresh yourself with the list of candidates, here are the first 11 players the team announced on Monday; Tuesday brought a 12th UDFA in Texas A&M linebacker Steven Jenkins.  There is likely to be one more addition to the list before the start of the rookie mini-camp on Friday, as there is a conspicuously open spot on the 90-man roster.  There will probably also be a few post-camp roster changes after the tryout players have shown what they can do.  For now, however, I'll pick from that initial group of 12.
Here's a trick to keep in mind when playing this game: Never forget about special teams.  Almost all of the players that fill out a roster behind the 27 or so "starters" (counting the punter and kicker and jobs such as nickel back and slot receiver) have to have some value in the kicking game.  To me, this often gives the edge to linebackers, defensive backs and, to a lesser extent, receivers and running backs who are versatile enough to be kick-coverage men.  Wide receiver Russell Shepard was a waiver claim by the Buccaneers right before the season last year, so not part of this game, but he was an undrafted rookie who had signed with the Eagles and he stuck all year on Tampa Bay's roster solely due to his work as a gunner.
This trick often doesn't apply to offensive linemen, but that's another group I usually take a very close look at because most NFL O-line groups are filled out by inexperienced players on the back end.  It's hard to put together a starting five and a group of three or four more linemen who are accomplished veterans.  These players don't always go on to prominent roles with the team (some do), but they can stick around for a year or two and get their feet in the NFL door.
Alright, enough hemming and hawing…get to the picks already, right?
I think the team is high on the two defensive linemen, Chaz Sutton and Euclid Cummings.  However, I'm going to use my rules above and pick three other candidates, then narrow it down to one.  Those three are Boston College tackle Matt Patchan, Florida wide receiver Solomon Patton and Texas A&M linebacker Nate Askew.
Askew fits my first criteria and the Buccaneers do need to fill in some linebacker and special teams depth.  Askew is inexperienced, having just switched from receiver to linebacker last season, but he's 6-4 and 235 pound with good speed, and that sounds like a potential special teams core guy to me.  Patton is small (5-9, 180) but quick and elusive, and while he may not be a good bet as a kick-coverage guy he can alternately help out in the return game.  There will be other candidates for that job, but maybe Patton can pull a Clifton Smith and make the roster solely for his return skills.
As for Patchan, any time I hear "Boston College offensive lineman" my ears prick up a little bit.  I think Patchan very easily could have been a sixth or seventh-round pick, but by passing through the draft he got to choose to come home; he was formerly an Armwood High standout and a Florida Gator recruit.  The Bucs could end up keeping four tackles on the roster and three active on game day, and if that's the case Patchan should see a very solid opportunity.  Behind starters Anthony Collins and Demar Dotson the Bucs currently have fifth-round rookie Kevin Pamphile and holdovers Emmett Cleary, and Jace Daniels.  They might also push veteran Jamon Meredith back out to tackle if he doesn't win the right guard spot, but all of those options are question marks.  Patchan will have to prove he's the best option, or at least close to it, but it looks like he'll at least get the chance.
In the end, I think I shy away from Askew's inexperience and Patton's chances of winning a return job and go with the local kid, Patchan.
Well, I know this much, Chad: That's one of the battles I'm really going to enjoy watching in training camp this year.  I'd say it's wide open at this point, but you have to give the edge at the beginning to the rookie, Robert Herron, simply because he was drafted with that role specifically in mind.  This isn't speculation; we know this because General Manager Jason Licht said in his post-draft press conference that Herron "has a chance to compete for a starting slot receiver."
That same night, Head Coach Lovie Smith spoke about having the two monstrous outside receivers in Vincent Jackson and Mike Evans but wanting a different type of pass-catcher for the slot job.  There, said Smith, "you need a guy that's kind of quick that can do some of those things inside, and he brings that to the table."  Smith and Licht also both mentioned the possibility of Herron returning kicks, which would add to his chances of making the 53-man roster and being active on game day.  You've got to be in uniform first before you can be starting in the slot.
It was a bit of a surprise that Herron was still on the board for the Bucs in the sixth round, but that can be at least partially attributed to the incredible depth in this year's class of receivers.  Of course, it could also indicate that some teams saw flaws in his game, perhaps in his size and durability or his route-running.  He is quick off the line, though, and good with his hands at the line of scrimmage, which are important attributes for a wide receiver.  If he can prove he's got the toughness to excel in the middle of the field, he could pull a Sammie Stroughter and rise quickly from a late-round pick to a real slot option.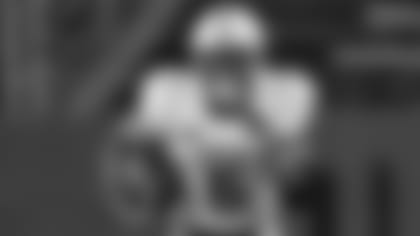 Wyoming WR Robert Herron was drafted specifically with the idea that he could challenge for the slot receiver job
I also think you noted one of the more obvious competitors for the slot job in Louis Murphy.  Murphy has a lot of experience and more size than Herron, and he's played both inside and outside, dating back to his days at Florida.  In fact, he saw a lot of action out of the slot with the Carolina Panthers in 2012 and caught 25 passes.  And we certainly can't rule out Lavelle Hawkins winning the slot receiver job in Jeff Tedford's offense since in college Hawkins played…slot receiver in Jeff Tedford's offense.
Those seem like the top three candidates to me, and you might also consider sprinter Jeff Demps an option if Smith and his staff decide he is more of a receiver than a running back.  I don't think the job is going to be handed to Herron, but if you asked for a prediction right now I'd go with the rookie, followed by Murphy.
@ScottSBucs Do you think the Bucs should still address the O-Line, even add one more receiver like Earl Bennett or Miles Austin? — Tony G (@theicchamp11) May 13, 2014
To be clear, Tony's question did come after the draft, so he's talking about further additions via the remaining free agency pool (or, less likely, via trade).  I'm going to assume that he's not talking about undrafted rookie free agents, because it was almost a certainty that the Bucs would add players at both of those positions through that method (and in fact, they did).  As you may have read above, I like the chances of at least one player to make it from that group and help out the offensive line, but those players are mostly unknown commodities and I think Tony is talking about veteran help.
Well, I guess it would be nice, but I wouldn't hold my breath.  Yes, teams do occasionally dip back into free agency after the draft, when they've made all their picks but were unable to address a very obvious need.  And you could say that the Bucs could still use help at receiver and on the line and I wouldn't put up a big argument.  I'm just wondering if there's much help to be had.
In general, I don't think the team has a long history of veteran additions between the draft and training camp that made much of an impact.  It was a little more common in the days when there was a second wave of cuts on June 1 to spread out the cap impact of a veteran with a lot of contract dollars remaining.  That's how the Bucs got Keenan McCardell in 2002, for instance, and he was a key player in the Super Bowl run and a Pro Bowler in 2003.  But that second wave no longer exists.  There could be a few more cuts made now that everybody knows what they have following the draft, but to expect a helpful receiver or guard to suddenly materialize on the waiver wire is asking a bit much.
I looked at the last five seasons and the signings the Bucs made between the draft and training camp, excluding 2011 because the CBA impasse condensed all free agency work into a sudden rush in July.  Here are the veterans of some note on that list: G Keydrick Vincent, DE Wallace Gilberry, TE Dallas Clark, WR Tiquan Underwood, FB Peyton Hillis, WR Derek Hagan, CB Michael Adams and T Gabe Carimi.  Yes, I know that Carimi was a trade and not a signing; we'll get to that in a minute.
Overall, that group didn't provide much help, and none of them stuck around very long.  Clark took over for Kellen Winslow and was decent, and Underwood was around for most of two years, albeit with a few cuts and returns in the process.  Really, there are only so many players still out there who can help at this time of the year.
Who's out there now?  Well, nobody has bit on former Cowboy receiver Miles Austin yet, but you have to wonder if that's due to his injury history.  Earl Bennett actually just signed with Cleveland, which has recently developed a rather pressing need at wide receiver.  Santonio Holmes?  He's 30, has his own recent injury problems and has just 43 catches the last two years.  Danario Alexander could be a good fit as Jackson/Evans insurance, given his size and skill set, but he too has had injury problems.
There might be more of an opportunity on the line.  Davin Joseph hasn't signed anywhere yet; I wouldn't mind seeing him return and try to reestablish his old Pro Bowl form.  Uche Nwaneri or Daryn Colledge might still have something to offer as interior depth guys.
And then there's the trade option.  Playing the mix-and-match game, some analysts think the Bucs have an opportunity to turn depth at one position (say, running back) into help at another one.  I suppose, but you just don't see player-for-player deals very often in the NFL.  The Bucs gave up a sixth-round pick last year to see if they could get something out of Carimi, a still-young former first-rounder.  It didn't work out, but it seemed like a reasonable gamble at the time.  I'm sure that Jason Licht and Lovie Smith are keeping their eyes peeled for that kind of opportunity.
Overall, Tony, I would be more inclined to look for additional help on the line than at receiver, but I'm not optimistic enough to predict the Bucs will be able to find that help between now and training camp.
@ScottSBucs why do you think the Bucs didn't go after Shayne skov from Standford or take a flyer on colt leyra the te? — mac1559 (@mike_mccabe1559) May 13, 2014
Look, Mike, I don't really know why the Bucs didn't sign Stanford LB Shayne Skov or Oregon TE Colt Lyerla.  So why take your question?  Well, I do have a few comments.
First, how do you know the Bucs didn't go after Skov.  No, they didn't sign him, but they might have tried.  There is huge competition for the most coveted undrafted free agents right after the draft, and teams sometimes win that competition by paying a bit of a premium or selling the opportunities on their depth chart or even by simple proximity.  Skov didn't have to go far from Stanford to sign with the 49ers; maybe that alone was the reason he chose San Francisco.
As for Lyerla, I'm not sure that tight end was a real priority in that round of undrafted free agent signings after the team grabbed Austin Seferian-Jenkins in the draft.  With ASJ in the mix, the Bucs now have a pretty attractive top three in him, free agent signing Brandon Myers and last year's rookie sensation, Tim Wright.  Teams usually only keep three tight ends, and while there will obviously be more than that in training camp, that doesn't particularly look like an area of need right now.  None of the UDFAs the Bucs have added so far have been tight ends.
The other issue, which you obviously allude to, is Lyerla's troubles at Oregon.  I'm not going to get into them because I don't know enough about the situation to avoid potentially getting some of the facts wrong.  But he's an obviously gifted football player who not only wasn't drafted but also has not been signed yet by any team.  Whoever does sign  him, if it happens, will be giving him the proverbial second chance.  I have no idea if Buccaneers management ever even considered signing Lyerla, but if they did (or do at some point) it would obviously be an assessment of risk against reward.  So the answer to your question, in regard to any team that has considered Lyerla and not signed him, is that the risk was considered larger than the potential reward.
Alright, a couple easy ones to take me home!
Yes, the rookies all have their numbers now, at least the ones they'll start with.  Sometimes a player will choose what he likes best from the relatively small group of numbers that are available but switch at the end of the preseason when roster cuts open more options.  I don't think you'll have to worry about that happening with our new #13, Mike Evans, though.
Here's a link to the Bucs' updated roster, with each player's new number.  If you don't feel like checking it out, I can give you the number for the five other 2014 draftees: #87 Austin Seferian-Jenkins; #34 Charles Sims; #71 Kadeem Edwards; #70 Kevin Pamphile; and #14 Robert Herron.
Well, Alex, that hasn't been announced yet. Look for that news to come out some time in June, along with the whole camp schedule and the list of practices that are open to the public.
I can tell you a little trick to help you with this question every summer, however. Teams are not allowed to open their training camp more than 15 days before their first game. Because coaches are not ones to give away any opportunity for their teams to work, most teams will start exactly 15 days before the first preseason game. So once you know the preseason schedule, you can get a very good idea of the start of camp.
By the way, the Buccaneers' preseason opener is in Jacksonville on August 8.