STORY HIGHLIGHTS
QB Josh McCown gets the top spot on the Bucs' depth chart but that doesn't lessen what Mike Glennon has accomplished so far
FB Erik Lorig's move to New Orleans is a little less surprising after a deeper look into the Saints' tendencies
With free agency easing the need at several spots on the depth chart, the Bucs are poised to go in any direction in the draft

Each week, Senior Writer/Editor Scott Smith will dip into the inbox to answer questions from  Buccaneer fans.  This week, Smith offers his thoughts on Josh McCown being put at the top of the depth chart, Erik Lorig's move to New Orleans and the strategy at #7 in May's draft.
Fans can submit questions for upcoming mailbags via Twitter to @ScottSBucs (#BucsMailbag), through a message on the Buccaneers Official Facebook Page or via email at **tbbsocial@buccaneers.nfl.com*.  Following  this introductory edition, the One Buc Mailbag will run every Thursday, beginning this week.*
Hey Scott With all the free agency and draft moves happening so fast I rely on you heavily for breaking news and information regarding the Bucs but instead I want to hear your opinion on Josh McCown being named the starting QB. The guy has only started 13 games (if I'm not mistaken) in his entire NFL career and Mike Glennon rookie stats were good if not better than the seasoned vet. I understand that Lovie and Jason wants someone to mentor Glennon but I also believe there should be an equal opportunity for Glennon to become the starter. To be able to do the things Glennon did with all the chaos that surrounded the Bucs last season was near incredible. Do you think sitting Glennon for a Back-Up QB who has had 1 good season is justified or is Lovie returning to his old Chicago all defense and mediocre ways again.
Thanks, Darius. That was a pretty crazy 72 hours, wasn't it?  Personally, the one that brought me the biggest jolt was Alterraun Verner, not because he's a better addition than, say, Michael Johnson, but because it seemed to come out of the blue.  Most of these signings are preceded by some pretty strong rumors before they go down, but not that one.
Now, as to your question, let's start by getting a few of those numbers right.  I don't think this will make the rest of your analysis invalid, but we should at least know what we're working with.  Josh McCown has started 38 games in his career, not 13; many of those came from 2004-07 with the Cardinals and Raiders, a stretch during which he made 28 starts.  And, actually, McCown's numbers last year were quite a bit better than Glennon's, but that's no knock on the Bucs' 2013 starter.  As you note, Glennon was a rookie, he was thrown not only into the fire but into a situation rife with distractions, and he didn't have the same supporting cast that McCown had in Chicago thanks to a rash of injuries and unsatisfactory blocking up front.  So let's take a favorable view of Glennon's numbers – which are respectable enough even in a vacuum – but the following comparison looks good for McCown:
Glennon has the higher "counting stats" because he played five more games and eight more starts than McCown, and that's not insignificant.  The heady rookie should definitely get credit for playing most of the season and holding his own.  McCown, however, was more productive and efficient on a per-start basis, and obviously the Buccaneers believed that is the quarterback they signed last Wednesday.
Also, while I'm not trying to split hairs semantically, Lovie Smith said that there has to be a "starting point, a person to go out there first," and that would be McCown.  To me that says that McCown is the starter heading into training camp but that Glennon will still have the opportunity to compete and try to win his spot back.  Do I think it's highly likely that McCown will hold onto that top spot into the regular season?  Yes.  I'm not naïve.  But I also believe that the competition will be real, and Mike deserves that.  It's happened before – the Seahawks brought in Matt Flynn as a free agent from the Packers in 2012, the same year they drafted Russell Wilson.  Flynn was the presumptive starter in May, but Wilson outperformed him and Pete Carroll went with the rookie.  So you never know.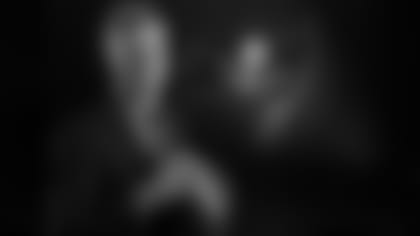 QB Josh McCown had a strong run for Chicago last fall and that's what Bucs' management expects to see when it gives him the first crack at the starting job
While I'm sure Glennon, as a competitor, won't be satisfied with anything less than starting, let's also not treat this like the end of his career if McCown keeps the job.  A lot of quarterbacks, especially those not taken in the first or second round, wait several years for their opportunities to start, and learn a lot in the process.  Glennon's ahead of the game with all the experience he got in 2013, and maybe that experience will help him win the job back sooner or later.
I'm glad you appreciate what Glennon did last year in a tough situation, Darius.  I do, too, and it's worth drawing attention to that fact.  But you ask me if I think going to McCown over Glennon would signify that Lovie Smith is going to be satisfied with a mediocre offense to go with a great defense, and I just don't think that follows.  I think the Buccaneers' current quarterback situation of Josh McCown-and-Mike Glennon is better than it was 10 days ago when it was just Mike Glennon.  Smith and GM Jason Licht obviously believe McCown is going to pick right back up where he left off last season; if that proves true, then the Bucs' offense will probably be a lot better in 2014.
Is there any word on the bucs bringing erik lorig back?
- Mark Sidell (@MarKAsidell), via Twitter #BucsMailbag
For the second week in a row, we're having a hard time getting to Mailbag Day without all of your questions becoming outdated.  Mark actually sent this question in about four days into the free agency period, and at that point it was still relevant.  Of course, by now I can answer it definitively: The Bucs won't be bringing fullback Erik Lorig back in 2014 because he has signed a four-year deal with NFC South rival New Orleans.  By the way, going forward you can keep up to date on all of the free agency moves for the Buccaneers – incoming and outgoing – through our offseason Free Agency Tracker.  We'll updated it whenever there's a new transaction regarding the Bucs or one of their own free agents from the 2013 roster.
So, did I toss myself a softball by picking this question after the deal had gone down?  Maybe a little bit, but in addition to answering Mark's straightforward question, I think this is still an interesting topic to discuss.  First of all, who hear saw Lorig going to the Saints, of all teams?  You won't see my hand raised.  As far as I was aware, the Saints had about as much use for a fullback in their offense as they did for another string of Mardi Gras beads.
The key phrase in the previous sentence: "As far as I was aware…"  Turns out that New Orleans Head Coach Sean Payton purposely expanded the role of the fullback in the Saints' offense last year, and to good effect.  The image of Drew Brees alternating between downfield passes to his speedy receivers (and TE Jimmy Graham) and excellent screens to the likes of Darren Sproles and Pierre Thomas isn't totally off base, but it doesn't tell the whole story.
The Saints have had one fullback on their roster for the past three years: Jed Collins.  In 2012, Collins played a total of 324 offensive snaps, which was 29.2% of the time that Brees and company were on the field.  That ranked 13th in the NFL among fullbacks in total offensive snaps and 15th in percentage of the team's offensive snaps.  Last year, Collins saw his playing time bump up to 441 snaps, or 39.2% of the Saints' time on the field.  That ranked fourth in the NFL among fullbacks in both total snaps and percentage of team snaps.  (Snap counts found on the Football Outsiders web site, which is a great place to visit if you don't mind seeing your work productivity go down drastically for a few hours!)
"The two teams who played in the Super Bowl last year had established fullbacks. We believe in having a fullback. Now, there are snaps where they are not on the field, but for us, it is much like one of your inside linebackers. You may not play them every down, but they are going to be an integral part of what you do. And so Jed has done a real good job there, and he has competition, but we think it is important to run the football within the framework of our two-back offense."
Putting the 255-pound Collins on the field didn't slow down the Saints' high-powered attack, at least not much.  They ranked second in the NFL in yards gained in 2012 and fourth in that category in 2013.  There's no reason to think that Payton would turn back from his commitment to utilizing two-back sets in 2014.
However, Collins is gone.  He hit free agency last week and chose to sign on with the Detroit Lions, who really didn't use the fullback position last year.  At all.  Football Outsiders has snap counts logged for 41 fullbacks last year, and not one of them was a Lion.  Former Detroit Head Coach Jim Schwartz is out, replaced by Jim Caldwell, who brought in former Saints assistant Joe Lombardi to be his offensive coordinator.  Caldwell and Lombardi apparently plan to use a fullback, so in comes Collins, the first true fullback on the Detroit roster since Jerome Felton in 2010.
So that created a need in New Orleans, and Lorig fills that need.  Lorig ranked 5th in the NFL in percentage of offensive snaps played last year, and seventh in that category in 2012.  Lorig actually signed in New Orleans before Collins went to the Lions, so the Saints either anticipated Collins' departure or felt that the former Buccaneer was an upgrade.
Had your question gotten into a mailbag before Lorig signed with the Saints, Mark, I imagine we also would have discussed whether Lorig was likely to be re-signed in Tampa.  Prior to the start of free agency, I personally would have predicted that Lorig would be one of just a few players the team would target among their long list of pending free agents, along with a linebacker or two and maybe long-snapper Andrew Economos.  However, I think it became pretty clear where Lovie Smith' s priorities were when the Bucs re-upped with LB Jonathan Casillas and guard Jamon Meredith and then turned their attention full-bore on the available players from other teams.  Given how aggressive the Bucs have been in free agency, and how determined Smith is to run the football in 2014, it seems likely they would have gone hard after Lorig if they saw him as an irreplaceable piece.
Looking at the team put together over the last couple years I feel like we have everything needed to be a contender this upcoming season and am wondering if I'm the only one who is afraid that the new regime will try and grab a QB in the 1st round of the draft.  I see a much deeper pool for QB's next year while this year can give us a better chance at a #2 receiver that will develop behind Jackson to take first.  Mock drafts show a LB mostly at #7, but is that the way you think we should go?
- James Vandervort, via email to tbbsocial@buccaneers.nfl.com
Before I answer that, James, I want to refer you to my mailbag from a couple weeks ago in which I discussed how badly I was hoping the team would choose WR Mike Williams over RB Cadillac Williams in the first round of the 2005 draft.  As a matter of fact, I do have my dream scenario for that #7 overall pick, but I also have a well-earned knowledge that my perspective does not necessarily match very closely with those who are making the actual draft decisions for the Bucs.  I'm still going to cross my fingers and hope for my guy, but I'm sure I'll be pleased with whomever Smith, Licht and company decide upon at #7.  Yes, even if it's a quarterback.
For whom do I have my fingers crossed?  Clemson wide receiver Sammy Watkins.  (And, yes, I do notice that I've been employing a lot of rhetorical questions in this week's mailbag.)  That might partly be the fan in me; the thought of adding a potential big play receiver just seems more exciting than, say, a tackle, even though the tackle might be the more important player in the overall scheme of thing.  But it also looks good on paper, particularly after the Bucs' free agency binge of the last nine days.
Go back and find some pre-free agency columns on either the free agent market or the draft and see what "needs" are identified for the Bucs.  Pass-rusher, for sure.  Offensive line.  Tight end.  Cornerback.  Quarterback.  Now look at the list of free agents the Bucs have signed so far.  They have addressed all of those needs, and quite well in my estimation.  What you don't see on that list is a wide receiver.
Couldn't that partly be due to the fact that the wide receiver market in free agency wasn't particularly strong, while this year's draft class is thought to be very deep in pass-catchers.  With the seventh and 38th-overall picks, the Bucs seem almost guaranteed to find an attractive receiver waiting for them if they want to go that route.
For Watkins, of course, they'd have to make the move at #7, and even then it might be too late.  Watkins seems to be the consensus #1 receiver on the board, and there's a good chance that will make him a top-10 pick.  Whether the Buccaneers have a shot at him will probably depend largely on how many QB-needy teams see something they like in the Terry Bridgewater-Blake Bortles-Johnny Manziel trio.  If all three of those passers go in the top six, Watkins could very well be waiting there at #7.