STORY HIGHLIGHTS
A Buc fan wants to know why offensive tackle is so often listed as a top draft need for the Bucs in 2014
Fans are split on whether the Bucs should use a first-round pick on a quarterback
Could the Buccaneers consider a "double-dip" at the receiver position, such as it did at DE in 2011?

Each week, Senior Writer/Editor Scott Smith will dip into the inbox to answer questions from  Buccaneer fans.  This week, Smith fields questions exclusively about the upcoming draft.  While one Buc fan wonders about the common notion that offensive tackle is a top need, others ponder whether or not the team should target a quarterback in round one, and if one receiver pick might not be enough.
Fans can submit questions for upcoming mailbags via Twitter to @ScottSBucs (#BucsMailbag), through a message on the Buccaneers Official Facebook Page or via email at **tbbsocial@buccaneers.nfl.com*.  The One Buc Mailbag runs every Thursday and is not necessarily meant to reflect the opinions of the team's management or coaching staff.*
No, I do not, Dennis.  And it doesn't make any more sense to me than it does to you.
Now, let's not paint every analyst with the same broad brush.  For instance, the specialized mock draft that ESPN's Mel Kiper published on April 3 (wherein he picked as if he was the GM for every team, rather than predicting what would actually happened) lists the top three or four needs for each club.  For the Bucs, he has RG, WR, OLB and DE, which seems like a more focused list and does NOT include offensive tackle.  (That article is behind the ESPN.com subscription wall, but if you have their Insider access, here's the link.)
But there are plenty of other examples that fit into your description, Dennis.  Why, just today I was leafing through the daily clip packet provided by the Bucs' hard-working P.R. department, and there was an article by Joel Klatt of FOX Sports that purported to list the draft needs of all four NFC South squads.  He names two for the Buccaneers: offensive tackle and defensive end.
Beyond the fact that it's weird to not even include wide receiver anywhere on that list (Klatt lists three needs each for Carolina and New Orleans and four for Atlanta), it's questionable to name OT as the #1 need.  This is a team that just gave a lucrative five-year deal to a new starting left tackle in Anthony Collins and has the sneakily-good-and-still-young Demar Dotson on the opposite side.  Now, I've said in the past that even with those two it wouldn't be crazy to spend a high pick on an offensive tackle because the team hasn't invested real draft resources in the O-Line in a long time.  But it's hard to see how that's the Bucs' #1 need when there is far more uncertainty about the spots right next to the two tackles.
I'm kind of edging from Mailbag into Read and React territory here, but it's in support of Dennis' point.  Let's read how Klatt describes the Bucs' need up front more specifically.  "The offensive line needs some help on the outside as the Bucs gave up 47 sacks last season, and getting to the QB will also be a high priority for Tampa when evaluating players for the draft. They will have to make a choice and I believe they will place a priority on the offensive line."
Forty-seven sacks allowed is an issue, but that doesn't mean the Bucs' specifically need more help "on the outside."  While Collins and Dotson seem entrenched for 2014, the Bucs must replace Davin Joseph at right guard and, as optimistic as things seem to be about Carl Nicks, there's always a chance they'll need help at left guard, too.  Now, right guard could be grabbed by the re-signed Jamon Meredith or former Brown Oniel Cousins, but that seems like a competition that could be helped by another competitor or two.
Here's what I think it boils down to: Guards rarely go high in the first round of an NFL draft, while tackles are frequently top-10 picks.  The Bucs' pick seventh and the offensive line could still use some additional help.  No analyst is going to put a guard in the #7 draft spot this year, so it's just easier to square-peg-round-hole it with a tackle.  I guess the idea is the Buccaneers will figure out some way to make it work with Collins, Dotson and a third high-priority tackle.
By the way, that Kiper mock draft I mentioned earlier was a three-round effort.  He gave the Bucs Texas A&M WR Mike Evans in the first round and Stanford guard David Yankey in the second round.  That certainly makes sense on paper, right Dennis?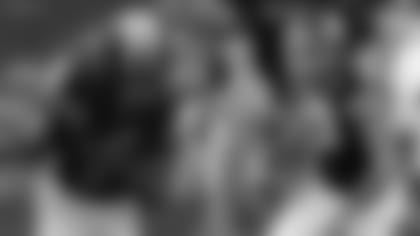 Oregon State's Brandin Cooks (left) and Texas A&M's Mike Evans are two different types of receivers, both of whom could be useful to the Buccaneers
Hey Scott,
With the visits of Bridgewater, Manziel and Garoppolo, do you thinks this signals a strong intention to draft a QB in rounds 1 or 2? And what type of message is it sending out to Mike Glennon. How difficult do you think the decision will be for Licht and Smith to trade up or down and pick at 7? Me personally, I think we should go for Watkins or Evans in the 1st round.
I think we should draft Manziel an add Sidney rice to have 2 all pro receivers for Mr. football. How do you feel about this and who do you think we will draft with the other picks if this happens?
tbmk813, via email to tbbsocial@buccaneers.nfl.com
I grouped these two emails together because it's representative of how split the fan base seems to be on this quarterback issue, especially in regards to Manziel.  From reading tweets, emails and comments under Buccaneers.com stories, I think it's fair to say that the Buccaneers will be absolute idiots if they do draft Johnny Manziel at #7 and absolute idiots if they don't draft Johnny Manziel at #7.
It really is remarkable how much we all try to read into these pre-draft visits, and how widely divergent are opinions are of what they mean.  There is a prevalent school of thought that the Buccaneers are only parading these passers through One Buc in order to make other teams believe they are taking a quarterback and potentially raising the value of that #7 overall pick to a team that might want to trade up.  Actually, under that scenario, the team creating the smokescreen wins even if a QB-hungry club trades to a spot before its pick because that would serve to push down another non-QB prospect it might want to draft.
There is also the flip side of that thought that is hard to completely dismiss: Where there's this much smoke, there is fire, and the Buccaneers really do have serious interest in Manziel or one of his fellow passers.  After the trade of Mike Williams to Buffalo, most mock drafters adjusted their #7 pick to make it a wide receiver, most often Evans.  Not long after, however, "the Bucs love Manziel" stories started to pop up and some analysts adjusted their mocks again.
There is, of course, a third, less dramatic interpretation of the recent quarterback visits: Lovie Smith and Jason Licht understand that they are in a very good position in the draft, with tons of good options at #7.  One of those options could be a franchise quarterback, and Smith and Licht feel they have to do their due diligence to determine if that is the right move.  In other words, visits from Manziel and company weren't scheduled because the Buccaneers had already decided that they're taking one at #7 or definitely not taking one at #7.  Rather, that's a move that can be neither quickly dismissed nor entered into lightly, so let's take our time to get as much information as we can.  That doesn't help the writer trying to fill out his mock draft, however, so he or she generally has to decide if they believe in Option 1 or Option 2.
Jamie wants us to skip quarterback and grab a receiver.  "tbmk813" (no other name was attached to the email question) wants us to draft Manziel.  At least one will be disappointed on May 8.  However, if the Bucs draft, say, Evans, and he proves to be a potent combination with Josh McCown, I think "tbmk813" will be happy in the long run.  And if the Bucs draft Manziel (or another QB) and he develops into the franchise quarterback this franchise has sought forever, I think Jamie will be happy in the long run.  The Buccaneers' team management, past and present, hasn't gotten/won't get every single draft decision right.  No team does.  But on the night of the draft I generally choose to give them the benefit of the doubt, that they've done their scouting thoroughly and made the decision they believe is best for the team.
The second question above mentions Sidney Rice and of course by now we know that Rice has returned to the Seahawks.  The questioner also wants to know what I think the Bucs might do in later rounds if a QB was the pick in Round 1.  Obviously, wide receiver makes sense in Round Two, as we've discussed on several occasions that this deep draft of pass-catchers should push a couple of very good prospects into the range of pick #38.  As noted above, high in the second round seems like a good spot to get a guard who can fill a starting position for a long time, and even the third round could work for that.  The Broncos found Louis Vasquez in the third round and the Dolphins picked up John Jerry in that frame, too.  High in the second round could be a good spot for an edge rusher, as well.
I know it was under different management, but the Buccaneers have employed this approach at other positions several times in recent years.  In 2010, the team used both its first and second-round picks on defensive tackles, Gerald McCoy and Brian Price.  A year later, those two picks went to defensive ends Adrian Clayborn and Da'Quan Bowers.  It's stretching the formula just a little bit, but in 2006 Tampa Bay went with offensive linemen Davin Joseph (a guard) and Jeremy Trueblood (a tackle) back to back to start the draft.
My point is, there's no reason to dismiss the idea of doubling up on a position at the top of the draft if the need is great enough and the opportunity is there.  And, yes, that looks like it could be the case for the Bucs at receiver this year.  For the sake of this argument, let's say the Buccaneers do take a receiver in the first round.  At that point, I don't think it would necessarily be the plan to target a receiver at pick #38, but it might prove to be the best value when that selection comes around.  The team's shopping spree in free agency took care of a lot of needs that would have driven them in certain directions in the draft; now, it seems like the Buccaneers can swing the pendulum farther towards "best available player" with their early picks.  If a receiver is easily the highest-rated player left on the Bucs' board when pick #38 arrives, then why not?
Also, Jonathan, consider that the Bucs are really looking to fill two receiver spots – flanker and slot.  Vincent Jackson is obviously set at split end but there's no obvious incumbent at either of the other spots after the Williams trade.  Now, at least one of those solutions could already be on the roster; I don't want to discount the possibility that a holdover like Chris Owusu or a free agent like Louis Murphy or Lavelle Hawkins could take control of one or both of those spots.  But I don't think the presence of any of those players would stop the team from drafting another option at flanker or slot.
So, let's say a lot of the latest mock drafts are right and the pick at #7 is Mike Evans.  I imagine he would quickly take his place at the top of the depth chart opposite Jackson, giving the Bucs two really big and athletic receivers on the outside.  Perhaps they might then want to find a smaller, quicker receiver to man the slot, like a Brandin Cooks or a Bruce Ellington, in a later round.  Yes, Cooks is projected as a first-round pick by a lot of analysts, but what if he slipped, simply because this is such a loaded draft?  Could you see the Bucs doubling up with Evans and Cooks?  I sure could.