STORY HIGHLIGHTS
The author may have underestimated how aggressive the Bucs would be in the opening hours of free agency
The reconstruction of Tampa Bay's O-Line is underway but that shouldn't restrict the team from drafting a blocker in may
Tampa Bay's defense will also have a different look in 2014 - is it an instant top-10 unit?

Each week, Senior Writer/Editor Scott Smith will dip into the inbox to answer questions from  Buccaneer fans.  This week, Smith owns up to an off-the-mark prediction and discusses several ways the recent signings could affect the Bucs' draft strategy.
Fans can submit questions for upcoming mailbags via Twitter to @ScottSBucs (#BucsMailbag), through a message on the Buccaneers Official Facebook Page or via email at **tbbsocial@buccaneers.nfl.com*.  Following  this introductory edition, the One Buc Mailbag will run every Thursday, beginning this week.*
Scott – You said on a couple occasions in the last couple weeks that you didn't think the Bucs were going to go after the biggest-name free agents.  I think you called it a "gut feeling."  Michael Johnson, Alterraun Verner…what's your gut telling you now?
- Mike L., via email to tbbsocial@buccaneers.nfl.com
Not to do mailbags anymore?
I guess that's not really an option, so I'm going to have to risk being wrong again at some point!  If I recall, even the dear, departed Answer Man was wrong on rare occasions, and he had the advantage of superpowers.
Anyway, I think this would qualify as one of those occasions when it's good to be wrong (and, by the way, this email arrived before the signing of tackle Anthony Collins).  Or, if you can allow me a little face-saving dialog here, I was "somewhat off the mark," but my feeling was based on what I still believe is a sound premise.
Basically, I did Jason Licht and Lovie Smith the disservice of underestimating their ability to find value on the free agency market.  Licht took over as the Buccaneers' new general manager in January and in my first interview with him I asked if he thought the team would mimic its aggressive and high-dollar approach to free agency of the last few years or take a more conservative approach.  He told me that the Bucs would be looking for value, and I heard him repeat the same thought later.  I interpreted that to mean the Bucs would sit out the initial frenzy when the most coveted players got their deals and then work the still fruitful market for a large number of valuable mid-tier free agents.
Obviously, I was wrong about that first part.  The Bucs jumped right into the fray and signed two of the top eight players on NFL.com's list of the 101 best available free agents.  That would be Michael Johnson and Alterraun Verner, the two players you mentioned.  Licht also landed players that would seem to fit my anticipated profile a little better: productive and probably underrated defensive tackle Clinton McDonald and Brandon Myers, a proven pass-catching tight end.  On Wednesday, quarterback Josh McCown came aboard and on Thursday tackle Anthony Collins joined the mix.  Wow.
The thing is, Verner's contract reportedly gets him about $6 million a year (the Buccaneers rarely release salary figures on their own, but the reported figures are often correct).  Isn't that actually a value signing in addition to being a top-of-the-heap addition?  Aqib Talib, like Verner a Pro Bowler last year, got something closer to $10 million per from Denver.  Vontae Davis got close to the same thing to stay in Indianapolis, as did Sam Shields in Green Bay.  Former Buccaneers personnel man Dennis Hickey kept Brent Grimes in Miami for about $8 million per.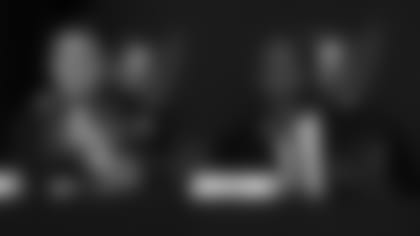 General Manager Jason Licht and Head Coach Lovie Smith have been aggressive in free agency but have still found good value
I don't want to over-emphasize the point because I believe the Buccaneers would have been happy to get Verner at almost any cost, and all of those cornerbacks wound up with a nice payday.  And, of course, we can quibble with the numbers in all of those cases.  Finding the guaranteed money in a deal is the best way to get an idea of its true value.  Still, it's clear that Licht and Smith were able to get a lot of bang for their bucks.
Yes, Michael Johnson got a lucrative deal; I'm not going to try to refute that.  But if the Buccaneers were to invest their cap space in any position, it really needed to be defensive end.  Lovie Smith is trying to build another great Tampa Bay defense, and to do so he has to have a front line that can apply more pressure than the Bucs have had for about a decade.  The draft might have brought some help at a lower cost (and still might) but Johnson is much more of a sure thing.  Again, I'm awfully glad I was wrong about this one.
I think McCown fits into the value category, as well.  Given his strong performance in 2013, balanced by his relatively light history as a starter, he was going to get a good deal to compete for a job somewhere but wasn't going to be one of the NFL's highest-paid quarterbacks.  Smith says McCown becomes first in line to start, though a competition will still exist, so the Bucs are certainly not overpaying at the position of starting quarterback.  Collins, too, comes to the Bucs on an affordable deal when measured against what such recent signees as Brandon Albert and Eugene Monroe got, and he might end up being the best of them all.
New Bucs OT Anthony Collins last year allowed 12 hurries on 317 pass blocks. Best pass blocking efficiency of any tackle. — Pro Football Focus (@PFF) March 13, 2014
All of this, and I'm still not convinced the Bucs are done shopping.  I admit that you got me, Mike – my gut feeling was a little off the mark, and I'm glad it was now that I've seen what Licht and Smith have done.  I still maintain, however, that the two have done a great job of shopping for value.
Hi Scott,
I am sure this will not be the popular opinion for the Bucs 1st Rounder, but I see the OL as a mess.  We have never had a franchise LT.  The time to fix the O-Line is now.  I hope we select Matthews or Lewan at 7.  Zuttah and Dotson are solid and I pray Joseph returns to form, but we really need a LT and a Guard, maybe even shift Penn to OG. We will never know how good Glennon can be if he is on his back or running for his life.  Also, TB is three deep at RB but need holes to run through. What is your opinion?
- Dave Crews, via email to tbbsocial@buccaneers.nfl.com
Well, Dave, if by "popular opinion" you mean an opinion that people enjoy hearing, then I'd agree that yours is not that at One Buc Place.  However, if you mean an opinion that is shared by most, then I think you might be surprised.  Or, more accurately, you would have been surprised before all the recent moves along the O-Line.
You're not going to hear anyone at One Buc describe the offensive line as "a mess" (especially now) but Lovie Smith has very pointedly stated that the line needs to perform quite a bit better in 2014 than it did in 2013.  That can happen two ways – the existing players have better seasons and/or new talent is added to the group.  How about we hope for a little bit of both?  We already have the depth chart turnover in motion.
Obviously, you sent your e-mail before the release of Davin Joseph.  I hate to see Davin go, from a personal standpoint, but I think that move is a clear indication that the Bucs are looking for an upgrade at least at right guard.  The signing of Collins indicates there will almost surely be a change at one of the tackle positions; Smith isn't bringing any of these new players in to ride the bench.  Packers center Evan Dietrich-Smith has visited Tampa already, and whether or not he eventually joins the Bucs' army of free agent signees, that's an indication that the team is at least looking for some new blood.
You ask if Donald Penn could move inside to guard?  I guess that's now a question for his next coach, as the team released Penn on Thursday after signing Collins.  I do know that Penn has a lot of pride in his play and if we grant that 2013 wasn't his best season, I think he's going to be intent on proving he can return to form as a left tackle, wherever he ends up.
As for taking an offensive linemen with our first-round pick, that's hardly a stretch, though you have to figure that the signing of Collins makes it less of a priority.  I've seen a lot of mock drafts matching the Bucs up with Auburn's Greg Robinson and Texas A&M's Jake Matthews.  One or both of those might be gone by #7 (Robinson, in particular, seems to have his stock on the rise), but if either was available, it certainly makes some sense to address the position for the long haul.  Tampa Bay hasn't spent a single draft pick on an offensive lineman since 2009 – which is kind of incredible, really – and hasn't spent a pick in the first three rounds on the O-line since Jeremy Zuttah in 2008.  Finding Demar Dotson as an undrafted free agent project (he had played just a touch of college football, as a defensive tackle) has certainly helped that from becoming too big of a problem.  Penn was a find, too, picked up off Minnesota's practice squad way back in 2006.  And the extended run by Davin Joseph, a first-round pick in 2006, helped as well.
Still, at some point you have to believe the Buccaneers will start planning for the future on their offensive front, and this seems to be a strong draft class for linemen.  I don't know if Licht and Smith are targeting blockers with their early picks, but your idea makes sense to me on paper, Dave…if it's perhaps a little less urgent after the Collins' signing.
Oh, one more thing.  "We have never had a franchise LT?"  I respectfully beg to differ and my argument will be two words long: Paul Gruber.
What are your thoughts on Getting Talib back in Tampa? add him opposite Revis, Banks at Nickel, Barron and Gholston, on the back end......Then Draft Mack @#7, add him to the LB with Foster at MLB and Davis at OLB, Finally a decent FA pick up at DT to help McCoy. Instant top notch defense, Don't you think?
Marc P. in  MN, via email to tbbsocial@buccaneers.nfl.com
It's not Marc's fault that the first 48 hours of free agency rendered much of his question moot.  This was sent in before Tuesday, obviously, and it's amazing how quickly everything has changed in the last couple of days.
So knowing what we know now, I think I would like to flip this question back at Marc.  Talib is not returning to Tampa; he got a really big deal in Denver.  Honestly, Marc, I would have had a hard time seeing that happen anyway.  As the Broncos made clear with their checkbook, Talib is considered one of the league's best talents at the critical cornerback position (if an injury concern), so he should conceivably be on any team's radar.  However, his departure from Tampa in 2012 wasn't exactly a tearful goodbye.  When a player leaves a team for reasons that are primarily not based on on-field performance, it isn't common for him to come back at a later date.  And, of course, Revis won't be a part of the Bucs' picture, either.  He's now a Patriot after the Buccaneers decided that his $16 million of cap space could be put to better use spread out over a number of great players.
However, I hope that your satisfied, Marc, in the Bucs' alternate plan of picking up another Pro Bowler (a younger and more cost-effective one, by the way) in Alterraun Verner.  He won't be paired up with Revis, but he could start opposite Johnthan Banks.  Your idea of moving Banks to nickel may indicate that you're not yet sold on his long-term viability as a starter; I'll have to disagree.  I think we should still move forward on the assumption that he can be the solution on the right side.  That said, I'm not sure the Bucs are done shopping for cornerback value on the free agency market.  Charles Tillman has already visited and he may not be the last.
We got that free agent DT you coveted to pair with Gerald McCoy – former Seahawk Clinton McDonald.  Moreover, we also hauled in Michael Johnson, by some estimation the most coveted defensive end out there.  You didn't even ask for that in your scenario, Marc, but I'm sure you'll happily take it.  So, does the team take the final step in May and grab a linebacker like Mack to team up with Lavonte David and Mason Foster?  Well, it wouldn't make Dave up there very happy, but that also seems like a very good possibility at #7.  Basically, the Bucs are in position to grab a very good defender with that high pick, if they wish, and when you combine that with the additions of Johnson, McDonald, Verner (and maybe more to come), that's awfully exciting.  "Instant top-notch defense?"  Well, that downplays how much work the coaching staff is going to have to do to make all these pieces fit together and blossom, but yes, on paper it does indeed look like something special.
So I'm turning it back to you, Marc.  The Buccaneers are not going to follow the exact blueprint you laid out, but they might do something even better.  Do you like what you see?